Its my artist attribute - the muse taking up space in my brain insists on pretty and colorful things xP Now if only she'd pay rent in form of art skill on demand....
Your shelves:

What did you use to build them?
What are the dimensions?
How many tanks would it hold, filled?
Can you post the pic of them again?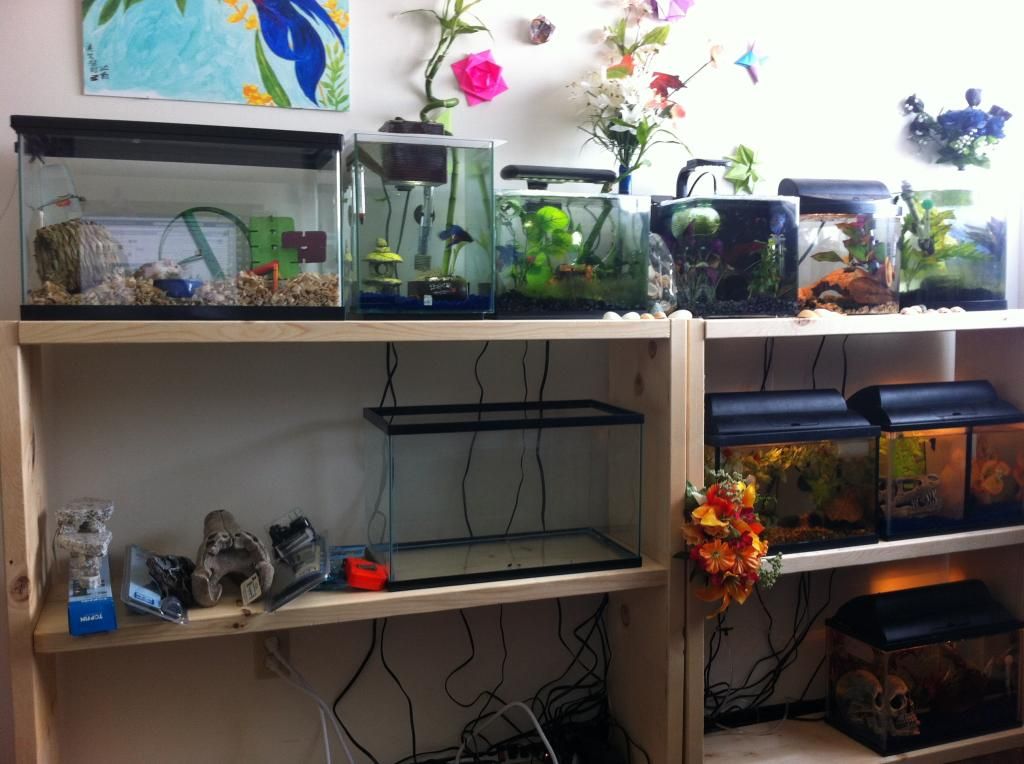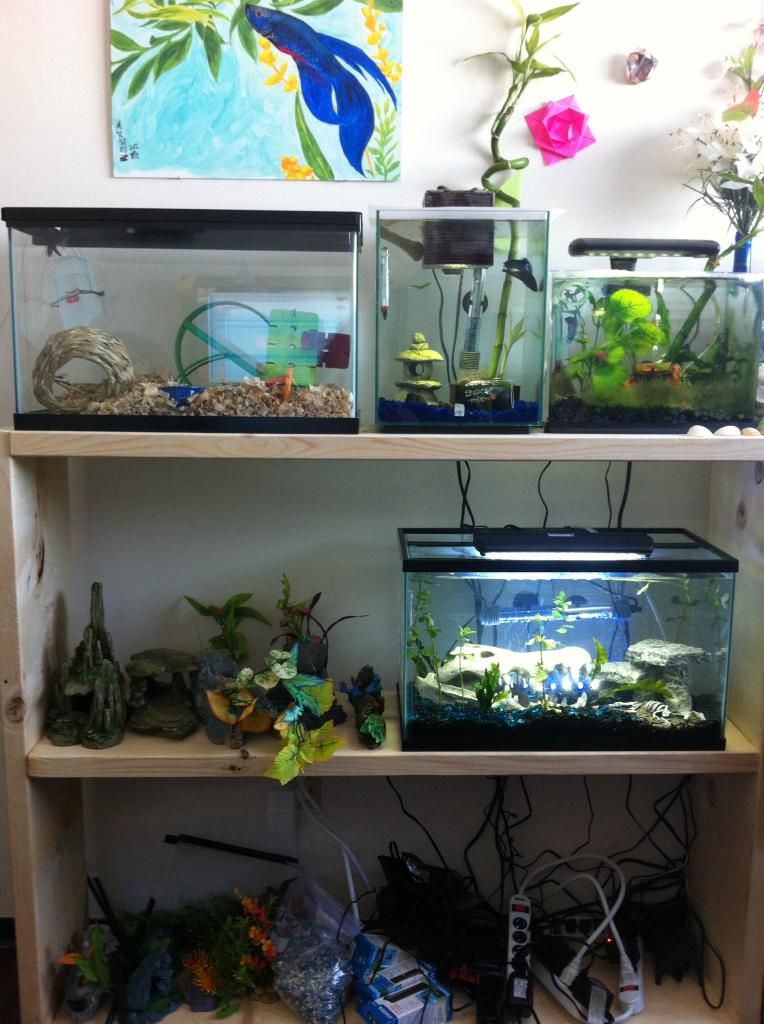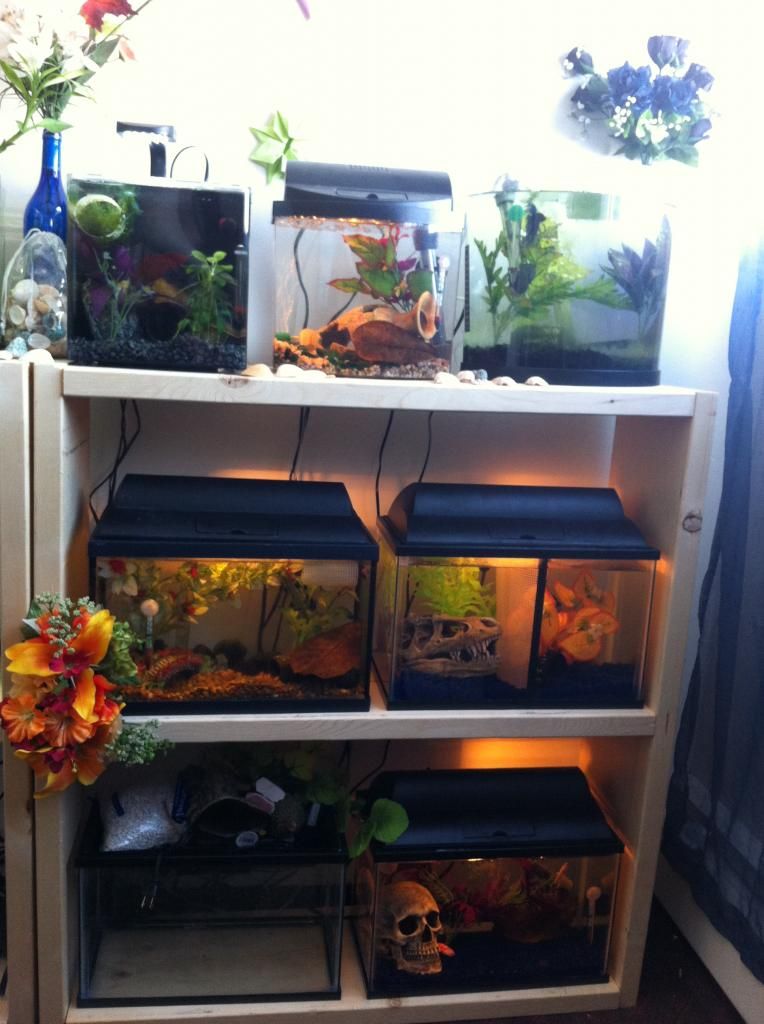 Dimensions of 10g shelf (left)
45"L X 40.5"H X 11"W
Can hold 6 10gallons total
Dimensions of 5G shelf (right)
35"L X 40.5"H X 11"W
Can hold 6 5G total
I'm not sure what size boards Nana cut them from, but atleast 11" wide and 1.5" thick.
before you make these though...be sure you have the space, and the proper outlets. Don't piggy back powerbars, all of my tanks, heaters, lights, pumps are hooked into 2 huge home theater powerbars that have 12 outlets each. PIggybacking powerbars is a serious fire hazard. So I just bought two of the biggest I could find, and plugged them into the wall, then everything for the tanks into the power bars. You may want to consider labelling cords (it's insane). Also, keeping the cords and outlets dry is a must (I set towels down when I do changes). My shelves sit on the floor itself, but it'd be easy enough to make them have an inch or two of space, simply by adding 2" to the height and then screwing the bottom board in so it's not flat on the floor.
Also, I've calculated that even if I had a full 12 tanks + lights, heaters, pumps, w/e...the wattage of the outlet can take it, so you don't have to worry about that.
Also, also, this is the most up to date setup;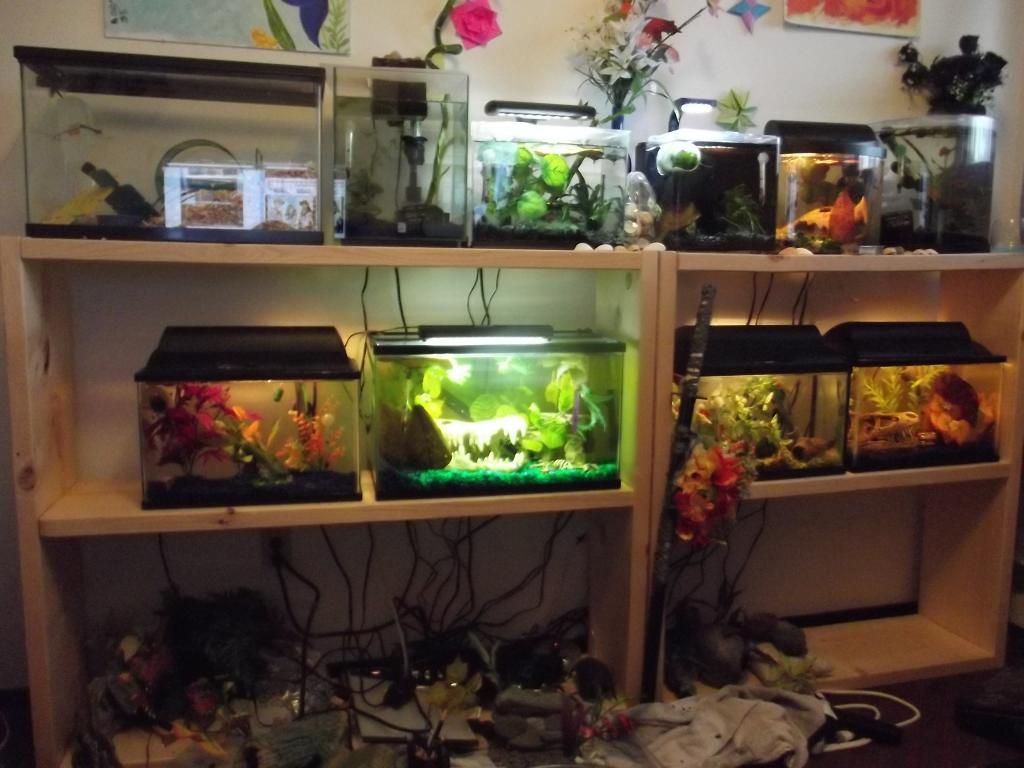 I've found that tanks on the bottom most shelf are difficult to syphon water out of, due to gravity. So for a while I was scooping water out of Styxx's tank. He got moved up to hangour with FishBeastie.
I'm considering moving Ghibli back to his own shelf, and splitting a 20g among Slyph, Toothless and Kalec on the far right shelf, and put Manaphy and Chibisaur where Ghibli is so that I'm not scooping, the use lower shelves for extra decor, supplies, so on.
Simi will go into toothless' cleaned out 2.5 and will hangout with me ont he desk till she's ready to try sorority life. If it doesnt workout I can upgrade her to a 3g and just keep her next to me.
I would love to make one of those shelves. I have been looking for tables and such that would hold a lot of weight but don't cost too much. My biggest concern is always the weight of the tanks. They obviously aren't light, lol.

I do have our old microwave stand that can hold my ten gallon, a speaker box that holds my 4 gallon and my dresser that holds one of my 5 gallons (but I think it's a little heavy for it, it kind of bows in). Two of my tanks are on my desk but the desk is huge and I'm not sure I want to move it when I move, lol. I guess I only really need something that will hold my two five gallons but I'd love to get another tank or two or three, haha.

I guess I'll worry about that when I actually find an apartment.
---
Veyron Sprite Ayala
S.I.P. Okami, Bahari, Lotus, Mercy, Daihatsu, Ascari, Kuraokami, DaBaDee, Zenvo, & Stella <3

The only 'surface' I worry about right now is the kitchen table. It's some crappy IKEA table from like.....when...I was like....25-18=....7! It's seven years old, and has been taken apart, bolted back together....and it's holding the 29g >.< So far so good! Even though I have to stand on the table to do water changes..........................
That would be would be perfect for my room- I have a space against one wall that those would fit very nicely on, and I could draw on six outlets. And that would get me organized instead of having a gajillion tanks haphazardly placed all over my room. Lol.

Time to check if my grampa is up for a project XD.
It would be a lot better then the tank on a tv stand, my night table, my dresser, my brothers room, and then the assorted tanks on my crappy looking but functional fold out table! Ugh I really need to get organized.
Its hard when you dont have your own space.