Banned
Join Date: Jul 2008
Location: Central Texas
Posts: 27,607
My kindle won't let me see the pics :( but hour new girl sounds cute.
She is =) Super shy but she's been exploring and nipping everything
I love her steel blue color she is a beauty.
She really is, and her fins are that light steel than her body. And anytime I'm near she has those beautiful vertical stripes. Which means I may not add her to the sorority, but she's too small right now anyways.

Just couldnt believe how scrawny all the betta were, but all the females except one were definitely either very young or malnourished. I meant to get some ADFs too, but they werent selling fish because the tanks all had ick apparently...wouldnt even sell me some frogs even tho I explained I qt new stock each time =P

Sad tosay their ivory mystery snails all looked pretty well dead.

But all the other fish were beautiful. I still want one if those Pictus Catfish, I think they're just do beautiful. Unfortunately I dont have a tank thry can co-habitate in >.<
Just Some Pic Spam
---
So I got home for lunch a little bit ago and found Toothless having jumped over his divider into Kalec's side of the tank, and Kalec beat the crap out of him u.u; Managed to catch him, but seriously, Kale's always been the most aggressive and isn't shy to show it to his neighours, why on earth would Toothless jump into his side? -_-;
That happened to Jackson and Xanthus, both of whom are now dead (unrelated), when I was at school. I Kept the water extremely clean, added ial, and they began to heal up. Jackson was never the same though.
Actally right when i was on my way out the door i spied him on Kale's side again. Separated them again and hope Toothless isnt dead when I get home if he does it again cuz i'm not home till late.
Voljin Update: Sick or Not? =S
---
Okay, so I've been dealing with this problem with Voljin for quite some time. When Voljin and Toothless were sharing tanks, they got into a few fights (jumped divider) and a bit of finrot ensued. They got separated into their own 5gallons, and have done better. Since then, Toothless joined Slyph and Kalec in the 20 (jumped the divider and once again picked a fight he lost...Kalec kicked the crap out of him, then he did it again an hour after I saved him. But he's been good since.) Anyways, Voljin and I have been having issues lately.
Maybe a month or more ago, he lost pigment in some patches on his scales on his body. At the time, it didn't look like scale damage, but he wasn't eating. I treated conservatively (dont live near a city with access to any high end meds). Salts, General Cure, IAL, clean, warm water.
So after two weeks of treatment, he started eating again, and the patches turned dark again.
Then they came back two weeks ago, and started to grow despite me repeating the treatment I thought had 'worked'. Only this time he's eating fine, eager for attention, flare's at Tatsu in the tank next door.
So now I'm wondering if it's a marble gene that jumped generations (as far as I know none of Sena's other fish from Aries spawn have marbled).
Here are the pics - and yes, I know the coloration is alarming. But I've looked him over for parasites, fuzziness, anything. It's just a loss or change of pigment. As far as I can tell, anyways, but that's why I'm posting this here...in case anyone else has some ideas.
And please don't mind the 'forlorn' appearance, he's vibrant in his tank, he just does not appreciate the .5 qt I use to better look at my fish.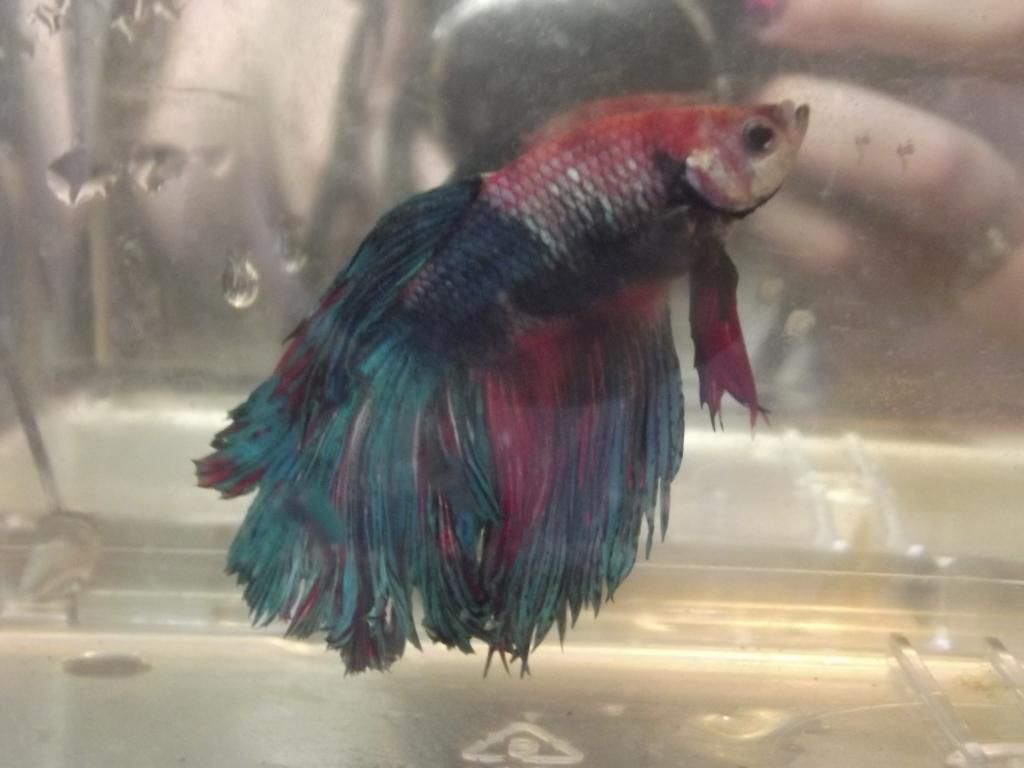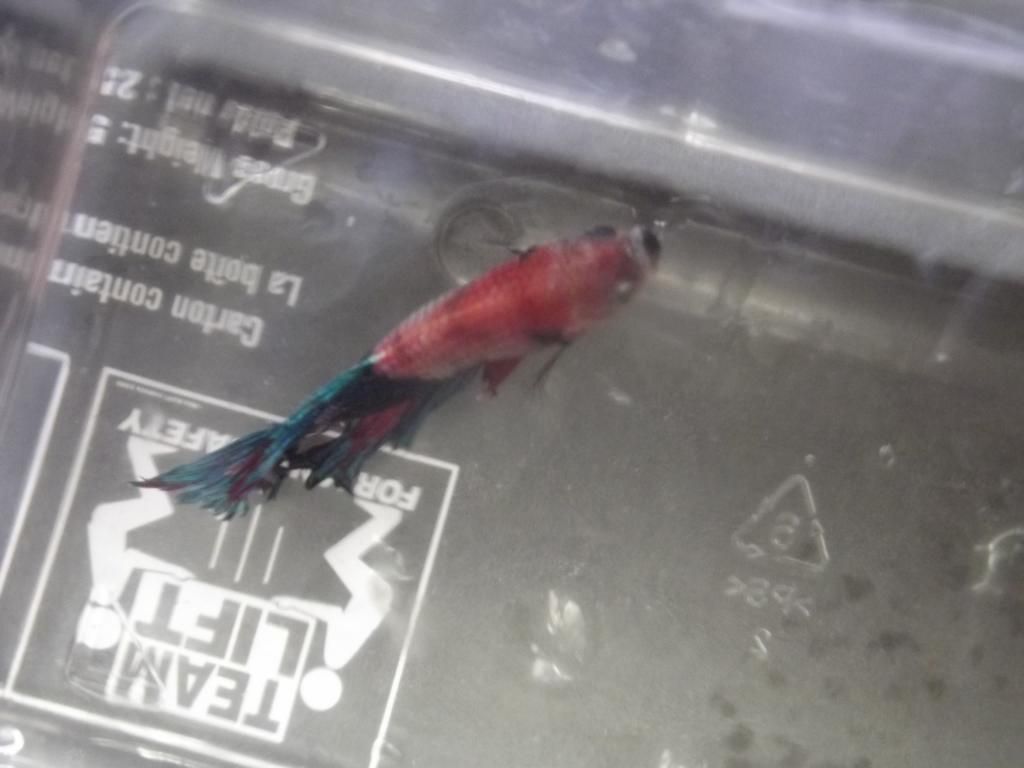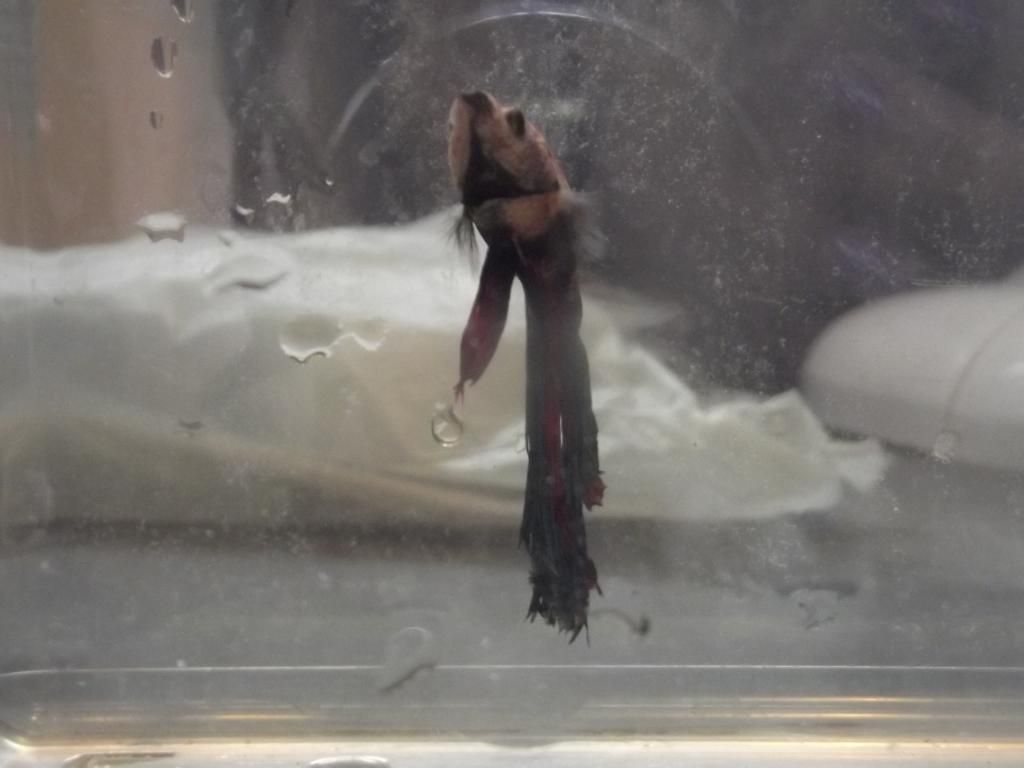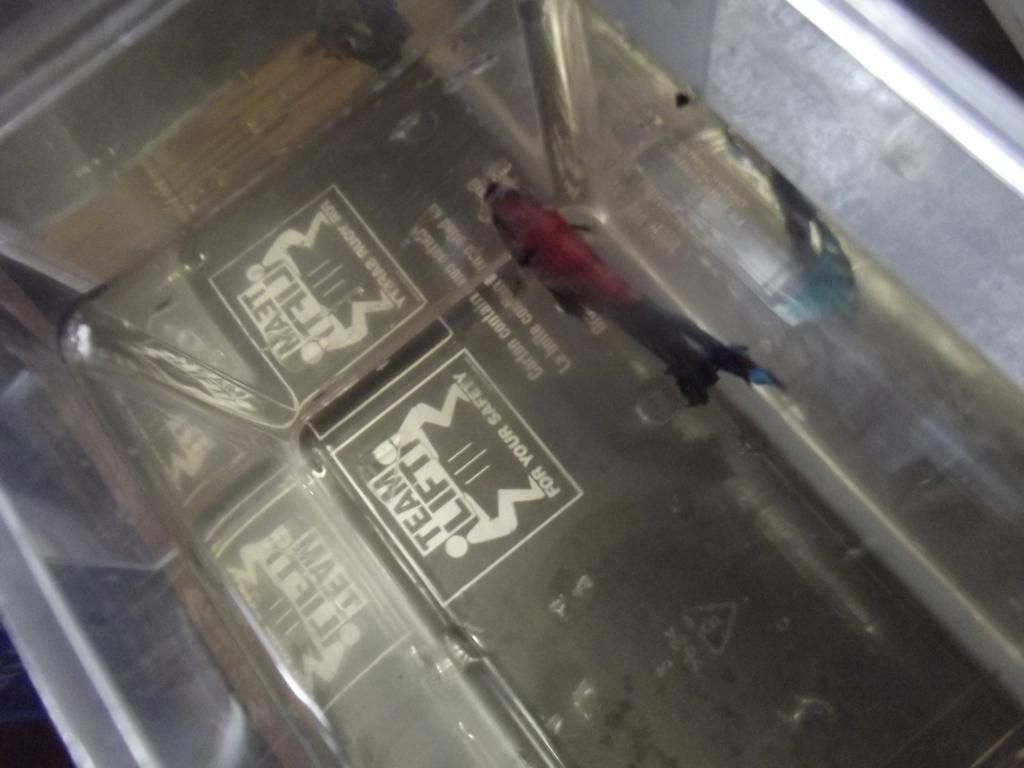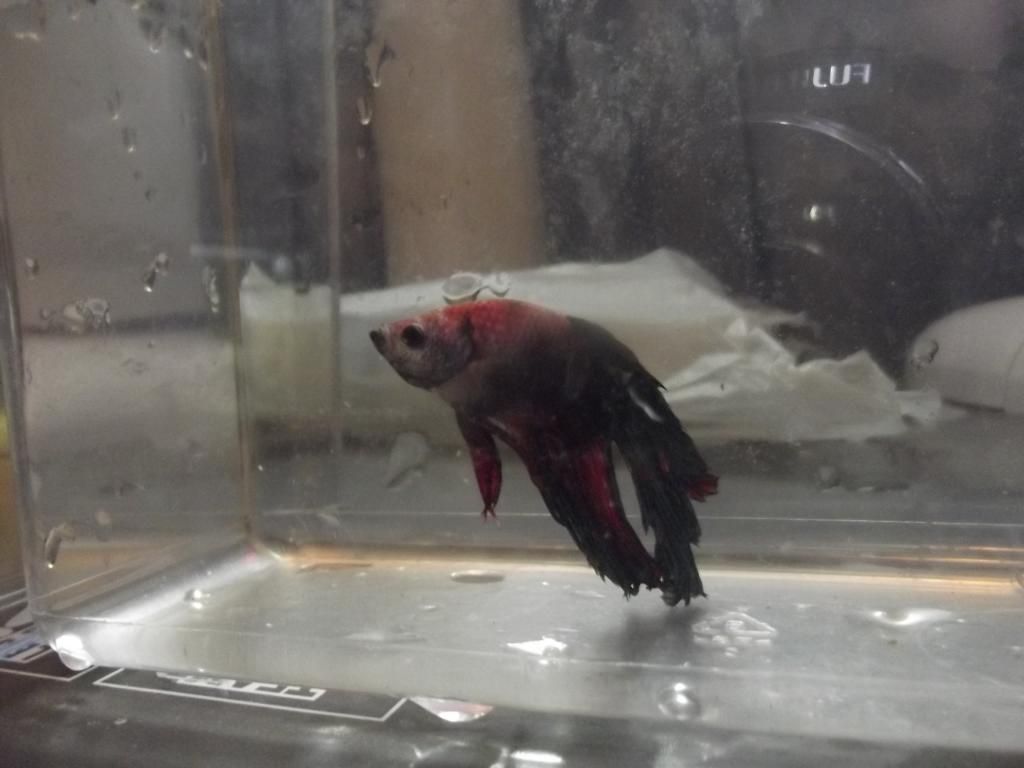 And yes his lips are white, but as far as I can tell it's only a loss of pigment, they look normal superup close, jut I havent mastered my camera to that lvl yet.
This was Voljin a month or two after I got them way back int he beginning of the year. So younger, but that was his proper coloring.