For now, anyways xD I know he's gonna do something drastic soon here, so I'm enjoying his blue-koi.

And thank you..I am very excited as this tablet will change a lot about how I deal with my motivation for art - not that its new or fancy - but that I like being curled up with a sketch book, my nose two inches fromt he paper while I draw. This cintiq will elt me do that.
Woohoo. Congratulations. I checked out the link and... wow... I didn't know this type of thing existed! I want one of these too!!
Thanks for sharing that link!!
---
Every kid, regardless of what they are going through, is ONE caring adult away from being a success story. ~ Josh Shipp, Teen Behavior Expert
Very welcome =) I didnt know they existed until like May xD I've been using a pretty traditional bamboo tablet from wacom, but I'm soooo excited for this!
You are going to love that Cintiq! Very cool
Autumn Double-Tail Betta Pair
---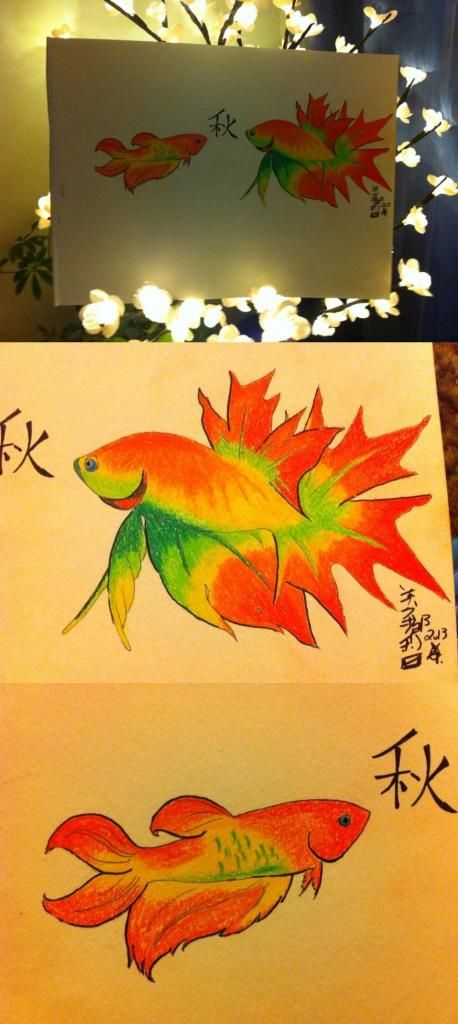 Soooo purty. <3

Curious: Do you actually know Chinese, Syr?
---
Nope. I know some symbols here and there and how to say 'I love you' and 'How are you' in mandarin thanks to Fushigi Yugi. I know more Japanese (which I believe this symbol is, as it's the symbol of 'tree' and 'fire' together, but don't quote me on that...) but still very little. I meant to teach myself enough to visit Japan, but priorities change in the 19-21 range.

Or if you're referring to my signature, I have very little to confirm if it's correct at all. It's the digital translation from a student nurse who visited with her class when my jr high was having Japanese students come stay with us for two weeks, then our students who shared their homes with them went to visit Japan for two weeks. Was a cool exchange program. But she typed our names into her little translaor and wrote down our translations in hiaragana, kitakana and kanji. I've just always signed my stuff with that kanji translation she gave me plus the year and a pentagram./
Your autumn betta looks great. Im going to try and breed for that color scheme
going to get the Finnigan framed up next week, pics to follow. I cant believe how well it turned out that was such a difficult project. Well done!!
Oh, I thought you were writing Chinese... Autumn is 秋, you see; it's part of tree (树) and fire (火). I don't read or write, only speak, so written Chinese and Japanese often confuse me because of the similarities. I think it's cool that you incorporate that into your artwork.
---