Banned
Join Date: Aug 2012
Location: Hogwarts
Posts: 2,082
S its crowded over and fuzzy, but it does not look like popeye. You are treating with aq salt, right? You may need an antifungal.
Banned
Join Date: Aug 2012
Location: Hogwarts
Posts: 2,082
It isn't too fuzzy just layered with film almost but there is fuzz... Kanaplex, AQ salts, and IAL have not done anything so far.
Don't despair. This is what one of my females looked like. Both her eyes were like that and I thought she was going to end up blind.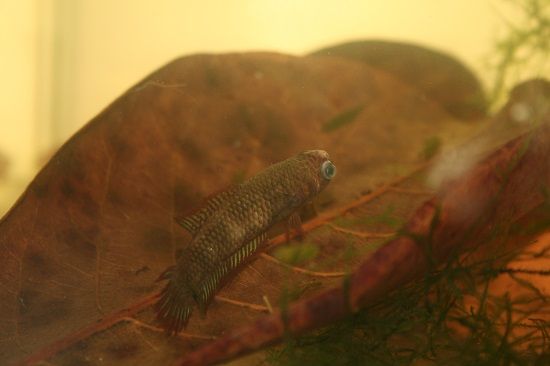 However, the swelling came down on its own. I just kept the water as clean as I could.
---
Hi BB.... I'm on a kindle so it's difficult to see the photo (and I can't see LBF's at all) but white fuzz can often indicate Columnaris or Saprolegnia.
How much Aq salt are you adding? And what's the water temp?
Medications are often metabolized by the liver and excreted by the kidneys. Aq salt is also excreted by the kidneys. So be careful with this. If he shows any signs of bloat or constipation, I would stop/remove the Aq salt.
Bacteria multiply faster in warm water. So if this is a bacterial infection, lowering the temp towards the bottom of the range can help slow down bacterial growth.
That said, if this was bacterial, the Kanaplex should have started to work. Which leads us to another potential cause of white fuzz called Saprolegnia, which is a water mold. Here's a good website that explains the difference and describes how to tell them apart:
http://www.americanaquariumproducts.com/columnaris.html
(Will edit this in a minute. The dog needs to go out!)
OK, I'm on my computer now. (I can see LBF's photo, too.)....

Is it common for their eyes to be affected during breeding? (It kind of makes sense. If you squeeze the middle, it puts pressure on the eyes, and can make them swell/pop out.)

If this is swelling due to breeding, rather than infection, maybe Epsom salt would help. It reduces fluid retention, and it has mild antibiotic properties.

In fact, you may want to consider switching from Aq salt to Epsom salt. I feel more comfortable using Epsom, rather than Aq salt while using antibiotics, due to the stress placed on the kidneys to eliminate both the meds and the Aq salt.
Banned
Join Date: Aug 2012
Location: Hogwarts
Posts: 2,082