Banned
Join Date: Jul 2008
Location: Central Texas
Posts: 27,607
I'm so sorry about Austin.
At least he's not suffering anymore.
---
IBC Member
Sorry about Austin. Know that it was out of sympathy and kindness and he is now in a better place with a healthy mouth.
SO EXCITED!! Just a few more days and Chai will be coming home!! I've decided on his color scheme for his tank decorations (for now) if he approves after he gets home. I'll post pictures of them. A very pretty orangish brown driftwood piece and a Simple 2 column white ruin piece put together with some plants that will grow up and around it. No place to put these plants since we took the ruin out of the 46 gallon tank, so will be perfect to wrap them around the little 2 dollar decoration (providing petsmart has them when we go friday)

Hope the aquarium has more Jumbo Sag, I am just in love with the way it looks, if not maybe pick up some Val and give it a second try, the first round we bought didn't do well at all but I love the look.

And either nerite or mystery snail tank mate, can't wait for Friday - so excited about snails!!

So excited!
---
Last edited by peachii; 06-05-2013 at

04:02 PM

.
Hopefully that means ill get Sprite soon :)
---
Veyron Sprite Ayala
S.I.P. Okami, Bahari, Lotus, Mercy, Daihatsu, Ascari, Kuraokami, DaBaDee, Zenvo, & Stella <3

OMG!!!! congrat on your adoptions gys. I wish I had the money to adopted on of Moonshadows betta's. At east I'll be supporting her rescue
Yes, I should get him next week :) His home is all set up and waiting for him!
---
Veyron Sprite Ayala
S.I.P. Okami, Bahari, Lotus, Mercy, Daihatsu, Ascari, Kuraokami, DaBaDee, Zenvo, & Stella <3

Guys I have a really painful announcement to make. Due to a large lack of time and an even larger lack of funds, I will no longer be actively taking in rescues for an undetermined length of time. I will adopt out the current rescues in my possesion and then just stick with my pet bettas for awhile. I may take in a couple new fish to fill tank space on the tanks I have running (no one likes an empty tank) but they will more then likely remain pets.*I want to thank everyone for your wonderful, unwavering support, I will update this page as often as possible! And hopefully in a few months I can begin actively rescuing and adopting out bettas in need once more!
---
One hand reaches out and pulls a lost soul from harm. While a thousand more go unspoken for, they say what good have you done? By saving just this one... It's like whispering a prayer in the fury of a storm. And I hear them saying... You'll never change things...
MoonShadow Betta Fish Rescue
Saving the world one innocent life at a time

Banned
Join Date: Jul 2008
Location: Central Texas
Posts: 27,607
I'm sorry, Kylie. But you've got to do what's best for you. Maybe later on down the road things will get better and you can start up again.
Hey all! It's been awhile since I updated this thread! I took a break from rescuing for awhile, but I recently started up again, and the rescue is back in full swing!! I currently have 5 rescues in my care, all were acquired over the last 2 days (that's the danger of working at Petsmart!) Last night My manager asked me if I would be willing to adopt the sick bettas that were in the back room (there were 4) I couldn't say no!! So they came home with me last night, and I had brought home another rescue the night before!!
This is Spooky, he came home Friday night. He is skinny with some minor fin rot, but he's already doing so much better!
This is Bay, she is missing most of her anal fin and part of her underside, she definitely suffered from fin/body rot at some point, but she seems happy now so hopefully I can help her grow her fins back and find a forever home!
This is Solo, he is very skinny and his fins are very clamped and "sticky". When I brought him home last night he was floating flat out on his side, but now he's swimming around a bit.
This is Toby, he is extremely emaciated and when he swims he spins, I didn't think he was going to make it through the night, but he did, so I'm hoping he will continue to improve.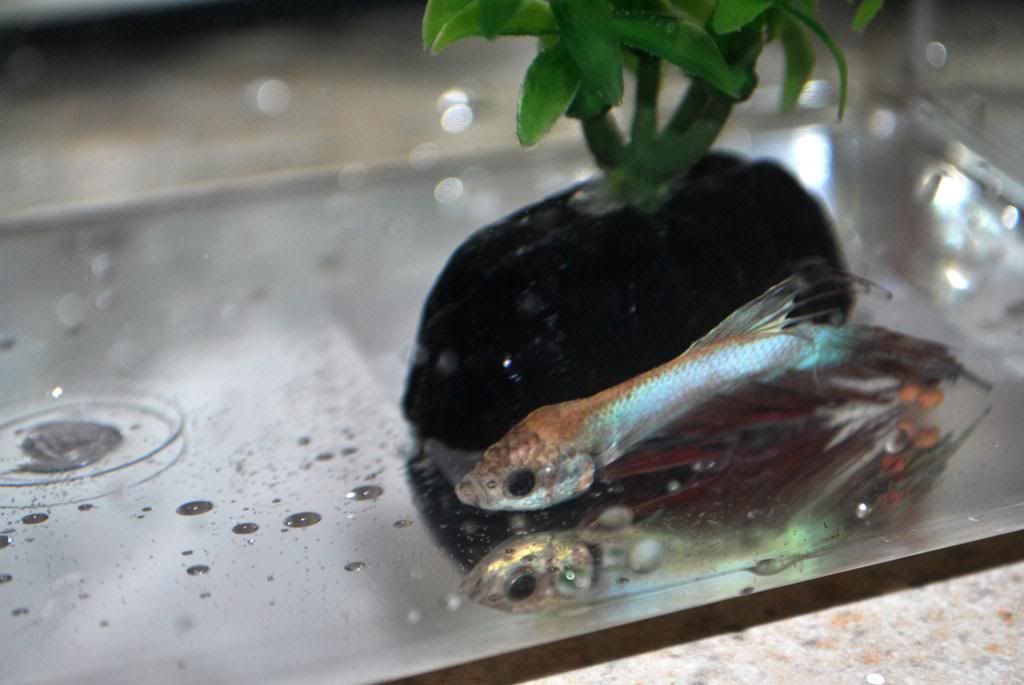 This is Emmett, he has fin rot and swim bladder issues, he can't swim well, and he is a bit underweight.
---
One hand reaches out and pulls a lost soul from harm. While a thousand more go unspoken for, they say what good have you done? By saving just this one... It's like whispering a prayer in the fury of a storm. And I hear them saying... You'll never change things...
MoonShadow Betta Fish Rescue
Saving the world one innocent life at a time