Came home from dinner to my favorite female, who I got from Thailand via Catw0man, dead. No external signs of anything, and she was swimming around, perfectly fine, when I left. I'll be doing a necropsy tomorrow. I have her babies though. And you best be sure they are going to receive impeccable care.
image.jpg
Ugh
Happy birthday to me. I might take a couple days off from the forum, idk, I'm grumpy and don't want to say something I'll regret. We'll see.
---
Last edited by MattsBettas; 09-09-2013 at

10:18 PM

.
Banned
Join Date: Jul 2008
Location: Central Texas
Posts: 27,607
Matt, I'm sorry foryour loss. You can vent to me via pm if you want.
Oh man Matt that is terrible. Females seem to have a very weak immune system for a couple weeks after spawning. Ive lost 2 females for no apparent reason after spawning myself. She was a beauty and why its always our favorite fish is a mystery to me. Im so glad you have her fry.
I know, it's sad but there is always that risk... Thing is, there was next to no damage on her and there were ZERO symptoms... Oh well. Her fry are looking great.
And I stumbled across this today-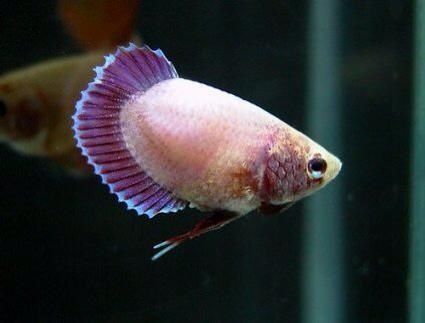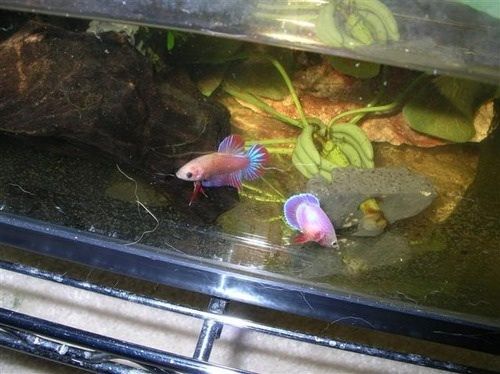 This is called a "bullet betta". My God. What is wrong with people?! This is obviously a gross mutation, and worst of all, she's in the breeding tank making MORE! Ugh. Things like this both disgust and piss me off. Come on people... Have some respect for animals.
After females give birth/eggs, their immunities can drop to a severe point where something as small as a cold can become fatal. Thats why before and after pregnant women get a lot of different shots and stuff, to help with dealing with so much stress and exposure. I imagine its the same for most wild animals, just its hard to give them exactly what they need when they need it. Again, being able to talk to our fish would go a long way.

Very sorry for the loss, Matt. She was gorgeous.
---
Want Custom Betta Art Prints? -->
http://syrazel.deviantart.com/
I didn't know that, but it makes sense. You would think there would be at lease some sort of symptom though. Or it could have been something internal I didn't pick up in the necropsy.

It's also interesting that the girl who beat the male up and barely got a scratch died when the girl that was essentially beaten and chased into submission is a happy camper. (Knock on wood)
I hope the other girl does better. But yea...an ex of mine's sister in law had her baby but then a few hours later abruptly got sick so fast and died they didn't have time to do anything. S'why your shots are important and shouldnt be missed.
---
Want Custom Betta Art Prints? -->
http://syrazel.deviantart.com/
That bullet betta was bought off of aquabid around 5 years ago, by an expert breeder, who was experimentally breeding to see if it was genetic or not. It either never bred or it wasn't genetic, as that was the only one that ever existed. It would have been fun to cut up though. The original site on it has since gone down. I do think that fish is dead now considering how long ago it was. It lived a pretty normal life, just swam slower than others.
I'm surprised you've never seen it before, was a pretty well known case. You know, kind of how people marvel at a snake with two heads or a lamb with five legs and whatnot.
Posted via Mobile Device
I don't care if whoever bred it was an expert who has a doctorate in genetics and had done thousands of spawns, the thing should have never been bred. Spinal deformities, compressed internal organs (and thus things like sbd), trouble with mobility, etc are all things that extreme short bodies cause. I've seen some similar ones pop up on aquabid every once in a while, but never to that extent.

One of the things people do that I hate most is manipulate animals for no reason other than to satisfy their curiosity.

Anyways, I picked up a big water hyacinth plant and a little water lettuce. I need more floaters for the npt and they were decently priced and the hyacinth has the most awesome root system ever.