5/22/2013
---
Received my breeding pair early this morning which was extremely unexpected, was thinking that i had at least until the end of the week till they arrived so i scrapped together what i can to make sure the two are as comfortable as possible till i sort something out because my LFS is closed today. Both of them are looking very healthy.

36 Liter
The hair algae just wont go away no matter what, i thought i the algae growth was slowing down when i first introduced the CO2 system in my tank but it is growing as fast as ever the past couple of days, liquid fert dosages are normal. Finding it really hard to explain the algae growth. Added a mixture of ADA Bacter 100 and Clear super to the water column to hopefully improve the current situation. Did about 25% water change today with the daily dosage of the Sera bio Nitrivec, also dosed the liquid ferts after the water change.

Looked up the causes for hair algae and it mentioned that hair algae grows on slow growing plants and gravel which does seem to be the case here. However, it mentions causes for green hair algae is high iron content, i tested for iron before the water change and i got 0.0mg/L. I know its not good for the plants but i was dosing ferts today so it didn't worry me. Been checking in with my LFS regarding this problem but he is just as stumped as i am.

Water parameters before water change:
Ammonia: 0.0mg/L
Nitrite: 1.0mg/L
Nitrate: 50mg/L

There will be a massive photo dump soon for all the updates on both the tank, new barracks which will hopefully be here soon, breeding tank which will also be here soon and all the bettas.
5/23/2013
---
36 Liter
Things are looking up, the stem plants are all looking as healthy as ever. The HC is starting to spread now although its still covered in hair algae. The phoenix moss is also growing and might already be attached to the driftwood in some areas aside from those that came off recently. The blyxa on the other hand is showing no new growth as all. I did however notice some new sprouts that look very much like blyxa couple of cm away, not sure how it ended up there. Still dosing with Nitrivec daily and the water parameters are looking up, nitrates have gone down, nitrite is coming down as well, all good signs.

Water parameters;
Ammonia: 0.0mg/L
Nitrite: 0.5mg/L - 1.0mg/L
Nitrate: 25mg/L

14 Liter
I've put my new sponge filter in this tank with Nibblez which i think he seems to like although it very much temporary. I'm trying to get this sponge filter established in the tank so that i can use it for the growout tank in the future. Odd thing about this tank however is that i never did get to test the water but that was because everything thing seemed absolutely fine, plant is healthy, barely any algae growth, even seen a bit of java moss grow from the driftwood. Nibblez is healthy as well. I check the water to be sure the other day and i got back 0.0 for ammonia, nitrite and nitrate, the last water change was a week ago. Waiting a couple more days to test the water in that tank.

27 Liter
YES, I GOT A NEW TANK. As i mentioned, the pair i bought arrive much sooner than i expected so they were in make shift containers which i really just dont want to talk about at all. So in desperation, i went to my LFS today and got a bunch of things for the pair. I got a 30cm X 30cm X 30cm Do!Aqua cube (approx. 7 gallons), 55W heater, thermometer, a bunch of live plants, black water extract, a satellite breeding box and a internal water pump. Its quite bare right now as i am to use it as a breeding tank for the pair i got, the male is in the main tank and i have the female in the satellite breeding box right now. Both seem to be getting used to their new environments for now.

As for that massive photo dump, will have to wait till tomorrow, its a bit late and the pair are still exploring.
5/24/2013
---
Heres the massive photo dump i was mentioning.
36 Liter
The tank is just covered in hair algae now, however, with the dosage of Nitrivec, its looking much better in terms of water parameters. Did a water test today and its looking great, should be able to stock the tank pretty soon.
Water parameters:
Ammonia: 0.0mg/L - 0.5mg/L
Nitrite: 0.0mg/L
Nitrate: 10mg/L
14 Liter
27 Liter
Heres the setup i have so far, the light is temporary, just built a frame to attach the led strip to. I ordered another bag of IAL locally in hopes that that will get here next week. Going out tomorrow to get terracotta pots to help plant then plants in this tank with some ADA aquasoil. The plant seems to be pearling quite a bit despite that though. It looks bluer than it actually is though i have to say the light spectrum looks more like 7500k than 7000k.
And here are the photos of the lovely pair.
The female
The male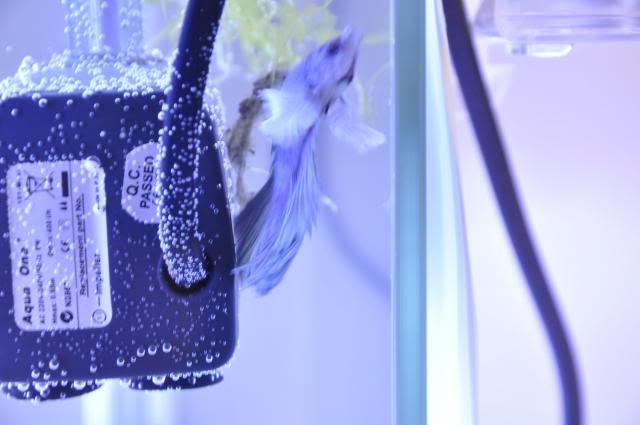 Just found a dead oto in the middle of the 36 liter tank, no idea what the cause of death is, nothing noticable on it. All 3 of the other otos are fine.
5/25/2013
---
36 Liter

Did a water change today with Nitrivec and cleaned out as much algae as i could again. Trimmed the rotala and planted some of it in the 27 liter tank. At this point i'm aiming to get rid of the algae, its really spreading.
27 Liter

Made some changes to the tank, went out and tried to find some terracotta pots to plant but didnt manage to find any so i ended up finding some other replacement to plants the plants. Also finished building the lighting unit for this tank. Its slightly changed from the photo as the wood warped slightly due to the heat from the LED strip. Still fits perfectly though and i tidied up the wiring a bit more. Photos i took this morning before the changes.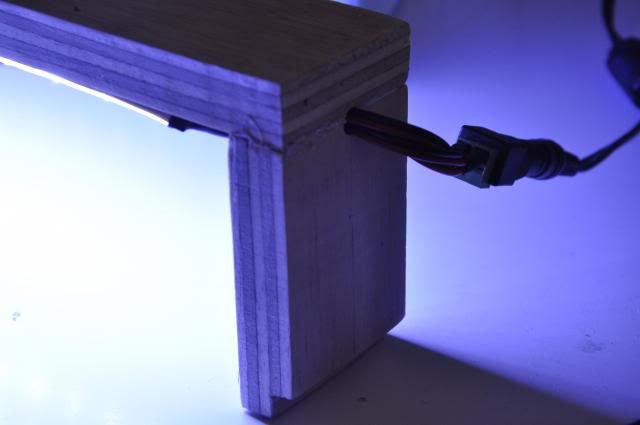 5/26/2013
---
36 Liter
WOOH! I tested the water parameters today and i have to say i am very pleased! The water is very very green so i am just hoping thats the hair algae disintegrating. I'm still continuing the dosage of nitrivec for another 4 more day so now the tank looks really really cloudy now, it has very low visibility. Got a new oto today as well to restock the tank, the tank is pretty much ready but i'll be waiting until i finish the dosage of nitrivec to introduce some shrimps in there and then Courage. It seems that he is biting his tail and he is the most placid of all my bettas, so i'm thinking he might be the best option for a community tank.

27 Liter
I added a bunch of amazon sword (that thing is huge) to the tank to add a lot more cover to the tank, also added some duckweed to the tank. Doing daily water changed to help keep the water quality in the tank as pristine as possible for the breeding pair. Hoping the IAL get here early in the week. Also the male ended up blowing a pretty big bubble nest while i was out today, too bad a part of it got destroyed when i was doing the water change.

Also, i was curious when i was at my LFS about better foods for my bettas. I looked into getting NLS as it was suggested since it has whole fish meal but i just cant find it in Australia and i cant just import it. I asked my LFS and they said some stores might have it exclusively but you will have to search for it, checked out some other foods he has stocked, one of them looked promising but it was flakes so i worried that my bettas wouldnt like them. I ended up buying the ADA AP-3 food to see if my bettas like them. Hopefully all goes well.
---
Last edited by Nibblez; 05-26-2013 at

07:50 AM

.
5/10/2013
---
Alright, its been quite a while since the last update. There's quite a but that's been happening. Had my exams going on and the moment where i was just biting my nails refreshing the Results page for my exams for about a week. Aside from that, just lots of frustrating moments with my bettas and tanks.
36 liter

So ever since i finished dosing the Bio Nitrivec to the tank, the tank had a very very serious clouding up, i can't even count my otos. Here's a photo just for reference sake when it was at it worst before i started to do water changes.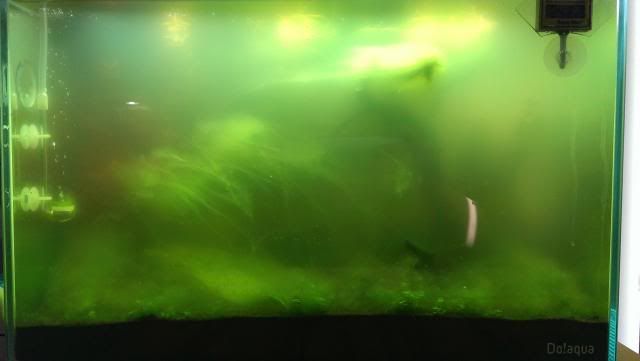 The otos are 100% fine and the plants are fine to although they were probably deprived of light. The hair algae just bloomed like crazy even though there was zero iron and phosphates tested. Water parameters were perfect, 0 ammo, nitrite and nitrate. Truthfully though, i also neglected to clean the hair algae for a week which led to the insane algae growth. Consulted my LFS for some advice while i was doing 30% changes every other day to clear the water, we came to the decision that it would be best to restart by doing a 100% water change to clear the water column of whatever was causing the problem (still no idea why this is happening). 25 liters of water later, here's the result.
Water params are still stable and fine, otos are fine, water hasn't been clouding up yet but the hair algae is still blooming regardless. Its getting pretty annoying so i've decided to go with getting 6 CRS and CBS in there since the tank seems pretty stable now along with about 5 or so baby golden apple snail that spawned from the 2 i bought.
14 liter

Nibblez is doing great in his 14 liter with IAL in his tank now, also chucked in the 2 golden apple snails i bought for the breeding tank temporarily.
27 liter

This has to be the most frustrating of all, got me banging my head up against the wall. I conditioned the breeding pair i bought for slightly over 2 weeks, the female was full of eggs and the male was building bubble nests continuously. I took the satellite breeding box the female was in out of the main tank and removed everything, gave the whole tank a good scrub down, clean and setup the breeding tank yesterday. Here are some photos of the lovely pair i decided to name Adam and Eve (the first pair to breed :D)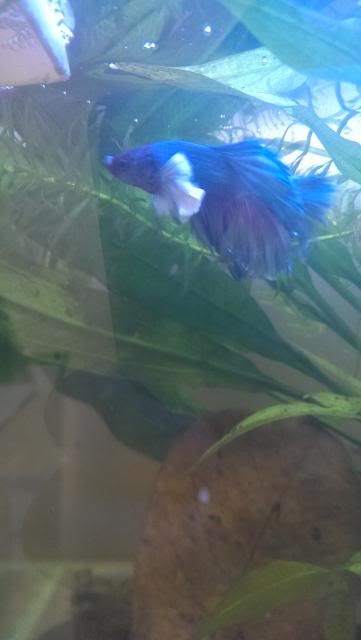 And here is the photo of the tank setup.
I took quite a lot of footage and recorded the pair throughout the process while i left them to it so i can review how it went. They started to embrace at around 10am a couple of hours after i turned the light back on after the night passed, and then the female went back to hiding at around 4-5pm. They are most likely a virgin couple so they were pretty inexperienced. I have to say the female was really full of eggs though, even after i removed her she was still dropping eggs. The most frustrating thing was watching them time after time attempting to embrace and the male just doing it halfway then swimming off, every time he would just fail to embrace her, he is so focused on the bubble nest though, he would keep building it non stop till the female had to come up to him and poke him in the face till he would attempt to embrace again. She would release the eggs but he just wouldn't be able to embrace her. A few times i thought even though the embrace wasn't perfect, he managed to fertilize the egg and pick them up, i'm thinking he was probably just eating them. 8 hours of failed attempts at embraces, i pulled the female out after she decided to go back to hiding and put her in the satellite breeding box with clean fresh water with IALs to help her heal up even though she doesn't look very battered at all. I left the male in the breeding tank just in case there might be any fertilized eggs at all (even though i highly doubt it). He has a very massive nest right now with the bottom of the tank littered with eggs while he is just swimming around the entire tank completely neglecting the bubble nest.
I just feel so annoyed right now, i'm thinking of reconditioning the pair and trying again but since the male really doesn't seem to be able to get the hang of the embrace and fertilizing the eggs, i'm considering trying a roughly 3-4 month old boy i have who recently perked up quite a lot and grew much bigger than when i first got him with this female in hopes that he might have better chances since he is most likely younger as well. He already blowing bubble nests in his tank. Here's the boy i will be conditioning now instead with the female.
Probably going to upload one of the videos i have for reference sake so the picture im trying to draw with my words isnt just a massive blur and will probably make more sense.
You have absolutely beautiful fish! It's a shame your one male hasn't done the embrace, but hopefully your new male will work out better.
---
"Animals are reliable, many full of love, true in their affections, predictable in their actions, grateful and loyal." ~Alfred A. Montapert
My Bettas:
Dude-Male Salamander HMPK & Molly-Female Marble HM
My Goldfish:
Rory
S.I.P. Beta-Blue & Black CT//Dragoon-Dark Copper DSPK//
Merlin-Red VT//Raku-Multi-Colored CT
My Journal
Thanks, i did what i can with the pair, its probably just practice that the male needs sadly. Might give him another shot at it since this male and the female get along quite well, its just a pity he couldnt get it right.
Here's a video of my pair doing the embrace, these were the last embraces before the female gave up on the male. Video is a bit long because i left the phone to record and left them to it as much as possible without disturbing them.
http://youtu.be/TbVU4osz5eQ