Nibblez's Journal
---
Hi all,
I'm making this journal just to keep track of my plans and thoughts as well as to keep track of my progress. My friend told me he might buy the 14 liter setup off me in a month or two which got me planning 2 extra tanks. I dont have a fish room or anything but I've rearranged my bedroom to fit as much as i can.
The Bettas
Nibblez is my first ever betta and i got him about 2 months back. I still have yet to figure out what tail he is or what colour class he falls into. He's just so lovable, curious, greedy, loves to eat the food off my finger and he just follows me, not much of an explorer.
Tenshi was an impulse buy about 2-3 weeks back. I saw him in the same pet store i bought Nibblez and i just had to have him. I bought him even though i have no proper tank setup for him so i put him in the 2 liter cube (and he is still in it) that i got Nibblez with. He is a bit shy compared to Nibblez but inquisitive none the less and loves to explore. I dont have a photo of him in the cube as it is now.
The Tanks
Theres the 14 liter (3.8gal) all in one setup which is the one my friend is considering to buy. Its a simple setup with a plant (not sure what kind) planted onto a piece of driftwood, a rock with grey gravel and the betta hammock. This is the tank Nibblez is in (first photo).
The spare 2-3 liter (.8-1gal) cube which is currently housing Tenshi (second photo) which i hope never to use except for emergencies or as a QT.
Ever since i got Tenshi, I've acquired a 38 liter (10gal) tank which i have planned to make into a NPT. Pretty much threw all my money into it, its got the substrates in but I'm still waiting for the driftwood and rocks to finish my hardscape. This is the stage it's currently at aside from the recently acquired lid.

The Plan
Aside from the 38 liter tank that I have under construction, as long as my friend buys the 14 liter tank I have, I plan to get 2 25 liter (7gal) tanks. These are also going to be NPT just like the 38 liter tank but i will probably design it differently, somehow. But with 3 proper tanks, this means that i can get more fishies. I am currently tossing up between 2 plans. Would be great if any of you have any recommendation of which plan to go with or advice.
Plan 1
38 liter tank becomes a sorority NPT community tank and the 25 liter tanks will be community tanks for the 2 male bettas i have right now. This plan will allow me to get a few female bettas.
Plan 2

38 liter tank becomes a large NPT community tank with a male and the 25 liter will also be community NPT community tank with a male betta each. So this means i get to get 1 more male betta.
Thats pretty much if for now, I'll just keep all my updates here. I should be updating pretty soon with the driftwood and rocks once I'm happy with the hardscape.
---
Last edited by Nibblez; 04-18-2013 at

02:51 AM

.
Oh, I really like Nibblez' tank! Its simplicity is what makes it gorgeous and modern!
---
Ciel

Banned
Join Date: Jul 2008
Location: Central Texas
Posts: 27,607
Very nice tanks & fish! :)
---
"Some people talk to animals. Not many listen though. That's the problem."
― A.A. Milne
__________________________________
Espeon female halfmoon / 10G

Jolteon male dumbo plakat / 10G

Update time!!!!
---
REALLY EXCITED RIGHT NOW!!! SO HYPER!!! I GOT MY DRIFTWOOD! Sadly the rocks weren't there in the shop so i will have to go in another time. There were so many choices of wood he brought in for me. I was STUMPED! Luckily i settled on 3 pieces, 1 was literally a stump.
Anyways I arranged it in the tank, did a bit of trimming and now i'm going to soak it. Might have to add more terrain to even it out to my liking. Enough talk, heres the wood arrangement i have settled on.
Next is the rocks, light, plants and maybe a CO2 kit.
4/26/2013 - 36 liter
---
Posting this a bit late but i got the rocks and started placing them into the tank, fiddled around a bit with the hardscape and decided to remove the stump and a few rocks for use with another tank. About half an hour of figuring it out, i started to wet the substrate and began planting while it was filling very slowly. I think i have got HC for carpeting and.... cant remember the other plant's name. Planning of getting dwarf hairgrass and a few other stem plants the next time i go to my LFS.
This was how it looked on the first day after filling. Took this at night with only the tank lights on so the colours look a bit more bleached than they are.
---
Last edited by Nibblez; 04-28-2013 at

12:47 AM

.
4/28/2013 - 36 liter
---
3rd day since initial tank setup, i have been doing roughly 40%-50% water changes with Prime daily. My first time using Prime, i have to say it really is very very concentrated. Shifted the heater to the back of the tank behind the HOB filter but it meant that i had to move my HOB forward along with my light, so the light is currently sitting off centered. I would say the the substrate is still settling as there was still small air bubbles popping from the substrate yesterday. Water is a bit browned, most likely due to the driftwood still leeching. Anyways, I'm seeing all the plants with air bubbles on the leaves! THEY ARE PHOTOSYNTHESIZING!! Must be a good start. :)

Also found a tiny mystery snail today crawling around... Not sure what to do with it....

Looks like when i open the curtains, the sunlight hit my tank at the perfect angle around late afternoon that im getting an awesome rainbow right now in the middle of my room.
---
Last edited by Nibblez; 04-28-2013 at

12:58 AM

. Reason: RAINBOW!!!!!!!!!!
"Mystery" snails are not good and will make a pest of themselves. It probably came attached to one of your plants.

I say destroy it while it's tiny and save yourself an ugly infestation.
---
Ciel

4/29/2013 - 36 liter
---
Quick update, the water is starting to clear up, substrate has finally settled i guess. Re-arranged the plants and got myself a bunch of blyxa that i planted around the driftwood. Baffled the HOB filter on both the intake and the outflow spout as well. Now running on maximum output with barely any disturbance, should be perfect for Tenshi once its ready.
---
Last edited by Nibblez; 04-29-2013 at

09:47 AM

.
4/30/2013 - 36 liter
---
Water is continuing to clear up as i change the water so im glad the wood has stopped leeching. The HC seems to be spreading out i think, aside from that, theres not really much, waiting a couple more days till i do the first trimming.
Massive photo dump.
Heres the newly planted blyxa.
Think i am seeing some growth...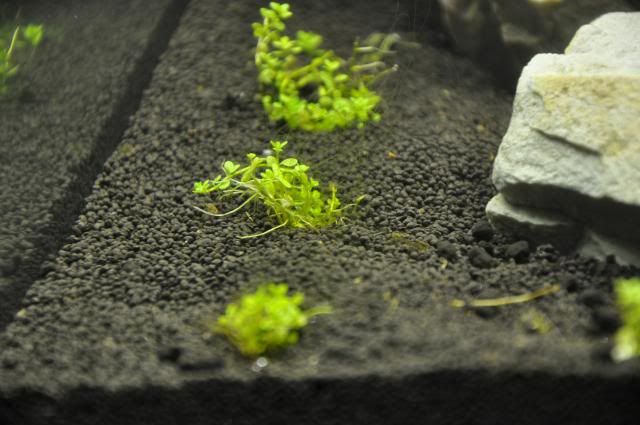 A picture of the baffled HOB, its running on max output right now, the total amount of water outflow is around the same as mid power or so although there is barely any disturbance. Used a fluval edge intake foam for the intake and a bio sponge folded over stuffed in the spout with a rubber band to hold the lid down.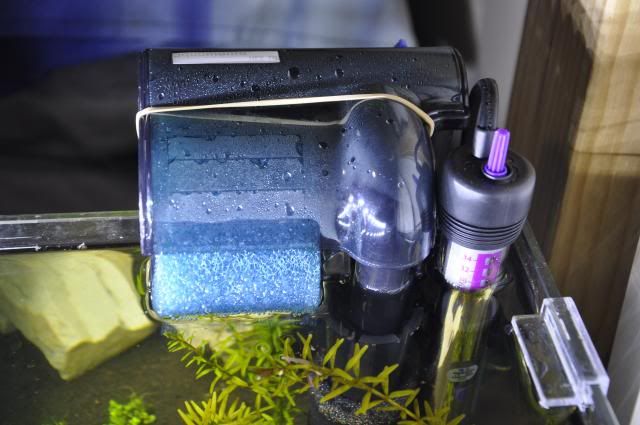 My beautiful little boy is sitting right next to his new tank, keeps staring at the tank like....