Some photos of my 'obese' Betta burdigala juveniles/sub-adults. I think it was all the blackworms and grindals they have gotten. You can see none of my wilds are going to starve any time soon.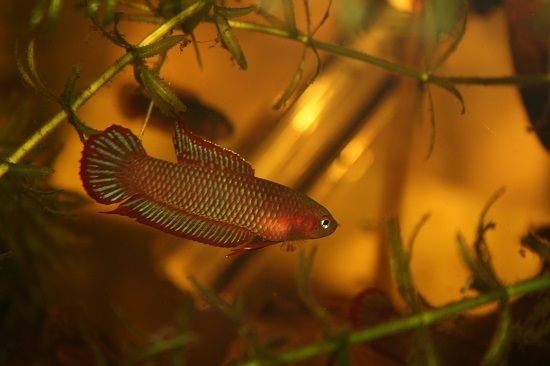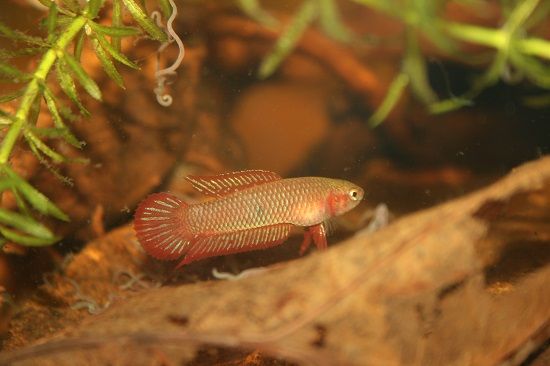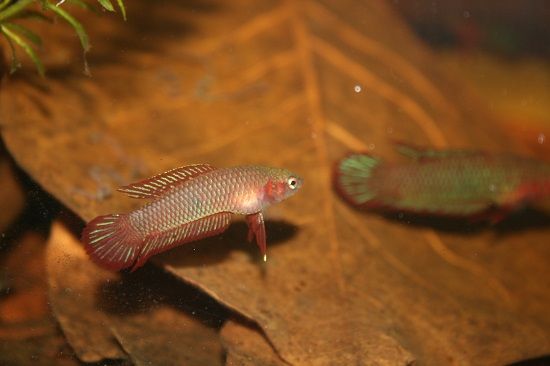 Then we had a shot of one of my persephone males from this morning. I tried to get more but they would not sit still and the rest of the photos turned out rather
unflattering
.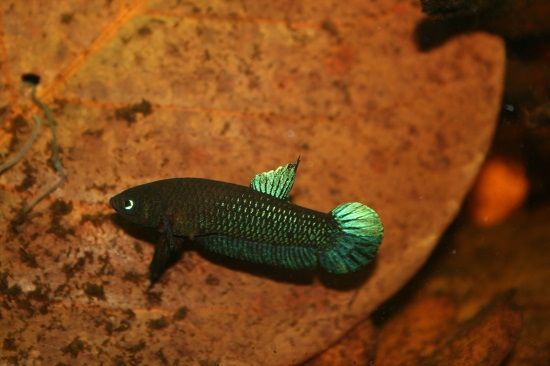 My killifish fry are doing great. Noticed one had hatched out in the egg container so gave it some microworms. Unfortunately, I buried half the eggs when I was moving them in the peat moss so I can't tell how far along they are/if any have gone bad. We shall just have to wait and see.
---
Sold three of my burdigala juveniles (siblings to the ones in the above photos) to a man that lives nearby. Gave me some extra cash at least so I can put it towards a couple more killifish species. At this point I am waiting for striatum, chocolate australe and poliaki to come back through the Australian wholesaler.

Going to offer my Betta hendra breeding pair for sale. I have heaps of fry from them to carry on with and I thought since I am not breeding in the near future, someone else could use them.

Thought I only had one hatching out in my killifish egg container but when I turned my strong light on tonight I found I had three fry in there! Pretty chuffed as that brings my total up to approximately 20 australe fry. I think I might swing by the $2 shop tomorrow and pick up some food safe 1L containers as the original fry are getting bigger.

It is not fun however, sleeping in the same room as my BBS hatchery that has an airstone going on full blast the whole night. That along with four air pumps (one of which is under my bed) can make sleeping a noisy affair haha.
---
Some better shots of my persephone. They got a water change and a glass clean along with everyone else today so I thought I might as well snap some photos while my tanks were looking decent.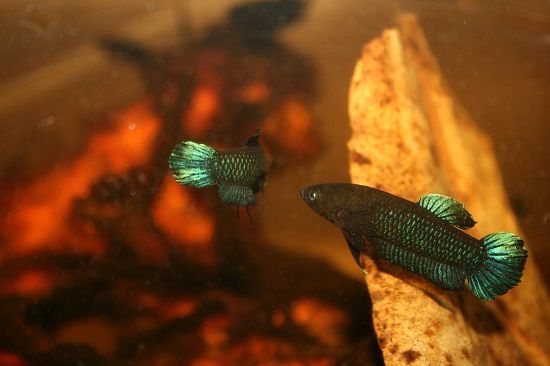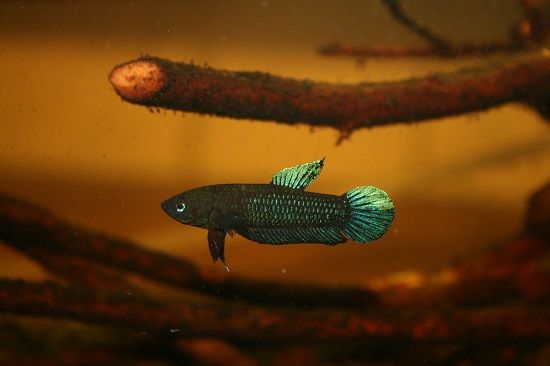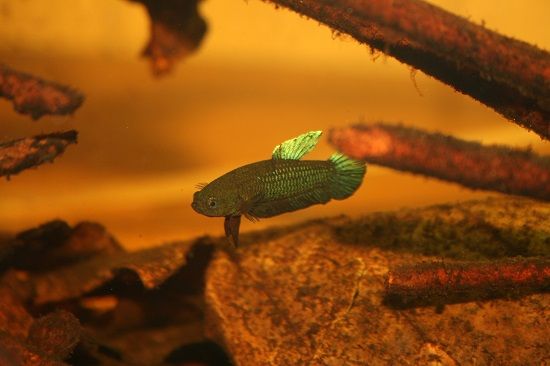 Then there is the tussyae male I bred. I think he is actually just over a year old now so he is doing well. Still really sad none of his siblings made it to adulthood as wild bettas seem much more group oriented and it would have been nice to have some companions of his own species.
However, he is content to share his 10 gallon tank with three rutilans males and an uberis male so life isn't too bad.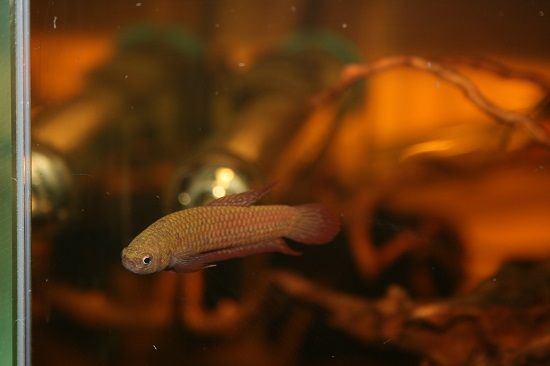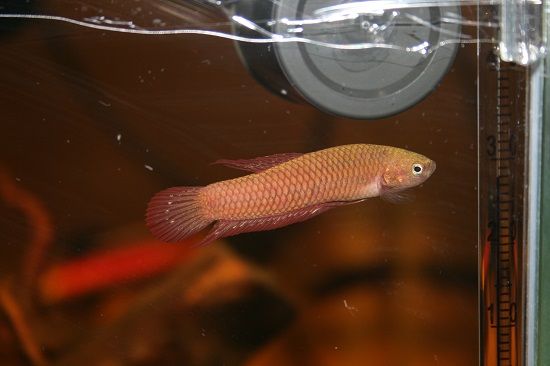 I moved my two lots of killifish fry into a spare 2 gallon tank I had lying around and so I will slowly be increasing the amount of water in this over the next week or so. The biggest of these fry is now able to take grindals so I am quite pleased with their growth considering the conservatively sized containers I had them in and the fact they were on MWs for a while until I could get some BBS.
---
Just wanted to share this photo of our 15 year old cat Bandit (when I was little I named him for the white band around his back leg). He has had a few health problems and nearly died earlier this year, but aside from a visit to the vet the other day with an upset stomach, he has bounced back.
He still needs to gain another 500-600 grams before I will be happy, but I am just glad that he is still around.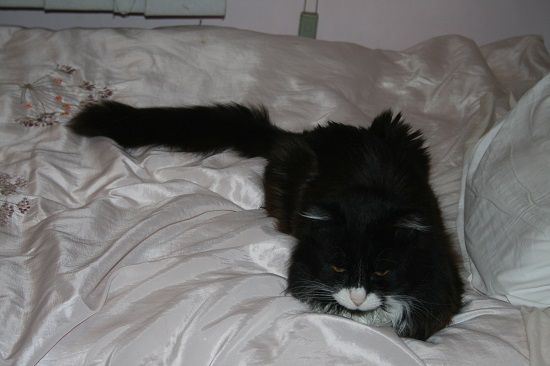 ---
Bandit is adorable! I'm glad that he's a healthy kitty!
---
"Animals are reliable, many full of love, true in their affections, predictable in their actions, grateful and loyal." ~Alfred A. Montapert
My Bettas:
Dude-Male Salamander HMPK & Molly-Female Marble HM
My Goldfish:
Rory
S.I.P. Beta-Blue & Black CT//Dragoon-Dark Copper DSPK//
Merlin-Red VT//Raku-Multi-Colored CT
My Journal
Thanks. Admittedly, he is sort of odd looking, but he has a great personality and having lived with him for 15 odd years now it would be hard to imagine life without him.
In fish news, I had my pair of Betta hendra spawn. They are supposed to be sold this Sunday and now the male has a massive nest of eggs he is tending to.
I am really struggling with this ich in my grow-out tank. Everyone is absolutely covered in it now and it won't go away no matter how I treat it. I treated it for a week and a bit with Ichonex which is a malachite/copper treatment and it hasn't even dented it even with the heat cranked up to 86 degrees Fahrenheit. Tried salt treatment previously as well as formalin and malachite.
I decided today I am going to cull out the runts and the extremely sick/near death fry. Someone I know from another forum is bringing me over some strong ich medication made up by someone from his work I believe (he works at a wholesaler) so I am praying that this finally kills this damn infection off.
The biggest of my australe fry moved into a new 8L/2 gallon tank the other day. They are now taking grindals alongside their BBS and I am seeing definite growth.
I have four or so fry hatch out in my egg container and when I shone the torch in there last night I could see at least four or five more eggs that were very eyed up and so obviously going to hatch soon.
These are just some awful photos I got of my biggest fry last night.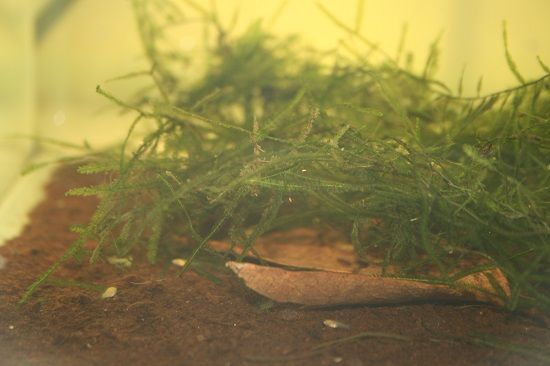 ---
Spoiled my killifish yesterday by purchasing some bolbitis for them to play around in. Their ceramic spawning cave I ordered apparently got shipped out from Taiwan so no idea when that is going to arrive.
Sold five fish today and made $60. Going to put it towards a pair of killifish as I now have some space for them.
Going to do a big water change tonight and dose my grow-out with this different medication I received yesterday. If that doesn't work I am going to cull everyone and sanitise the heck out of that tank before it ever gets used again.
Anyway here are my killifish having some fun.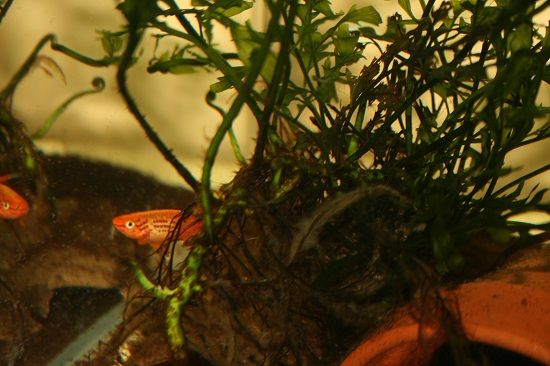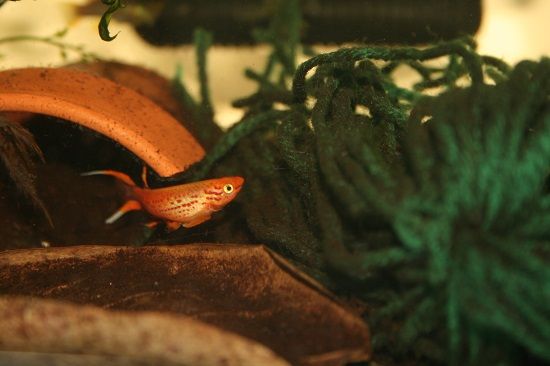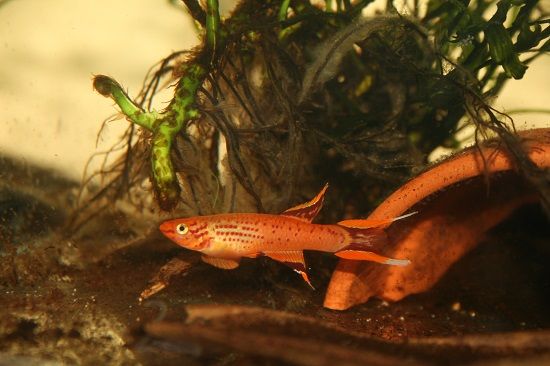 They are having a fasting day tomorrow as I think they are getting rather plump!
---
My terracotta spawning caves arrived from Taiwan today. I am used to my wild bettas who tend to ignore these kinds of things (I spent over $50 on pleco caves/hides for them that go unused), so was pleasantly surprised to see how appreciated my new purchases were.
Within a couple minutes of being put in, my australe female was guarding it from her companion and even got the male to come in an have a look around.
Bit bummed as the species I wanted to get came into the wholesaler as a shipment of all females. So now I have to wait until they get some males in to get myself a pair. For now I am just contenting myself with organising their tank. It still needs some anubias or java fern and a different sponge filter, but otherwise it is looking perfect.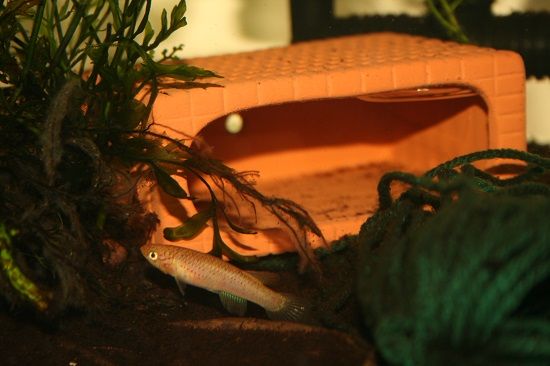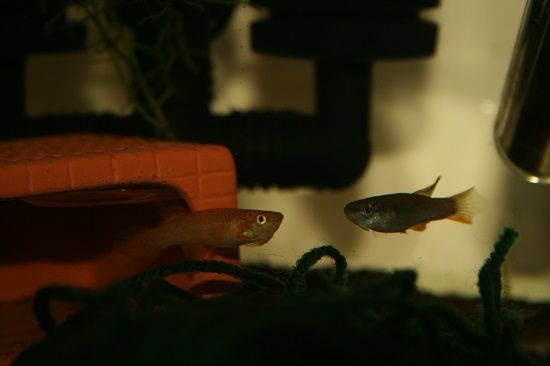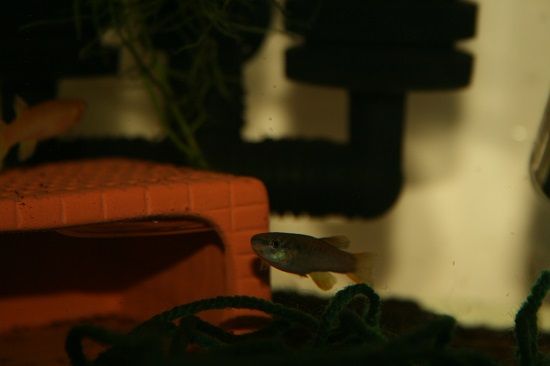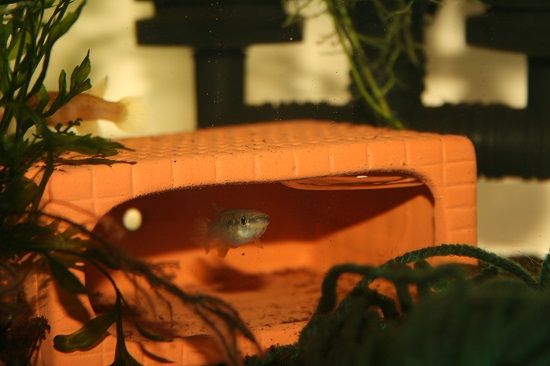 The last shot is my poliaki female sneaking in. Poor thing is never going to have a male at this rate. I think I might have to see if anyone has any eggs with her locality/strain that I can hatch out.
---
Sun came right through my window just then and so I snapped some shots of my australe fry. These are the biggest ones. The dozen or so others are still way too small to photograph.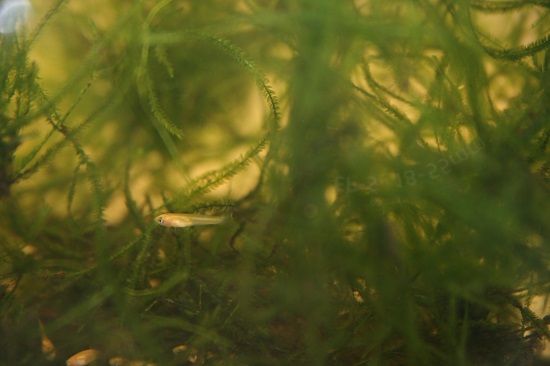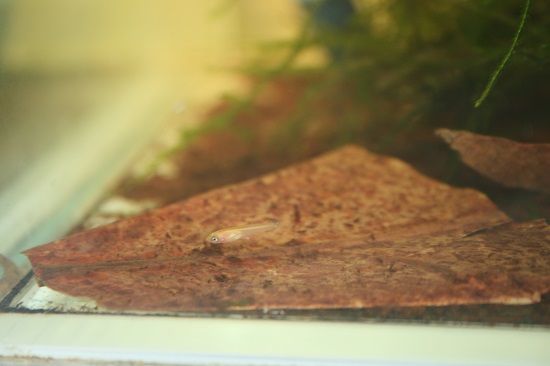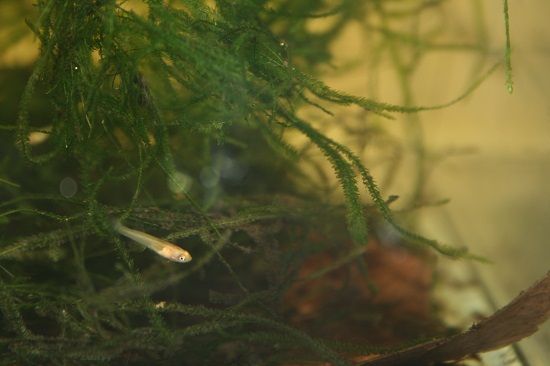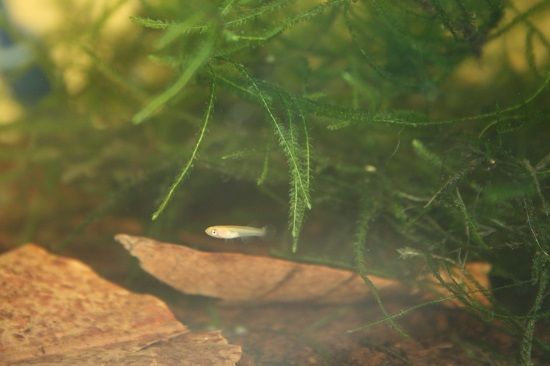 ---
Too cute! Those spawning caves are really cool. :)