Thanks. I saw them in someone's tank from an international forum and only stumbled across an overseas supplier for them the other day. I think I might get a couple more as I intend on keeping several more species of killifish and I like my tanks to match.

Ugh, noticed that the underside of my top shelf on my rack has had water come through. Going to have to move all the tanks off it, get the spare shelf out from under the bed, put a coating on that and swap them over. Don't want the whole shelf to collapse.
---
This is how you have a sneaky fight when you think mum isn't watching. I have to say though, for all the sparring these males do on a daily basis, they rarely cause physical damage to each other. I often wonder if there is some way to bring the level of aggression in splendens back down to a level similar to that of their wild cousins. There doesn't seem a need for the excessively high level of aggression shown in many pet/show splendens as they are no longer used for their original purpose.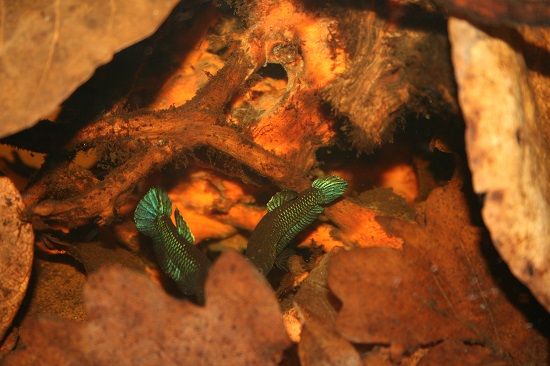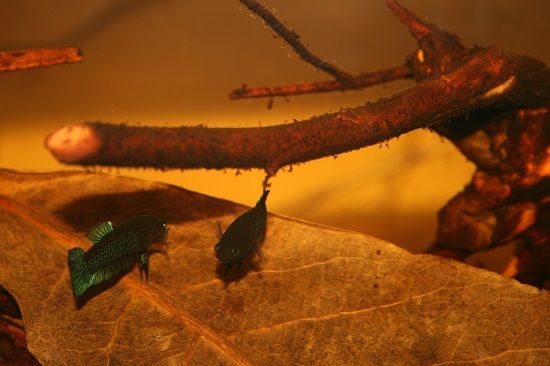 I noticed one of my rutilans sp. green males had a slightly larger mouth than normal. It is aggravating as I cannot tell if he is holding eggs or just has a big mouth. I am going to change their tank around one of these days so I can keep a better eye on them. I think I have a female in there somewhere but I can't be 100% certain without either fry or seeing them spawn.
One pair that isn't shy about spawning right in front of me are my killifish. They were having a great time this morning showing off for the camera.
---
Well I culled out nearly all of my really heavily infected ich juveniles. I only have eleven now out of over 70 fish. Those I left were the biggest (some are nearly full-grown) along with a few smaller female burdigala I wanted to hold onto. I don't think I have any hendra left. They seemed to be the worst affected of the lot and were really emaciated and dreadful looking. I hate culling. Especially when the juveniles are the size they were and they had put in such a long struggle to live.

Anyway, I moved the remaining eleven into a smaller and more fish friendly (has a layer of peat moss over the bottom) hospital tank. I'm not really sure where to go from here. Nothing I have used seems to put a dent in this annoying parasite. Temperature, salt, copper, nothing I do even slows it down.

In other news, I had a couple more killifish fry hatch out. Going to get a 25x25x25cm cube for the bigger ones to move into and use their 20x20x20cm cube for their smaller siblings.

The bigger ones recognise me now even though they are only like 1cm in size. As soon as they see me come over they all swim up to the front of the glass wanting to be fed. I think I have one male sprouting and he is absolutely adorable.

Makes me sad to think of all the species I had and lost. Now I am going to have to start from scratch again and it is going to be a lot harder now I don't have as much money as I used to.
---
Some killifish fry shots from today.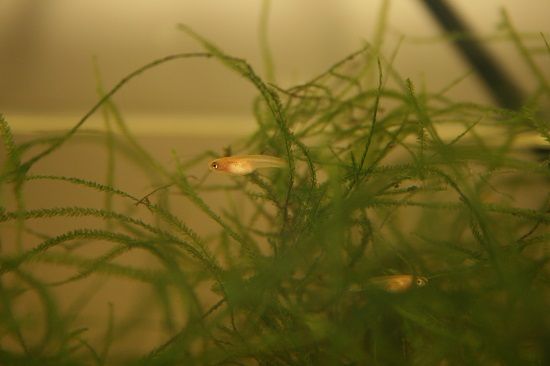 So hard to believe that the above fry were only this big not all that long ago...
I also have so many of them. I would have to say at least 30 with more eggs eyeing up each day.
---
The fry are so cute!
---
"Animals are reliable, many full of love, true in their affections, predictable in their actions, grateful and loyal." ~Alfred A. Montapert
My Bettas:
Dude-Male Salamander HMPK & Molly-Female Marble HM
My Goldfish:
Rory
S.I.P. Beta-Blue & Black CT//Dragoon-Dark Copper DSPK//
Merlin-Red VT//Raku-Multi-Colored CT
My Journal
I know, I have completely forgotten my bettas in favour of these guys haha.

At least I know this lot will be easy to transition onto pellets. They eat anything I put into the tank.
---
Decided I am no longer collecting killifish eggs from my mops. I have way too many killifish fry now I have sat down and actually counted them all. Plus there are still lots of unhatched eggs in my container.
Plan is to start collecting eggs again once these group of fry reaches sellable size.
Here is what I think is a little male based on the orange on the anal fin.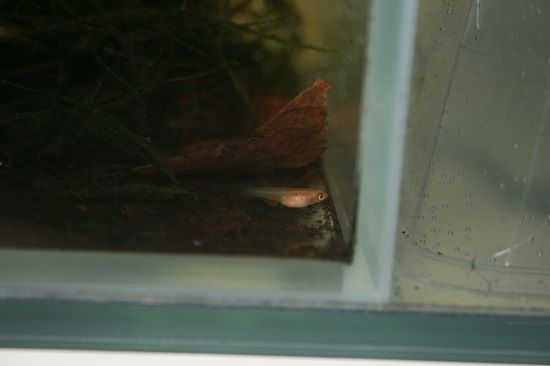 I did some tank cleaning/moving today and am quite happy with how things are looking. Because I took a piece of wood out of my persephone tank I thought I would placate them with some film canisters to play in.
Well a couple of my males have torn their fins wrestling, one male has built a nest and is defending it against the group of males hanging around below and my biggest female who is the only one of the females to actually have spawned is lurking around awaiting the opportunity to enter.
They can have the canisters until tomorrow morning and then they are getting taken away again. They just get too frisky with them in there.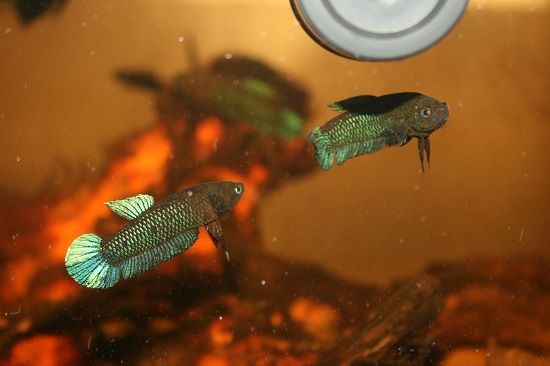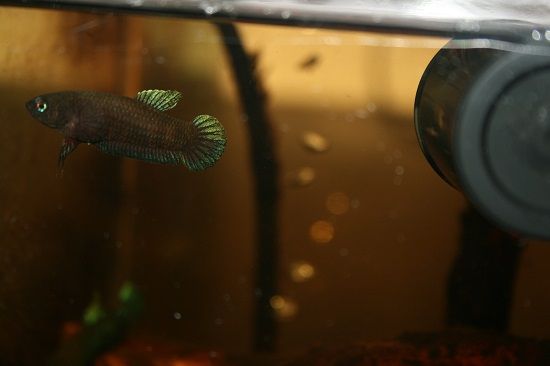 Very plump female. She was by herself showing off to a male who had managed to snag himself a canister unnoticed by the others.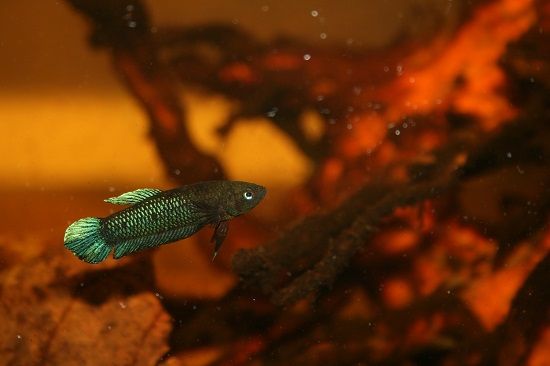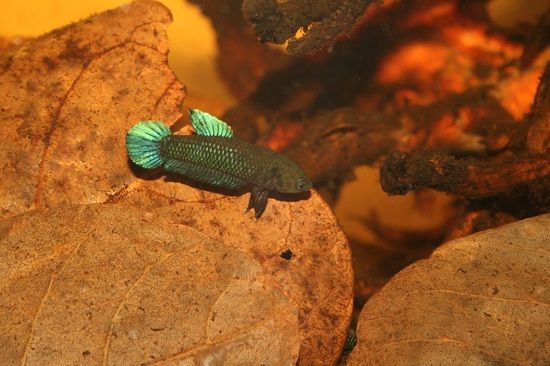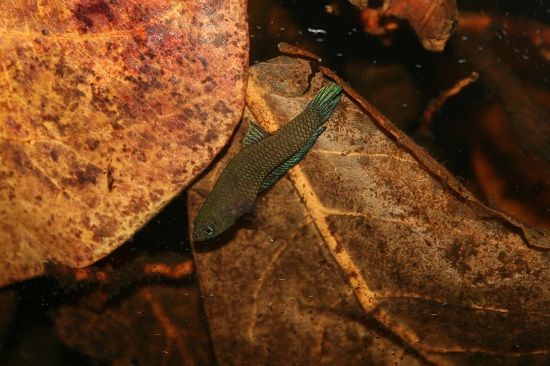 ---
lol, apparently those canisters mean "Bow-chika-wow-wow" in Betta
Pretty much haha. It does amaze me that some of my pairs can not only fit inside the film canister but spawn in there too. I guess they are quite flexible.
---
Some of my rutilans sp. green sub-adults. This group had some issues with their health previously but it seems to have resolved and they are looking really good. I think I have a few females in there (they are quite difficult to sex) and this species will be one of the only wild species I plan on keeping.
I am really interested to see if a pair from this tank would mouthbrood rather than bubblenest like their father does if I spawned them. I want to know if it is a behaviour that is genetic instead of environmental.
The only annoying thing is whenever they see the camera flash they always tuck up their ventrals so I have to be super quick to get a decent shot.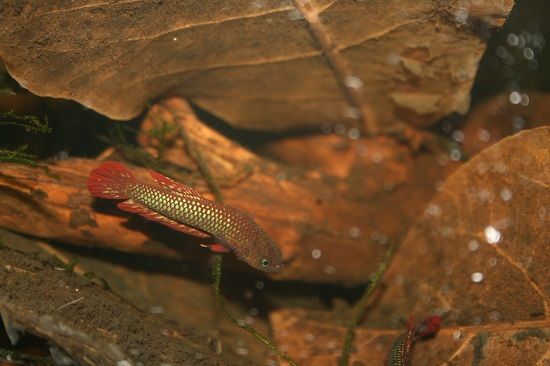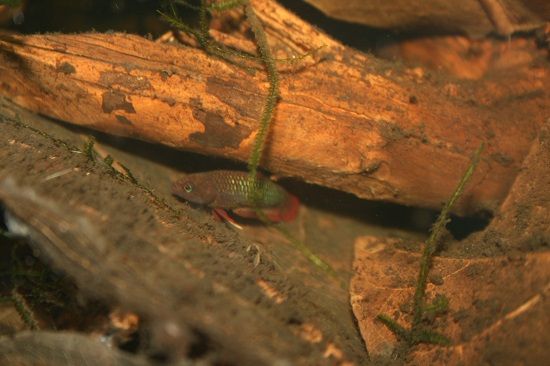 ---