This is just a rant that has been building for a while and I figured here was as good a place as any to post it.
I wish I had more money to spend on this hobby. It sucks being basically broke, but I have been out of work so long now that I have this huge phobia about how I am going to explain this massive gap on my resume to prospective employers. I really wish I had just gone from Subway straight into another job as I think it would have been easier, but that job seriously destroyed my self-esteem and sucked the soul out of me that I just couldn't.
Now I have like zilch savings because I was an idiot and learned the hard way to make a spending plan and stick to it rather than just waste money on impulse buys and frivolous purchases.
My parents want me to go back to university but my 6 months there was worse than my job. I hate grade based/competitive environments like that and was so happy when I graduated from school. I was thinking of doing an online course but that just seems to me like not 'real' study.
And if one more person asks me what I want to do with my life or what I plan on doing I may just implode. I wish I could just wake up tomorrow with a job and that was that.
Moving on from that, I thought I would show the upgrades I have made to my previous ghetto looking killifish grow-out. I am intending on replacing one of the plastic containers with another 20cm cube and this will be where my younger fry are moved to as I have over a dozen of them just in one of those 1/4 gallon containers.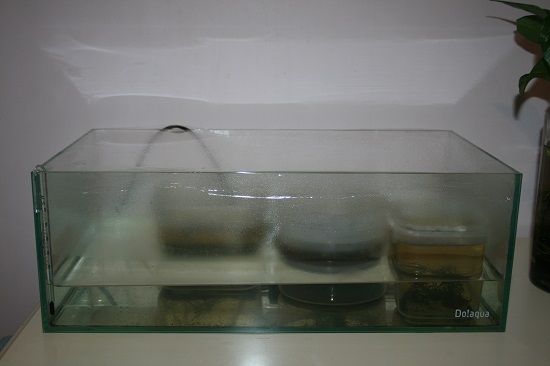 Before
After
The last container is my egg hatching container which has a few very young fry and some unhatched eggs. Then next to that is my BBS hatchery. The coke bottle on top is to stop the salt water spraying everywhere. Not attractive but it is effective.
End goal would be to have a tank custom built that is 150cm long by 30cm wide by 20cm high and use this to grow-out my fry in a system similar to the above. However, for now this more modest version will suffice.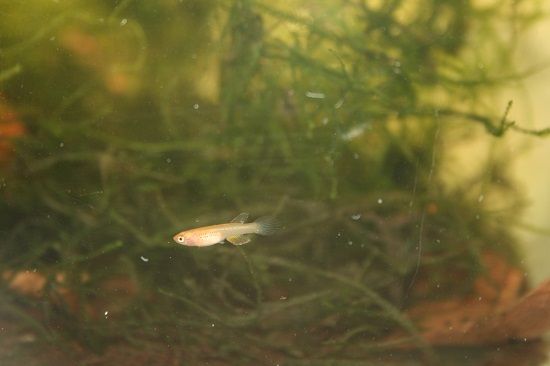 These guys are growing amazingly fast for how many there are in such a small space and with not very big water changes. Although having watched a video where a group of them grew to quite a decent size in only an elephant's footprint, I wonder if they don't give off the same sort of 'stunting hormone' as bettas.
---
To prospective employers: "I'm a part-time, professional fish-breeder. Wanna see pictures?"
Haha I was just going to say that I was a breeder of rare wild betta species....

It just takes 6-12 months before I see any financial return and then I run at a loss more than a profit.

It's so irritating. I am a really good worker. I will put up with a lot of crap and no matter how mundane the task will do it to the absolute best of my capabilities. I used to show up to my old job half an hour early and work later without being compensated simply because I wanted to get everything done properly and ensure the store was clean and that everything looked good for the customers.

It's just unfortunate my boss didn't seem to appreciate that and did things like hire incompetent idiots because they were cheap, let the fridges break down almost constantly, tell me to lie to the health inspector that we didn't have outside kiosk storage and not make me a full-time employee even though I managed her store basically 40 hours a week. Oh and she also wasn't paying me superannuation until I asked and then it all magically ended up in my account.

Being someone who is quite passive in real life (I hate confronting people), it was exceedingly difficult for me to resign from that job. I should have done it sooner but I always felt guilty and that I would be letting them down.

I probably sound whiny but it would be so nice just to have a steady, predictable job (even dare I say boring!) with regular hours that at least would give me some financial freedom again. I feel like I am going to be paying off my mum for the rest of my life for what she has done for me over the past year or so.
---
Good luck in finding a good, stable job. I'm sure it will come eventually.

Oh, and by the way, saying that you breed rare, critically endangered species professionally sounds pretty impressive. Seriously.
I think my parents are hoping one does!

It probably sounds more impressive to fish people who appreciate the work and time that goes into breeding and rearing fish. Especially bettas. Non fish people always make this face when I tell them I breed wild 'Siamese Fighting Fish'. Most have no idea what a wild betta is so I explain they are sort of like wolves compared to dogs.

I usually get asked why my tanks are so dirty by visitors and you can just see their eyes glazing over as I explain about tannins and why they are important to my fish.

I had to tell my mum to stop telling everyone about my blog. I said unless they were a hobbyist they are most likely not going to understand why I would make up a site about my fish and it just kind of makes me look weird.
---
"I feel like I am going to be paying off my mum for the rest of my life for what she has done for me..."

Don't we all. <sigh> Don't we all.

I did some re-arranging of the main killifish tank today. I took out all the IAL, put in a worm cone and have temporarily put in the second terracotta cave that was supposed to be for my striatum. Once I get a pair of those it will be getting taken out.
I am planning on getting another anubias and then maybe something like fissidens, christmas moss or mini pellia tied down on slate to go on the bottom. Would like to also have some frogbit at the surface but not sure where to get it around here.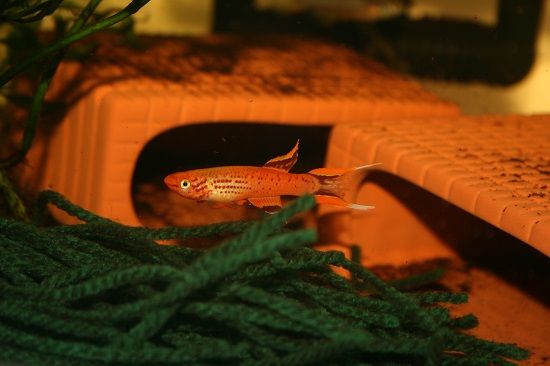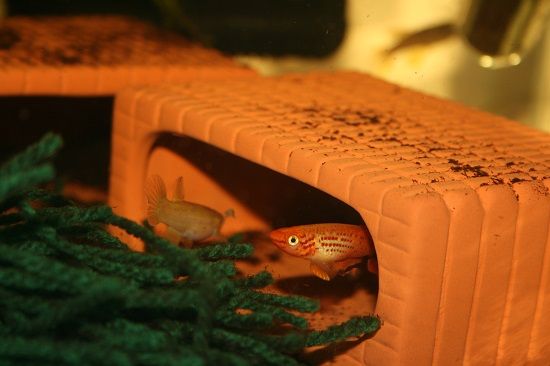 This one is so funny. He went in and she followed.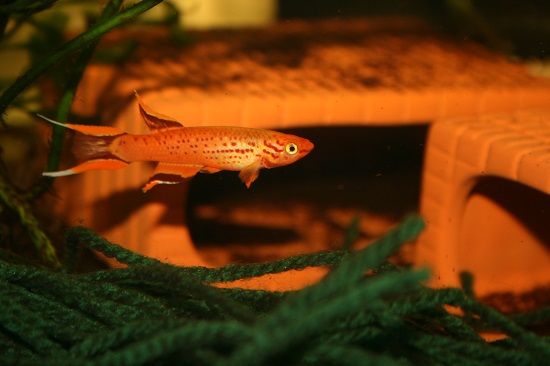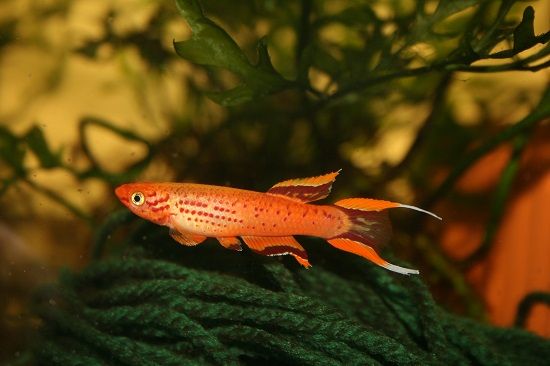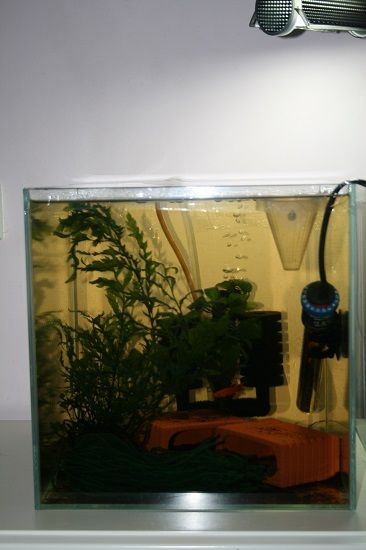 Their updated tank. It's just a simple 12 inch cube but they seem to like it.
---
So, I am selling my pair of brownorum hopefully in the next couple of days. This will be good as then I can empty their tank and use it for my killifish. Plus it's some money in my pocket that will be going most likely towards some plants and some fish food.
I have decided after much deliberation to also sell my uberis pair. I figure someone can put them to better use than me and they are just taking up space on my shelf.
If they sell, that will leave me with my persephone, burdigala and rutilans sp. green as the only species of coccina complex wilds I have. These are all fish I am actually fond of so they will definitely be staying on until they die. I am considering combining all my burdigala into one tank. It seems pointless having two separate tanks for the same species. This will then give me two extra tanks and heaters to play around with if I need them.
There are also four burdigala sub-adults that I would like to add back in with the main group as the three females will help balance out the gender ratio.
Then I am just going to heavily plant the crap out of these tanks with floaters and floating plants such as hydrilla and water sprite so I can cut my maintenance down to only once or twice a week.
Took a few photos of my poliaki female. She has had a very turbulent life with me here. She managed to survive the wipe-out of my previous killifish 'community' tank, and then about a million different moves that included everything from a 2L jar to an outside summer tank.
She is friendly, but not as boisterous as my other two. She is quite pretty when she is coloured up as the photos show and I am hoping that I can one day find a nice male or pair for her to go in with.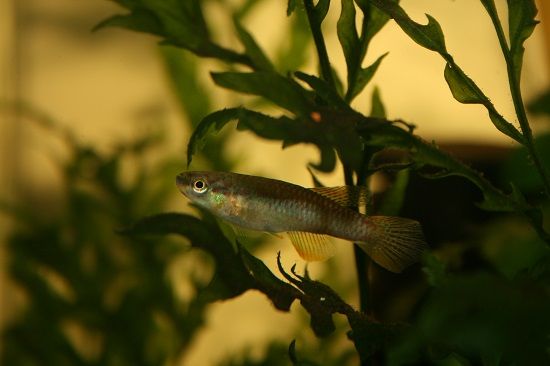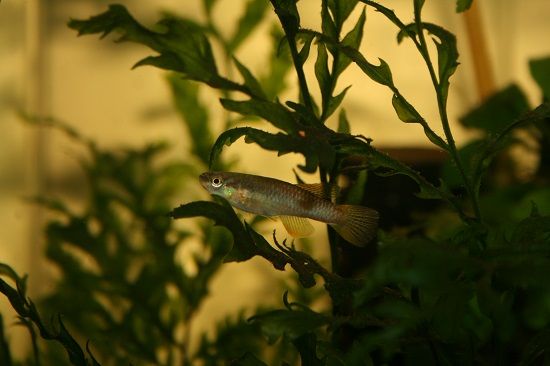 (This is how she usually watches me when I am trying to take photos, I was only fortunate she stopped to rest in the bolbitis).
---
I just found this photo from around the time I first got her while going through my files. She is so much bigger nowadays.
Then here was a very bad shot of her male (never did manage to get a clear shot of him the whole time I owned him).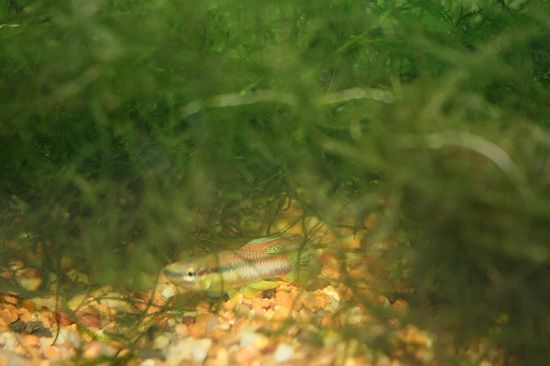 I will say I wish I still had all that java moss!
---
Rant on, girl - we hear ya *HUGS* I'm definitely going to have to agree with some of the others - THIS is what you need to be doing, you're so good at it. . . maybe some day you'll find a way!

Tanks, fish, photos - stunning, as always. I always have to pick my jaw up off the ground when I make my way over to this thread. Keep up the good work, you're seriously inspirational.