Thanks for the kind words Chesh. Fish have been my passion for as long as I can remember (I went through a period of endlessly drawing fish stores when I was younger) and I hope that this is something that doesn't change.
I keep wild bettas simply because I prefer fish that have been altered little if any from their natural state. I love the fact I can watch the entire life-cycle of my fish play out in their tanks all the way from conception to death. There's something about watching a young fry emerge to swim alongside its parents and older siblings.
I am not in the same league as someone like Hermanus Haryanto who breeds and keeps a jaw-dropping number of species, but I like to think I do my best spreading awareness about wild betta species and showing people that they are more than just drab and excruciatingly shy fish.
I have decided in the future I will be working to further my line of persephone and rutilans sp. green. I have several pairs in my persephone tank and I believe a handful of females in my rutilans green tank.
The only species I would consider adding to this, would be Betta livida. They are a stunning species and definitely in need of some conservation. It would be awesome if I could ever source a pair again.
Here is the possible future of my fish room, one of my rutilans sp. green sub-adults (I believe this particular individual is male).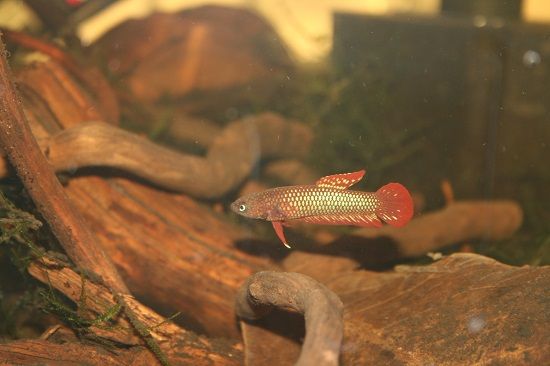 ---
They're beautiful, what is it about these that you're drawn to? I don't know how I'd ever choose. . .
Do you mean the species I am deciding to keep?

Betta persephone were my holy grail wild betta for a very long time. They are one of, if not the most beautiful of all the wild betta species in my opinion.

Betta rutilans sp. green were the first ever wild bettas I successfully bred. These sub-adults are from my original pair who were over two years old when they spawned. I sadly lost the female from that pair but I think I still have the male in with his three or four adult offspring.

All of the species within this group are supposed to be bubblenesters. Only two have been known to also mouthbrood.

My male rutilans has never built his nest the entire time I have had him. He always mouthbroods. Therefore, I am interested to see if this is genetic or an environmental trait in his offspring.
---
Yes, exactly what I wanted to know! :D Really fascinating stuff, and they truly are beauties. . . how are they, temperamentally?
Firstly, here is my updated killifish grow-out tank.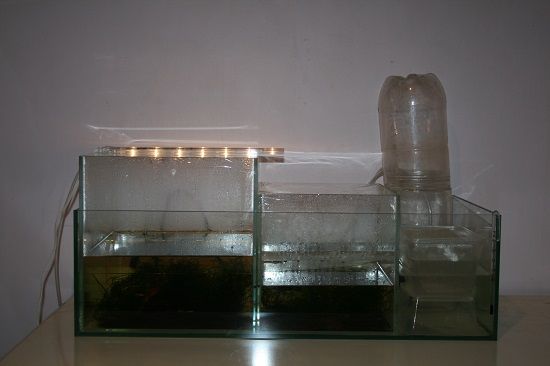 The cube on the left houses my biggest fry, while the one on the right houses the smaller ones or ones that have newly hatched.
The jar at the back is my BBS hatchery and the plastic container in front of that is just there in case I want to hatch some more eggs out.
My wild bettas can be aggressive at times, particularly during courtship when it is not uncommon for both fish to come out with torn fins, missing ventrals and damaged scales. However, it is not to the scale of splendens. I can house males together generally without issue and adults tend not to predate their fry.
There are exceptions and some fish are more aggressive than others, but generally they seem quite content to live together in the pairs/groups I have them in.
---
| | |
| --- | --- |
| The Following User Says Thank You to LittleBettaFish For This Useful Post: | |
My killifish fry are growing so fast. I have two Betta hendra fry that I managed to rescue after I sold their parents (their siblings all died as they were very young) and they are getting outstripped very fast. I may have to move them to a safer location just to avoid them being eaten.
Not certain what I am going to do with them if they manage to survive through to adulthood. At this moment in time I am thinking they can just go in my miscellaneous male wild betta tank.
These are some photos of my big killifish fry (probably should call them juveniles at this point). They were put out that I had forgotten to feed them their breakfast of grindal worms this morning.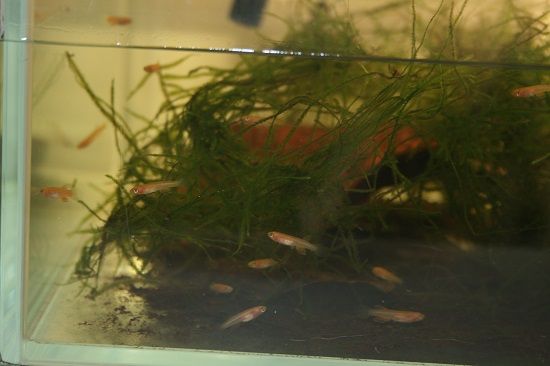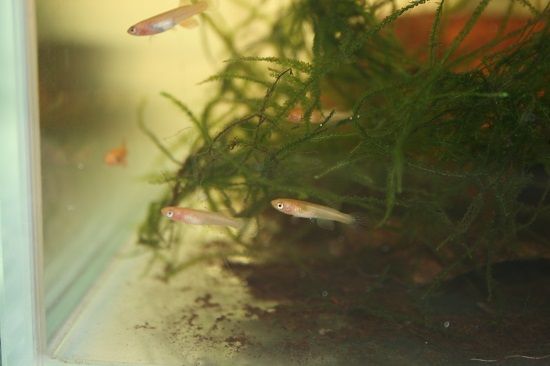 This was after lunch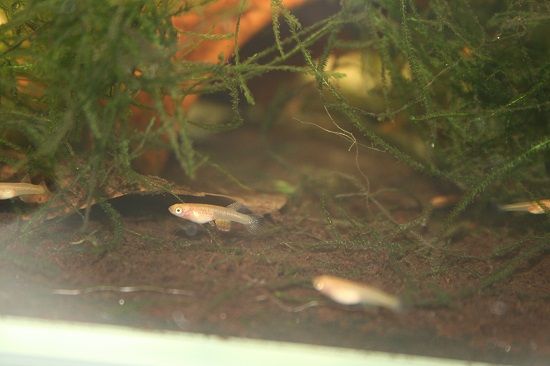 I have so many males. I just hope I get some females as well.
---
How do people get their fry switched over onto dry foods? I am hopeless at this. Even when I starve my fry for several days, the spoiled things never want to make the switch.
I have some NLS fry formula (it's like a powder) and I have been trying to get my biggest killifish fry to take it. The problem is, as soon as they eat it they spit it right back out. They don't even have it in their mouth long enough to get a taste.
Their parents are like addicted to their NLS pellets and as soon as they see the container coming they sit and wait at the surface. I was hoping their fry might be the same.
Gets darn expensive feeding live/frozen all the time.
My persephone are the only smaller wilds I have that will eat pellets. My rutilans used to be very good and take them too but they have gotten stubborn in their old age.
So can't wait to get my hands on a pair of Aphyosemion striatum. I have had their tank waiting for a couple weeks now. It was just irritating the wholesaler only got females in with the last import.
This is my fish rack as it presently stands. Everything except my three killifish tanks live on there. I hate seeing all the cords running everywhere it just looks so messy. When I get my proper racks downstairs I am going to run PVC pipe off a high-powered air pump so I don't have tubing everywhere, and use flaps to hide the lights and equipment cords.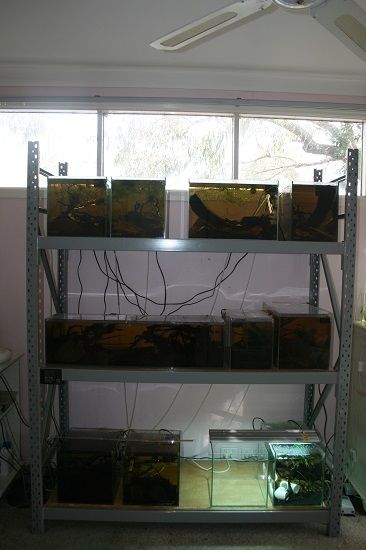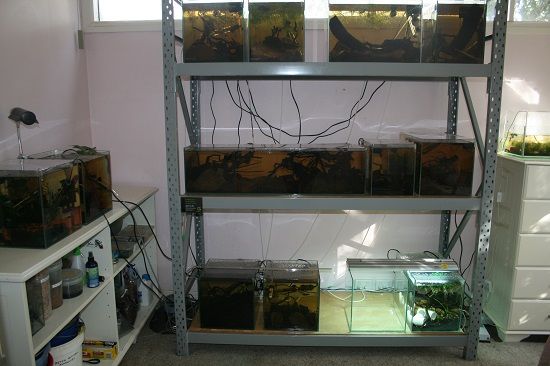 Top shelf (L-R): Betta burdigala, Betta burdigala, Betta rutilans sp. green, Betta uberis
Middle shelf (L-R): Betta persephone, Betta stiktos, Miscellaneous males
Bottom shelf (L-R): Betta rutilans sp. green sub-adults, Betta burdigala sub-adults, Betta unimaculata
---
Nice fish shelf! I'm jealous. :)
Thanks. I remember when I first got it. I recommend racks to anyone who has multiple tanks as they do make things a lot more organised. Also, if you get a proper rack, they are a lot safer than using particleboard furniture.

Unfortunately, I'm going to have to take all the tanks off the top shelf and replace it, as water must have sat for too long on the shelf and it's gone right through to the other side.

I've been meaning to do it for a little while but it keeps raining and so I can't run some stain over the new shelf.

Next time I think I will use something like yellow tongue. It can stay exposed to weather for months without coming to harm and so I figure that it will give me some more flexibility if water does spill.

I wish my brothers/dad were like my grandpa. He is so meticulous. I imagine he would have made a kick butt fish rack. My dad and brothers are more rush in with power tools and get it done as quickly as possible.
---
Some more killifish juvenile (I am calling them juvenile now as I figure they are big enough) picture spam.
I had my bright light over them tonight and I think I do have a few females in there. The males are colouring up so nicely and when they start sparring I wonder how I am supposed to choose only one pair to keep on.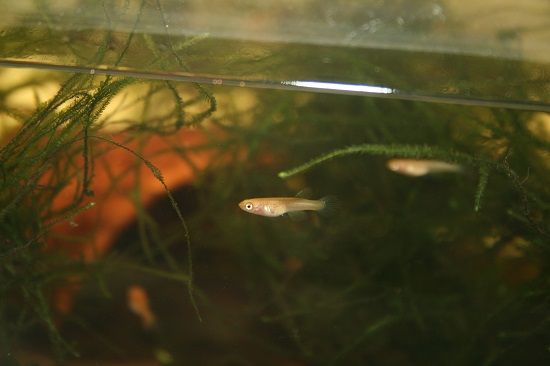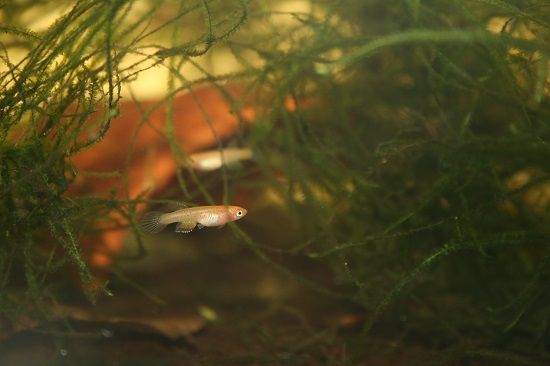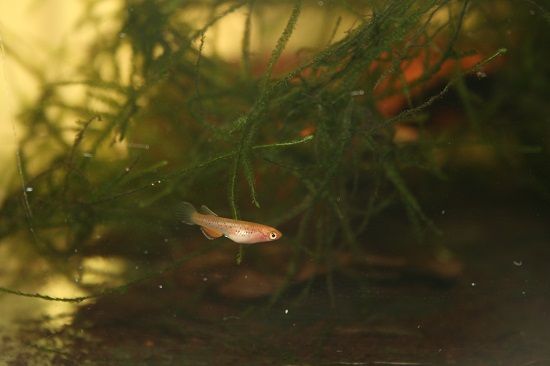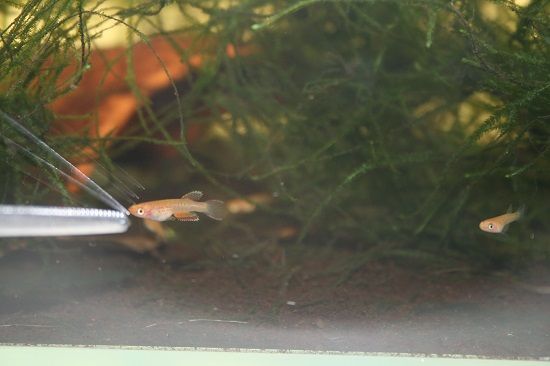 This was when no one would come over to get their photo taken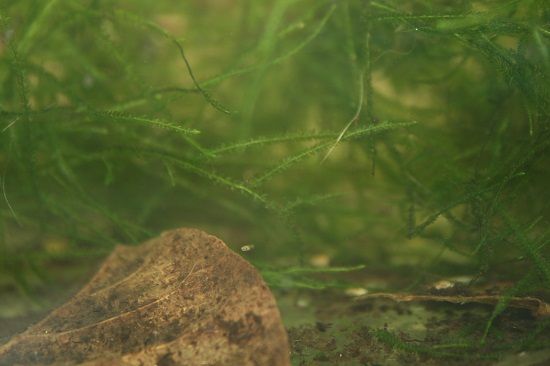 One of my very young fry. This is in my other grow-out tank.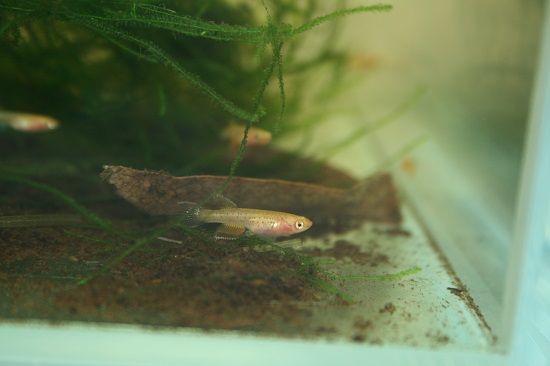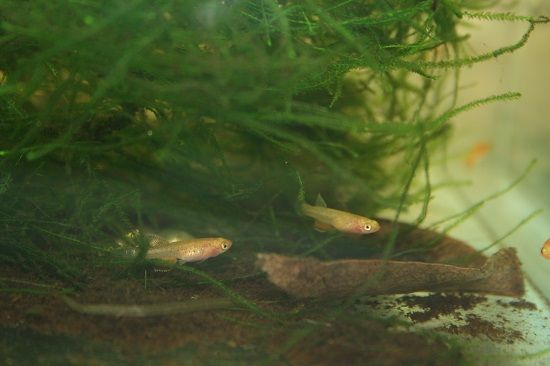 Caught sparring.
Also in other non-fish news, I want to buy this bedside table to go with the bed head I have been looking at. I have so outgrown my old bedroom set and it's embarrassing to invite people over. I would love to replace it all. Only thing is, I am going to have to take a loan from the BOM (Bank of Mum) to get them both.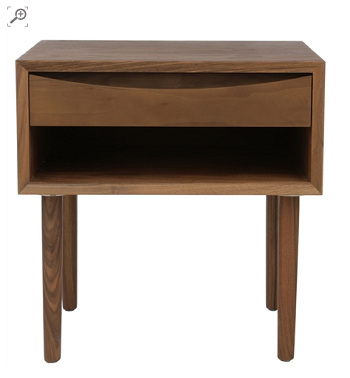 I have also realised I have the curse of expensive taste. Show me a piece of clothing or an item of furniture in a magazine and I will invariably always pick the most expensive one as my favourite. I really just need to find myself a sugar daddy to pay for it all.
---