Okay I was bored and decided I would rather take photos than clean tanks.
I did however clean my glass so the photos turned out nicer than usual.
This is my wild-caught brownorum male. He is from East Borneo apparently. Beautiful little fish with a lot of personality. He is extremely tame and not at all shy. Unfortunately, him and his female are extremely pathetic spawners. She either eats the eggs during spawning, or he lets her into the film canister to eat the eggs before they hatch. I have what I think is a brownorum sub-adult from my previous mouthbrooding pair, but I am worried about adding it because those tanks run on separate buckets/siphons and I don't want to introduce any disease.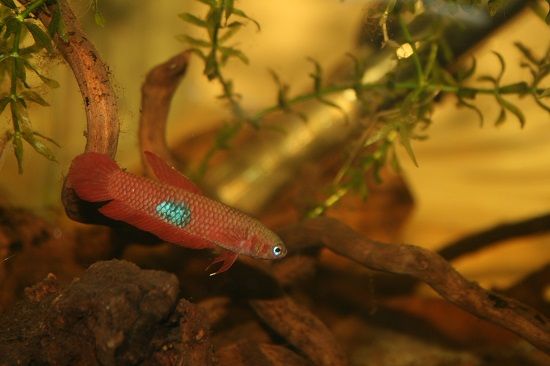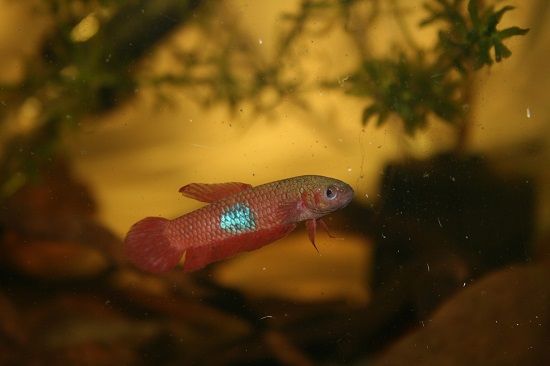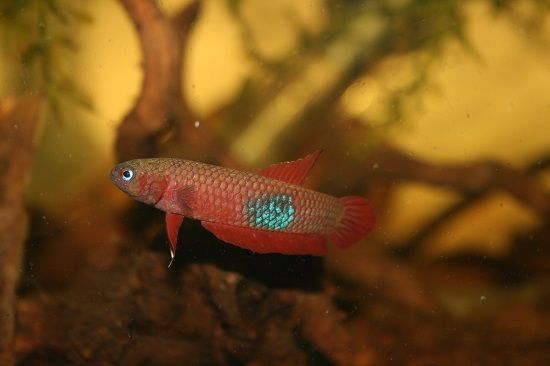 Here is his female. She is quite plump at the moment with a prominent egg spot so thinking they will spawn/snack again soon.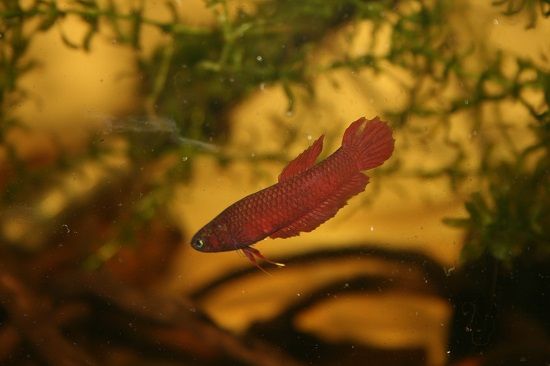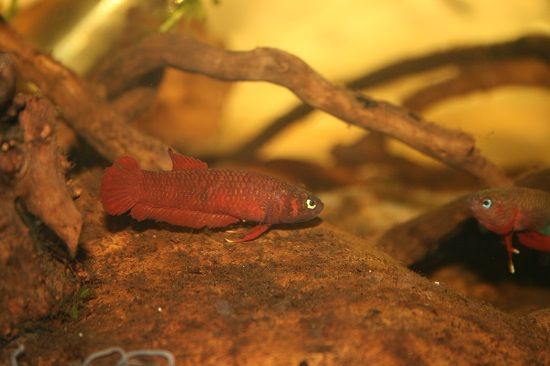 They were fighting over blackworms.
Here is my wild-caught burdigala (supposedly but I am thinking he might be uberis) male. Only have one shot of him because he hates the flash. I have noticed he is quite fat now compared to the tiny little thing I got months ago. He has fathered many offspring with his female, but they have been very male heavy spawns.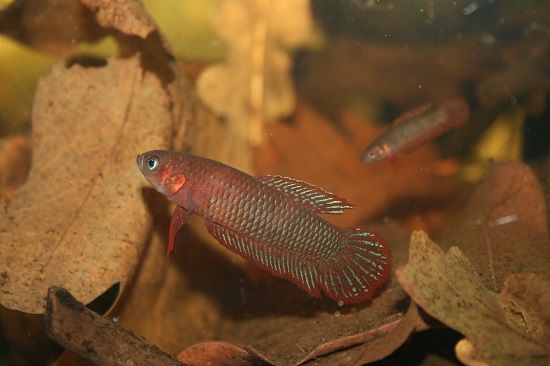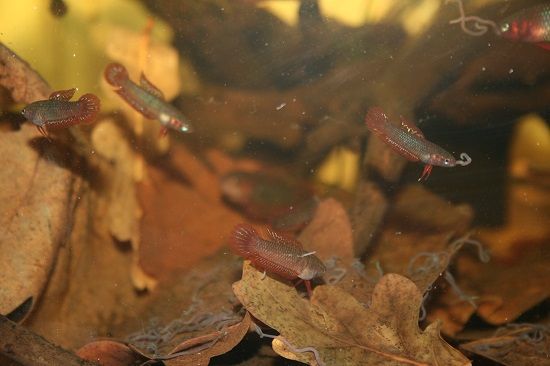 Some juveniles/fry still living at home with the parents.
---
Got a surprise today as my terracotta 'D' caves had arrived. The seller had even put some lollies in for me.
Anyone from Australia reading this, I highly recommend TheTechDen for purchasing aquarium supplies online. Service has always been exceptional and a majority of the products are Australian made.
I just plonked one of them in there to see if they would fit and it is more than big enough to hold my wilds. So far a couple of persephone and my tussyae male have been into it.
Here's some more pictures of my rarely photographed tussyae male. He is the only tussyae I have and lives with the persephone but I am debating moving him out. He normally doesn't colour up like this, but he also doesn't sit still so the photos aren't exceptional.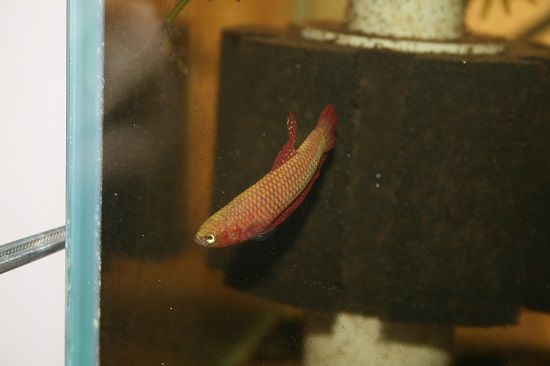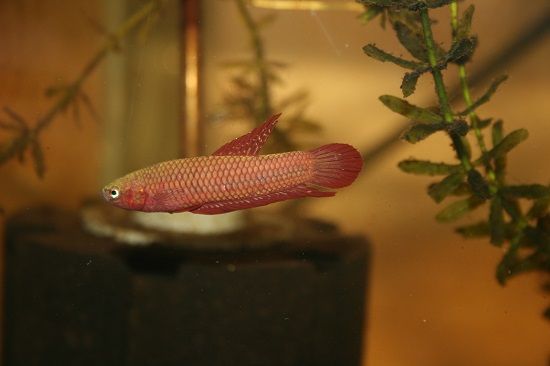 I am pretty sure he was born in August of last year, so nearly a year old.
I wish I had the money to purchase some more of these D caves because I think they would be great for shyer fish to retreat to in my group tanks.
---
Well my pair of captive bred burdigala spawned the other day.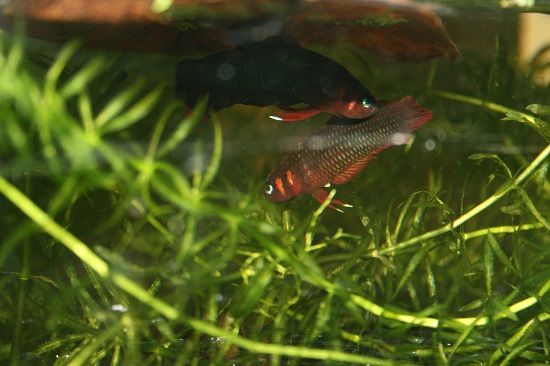 "Don't mind us, we're just going to spawn right where your camera can't get a decent shot"
The male has two adult daughters (one hides all the time so I rarely see her and one he has spawned with) and there are two or three bigger fry that are swimming around in there as well.
The pair in the photo, are the parents of the juveniles in the first post on this thread. That tank has given me the highest female to male ratio, and coincidentally enough it is the tank with the lowest temperature so thinking the sexes must be linked to temperature.
Dad has been busy tending the nest and I think the eggs are going to hatch today. I will have to be careful doing my water changes because usually I blast eggs and fry everywhere and he comes and gives me the stink eye before going and collecting everyone again.
My B. uberis who are suffering from velvet still have been looking perkier. The female who had an ulcerated face seems to be healing and one of the males (I think it is the father) has built a bubblenest in a film canister that she was investigating yesterday. There is one obvious female in there along with two smaller possible females. I have a spare wild-caught male uberis who lives with my rutilans that I have been trying to grow a female out to pair up with. Also have two nearly full-grown sons who are still bunking with dad that I may hold onto.
Otherwise, everyone but my B. rutilans juveniles are looking good. Rutilans look like hell but as long as they are still eating and swimming around they should recover.
I have a buyer for my B. strohi pair so will be kind of happy to see the back end of those. Never really got attached to them like I did my original pair so at the moment they are just taking up space.
---
This great news! What about PVC piping as hides?
I used to use it, but don't like the look of it. The terracotta once it has gotten some algae and been covered with peat moss and leaf litter looks a bit more natural.

I used to use PVC pipe for my big mouthbrooders because some of them were pretty big.

I have so many fry growing out at the moment. Not as many as splendens would produce mind, but heaps more than I am used to. I have 6 out of my 14 wild betta tanks used as grow-outs, plus the fry that are still in with their parents.

My poor BBS hatchery has been getting a workout and I have been pumping dried cat food into my two grindal worm and one white worm cultures to get them producing enough for near daily harvesting.

Bloody peeved though that after all this running around I did with my mum yesterday to get ready for a big interstate dog show, I didn't get to clean any of my tanks. The grow-outs were already overdue, but I really did not have the energy to do them at 11pm at night. So going to do a 50% clean today and 50% clean tomorrow just to get all the grunge off the bottoms.
---
Took some pictures of my tanks today and the other day after a bit of a clean-up.
The light is only over those tanks to take photos, otherwise the plant in there grows entirely on whatever sunlight comes through the clerestory window, which really isn't heaps.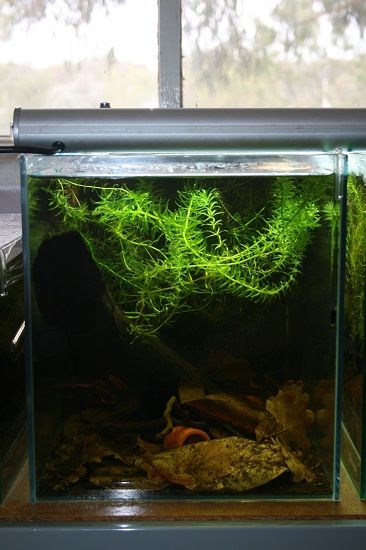 B. rutilans tank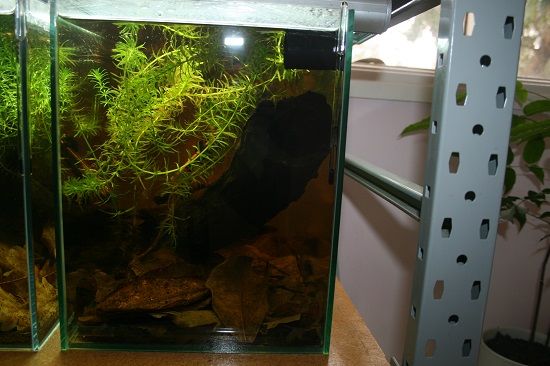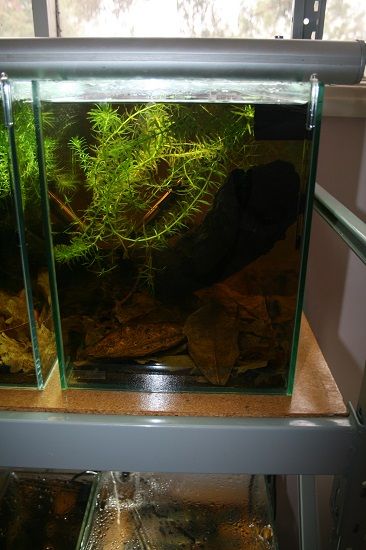 B. uberis tank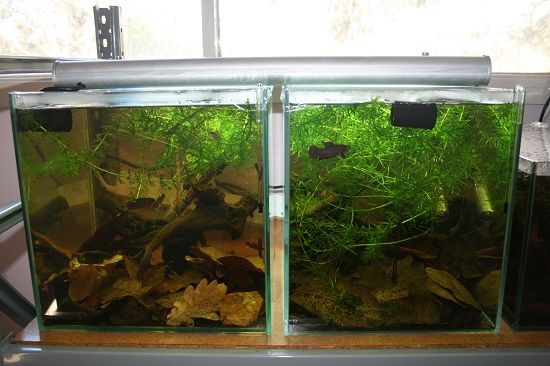 B. burdigala tank (wild-caught left, captive-bred on right). Male is the one you can see at front of tank.
I also accidentally tipped out all these eggs from the film canister in my uberis tank. Thought the male had just built a nest and not actually spawned as his daughters are too small and mate is recovering from velvet. But guess they felt good enough to go at it haha.
Just finished my two hours worth of water changes. I have to rest all these buckets on glass lids over the fry tanks so I can drip water in while doing the other tanks. So glad I decided to get nearly every single tank its own siphon/bucket. Would have spread that velvet through my fish room again if I hadn't.
---
Well decided to sell all of my juvenile B. unimaculata off except for the biggest male and his father. Someone I know from another forum is taking a reverse trio (one female and two males) in a week or so, depending on how they improve from the ammonia spike I had that my test kit for some reason wasn't showing the first couple of times I tested.

They take up too much room, and I have to be extremely heavy handed with the water changes to keep the water quality good. Plus if I kept a female, I would just end up with more of them.

They are my 'mum's' fish but I told her after peeling one of the runts half-dead off the carpet that I am selling them as I am sick of them.

Just focusing solely now on the coccina complex of bettas. Although I do want either an imbellis, stiktos or smaragdina male to keep as a pet as a replacement for a domesticated splendens.
---
This post has nothing to do with wild bettas.
For the last month or so, I have been thinking of setting up a native tank again for a school of 6-8 pseudomugil mellis (honey blue eyes). Since I am living on the poverty line at the moment haha, this tank is going to be made up of whatever I have on hand and whatever I can scrounge around at my grandparents' farm today.
Basically, I only want to spend money on the fish.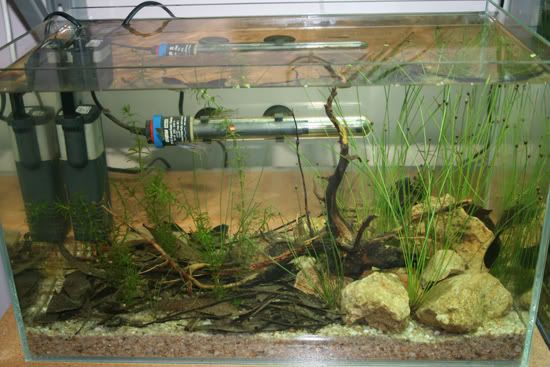 Tank will look something like this, but with more wood and no hairgrass. Also, I will be using my Aquaclear 20 instead of that crappy internal filter I was running before, and it will be in a different size tank.
However, I was also toying with the idea of a 3D background, which will look like the bank of a river and have room for some emersed native plants.
So plan for today is to go collect some rocks and leaves, and dig up whatever tea tree roots I can find. They do seem to have a permanent puddle that grows what appears to be glosso and other emersed natives in there so may bring some home and see if I can't make use of them.
---
Tonight as I was feeding everyone, I realised that the dead fish in my B. rutilans 'green' tank is not the one I expected. Now I am just hoping it was not my B. brownorum sub-adult who I had previously thought I had killed when it was younger. I am also fed up with the several non rutilans fish in there, because it is preventing my greens from spawning. I know I have a definite male/female pair because I have seen them courting.
So I am setting up a 40L tank tomorrow and stuffing my spare B. uberis male, B. tussyae male, possible B. brownorum sub-adult (if that wasn't the dead fish) and spare B. rutilans male in there. Hopefully with enough hiding places and cover they should leave each other alone.
The only annoying thing is I am going to have to tear the tank apart to catch everyone and it is just looking how I want it.
Took these pictures earlier today of a couple more of my tanks. These are along the bottom shelf of my rack: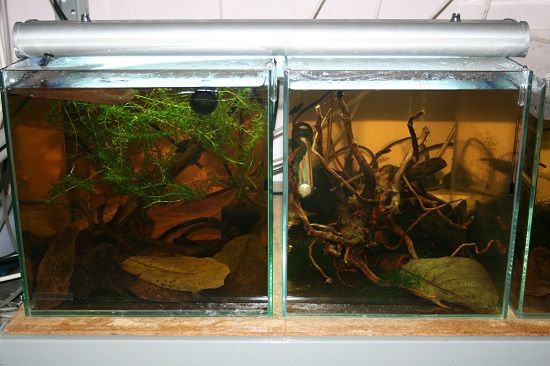 Wild-caught B. brownorum pair left, B. rutilans 'green' juveniles right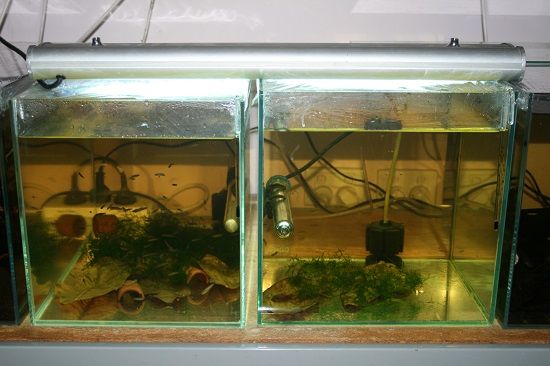 B. hendra/B. burdigala grow-out left, B. uberis grow-out right
Here's a close-up of one of the B. uberis fry. Growth has been fairly slow on these because I have not been feeding them heaps and only doing water changes once every couple of days.
---
So glad you started this thread, LBF. I love your photography, and your commentary is delightful....as well as educational.