Honestly after all I have been through with disease etc. I just can't be bothered. I don't want to risk contaminating any of my other tanks because I don't have the money or will to start over again from scratch.

I have only just got everyone better again and the whole thing nearly burned me out of this hobby for good.

I know you are against culling/euthanasia in a lot of cases, but this doesn't just look like a superficial wound (my rutilans head for example looks nasty but is already healing up) and so I want it gone ASAP.


With that said, my persephone are also my favourite species. The colours are just incredible and I love watching them sparring and displaying.

Yep, brownorum are the ones with the green blotch. Although some individuals can be missing their blotch altogether.

Looks like I may have some stiktos eggs on the way as my pair are wrapping. Never tried my hand at spawning a species from this complex so this is going to be quite the learning curve as I know they can have massive spawns.
---
I'm excited to watch your stiktos spawn hatch and grow!! If I had the room here, I'd be starting my Mahachai. I guess once the tads are gone, I can, since it's a 10 gallon bin, and they should be fine in that for a few months, and we're supposed to move (whether we want to or not) in about 2 months anyways.

which species would you recommend for someone just getting into mouthbrooders?
---
IBC Member
Mouthbrooders are fairly easy to keep. It's just getting the male to hold to term that can be the problem.

Apart from macrostoma and some of the more obscure complexes that I don't have much experience/knowledge of, anything from the unimaculata, foerschi and albimarginata complex are pretty easy to keep.

It just depends on how much room you have as the unimaculata complex species are not small fish by any means.
---
once we move, there'll be quite a bit more room. lol
---
IBC Member
Haha so far I have the most pathetic amount of eggs in my stiktos tank I think I have ever seen one of my bettas produce. I'm not sure if he has shoved them all up into the bubbles where I can't see, but if he hasn't there aren't many there. I think I counted like...two.

I can't tell if they are still spawning or not. The female is lurking in her moss so who knows what on earth those two are doing.

I put a whole heap of film canisters in my persephone tank and they are being thoroughly investigated by everyone. The long-term plan is that I purchase couple more 25cm cubes and use them to house a pair of persephone and a pair of rutilans.
---
Stiktos male has more eggs than I thought. Doesn't seem to be an enormous number but he is doing an awesome job as a first-time father. Will have to see what happens when the fry hatch out.
Fortunately, he spawned in the film canister so this sort of helps prevent eggs and fry from falling out and getting lost on the bottom.
Last night I also had the absolute biggest OMG moment.
I have a tank that houses three rutilans (I'm not sure if one is a brownorum) males, one uberis male and my tussyae male. These are all mature males who through misfortune never ended up with a mate.
My uberis prefers to spend most of its time under the wood I have in there so I rarely if ever see him. However, last night he came out and I could not believe how absolutely massive he is. I thought at first he had dropsy because he was
so
big. He did not stay out in the open for long but I guess someone must be eating all those blackworms I put in.
I wish I had taken a photo. I am not sure if it was a distortion of the glass or the angle he was at, but I seriously think he must have been at least 5-6 cm from head to tail.
My tussyae male on the other hand, is more amiable to having his photo taken. I think he is a year or just over a year now. I regret losing his parents but I always seem to have bad luck with keeping tussyae. I once lost two females within days of arriving, and then my other female died after a heater malfunction.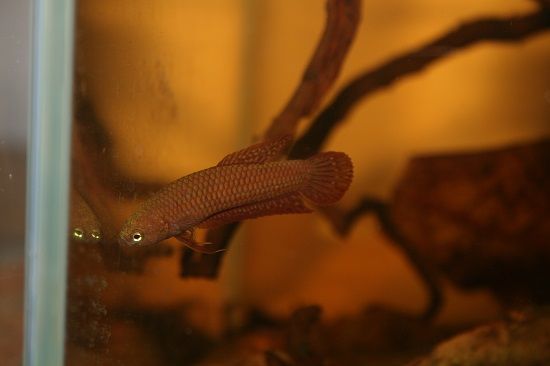 I really need to go to my not so LFS and pick up some more substrate. I can't stand how horrible some of my tanks are looking.
---
It's raining and I'm incredibly bored at home so here are a couple more photos I took before my camera battery died.
Here is my tussyae male again showing how these fish can transform from drab to fab. Most wild bettas in fish store tanks look like the first photo, which means they are often overlooked by prospective buyers.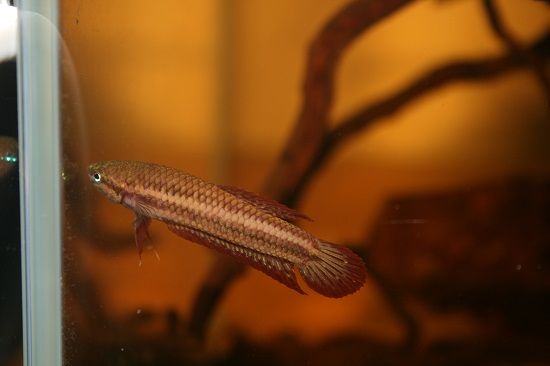 Then here is a good couple shots of my rutilans male (he is the standard 'red' form). His red is rich enough to rival that of any splendens male I have seen. Unfortunately it does not tend to photograph well due to the tannins in the water.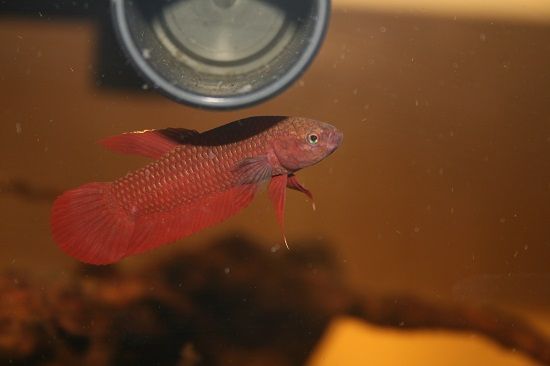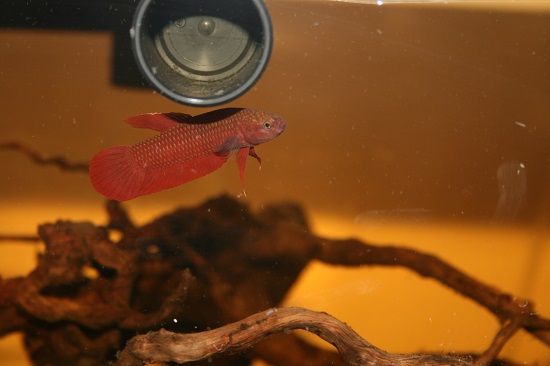 Finally here are two of my Betta rutilans sp. cf. green together. The one in the foreground is the one with the scraped head and behind him is one of his older brothers. The size difference is quite obvious as the older sibling is at least one and a half years old.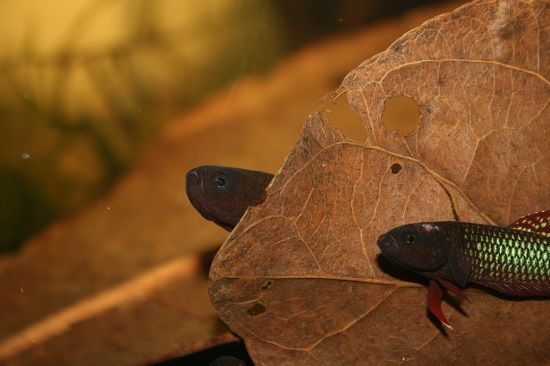 ---
they're all so gorgeous! I'm definitely drooling over here!
---
IBC Member
Thanks it was water change day today and everyone got some mosquito larvae so they were much more active than usual.
I adore that tussyae male. Coming home and finding nearly all his siblings dead on the floor after I had accidentally knocked their lid ajar, was one of the most devastating things ever. His remaining sibling jumped as well when they were still juveniles, and so now he is the only one I have left.
I think one of the big breeders/sellers of wild bettas, Hermanus Haryanto has tussyae. I was going to try and see if there was not some way I could get a female to go with my poor male.
So far I have been unable to get a decent photo of my one hendra fry. That all changed now it is living in a proper tank. Did a water change, and managed to snap these two shots.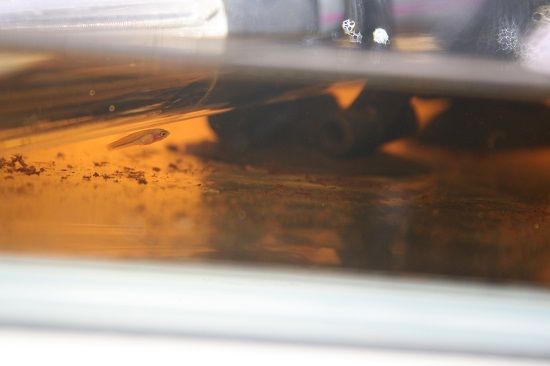 ---
AWW!! cute!!! <3

I posted pics of my wilds over on the other thread for you. Finally charged the camera and got a good shot of his royal highness lol
---
IBC Member