Really good. I have to get my torch in there to have a look but the first batch are now free-swimming and have left the nest.

The male decided he did not like having his nest right up against the front glass, so he spent all of yesterday building a new nest in the film canister and then carefully moving all the newly hatched fry over.

I am going to let these fry grow out naturally if I can, and I am aiming for between 10-20 adults from the fry I have now.
---
by "naturally" you mean with mom and dad? That's how I'm planning on going too.
---
IBC Member
If I can. The father does not seem to have any interest in them, but if the female starts cannibalising them, I may have to move her to a separate tank or put her in a breeders net.

I find I get much smaller spawn numbers this way, but the fry that survive to adulthood seem to be a lot more resilient than those I separate from the parents and rear in a grow-out tank.
---
sounds like a good plan to me. I'll probably keep her 2.5 open if I can for the female, just in case
---
IBC Member
Well that was almost a disaster.
I hadn't seen my wild-caught burdigala male for a couple of days, and since it was a small tank and it was sending up some red flags, I took all the moss and IAL out to have a look for him.
What I found, was the female sitting on the bottom and no one else.
Uh-oh, I am thinking as I am frantically searching on my floor for any signs of a body.
That was when I remembered the sponge filter. I have one that looks like
this
in there, and turns out my male had gone in and gotten himself basically stuck up in the section of pipe hidden by the sponge.
I actually had to cut him out as he was otherwise unable to get out and was very stressed.
Now I have stuffed the entrance to the filter with filter floss so hopefully that should keep him out.
I would have been devastated if I lost him, as he and his female are my favourite burdigala.
His female is such a tiny thing. She seems healthier now than what she was previously. Her fins got torn up by a daughter I put in with her and the male. The daughter thought it was a great game to chase and harass her mother.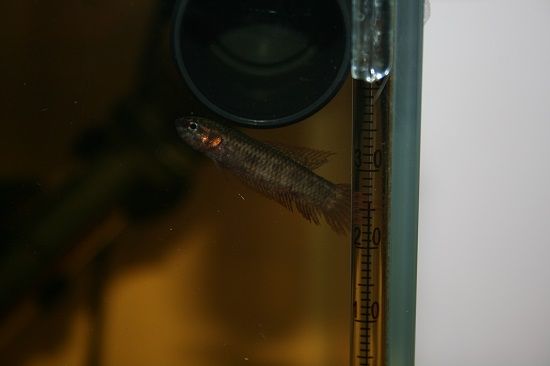 ---
I think my fish just thought I was having too much of a good run lately.
---
they were just testing your intuition.
---
IBC Member
I have to learn to not be so freaked out every time I see one of my fish clamp its fins.
I've noticed most of my Betta rutilans sp. cf. green clamp their fins quite frequently over the course of a day. Of course my mind immediately flashes to thoughts of velvet or ich when I see this, but I have been over them with a torch so many times and can see nothing of the sort.
My persephone males also do much of the same when they are not displaying or sparring, and I am wondering if it is something to do with the large number of males present. I suppose the best way to avoid a confrontation with your brothers or harassment, is to look at small and non-threatening as possible.
As you can see from the photos below my rutilans look pretty parasite free. They are very tame as I have reared these all myself and all come swimming over (with fins fully open I might add) as soon as they hear me tap on the glass.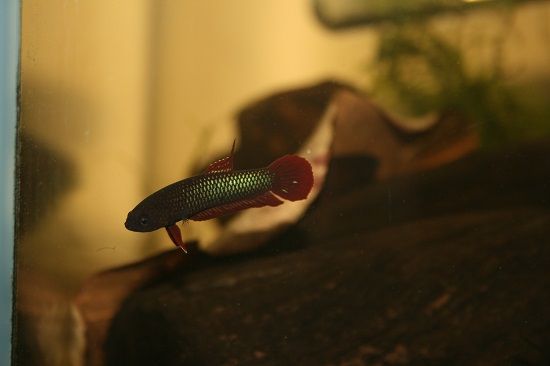 One of the big males threatening a younger brother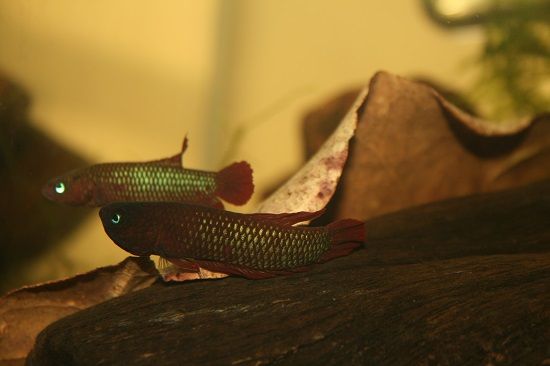 Threat is intensified here
Content now brother is out of the picture (quite literally)
---
the male mahachai keeps his close unless he's displaying. I always worry that he's sick too, but his water is clean and he's healthy.
---
IBC Member