Yeah my stiktos is the same. My mum told me I have that Munchausen by proxy with my fish haha.
I saw some of the stiktos fry down on the bottom of the tank having a pick through the peat moss. They are driving the male crazy as he keeps thinking they are from his most recent spawn and need to be captured and put back in the nest.
My male unimculata is holding. So far it has been a couple of days. They are a lot calmer now I have the floating plants in, and they don't jump around like they used to. Will have to see if the male holds to term this time. The pH is a lot lower, there is more cover and he seems a bit more serious about it.
His daughter has just been busy stuffing her face in front of him.
---
poor guy. lol

-chomp chomp nom mwar chomp nom-

he looks like he's thinking "darn kids"
---
IBC Member
Haha that's his female in the photo. She actually was one of the runts and I held onto her to keep the male company. Now she's nearly as big as he is. Apparently her full brother had 40 fry or so not that long ago so I have to check up with their owner and see how they are going.
Here is the male. When he is holding he will come right over and sort of ram into the food with his mouth closed. I always feel so sorry for the mouthbrooders because they normally can't eat.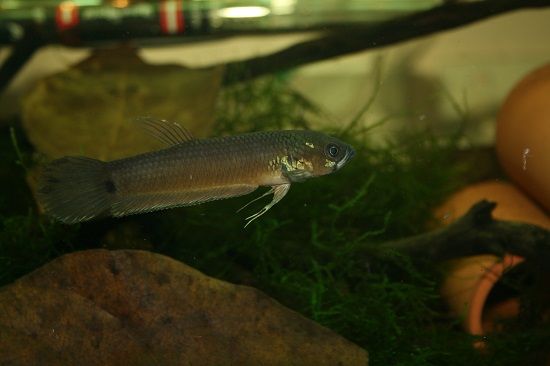 The species in this complex are so friendly though. They are big enough it almost sort of hurts when the adults bite your hand.
---
How large is he? I saw some beautiful pictures of them on google yesterday when I was looking up the brownorum and rutilans.
---
IBC Member
I would say about 4-4.5 inches. My ideii pair were massive. I reckon they were around 5 inches head to tail.

I think because the male was wild-caught he never grew as big as a captive bred fish would have.
---
wow!! Those are a lot larger than I thought they'd be!
---
IBC Member
Yeah, this whole complex is big. I originally had this pair in a 10 gallon tank and it started feeling a bit cramped. Now they are in a 15 gallon tank there is more space to move around.
---
Sounds like I'll have to start scrounging around to see if I can find a pair once we get settled after our move.
---
IBC Member
I think unimaculata shouldn't be too hard to find. They are fairly easy to breed if you can get the male to hold to term. However, ocellata and pallifina are two related species that look very similar.
---
Awesome. I sent an email this morning asking if the transhipper here had any Betta hendra pairs from this last shipment. She hasn't gotten around to sorting them yet, but if there is a pair in there she will put it on hold for me.

I am crossing my fingers that there is indeed a pair in there.

If Jodi-Lea ever throws it all in I think it would be a very sad day for the hobby in Australia. She provides such a great service, particularly for betta enthusiasts.
---