I prefer to keep the male out of the net. He is a big time jumper (he nearly died once and has been out of the tank at least four or five times) and I think he would react worse to being put in the net than the female.

He has been in a net ages ago when I was integrating him back in with his juvenile offspring and he did not like it very much.

I was talking about a net in the tank. It's just I have had this fish jump out of what I thought was a jump-proof tank so I am a little wary haha.

I was carrying him upstairs in a bucket once, and just as I had finished warning him to stay in the bucket for what is about a ten second journey, he decides to jump out. Because there were renovations going on, of course he flops over into a pile of sawdust.
---
of course he'd wait until after you explain why jumping during the trip would be inadvisable.... men! lol
---
IBC Member
I totally understand where you are coming from. I did things that way with my macs while I still had them. I pulled the female instead of the male. So it is one of those things that you work with to find out which way works best. :)
---
Wild Betta Breeder
Yeah he is very naughty. He sometimes jumps out if I am too slow to get their food into the tank so I have to be very on guard. The jumping has cut down a lot since I got them into this bigger tank and provided more surface cover.

This is why I like bubblenesters!! Argh haha
---
they still try to jump. I was scraping planaria off of Kafae's front wall and she penned herself in between my hand and the tank. she panicked, went up and out, but luckily bounced off of the lid and back into the tank.
---
IBC Member
Yeah I have had a few (okay more than a few) of my coccina species go up and out while doing maintenance. But that is more when they are startled. Otherwise I can remove their glad wrap completely during water changes, and not have to do the 100m sprint back with my water bucket to make sure no one has jumped out.
Got this photo of my stiktos male. He is looking good after rearing basically three consecutive lots of fry. Hopefully he and the female take a break for a while.
Then here is my new aging water system. The stocking is stuffed full from peat moss and I will be adding some new IAL tomorrow to make the water extra dark. I eventually want to have a big 100L tub or something set-up like this in the storage area of our rumpus and use only this water for water changes.
Unfortunately, this is only 20L so may need to set up another one so I am not continually depleting it.
---
There's that handsome fella! I think I could pick him out of a lineup! LOL

I've broken the news to Mike that I want to save up for some persephones from Amelia. Most likely I won't be able to get them until after we move, but it will give me ample time to figure out how I'll get the extra funds to do so.
---
IBC Member
He is quite stunning, particularly in the super dark water I have him in. Saw a couple of pretty big fry (well big compared to their siblings) and so they seem to be doing alright. Wish they could have waited until I could get them into that bigger tank to spawn though!
Good luck with the persephone. They are a beautiful fish and their future definitely needs to be secured in the tanks of hobbyists, as it seems quite likely it will one day become extinct.
Here is also some pictures of my killifish juveniles to show how well they are going.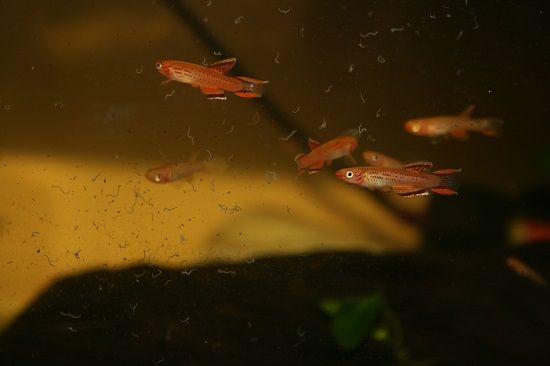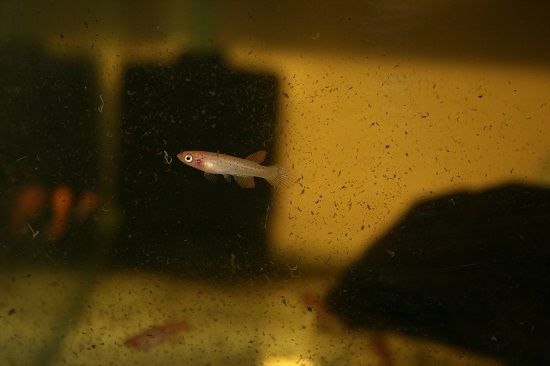 ---
I know! They are so friendly. Every time I go past their tank they swarm over and demand to be fed. I can't really see any ich on them, and while I know that's no guarantee they are 'cured', at least it hopefully means it is in the stage of its life-cycle where it can be killed.

I was surprised at how fast the growth rate was on this group as I only do very small partial water changes. I wonder if they just don't produce as much of a stunting hormone as bettas do because some species come from small bodies of water in the wild.
---