Here are some very bad pictures of my newly arrived wilds. The brownorum pair is slightly shyer so I only have a photo of the male at the back of the tank.
The hendra pair ate some grindals and seem to be settling into their new tank well.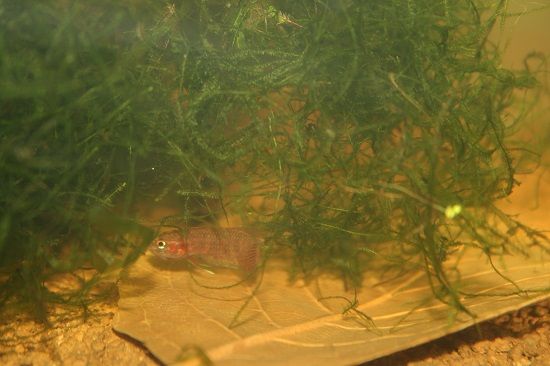 Female flaring at male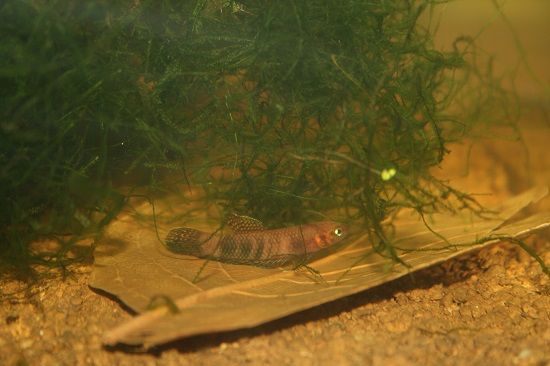 Male (not anywhere near fully coloured up)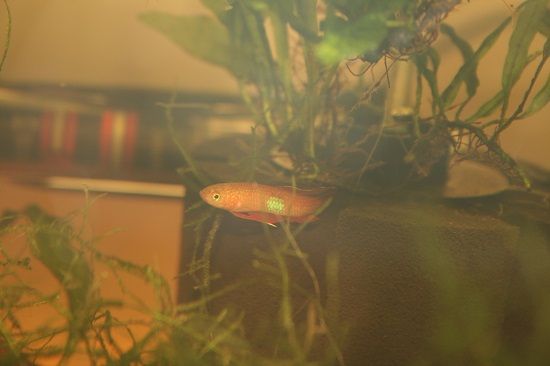 Brownorum male too shy to come any closer for a photo
---
I really like your hendras!!
---
IBC Member
Both pairs are so much nicer than I could have anticipated. I went and caught them some mosquito larvae this morning and everyone was in the java moss hunting them down.
I swear the brownorum male is mocking me. I will glance up and he will be at the front in full colour with his fins looking nice and I rush over and get my camera and just as I get him in focus he decides to dart off.
All my fry I have currently seem to be doing well. Unimaculata fry had some grindals chucked in and I am setting up my BBS hatchery today. Stiktos fry are definitely not as plentiful but the ones left are thriving and I hope they grow to healthy juveniles/adults.
I also still have uberis fry. This pair is incredibly shy (despite the fact the male is captive bred and I bred the female myself), but I managed to get a quick snap of the male before he went and hid while he was courting the female.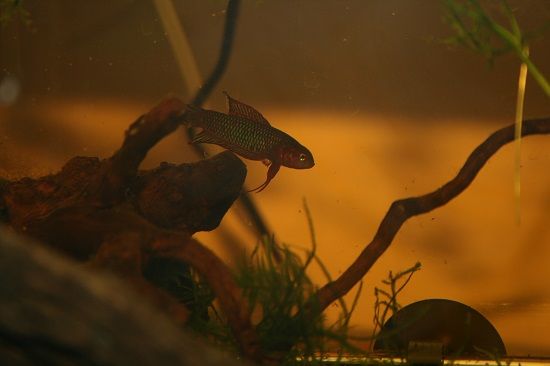 Then I got this shot of one of the tiny fry. That tank has heaps of infusoria for them to hunt so I think I should get at least 5-10 that grow to adulthood if the parents leave them alone.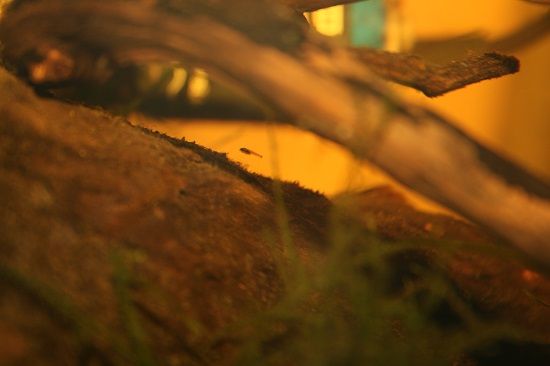 My persephone pair are playing coy. Male has a decent nest but the film canister is in a position that makes it impossible for me to tell if he has eggs or not.
Also my brother got my light that fell in my tank (while it was off) working again. Looks like it may be some sort of loose wiring. I'm only going to leave it on while I am there to supervise though as knowing my luck the thing will burn the house down. Still intend to replace all my lights with LEDs as they just use a lot less power.
I am really hoping the new pair I want to purchase are actually from the coccina complex. I have a tank I am setting up for them and everything, and I have been looking at them for ages now. Will be devastated if I find out they are something else.
Oh well, I suppose I can always chuck a pair of rutilans in there instead.
---
Ugh, I was slack yesterday and skipped water changes. I didn't mean to, but I went for a bike ride with my dad and one of our dogs last night and having not ridden a bike in years, I was pretty tired and sore when we finally finished up.
So first thing on the agenda this morning after a nice soak in an epsom salt bath is water changes.
Apart from that, my two new pairs are settling in really well. Still can't get over how small they are compared to my other fish.
I also cleared up everything with the transhipper about the identity of the fish I was looking at purchasing. They were indeed a member of the coccina complex, and I sent my money through yesterday for them.
They are an undescribed coccina complex species. Whether they are simply a different locality of an existing species or an entirely new species all together still remains to be seen. But they are small, red and a bubblenester so I was sold.
This is the tank I have prepared for them. Since this photo was taken, I have filled the tank and added in some java moss, Asian water grass and duckweed. I want to grab a couple small java ferns and maybe some water sprite over the weekend if I can. I have a 25 watt heater coming in the mail so that should arrive by the end of the week.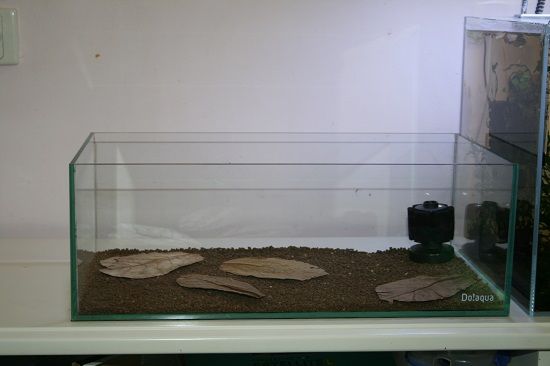 I really like this tank. It is great for smaller wilds being long and shallow. It means I can create lots of areas of cover extending from the bottom to the surface without needing huge numbers of plants.
Unimaculata pair look ready to spawn again. Female is absolutely bloated with eggs. Their fry are doing swimmingly (pun intended) and most are easily taking grindals. Can't imagine how many I will have when they all start reaching maturity! Parents have absolutely no interest in hunting the fry down. I was surprised considering how greedy they can be. I know the father wouldn't, but I thought the female might at least catch a couple.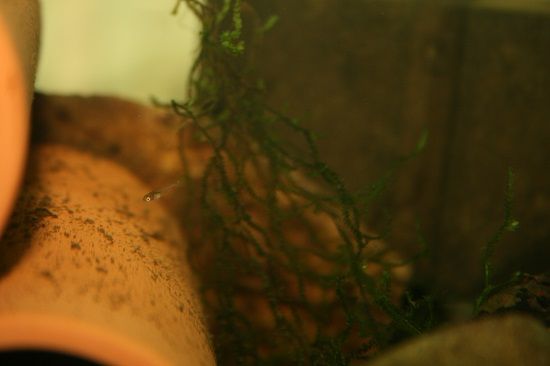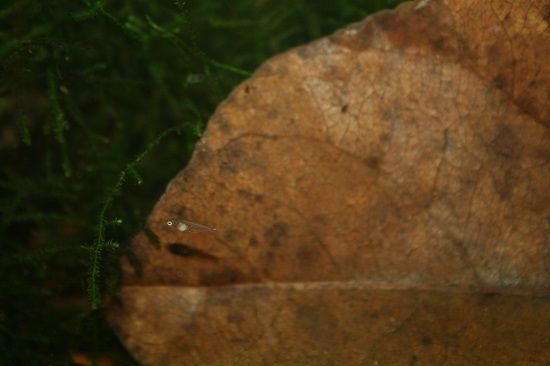 I accidentally gave my spare male tank ich by transferring moss between the infected killifish tank and theirs a while back. This was before I realised the grow-out was infected and so I will be setting up a bare bottom hospital tank and treating the males in that. Their other tank can remain empty for the duration of the treatment so any free-swimming parasites can die off.
Persephone still have not spawned. This is the most protracted courtship ever. They have been displaying and flaring for a couple of days now. Male has a nice nest if only he would use it. I am going to stuff them full of blackworms today and do a water change with slightly cooler water and see if that doesn't induce anything.
---
This afternoon I had to cull one of my rutilans males (not one of my 'greens') who had tumors/growths in and around his mouth. I was sad, but he was losing the ability to eat as the growth had almost completely filled his mouth. I thought it best to let him go before he started starving.
Been doing some 'bonding' with my new pairs. The brownorum female remains the friendliest of the four, but the others are slowly becoming less skittish. Still can't get a decent shot of the brownorum male though.
Should be getting some new wilds tomorrow from a guy who lives local to me. It will most likely be either coccina or more brownorum. I tasked him with finding a brownorum female if he can't get coccina as I want to test a female with my 'mystery male' after his treatment is complete.
Anyway here are the shots I managed to get of my hendra and brownorum. The hendra male was in the perfect position at the front of the tank with all his fins open and fully coloured up and then he startled and I missed the shot! So frustrating.
Brownorum female. You can see her ovaries in this photo.
Hendra male mocking me.
A glimpse at what might be.
Got this awesome shot of his female though.
---
Got my brownorum male to take frozen bloodworms from my tweezers this morning. Still spends most of his time at the back of the tank but he is not diving down into the plants every time I walk past the tank now.
The neighbour's son/daughter-in-law have thrown their cigarette butts into my mosquito larvae container. So now I have to harvest my larvae from my tub pond out the back. Not happy as the tub pond doesn't have as many larvae.
My hendra male enjoyed his breakfast as my photos show. They are not my best pictures but any photo that contains more than a blurry caudal fin is good enough for me.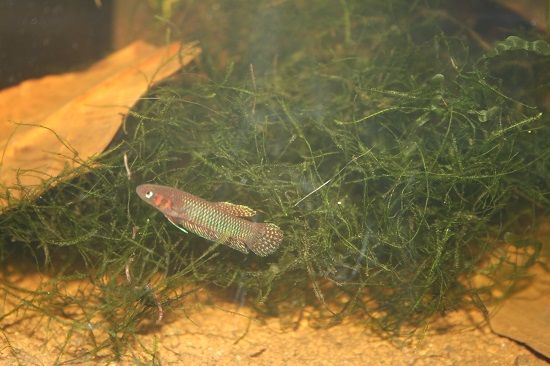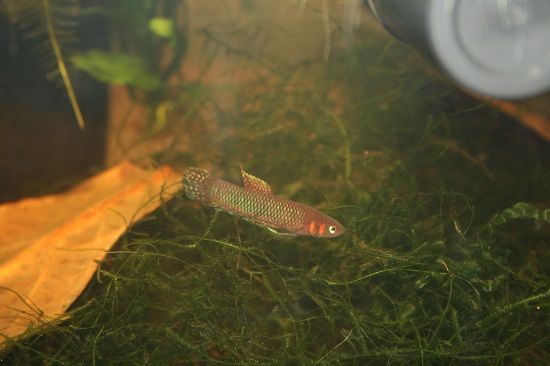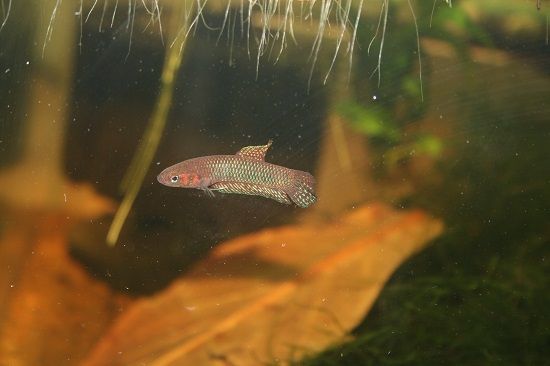 My brownorum female wanted to know what was going on, so of course I had to give her some larvae too.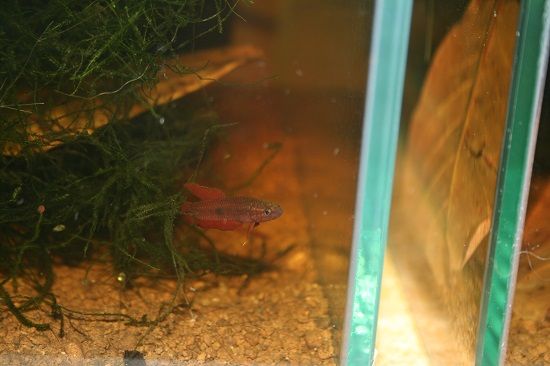 Had to get a rough tank set up for my new wilds. Unfortunately, I need a lot more plants so going to get my mum to drive me to the LFS I don't usually visit and pick up some java fern and water sprite.
---
I got my new wilds yesterday. Two coccina and a brownorum. The brownorum looks to be female like I wanted (she/he is absolutely dwarfed by the two coccina) but unfortunately, I think I might have gotten two male coccina.

The preference would have been a male/female pair but it is incredibly difficult to sex the smaller wilds unless there are massive differences between the genders or all the fish are comfortable and coloured up.

All three are extremely friendly and have been eating. The only downside is that the two coccina are infected with ich. However, I've found it's not all that uncommon for wilds from the wholesalers here to have ich because they do require specialist water conditions. These three will be in quarantine for a month before I even consider moving them into other tanks. In the meanwhile I will be beginning treatment for the external parasites as soon as their tank temperature hits 32 degrees celsius.

Going to the aquarium tomorrow to pick up a few more packets of java moss and one or two java fern. These will be used in the tank for my new wilds arriving next week.

I have a packet of 10 large IAL teabags coming in the mail. I plan on using these to tint the water in my water change tub. I found the shredded IAL became slimy and clouded the water, and I was running out of stockings to cut up!

I think my persephone may finally be spawning. Both the male and female were in the canister when I checked before fingers crossed I may see some eggs soon.

I am fairly certain my stiktos male either has spawned recently or is trying to encourage the female up to his nest. I thought I saw some younger fry in there but it could have just been one from the previous batch.

Will get some pictures this afternoon/tomorrow. Most of my tanks need the glass cleaned and the water changed.
---
My two new pairs have been enjoying daily feedings of live foods harvested from my pond tub out in the yard. They still surprise me with their tameness. Most coccina complex species (even captive bred stock) are normally shy by splendens standards. I was expecting it to take a lot longer for these new fish to settle in. But they act as if they have lived here for years. The brownorum female and hendra male in particular are always out and about.
Everyone has also coloured up now so I have had the opportunity to get some quite nice photos.
Female brownorum
Hendra pair
Brownorum male (I only just got a decent shot of him today)
Yesterday I purchased some java moss (very disappointed with the amount I got for the price I paid), some water sprite and some java fern for my still to arrive pair. I have also added some Asian watergrass and duckweed to provide more surface cover, and just need to get everything where I want it.
My current tally of coccina complex species now sits at nine and the new species I am getting will bring that up to ten.
Somehow my tanks seem to have multiplied overnight. I now have 14 tanks I am running and I am still planning on purchasing a pair of Betta rutilans with the money I make from selling those persephone pairs.
I guess I am well and truly addicted again.
---
Sorry to hear about the rutilans. Always sucks when stuff like that happens. I have to ask, do you find tumors are less common in wild type species?

Excited to see the pair that's coming to you.
He's been the only wild I have had so far come up with those sorts of growths.

I thought he was going to die ages ago but he somehow managed to get to this point and I noticed he was losing condition and the growths had advanced to pretty much filling up his entire mouth.

Yeah I am like so nervous/excited. They are so expensive but how can I resist a coccina complex species?
---