I think some days it is more interesting than others, but it's always great to hear people are reading along.

I realised the other day I only got my first wild bettas back in March 2011. It didn't take long for a hobby to turn into an obsession. If only I knew all the things back then that I know now.

In hindsight, I should have only purchased wild betta pairs through Jodi-Lea and not through the wholesaler. I should have had all my tanks on separate bucket/siphons and QTed anything that came into my fish room. However, perhaps most importantly of all, I should have incorporated live plants into my wild betta tanks a lot sooner. At the moment I am doing partial weekly water changes using only aged water, and my fish have never looked better.

It's frustrating that in this hobby you generally have to learn through your mistakes , and these mistakes often mean the death of one or more of your fish.
---
Woke up to find someone is a proud father once again. Male has built quite a large nest right at the front of the tank and there are a number of eggs in there that I can see.
---
Discovered my sp. apiapi male had a nest full of fry while I was spying on their tank this afternoon.
Then my brownorum pair were getting quite aggressive with each other and the male kept trying to get the female to follow him to the back of the tank so I think he might have a nest somewhere. I love this species. The green lateral spot just gives them so much character.
Male
Female
Female wouldn't get out of the way
Male flaring at a blurry female
Someone just couldn't get out of the photo in time
Signs that I could be taking too many photos of my fish is when the memory card is full and I have to delete photos so I can take some more.
---
Well it was the romance that never was. Nothing has eventuated so far in my brownorum tank, but they are due for a water change today and a good feed of frozen bloodworms so hopefully that will perk them up.
My hendra male is busy with a nest full of newly hatched fry. He told me in no uncertain terms that this was the only shot I was going to get of them before he moved them back into the canister.
Speaking of canisters, I decided I'd better remove the ones in my persephone tank. The males have been so obsessive with them since they've been in. With the plants now in their tank, there are plenty of other suitable nesting sites. But no, everyone has to have a film canister of their own.
I think my sp. apiapi pair spawned again. The last batch of fry went free-swimming and now there appears to be more eggs in the nest. Honestly, I do not know when I've seen the male not actually guarding a nest. It's a shame as he is so lovely and I have so few photos of him because he is always hiding somewhere.
---
Well now my brownorum pair have decided they will spawn after all. In spite of the fact I actually never changed their water or gave them bloodworms yesterday.
I was bored this morning so I got some photos of my coccina group. I'm a bit eh on these fish. I mean I wanted them for ages, but now they are in my tank I kind of wish I'd held out and got a wild-caught or captive bred pair from someone like Hermanus. Not only were they infected with ich when they came from the wholesaler, but they are all massive and I sort of like my coccina complex species on the smaller size (first world problem I know).
There's just something wild bettas from the wholesaler lack that the wild-caught and captive bred fish from the smaller overseas sellers/breeders have.
I think if I have the money and a pair of coccina come up for sale I will probably purchase them and sell these three. They are still beautiful fish though. The dominant male in particular.
---
Here I am saying that I don't really want my coccina to spawn and someone goes and builds a bubblenest in the film canister and now the female is also looking rather plump.
I've found a home for the spare brownorum that shares a tank with them, and then I am going to separate out the smallest male into something like a breeder net full of live plants as he is always starting trouble and getting himself beat up because of it.
Had to do some vicious hacking of my new java fern. It developed these brown spots on the leaves (I've had this happen before after a tank change), and it seems to spread like a virus if you don't remove the affected leaves. My persephone tanks looks rather sparse now as a number of leaves were affected, so now I can only hope that the spread stops and any new growth comes in normal.
I am a bit bummed because both that tank and my hendra tank were finally looking good.
These are the two coccina I am going to keep in together.
The female looks nice when she is fully coloured up and not covered in ich.
Then here is a shot of my brownorum male and the results of his most recent spawn. He was right at the back of the tank in his film canister, while the female patrolled out front.
---
Someone went and aggravated the male while he was guarding his newly hatched fry yesterday and got her caudal and anal fins chewed up because of it.
I did some experimenting with rooibos tea this morning. I want something cheap and fairly potent to keep the water in my aging tub dark and IALs just weren't it. I have trialled some tea I brewed up on the stove in one tank and it turned the water very dark. It doesn't seem to have had any impact on the fish (my coccina group) so I am going to monitor them for the next couple of days and if all goes well I'll go purchase a whole heap of rooibos tea bags and use them in my tub.
You can see how dark the water has gone in the middle tank from the tea I added.
I still think Betta hendra are one of the most beautiful of the wild betta species. Even the female looks stunning when she is fully coloured up.
The male meanwhile was being much more secretive and hiding up the back near the peat ball.
Got my BBS hatchery bubbling away to feed my fry. Need to find somewhere that isn't my bedroom to put it permanently though.
My unimaculata pair must have spawned because the male looks like he has a mouthful of eggs. I don't know why if you are sick with velvet you would want to spawn but I think it's just because this is a species I don't particularly want lots of that they do it. Their fry are growing ridiculously fast for how little I feed them and how few water changes I do.
Been working out my set-up for downstairs. I think I want one four shelf, 1800mm wide rack instead of two 900mm racks. Otherwise I can't fit my 12 gallon long that houses my persephone on there. I want to do this right from the start, so I'm definitely going to get my dad to brace under all the shelves, and install wooden flaps to hide all my lights, tubing and electrical cords. That's the two things I wish I had done with my current rack as my shelves bow and the set-up looks messy with everything visible.
With four shelves I should be able to fit all my current fish on, plus the pairs I still want to get, plus my BBS hatchery, plus one water aging tub and then still have space spare for another couple of tanks.
Everything will be densely planted so I'll only have to do one or two water changes per tank, per week. That way I won't be overwhelmed by near daily maintenance.
Now if there was some way to mass harvest mosquito larvae year round, I would be all over that. My fish are loving having several feedings a week of them and I'm going to hate when summer is over and it gets cold again.
---
My sp. apiapi male was out yesterday afternoon so I managed to sneak a few okay photos of him. I wish he would open his caudal more, as unless he is displaying to the female he rarely has it at full spread.
I had to laugh. I had a guy I know locally who also keeps wilds come over the other day to pick up some wood. He thought the female sp. apiapi was just a fast-growing fry as she is so small. We were both astonished at the amount of eggs she can produce in a single spawning being that she is only about an inch total length.
Their fry are doing really well. I haven't seen any signs of velvet or external parasites on them. The biggest are really starting to look like fish now which is always good. At least being a small species they don't have to grow much to be considered adult size. Also, they are going to be easily sexable because the males have that spade-shaped caudal. I am on tenterhooks waiting for them all to reach maturity.
---
Beautiful fish! I really love the Betta hendra. Amazing pictures as well.
---
Flame - Red and Blue Veiltail Male
Oswald - Blue Halfmoon Male
Love roobios tea myself. The water stays dark until you do a water change to remove it unlike the black water extract that I have used previously that the filters pulled out within two days.
Here is a pic of my 10 gal betta picta tank after adding the roobios
And to show the contrast -- here is the tank before adding the tea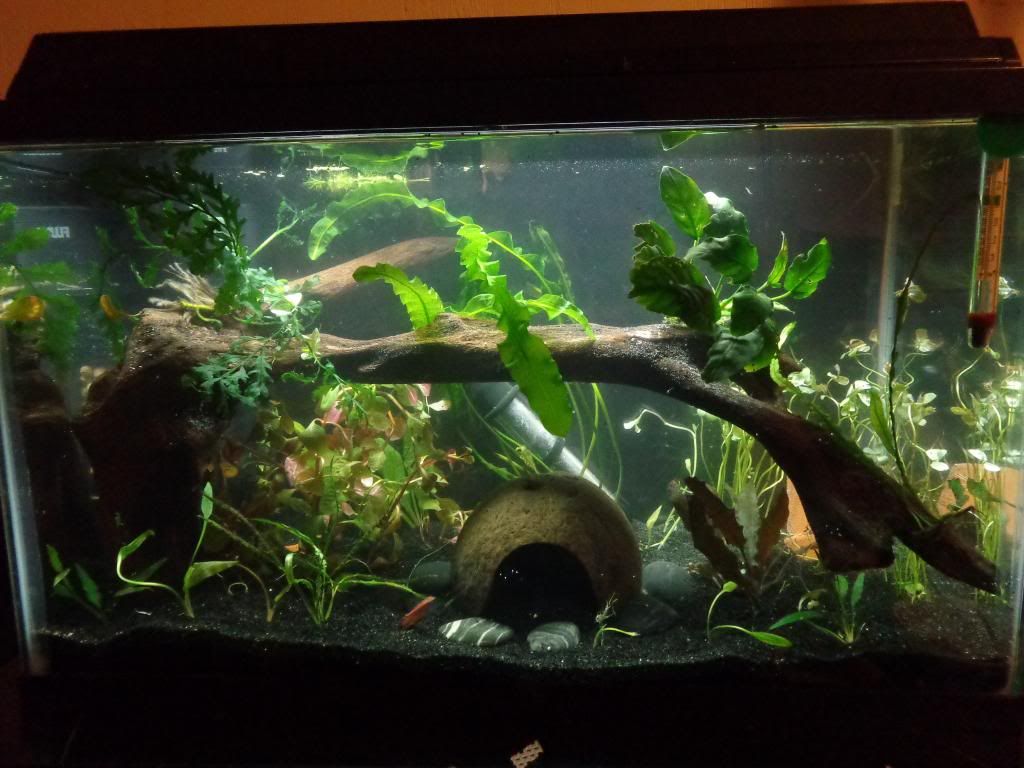 I have been meaning to comment on this for around a month but keep forgetting until right this moment. :)
---
Wild Betta Breeder