Contemplating dividing my persephone up into two separate tanks or just moving them out of the 12 gallon long into a 60cm 15 gallon tank. Some of the less dominant males spend a lot of time at the bottom and the 12 gallon long takes up the space of a 60cm plus another 30cm tank on my rack.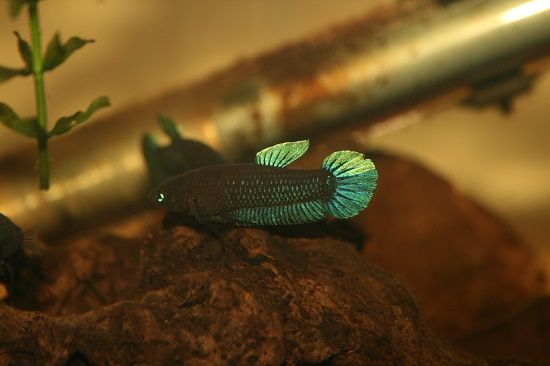 Then my brownorum male wanted a couple of white worms. His female is nice and plump since she had some blackworms last night. Still no fry out of this pair which is exasperating. I think at this point I am going to be doomed never to rear fry from any of the brownorum I have owned!
Tanks are looking blah at the moment. I really want to go get some fluro tubes to run on top of each shelf for my plants. That way, I can get a bag of aquasoil and sprinkle some handfuls in each tank, and then chuck in some floating watersprite and amazon frogbit to help with the water quality.
Wishing my female burdigala would grow out faster. I think I could probably sell pairs for at least $30 but haven't really looked around at what price wild bettas go for from private breeders. Some extra cash would be nice though.
---
Swooning for those B.persephone. . . those were another that I've been looking into lately.
Sounds like you're getting a bit frustrated *hugs* I hope you get those naughty little brownorum to give you babies. And soon! How's your sick little patient doing?

If you don't mind my asking, what is your water hardness? Sorry if you posted the info somewhere and I missed it. I have soft water, but I know that some of these guys can be really sensitive. . .
Out of the tap we have like zero carbonate hardness. Melbourne tap water (at least where I am) is really soft.

The coccina complex have to have extremely soft and acidic water. Most people keep the pH around 5-5.5. They aren't as adaptable as other species, even captive bred stock.

Brownorum spawn all the time but the female is an egg eater and the male is a wuss. I am waiting for them to spawn again so I can catch the female and put her in a breeders' net.

Uberis female is still alive. She isn't looking as awful, and the swelling around her eyes seems to be going down slightly. She has been using her cave and still moving around so hopefully if she holds on she can get better.
---
This week I have big plans for my fish room.
Once the new goldvine I purchased has been soaked enough to sink, I will be moving my B. persephone colony into a 60x30x36cm tank. Since it is shorter than their present home, I can then fit my rutilans grow-out next to it. They had to get shifted off my rack due to issues with space and I want them back on there.
I want to split my hendra fry and burdigala fry that are currently sharing a grow-out tank up, so they are both in separate 45cm tanks as they are starting to become aggressive towards each other. However, they are infected with ich so I will be treating them all together first before I move them.
I also sold off my three unimaculata juveniles so I only have the father and a young female now. Their tank was originally bare bottom and with minimal decoration as it was serving as a holding tank/grow-out. The plan is to add substrate (Up-Aqua soil as they don't need a super low pH), some broken up terracotta pots for caves and some wood and IAL just to give it a more natural feel. Plants will be giant/standard duckweed and some vallisneria nana.
The male
The uberis female is still alive and hanging in there. She doesn't seem to be looking as bad as she was, but she is still not eating, which is worrying as she was such a pig previously.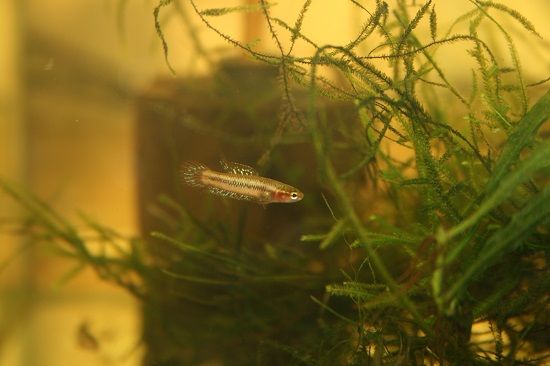 Also, my uberis fry in the grow-out are maturing nicely. Shame nearly 90% of them seem male.
---
I have I think four rutilans 'green' adults in one of my tanks. I was thinking I hadn't seen them in a while when I catch this going on today.
Pretty sure that is the original son and the father, both of which are two years old (well father is slightly older). So not going too badly.
Unfortunately, I lost the mother through my own stupidity and had one of the remaining adults die a week or so ago. I believe one of the smaller adults is a female but not sure as they are quite elusive.
This species is very special because it is known to mouthbrood. My male has mouthbrood with all his fry. The male he is sparring with is most likely the very first fry he spat out to show me haha. I thought he was ill because his throat went all swollen and he started hiding all the time.
I have 20 more juveniles in a separate grow-out, so hoping to get at least one male/female pair out of them.
This is quite an aggressive species so I have to put in lots of cover because otherwise they can tear strips off each other.
---
Well the uberis female I bred is definitely going to spawn with her father. She is in the film canister under a very big nest and is trying to lure him in with her.
Started treatment with formalin and malachite green in my hendra/burdigala grow-out to treat the ich in there. I have plenty of replacements so don't mind if I lose the runts out of that tank as long as I get rid of the ich.
I am wishing my goldvine would hurry up and sink already. It normally takes at least a week or two, but I am hoping because my pieces are quite spindly and they are weighed down with a rock, it won't take that long.
Persephone were being on their best behaviour today until I went over and sat on my bed and everyone starts tussling again. I am desperate for some of my burdigala pairs to grow out so I can sell some and use the money to purchase fish supplies. I want some amazon frogbit, 9L bag of aquasoil and some watersprite.
I need to email the importer Jodi-Lea about when the final (boo hoo) ever AB shipment date is as I want to bring in a pair of
pure
stiktos. I also want to ask whether I can simply pre-pay for a pair of coccina from Hermanus. I don't want to miss out if she only orders one pair next time they are in stock and someone else buys them first.
---
Got some photos of my Betta hendra. This is a recently described species and is very beautiful. Unfortunately, my pair don't like the camera so good photos of them are rare! They have at least a dozen fry/juveniles in with them, and then a ton more in a separate grow-out. They are quite prolific when the mood takes them.
Male
Female (she is always barred up, I don't know why)
One-eyed fry I couldn't cull
This was how small the female was when I originally got her. She's certainly a lot 'stouter' nowadays. Although having kids will do that to you haha
---
Well I am going to be sorting out my unimaculata tank today.

Because they don't require a super low pH, the plan is to use my remaining Up Aqua substrate over the bottom the tank rather than peat moss.

I have some terracotta pots I am going to attempt to break in half so I can use these as hiding places for two of them. Although after my previous attempts at breaking up pots ended in failure, I don't hold out much hope. This may be something I sweet talk my dad into doing with one of his many power tools haha.

I also have some very neglected vallisneria nana growing in a tub outside, and I am thinking of planting it into a Chinese take-out container filled with a mixture of organic potting mix and sand. This way I won't have to make the actual substrate in the tank especially deep.

Then I will just chuck in some twiggy pieces of driftwood and some duckweed and that should be a more suitable home than the bare and 'Spartan-esque' tank they have now.
---
Spent all of this morning cleaning grow-outs and trying to separate the biggest of my hendra/burdigala fry into a different tank to allow the smaller fish some space to grow.
I thought I was going to have to cull the swim bladder affected fry from my other burdigala grow-out, but it seems like the majority are improving and starting to swim without sinking. I have sequestered them in a breeders net and turned the sponge filter up to try and get them moving around. They have two weeks to improve and if they don't they will be culled.
My uberis female is still alive. I put some peat moss in her hospital tank because the reflection off the bare glass frightened her. Her infection has cleared up completely and her eyes are normal size now. Just keeping her separate as she is still a bit subdued/clamped up.
Am sick of my current fish rack. I want a nice swish set-up where everything is tucked neatly away. Plus it is too small for what I need. I have had to put tanks elsewhere in my room which I hate.
At least my persephone are their usual charming selves.
---
Did a bit of a photoshoot with my burdigala tanks. God I have so many males. I don't know how I am going to get rid of them all. I am just praying the ones I think are female stay female and don't turn out to just be males that haven't developed yet as I want to be able to sell a few fish to recoup some of my expenses.
These are the juveniles/sub-adults from my wild-caught pair
Then here is an adult captive-bred (not by me) female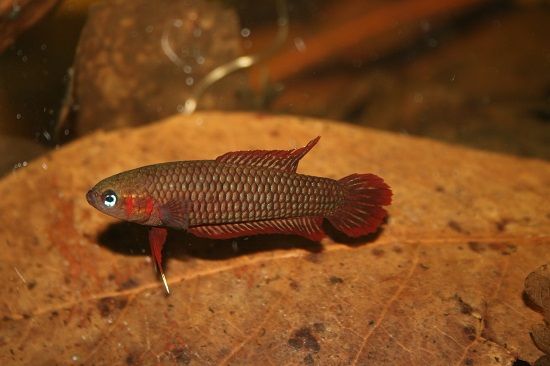 I believe this is a daughter from the above female
Then this is my rutilans rescue male. One of the males he shares a tank with seems to have pruned his ventrals some. He was very sad and sorry when I got him, but now he is huge and quite aggressive.
Then finally here is my stunning little Chromaphyosemion poliaki female. I am thinking of setting up a proper tank (she is sharing with a pair of my wild bettas presently) and getting a pair of Aphyosemion australe (similar species) to keep her company. Either that, or ask a guy I know who works at the wholesaler if there are any male poliakis available to pair her up with.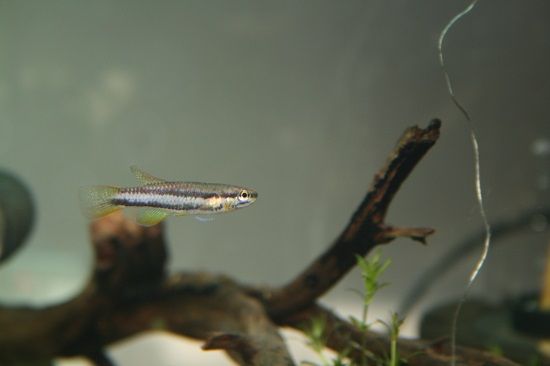 ---