That's Whistler the Devil Cat. His hobbies include bringing decapitated birds to the doorstep, staring at the other cats through the window and wrestling with the dogs.
---
Member
Join Date: Dec 2013
Posts: 89
I admit that this is a tad off topic, but are there any wild bettas that would enjoy subtropical (I.E about 64-75 degrees fahrenheit, or 18-24 celcius) temperatures?
Probably not as low as 64, but I keep nearly all of mine around the 75 degree mark and they do fine. I definitely wouldn't want to go any lower than 70 degrees long-term.
---
I think Bandit read my rant, because for the past two days he has been wanting to be fed all the time. He has gone off his BARF, but I have been feeding him this Applaws brand mixed in with some Wellness Core (he won't eat that by itself).
Whistler has stopped peeing blood after a couple of days of watered down tin food. We are going to keep eyes on him, but hopefully whatever was going on is clearing up.
Eos got her tracheal wash yesterday. She had to go under a general anaesthetic which always makes me worried. Someone I know recently lost a German Shepherd because there was a mistake. It's been hard keeping her quiet because the medication she is on makes her
feel
better, even though her lungs are still very bad. It looks like it is going to be another 6-8 weeks of treatment for her to get it to clear up fully. Hopefully there's no scarring.
I emailed Hermanus and my miniopinna pair should be coming by the end of January. I am so hoping things go alright because I would be devastated if one or both fish were DOA. Now I just need to get their tank properly set-up.
My sp. apiapi fry have hatched and are hanging from the nest, as have my hendra fry. My dominant persephone female has been half-heartedly wrapping with a few of the males in the tank but I don't think any eggs eventuate as it is quite a distracting environment. I'm going to pull her and one of the males out into a separate tank in a couple of weeks and see if I can't get a successful spawn.
My brownorum pair have been flaring and chasing each other around but there's been no spawning. I think the male's spot on one side is getting bigger as there seems to be more green iridescence than there has been previously. Fortunately, all his fins have grown back and he is looking stunning as ever.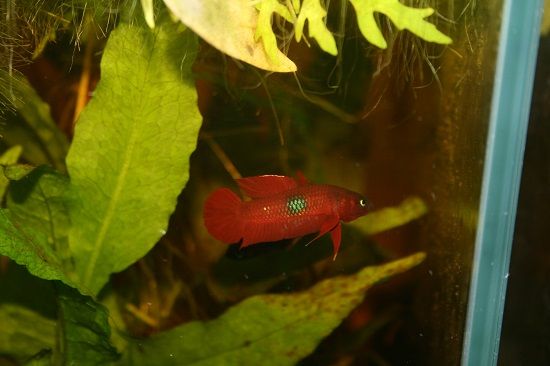 Then my hendra male taking a break from guarding his nest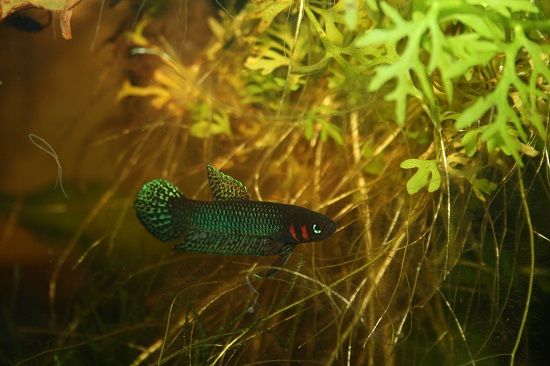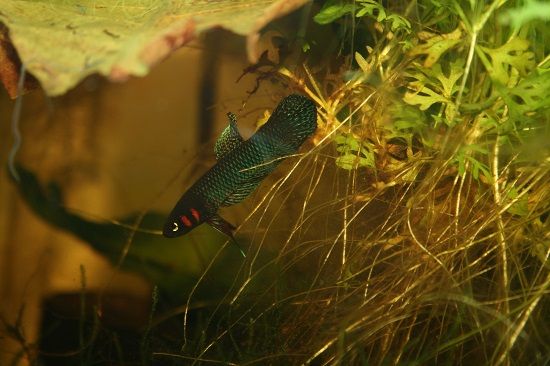 My coccina pair died from what appeared to be some sort of bacterial infection. That is the last time I purchase wilds from anyone but Jodi-Lea. So the hunt will be on for a nice wild-caught pair to hopefully start my species focus with. It would be great if this could happen before the end of 2014.
I also think tomorrow I am going to euthanise my unimaculata female. There's been absolutely no improvement and she is clearly suffering. I didn't want to do it today because it's my mum's fish and I didn't want to put a dampener on her night.
---
I'm glad your kitty's feeling better. I'm sorry about your unimaculata female.
While unimaculata are not particularly a species I like, she is still a fish I bred myself and watched grow until she was big enough to have fry of her own.

I think once the fry recover from velvet and are big enough to sell I will get rid of them all. I was thinking of keeping a son as company for the father as they do seem to be quite a gregarious species. However, I might just keep him in smaller tank by himself until he passes.
---
Happy New Year to you & yours, LBF!
Thanks Aus. I just stayed at home with my mum and my dad came over. I don't normally do anything on New Year's Eve. If it wasn't for them I would have been in bed before 11pm.
Then mum accidentally let Bandit right on midnight while the fireworks were going off and I thought we'd start the year with either a dead or missing cat. Luckily he only ran over to the neighbour's front yard so he got caught and put back inside.
I woke up this morning and found my hendra male busy tending his nest. He always moves the fry out of the film canister overnight and then puts them back in during the day. I don't know why. This male is like a parenting machine. He has raised dozens of spawns since I got him.
Then my biggest brownorum fry was swimming around waiting for food. I'm hoping that the dark line on its side is going to be its lateral blotch as I like to have big blotches on my brownorum. It looks odd when they are either very small or non-existent.
---
My hendra female was in a particularly feisty mood this morning and I took the opportunity to get some better photos of her than what I have.
Some of her fry are getting quite big and developing a bit of attitude so the female has been chasing them around and putting them in their place.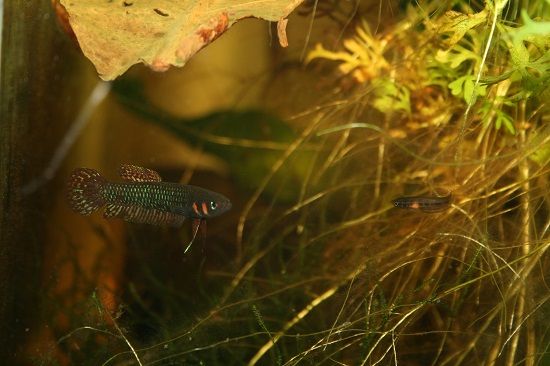 I'm wondering if that isn't a female fry based on the colour of its anal fin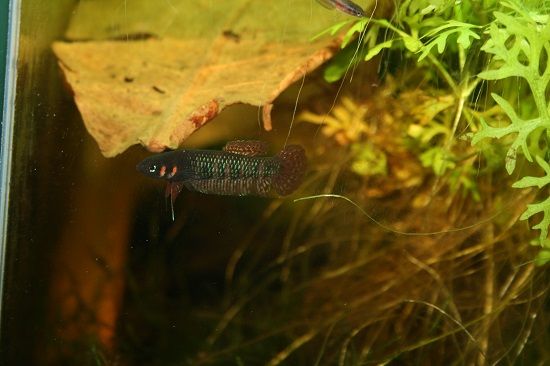 This was the male coming out of the film canister to go show off to her
I also did a small water change on both my brownorum and sp. apiapi tanks. It definitely is a lot easier having the water already heated and treated when it comes to doing water changes. I'm going to have a look around for a couple of large buckets or plastic drums to use when I have my full set-up going downstairs.
I've decided that I will put my pair of miniopinna into my 25x25x25cm tank instead of the one I was originally going to use. The only downside to this is that I will need to pick up a couple of smaller pieces of goldvine to use. Luckily we are going to be in the city on Friday so I can drop into the aquarium on the way home from the vet.
Now it's 2014, mum really wants the renovations downstairs finished. This will mean I need to start deciding how I want my fish rack to look. We have decided to go with the industrial strength rack I am using now, but it will be 30cm wider and have four shelves instead of three as it will be accommodating my whole collection.
The only thing is that we are not certain what to use for the shelves themselves. I am definitely not using particle board again as that just swells and bows. The options at present are some sort of marine ply, or to use the galvanised shelving that the manufacturer also offers. I'm thinking of using yoga mats under each tank, and then bracing each shelf. I found that even if racks say they can hold a specific weight, it just means the shelf won't collapse, not that it won't experience some level of bowing.
Then there comes the difficulty of working out how many tanks I am going to be running. I figured that unless some new species of the coccina complex is discovered, the most I am going to get is 13. So that's a minimum of 13 tanks to house each pair or group. Then I am going to have further tanks for my species focus pairs which is where it gets tricky.
Ah I can't wait for the day I have space enough to devote a whole room that is not my bedroom to my wilds.
---
LBF, what's wrong with the uni female?