Today I discovered as second, slightly smaller fry in my persephone tank. I like how these fry just go right up to the adults and sort of stare them down as the adults consider whether their niece/nephews are something worth eating.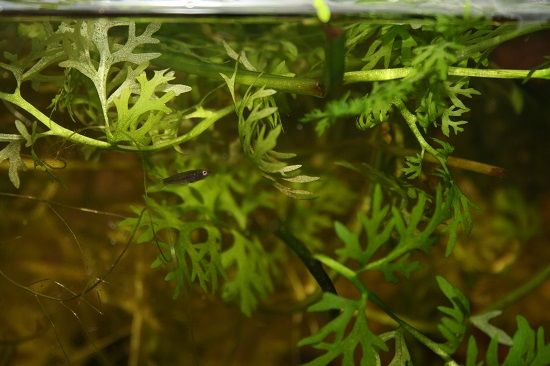 I hope these two are female, as I have so many males it would be great to get a few more pairs out of this group.
These are the likely parents of the two fry. The female is the only one that spawns out of the few females remaining, and this male is the only one I've ever seen end up with at least some fry hatching.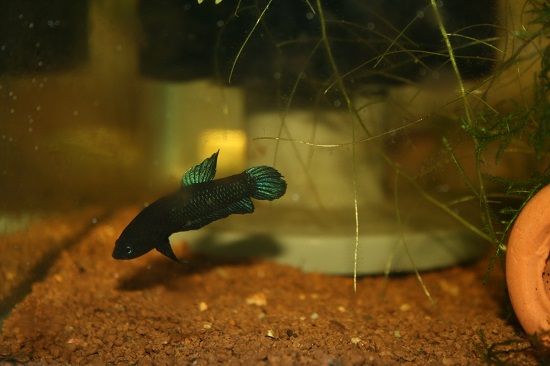 She was fighting with the female in the foreground hence why they don't look particularly pleased with each other.
I have sorted out the second shelf on my rack (I don't know why the photo came out so tilted). Basically the empty tank on the left is going to hold either a pair of B. coccina or B. rutilans, whatever I can source first. The middle two tanks hold my B. hendra and B. brownorum respectively, and the tank on the far right is for my B. miniopinna pair. Their wood is soaking in another container as goldvine tends to make a mess in the first couple of weeks of being submersed.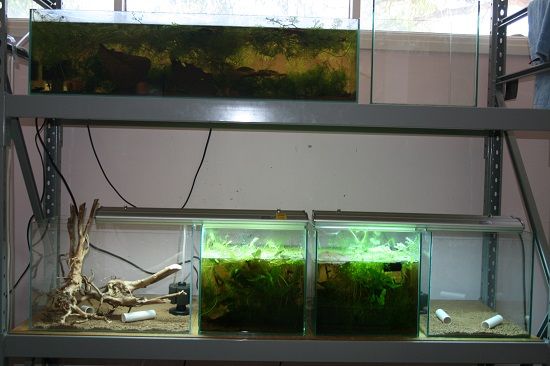 The long tank on the top shelf houses my B. persephone group, and the empty tank next to that is for my sp. wajok. I decided to purchase some new wood instead of trying to cram the other pieces in, and I also need to purchase some more substrate as I finally ran out of aqua soil.
This is a close-up of the wood in my B. coccina/rutilans tank. I went with a 45cm tank simply because my 30cm ones are getting rather crowded now that the fry are getting bigger and I thought it was better to start off with more space.
My unimaculata female is showing continued signs of improvement. She seems to have stopped spending all her time clamped at the surface and is showing a continued interest in food.
Sadly, two of my rutilans sp. cf. green did not fare so well, and developed dropsy. I think their immune systems are pretty shot at the moment and it seems like the smallest abrasion can turn into a full-blown infection. I had to euthanise these two fish this afternoon, but the rest of the group seems to be doing okay and I believe we are at the halfway point in treatment so here's hoping they can hold on a bit longer.
The persephone male is going to a new home, so that worked out well. He will be joining his brother and sister there, so he won't be alone.
---
Well this is our rather horrendous weather forecast for the next few days.
http://www.bom.gov.au/vic/forecasts/melbourne.shtml
This part is what worries me as so many fires get started by lighting strikes and on these kind of extreme days it can be devastating.
Quote:
The chance of thunderstorms in the afternoon with little or no rainfall.
Then there are also those idiots that drop cigarette butts or use something like power tools on total fire ban days. Worse is the people who start them deliberately. In a country like Australia where our summers have the potential for massive loss of life because of bushfires, I always think anyone caught lighting a fire should just be taken out and shot. It's not just people that are injured or die, but countless wildlife, pets and livestock as well. It's horrific. I saw the aftermath of probably our worst bushfire here in Victoria in person, and it was like the whole place had been hit by an atomic bomb.
I am just posting this because bushfires are probably what I am most afraid of. It is also why I am so hesitant to move out into the country. I don't mind losing a house, but I would be crushed if something ever happened to my pets because we couldn't get to them in time.
---
Well this is the second day of what is predicted to be 40 degree plus weather. I can't wait for the cool change to come through on Friday/Saturday.
With this warm weather, it seems like every single stinging insect has been attracted to the tub where I harvest my mosquito larvae from. I suppose at least my duckweed is loving all this sun, although I need to add some more water because it has evaporated so much over the past couple of days.
I haven't heard anything about my miniopinna pair. I am hoping that the next shipment into Australia has arrived/will be arriving soon so that I can get my pair in the next couple of weeks. I'm going to be filling up their tank today as the wood is waterlogged and I want to get the duckweed and watersprite established somewhat before the fish go in. I'm hoping once I put the wood in the tank it isn't going to decide to suddenly develop that slimy white fungus and foul up the water.
The rest of my fish are doing fine. The rutilans and unimaculata groups seem to be okay, and I don't think any more of the rutilans have developed dropsy. They are still quite clamped and rather lethargic, but I am thinking that is partly attributed to the high water temperature, blacked out tank and medication. Next Monday will signal the end of the treatment so I am planning to go purchase some Cuprisorb to completely remove the copper. I will then probably repeat the treatment just to make sure that all the velvet is gone.
I got some photos of of my various fry/juveniles. Unfortunately, it is hard to get them to stay still (now they are bigger their parents are not averse to chasing them off), so this was the best I could manage.
Brownorum juvenile. A lot of these fry/juveniles seem male. I hope I have at least one female.
Hendra showing some lovely colouration. I'm thinking female but who knows at this point.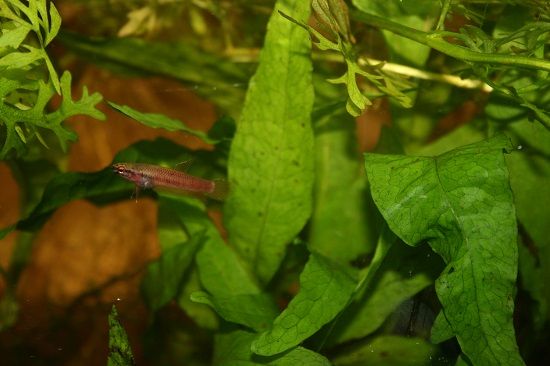 Sp. apiapi. I think I have a number of females in this group of fry/juveniles/sub-adults. They are not as friendly as their parents so I had to bribe them with some mosquito larvae.
---
According to Jodi-Lea's FB page a new shipment of fish arrived. Hopefully my miniopinna pair are on it and have arrived safely.
I filled up their tank and put some IAL, a tiny piece of watersprite and the wood in there. I am going to wait on the duckweed for a couple of days just because if I put it in it gets all over my hands if I need to remove anything from the tank.
It's really aggravating because the wood doesn't look like it is in quite the right place, but it's difficult based on the two photos I took to figure out what needs tweaking.
My persephone were being rather active today. I tossed in some grindals and white worms and they were scavenging around in the substrate for those. My biggest fry was eating alongside some of the adults and always seems to have a rounded stomach so I am assuming it is getting enough to eat. The other smaller fry seems to stay at the surface more. I probably would too with that lot in there.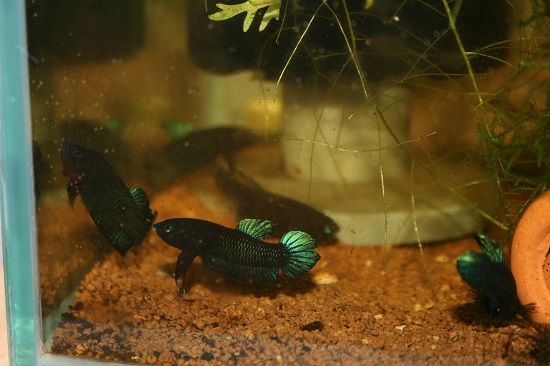 I really want to do something to this tank as it doesn't allow for very flattering shots of my persephone. That was the best out of about the two dozen or more I took.
I did water changes on my sp. apiapi, hendra and brownorum tanks. It makes life so much easier having a bucket right there with aged, heated water. All I do is siphon out 2L of water from these tanks once a week and add the aged water in with a small jug. I haven't tested my parameters but my fish are happy, healthy and spawning so I figured that they must be okay. These species are the kind that will let you know when the conditions are not to their liking!
---
Your persephone fry crack me up.. idk why, maybe the big eyes, its a funny expression. I am so glad to see so many fry in your tanks, and your tanks look wonderful btw.

Hope all your animals are doing okay in the heat. Mine don't know where to put themselves, poor things.

I heard back from Jodi-Lea, seems there's not many pairs available, and none in the species I want. I'm waiting to see an updated list after the Feb order comes in, apparently I might be in luck there.
Yeah they are growing surprisingly fast given I don't really offer much in the way of supplemental feeding. They actually had a tussle today with the small fry losing. I'm hoping at least one of them is a female as they are sorely outnumbered by the males in this tank.
The dogs and cats are inside enjoying the air conditioner (except for Whistler who has to stay in the laundry because he couldn't keep from trying to attack everyone when I brought him inside). We've basically had the two air conditioners on 24/7 since Tuesday when this started.
Yeah I think you got in a bit late as she did have a number of wilds a while back. Hmm I wonder what species are coming in, in February. I really am impressed with the quality of the wilds I got from Joty. I am wanting a pair of burdigala and uberis from him. I still am annoyed I didn't have the money to get all the pairs I wanted when Jodi-Lea last did a big order.
What I am really waiting on is a pair of wild-caught Betta coccina. I know it is desperate when I even have their tank partially set-up. Oh well, I suppose a girl can dream.
I am waiting with bated breath to hear about my Betta miniopinna pair. I hate the whole importing process and then having to have fish shipped down here to me. I'll have to go through it all again in February when my sp. wajok come across as well.
Got some more photos of my persephone males fighting after a water change yesterday and the addition of some rooibos tea. I don't know what it is about their current set-up but it just doesn't seem to allow me to get as crisp a photos as I used to.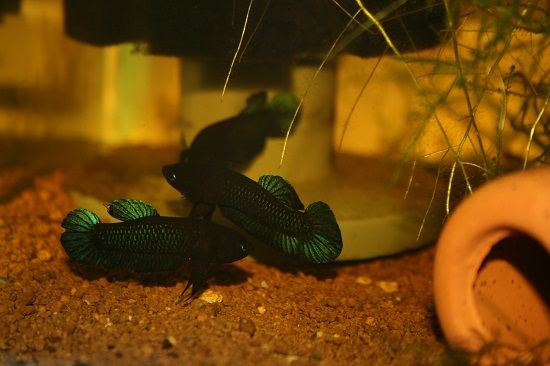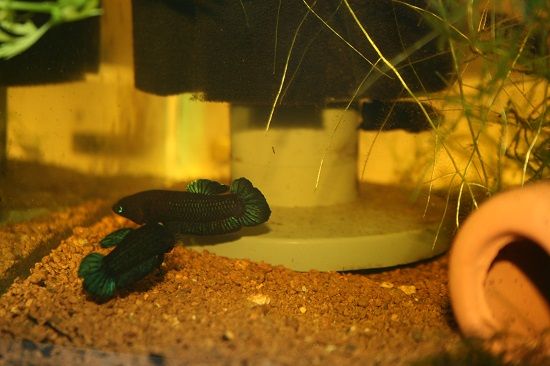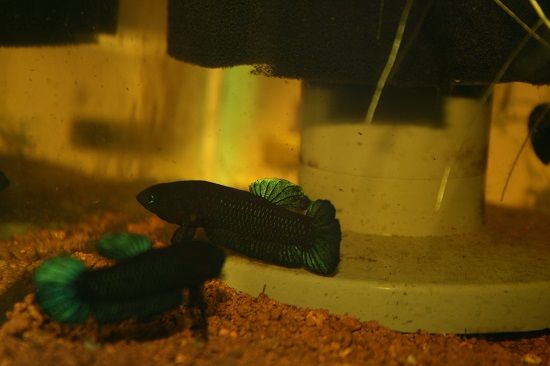 ---
Well I spent last night on the kitchen floor with the dogs. Remind me not to do that again. I was concerned about Nike because she wouldn't settle in the crate. So poor Eos had to go in the crate while Nike sat with her bum in my face the whole night. At least the air conditioner blows right into the kitchen so I was cool.
I don't know what I am going to do with my sp. apiapi group. It's only about a 15L tank and there are at least a couple dozen fry and juveniles in there. Plus I caught the male and female in the canister just now getting ready to spawn again (their latest fry only just left the nest). I was thinking of moving the male and female to a separate tank and leaving this one as a grow-out. But they are doing so well in there that I am afraid to disturb them.
The biggest female sub-adult is starting to be more friendly with me. However, she's still impossible to get photos of even when she is the third biggest fish in the tank. She is going to be partnered up with a male sibling when I can find one, and move out into a separate tank with him. I did notice a juvenile with a pointed caudal and longer anal fin so I think that might be a possible mate for her.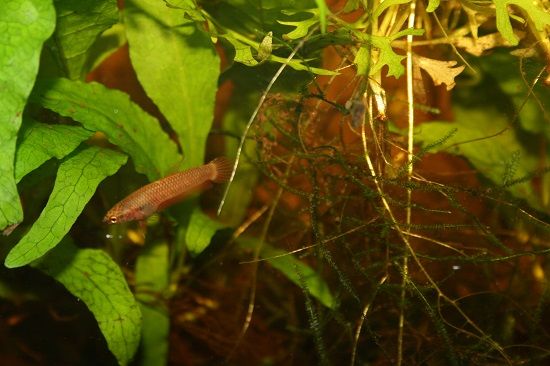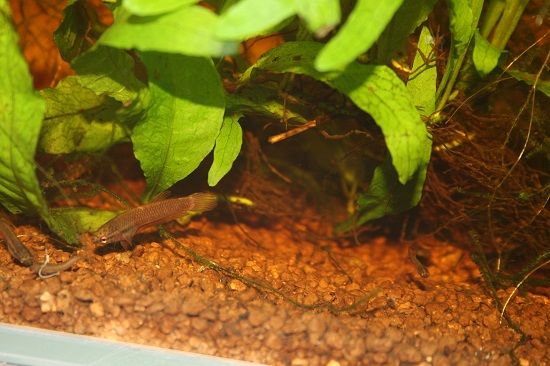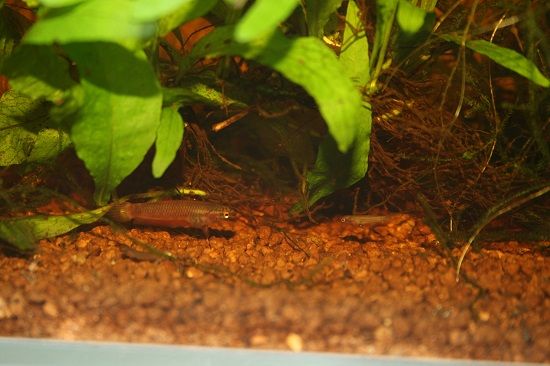 I swear every time I get the camera out she sits still long enough for me to line up the shot and then moves at just the right (well wrong for me) moment.
I'm liking how lean my wilds are staying on this current diet. They have all gotten bigger since I've owned them, but they definitely aren't as thick-bodied as the fish I had on daily feedings of blackworms.
---
Best photo I've taken of either of my persephone fry. It was sitting in front of one of the rooibos tea bags so I managed to get a fairly in focus shot of it.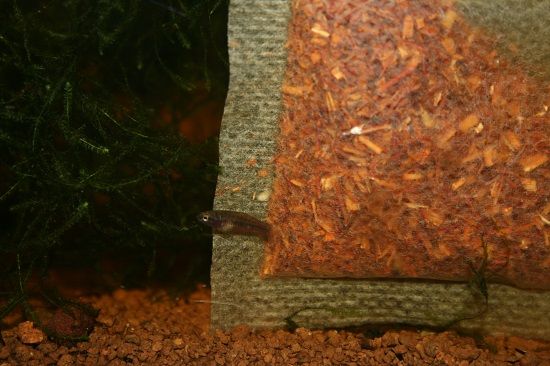 Just wanted to share because I am rather obsessed with these two little fish.
---
Well while it's still hot here at least it isn't sweltering hot. The only good thing about the heat was that it boosted the numbers of mosquito larvae in my outside tub and my duckweed has never looked better.
Not much to report since yesterday. My hendra female was quite interested in the male this morning so I assume that another spawn is not far off.
I managed to get a full body shot of my biggest persephone fry.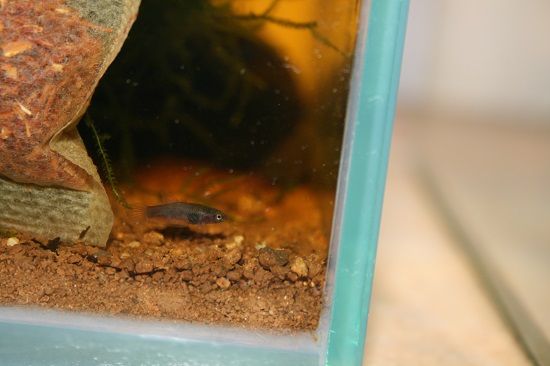 Also, my miniopinna tank is slowly starting to come together. I want to go to my LFS tomorrow to see if they have any watersprite available. I want this tank to eventually just be full of the roots from the watersprite and duckweed.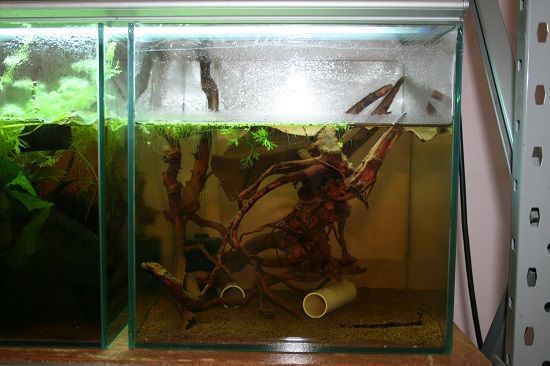 I was going to do peat moss over the substrate, but I am hesitant because while it brings out the colour of the fish it does make a mess. I'm thinking I might just find a way of incorporating it into my filtration instead.
I am anxiously waiting any news from Jodi-Lea about this pair. I'm hoping they came in on this shipment and are safe and well. However, even then they still have to both survive the trip down here all the way from QLD.
---
Well the blanket has come off the hospital tanks and I am going to turn the heaters down as the water temperature is sitting at around 30 degrees.
It looks like everyone is alive. However, the two adult unimaculata are still looking affected by the velvet, along with several of the rutilans. I'm going to test the ammonia in both tanks, as I haven't done water changes for the past 13 days, just to make sure there isn't any issue with the water quality.
Admittedly, it's not the remarkable recovery I was hoping for, but at least the fish seem healthier than when they started the treatment.
I mean my unimaculata female was barely breathing and did nothing but float lifelessly at the surface with her fins clamped tight up against her body. Tonight she actually jumped to get at a whiteworm that was stuck to the glass.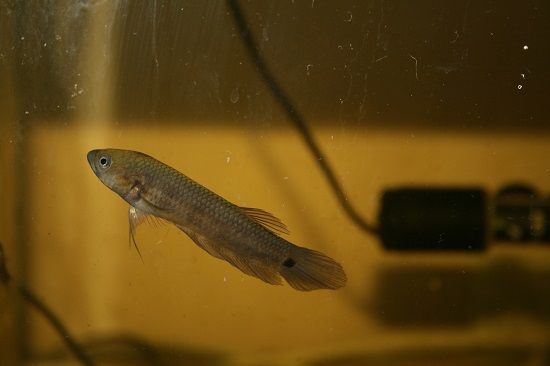 While this photo shows her fins clamped, she actually did open them fully tonight which is the first time in weeks I've seen her do that.
I'm going to do some water changes tomorrow and then I think I will commence will another 14 day treatment.
I really want to get this licked permanently. I feel so sorry for my poor fish that have to go through this again and again.
---