Everything fish related (except for some natives) is expensive here and I always seem to be drawn to the rarest and most expensive fish haha
Of course it's probably the two species I'm interested in that I am not going to be able to source. I know Fishchick Aquatics gets in apistos but I'm not sure if she posts them from shop to your door any more or only does airport to airport.
I found some here and while I have purchased fish from this store plenty of times in the past, after the fiasco with the velvet, I am always hesitant to purchase from anyone but Fishchick Aquatics/Jodi-Lea. Plus I always know the quality of her fish is superb.
http://shop.coburgaquarium.com.au/li...a-inka-50.html
---
It's too hot to do much of anything today. However, I did get some photos of my fish.
It's quite difficult to get in focus photos of juvenile bettas, particularly when their father keeps leaving his nest to come and chase everyone around. They also refused to pose for any group shots.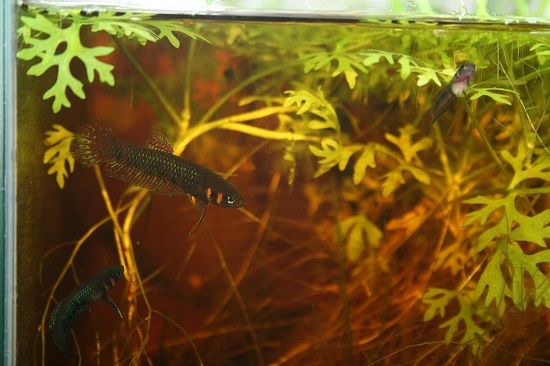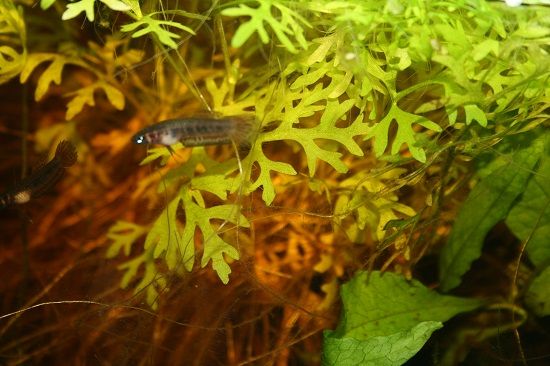 I had a look at my brownorum juveniles today and I don't think the males are going to develop that really vibrant red that their father had. He also had a lot of iridescence on his side and sadly it looks like my males are going to be much more washed out. Hopefully as they mature their colour starts to darken, but I don't think it will.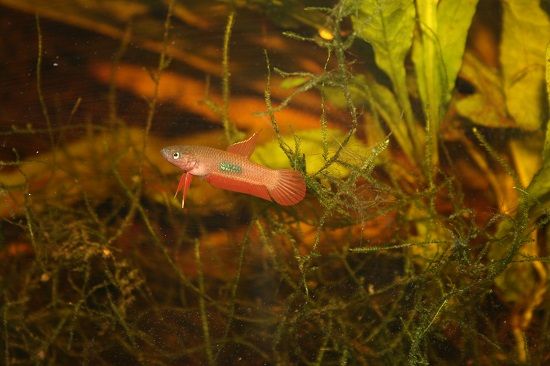 Then here we have the homicidal female cruising about. Going back, I realise she has always had this sort of evil expression even when I first got her.
---
I took a photo of my rack today. The only two wild betta tanks missing from this shot are my group of rutilans sp. cf. green that are on the bottom shelf, and the sp. apiapi tank that is on the adjacent sideboard.
The empty tank on the top shelf is for most likely a pair of 'standard' rutilans, and I have a spare 2ft tank on my bottom shelf that will be divided in half with perspex and used to house a pair of burdigala and uberis when they next become available (and I have the money to purchase them).
I am finally getting my set-up to how I want it to look and maintenance at this point couldn't be easier. I simply do once weekly 2L water changes on the tanks on the middle shelf, and 5L water changes once weekly on my persephone and rutilans tank. I really wish I had set-up water aging tubs with heaters a lot earlier. It certainly cuts down on time, and I definitely think the fish are doing better with this method.
This is a closer look at my miniopinna tank. I think they were spawning again today and I saw a very small fry in the main tank so hopefully I will start to see more fry in a month or so when they get bigger and start coming out more.
---
Sorry to hear of your recent troubles, but glad for the successes peppered in. You mentioned Apistos. . . definitely high up on my list of 'one day,' along with B.channoides. Such lovely creatures. . .
Thanks Chesh. Losing my brownorum male was probably the biggest blow. He was such a stunning, healthy and personable fish and unfortunately I think his quality is not going to be matched by his surviving sons.
I expected to lose my unimaculata group. They had been sick for so long, and in the end it was sort of a relief to not be constantly battling with the velvet.
However, surprisingly my rutilans group seem to have made it through their treatment and are looking as good (and aggressive) as ever. I did lose a handful of fish, but there are still over a dozen of them so I'm hoping that this time the velvet has been completely eradicated.
They are such a violent species. I had to put in some wood and more java moss, as they were tearing each other to pieces. I think I may need some more wood and definitely some leaf litter and surface cover because otherwise the smallest fish end up with all their fins gone.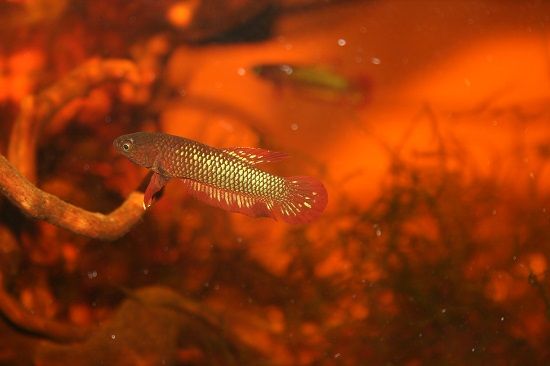 I still think this juvenile hendra male is one of the best fish I have bred. He has such rich colouring and hasn't gotten too bulky through the body. He is definitely the male I will be retaining.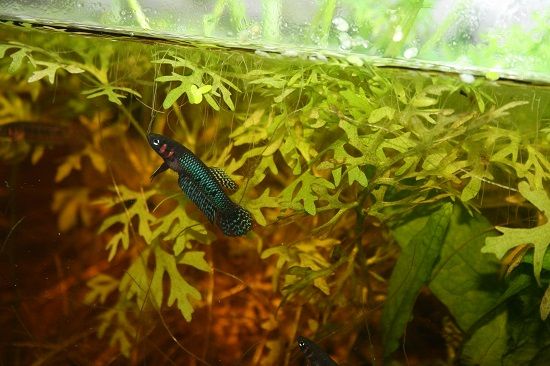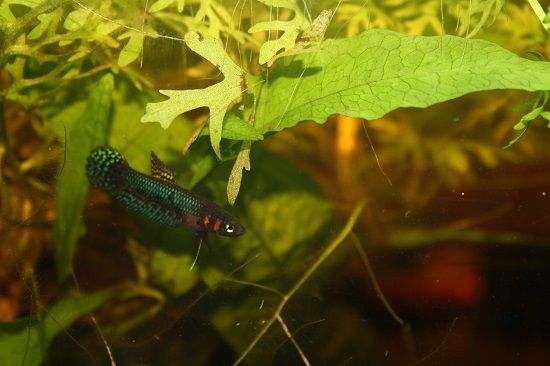 Then here's just a quick snap of my miniopinna female hunting down grindal worms and mosquito larvae.
---
Ashlea the channoides are breeding!

Any advice? Don't be surprised to hear from me more...
Well I wasn't surprised. I did tell you that they were like guppies.

Just try not to disturb the male. Some first time fathers will hold to term no matter what, but others will swallow if they start to get stressed. Let him be and if the female is pestering him put her in a breeder net or in a separate tank.

However, one thing I did notice with my unimaculata pair was when I added in some crushed coral and kept the pH higher, they would spawn but the male would not hold to term. It wasn't until I dropped the pH back down that I got fry.

So if they continue to spawn but the male continually swallows this could be one possibility.
---
I was trawling back through my Photobucket account yesterday, and it was both startling and rather horrifying to see just how many fish I've owned during my short time in the hobby. While I did sell a great deal of fish to other hobbyists, there are still plenty that died under my care.
I was perhaps saddest about the wilds I lost including several persephone, my juvenile tussyae, my pair of ideii, and my first groups of coccina, unimaculata, brownorum and uberis. Most were due to jumping, but some were because I simply didn't appreciate how sensitive some of these species are and there wasn't a lot of information I could find online (that wasn't in another language) to push a very raw beginner in the right direction.
This picture reminds me of where it all started. That was my one half of my original Betta rutilans sp. cf. green pair. This was probably taken some time in 2011. While I did have a group of coccina, I still think of my rutilans pair as my first 'proper' wilds. They were the first fish I successfully spawned, and I miss them both very much. I have no idea what happened to the female, but I believe the male died during this most recent velvet treatment.
I always think it's good to look back and see how far you have come. I remember when raising even one fry seemed impossible and yet now I have tanks full of them. At one point it seemed like I would never get past all those issues I was having with velvet, but I did and my newer stock has been flourishing.
That's why I always get sad when I see people who remain steadfastly secure in their ignorance. I think those individuals that are open-minded, and amenable to further learning, get the most satisfaction from this hobby. I know some people might think I know everything there is to know about the wilds I keep, but I've really only just begun on my journey. I never stop learning, and even now, several years on, my fish still find ways to challenge my preconceptions.
---
Well my rutilans must have heard me reminiscing because I have a pair spawning in one of the film canisters. This was completely unexpected because they have been so sick up until recently, and because I have never seen any fish from this group show the slightest interest in spawning since the original female went missing.

The original male was a mouthbrooder. Honestly I don't know if this is him or one of his sons so I would be interested in seeing what method he uses if this spawn is successful.

Now I am torn. I didn't want to attempt to get an F2 generation from this group because they most likely still have velvet, and they would pass that onto their fry. But once this group dies I probably won't be able to source a wild-caught pair of this species as no one really knows much about it.

At least if I do separate them I can easily tell them apart from the others. The male is the biggest in the tank and the female has a stuck out gill flap from an old injury.

Sometimes I feel like one of those people who look at dolphins and can tell them apart. I'll be counting notches in fins soon.
---
It doesn't look like the spawn from my rutilans pair eventuated in anything. I gave them a feed of whiteworms and grindals this morning and everyone was eating which is always a good sign.
I have been seeing some of my miniopinna fry out at the front of the tank now they are bigger, and I managed to get a photo of one before it went and hid in the watersprite.
The female miniopinna of course is always out and about. I gave her some mosquito larvae just now and she was alternating between hunting it down and flaring at the hendra male.
This pair seem very content with their set-up. I still can't believe I was not only able to get my hands on a pair, but also to have them successfully spawn and produce healthy fry. The male spends most of his time rearing fry in the film canister so I rarely see him out. I am hoping he is like my sp. apiapi male and never stops spawning.
I have been trying to make my sp. wajok feel more comfortable and fatten up the one I think is female. Because their tank is bare and the water very stained with tannins, it makes getting decent photos quite difficult. Hopefully I can convince mum to go to the aquarium tomorrow to get some wood for their tank.
I think this is the male. He hates the brownorum female in the tank next to theirs and I always catch them flaring at each other and swimming up and down the glass. I did tell him that she killed her male so he'd better watch out but he seems confident he could take her.
Then my hendra male was waiting for me to feed him so I got a quick snap. You can see his lovely son in the background of the photo. It still looks like a majority of the juveniles (if not all of them) are females.
Speaking of the brownorum female, I think I am going to move her into my 25cm cube. She has been harassing the biggest male and female juveniles, and I don't want to leave her in there in case she kills one of them. I just need to pick up some more substrate and then she can go next to my persephone tank. She's just too unpredictable and vicious to be allowed with others of her species.
I was also rather chuffed to hear my blog was mentioned in an article in the latest addition of the Flare magazine. I am not actually an IBC member, but someone mentioned in on the Australian wild betta FB page. Now I'm going to have to lift my game in putting up posts as I have been rather slack of late!
---