Fish are all angry with me. We ran out of blackworms the other day and now we have to wait until Saturday/Sunday to get some more.

I thought it would be a good time to start getting some of my younger fish onto pellets. So far they are very unimpressed with my efforts.

The only one I got to take pellets is my australe killifish female. Now all she does is lurk at the surface waiting for me to put food in while the male sits forlornly in his spawning mop.
---
Got some photos of my Betta rutilans 'green' juveniles/sub-adults. They are maturing quite nicely. Hoping to get several females from this group just so I have some pairs to keep this strain going.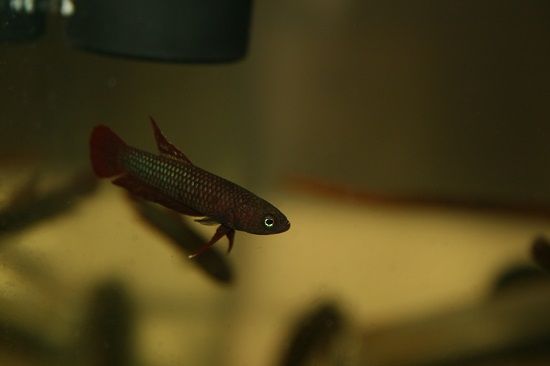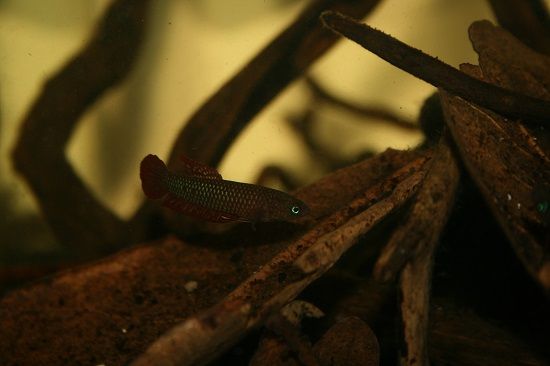 Their parents were two or so years old when this group was conceived. I think I still have the father but unfortunately, I lost the mother not that long ago.
---
Your fish are incredibly beautiful.
Thanks Saphira.

Well, I had a trio of uberis I was looking at selling if one of them turned out to be female and not just a young male.

I was thinking maybe I would see maybe some courtship behaviour that would let me verify their sexes and then I could whack them up for sale.

Noticed the male had a massive nest going today, and look in with my torch and he has a nice batch of eggs in there.

Now I am going to have to see what happens because he is a first-time dad and I don't want to destroy all his efforts. Looks like the sale might have to be postponed for a couple of weeks.
---
Forgot how much I enjoyed keeping killifish. My australe gold pair are doing spectacularly well. Spawning regularly, eating whatever I put in their tank, and they don't seem to mind having the poliaki female in there with them either.
Australe female
Poliaki female
I collected some eggs from their spawning mop and have them floating in a chinese take-out container. A few look to have eyed up and I am hoping that I can get them to hatch.
Only problem is now I am just wishing I had the space and funds to set-up more tanks for killifish again!
---
Going to seriously overhaul my fish rack over the next few weeks. I want to put in live plants such as frogbit, water sprite and mayaca in all of my tanks including grow-outs because I want to cut down on the amount of water changes I am doing.
This means I am going to have to install lights over each shelf of tanks. At the moment I am just looking at fluros because they are cheaper to purchase and this rack is going to eventually be torn down once I move my fish downstairs.
I also have to organise my tanks better. I want to have separate shelves for my breeding pairs, groups of adult fish and grow-outs. I hate how my tanks look presently and they are starting to sprawl off the rack again.
Plan is to order IALs online, source some plants locally and get my dad to help me install some lights. I also want to purchase a couple of plastic water drums and age my water for water changes in this. I am wondering if I am causing fluctuations with the water chemistry in the tanks with fry/juveniles when I just do changes with water out of the tap. I have a spare 200 watt heater lying around so I figure why not rig something up.
It's going to be a lot of work, but I think my fish will be happier and healthier in the long run. These are quite sensitive species, particularly when they are fry so I want to try and keep my set-ups as low maintenance and 'hands-off' as possible.
Anyway, for those that read all this, here is a photo of my pair of A. australe pair courting.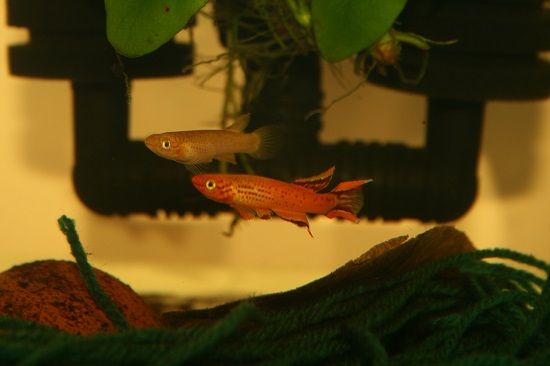 They are such active fish compared to my wild bettas and the male is always on the move chasing the female around and trying to convince her to spawn.
---
Your fish are all gorgeous! (: Your A. australe bettas seem to have "tribal" markings. The boy is the bottom one, correct?
---
Over hundreds of bettas die in their small, dirty cups each day. Only you can help them live. Research and then save them, today!

The australe are killifish, not bettas. I used to keep both killies and wilds but then I lost nearly all my killies to disease.
The bottom one is the male. They are not a rare species but I think they are exceptionally beautiful. It's a shame killies are not as readily available here in Australia. A new species was recently described that is absolutely stunning.
http://www.reef2rainforest.com/2013/...from-cameroon/
---
Oh, my mistake. And thank you for the link.
---
Over hundreds of bettas die in their small, dirty cups each day. Only you can help them live. Research and then save them, today!

Was just checking on my killifish eggs that I had collected from the spawning mop. I had been lazy and not bothered to add methylene blue or an airstone to the container which can cause the eggs to fungus.

Much to my surprise, I have five or so tiny fry hatched out! I added in a small amount of microworms to the container but I think they aren't quite big enough for it yet.

Now comes the tricky part of raising them. I have learned with my killifish to take it slow and so I am going to leave them floating in the container for a couple of weeks to avoid causing stress.

I probably have a stack more eggs left in the spawning mop as I haven't been collecting them. Will be awesome if I could build up a colony of these fish.
---