Cleaned my goldfish tank yesterday. I haven't fed blackworms to my goldfish in months and yet every time I siphon the gravel I find a whole colony of them living in there. I wonder if they are consuming feces and uneaten food, as even when I really give the gravel a thorough siphoning, I never seem to get a lot of either in with the dirty tank water.

Those three goldfish have to be the most boring fish on the planet. Their whole existence is based around staring at me for food, eating their food, looking for food in the gravel and then pooping out said food and causing a mess. They also splash water everywhere and uproot any plants I put in. Those plants they can't uproot, don't seem to do well when the water temperature drops right down over winter.

Onto my bettas, I think I am so close to an uberis spawn. The female is barred up and showing a prominent stripe down her back which usually indicates a readiness to breed. The male is spending most of his time near his nest and is showing off to her and attempting to lure her back to his nest rather than chase her. I fed them some mosquito larvae just now so hopefully I see a spawn in the next few days.

The fry from my newest miniopinna pair are growing tremendously fast. I haven't even been feeding them and they are all swimming around with fat stomachs. Peat moss definitely provides plentiful infusoria for fry to feed on.

My rutilans green fry are also doing well in their nursery tank. The biggest are taking grindals now and I see them sparring with each other all the time.

I filled up the tank for my rutilans pair this morning. Was good and didn't rush it, so didn't disturb the aqua soil like I usually do. Going to boil up some peat moss and lay this in a thin layer over the soil. On top of that will go a small litter of native riparian leaves, along with some IAL to add colour. Then I have to wait for the 25 watt heater I ordered to arrive (probably will be tomorrow) and I will be placing a small plant order to fill both this tank and my coccina tank.

After all this, those rutilans better survive this whole process! Then it will just be a nervous wait until my coccina come in August.

This morning I found myself browsing an apistogramma forum after reading Mahsfish's journal (curse you). It is a good thing I am broke because if I still had my job I would seriously be so overrun with fish. I am fascinated by the way the mother apistogramma tends to her brood, and I would certainly love to one day add pairs of Apistogramma panduro, Apistogramma baenschi Inka 50 and Apistogramma allpahuayo to my fishy collection. Small, fierce, brightly coloured fish that are expensive, sounds right up my alley.
---
Just thought I'd do a quick post to say that my uberis pair are spawning! I caught them up in the film canister together so I am not going to disturb them as this is their first time and it's taken so long to get to this point.
I fed them a whole lot of grindals and mosquito larvae last night and the male was very intent on luring the female back to his nest. He was very aggressively flaring and defending the area near his nest so I thought that a spawn might be imminent.
I took a couple of photos of my uberis male with the mirror the other day. Unfortunately, the photos in this tank always turn out overly bright or overly dark.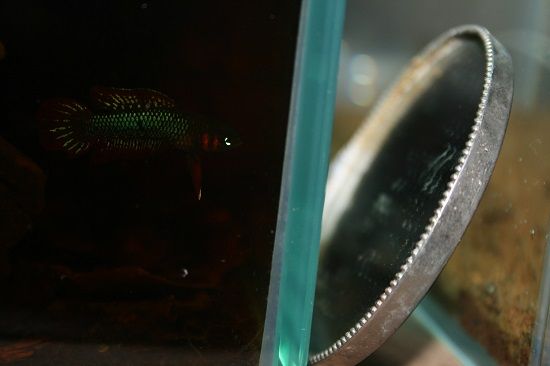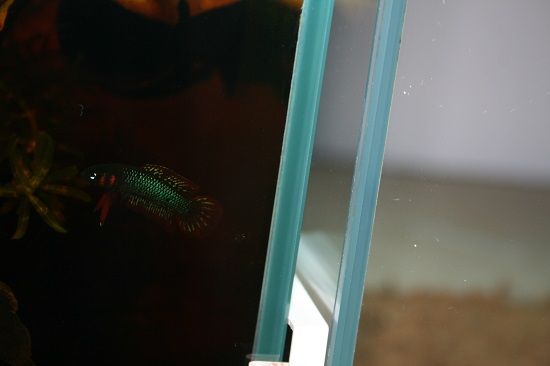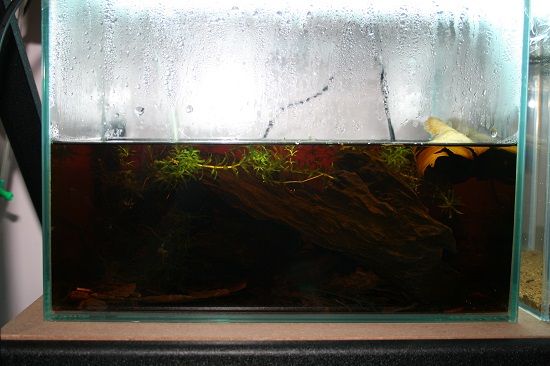 Their tank. The wood is only temporary until I get more plants.
My light and heater still have not arrived. Hope it is either today or tomorrow because I am sick of moving the light from my main rack back and forth. I also don't want to be putting plants into a freezing cold tank.
Meanwhile Atlas is still working solidly on his bubblenest. It's at least twice as big now, and heaven forbid I even think of doing a water change. I suppose it is keeping him occupied. Even if there is not the slightest chance a female is going to come by.
---
All looking good LBF. Made me laugh reading about the goldfish.
---
The majority of fish issues are initially caused by poor water conditons.
You don't keep fish you keep water
Haha shamefully I will admit I am a poor goldfish keeper. I mean they get fed, get their water changed and their parameters are good (except the nitrates sometimes can be high), but they are still three shubunkin in a 45 gallon tank, and they also receive basically zero attention from me outside of feeding/maintenance.
They were supposed to have their 100 gallon tank with a canister filter by now, but the renovations downstairs stalled and there's just nowhere for it to go. Plus it would be a devil to move when it comes time to put the flooring in.
Their tank is not exactly a stimulating environment. It just has a thin layer of gravel and that is it. Wood is out due to the softness of the water here, and the fact I am already using a heap of crushed coral to get it to goldfish friendly levels. Rocks are out because the tank is way too small and I want to maximise water volume, and plants are out because they either dig them out or eat them.
They are probably about 20cm/8 inches from head to tail so they have been stunted. But then again, considering they are three, nondescript shubunkin that sell for peanuts here, there are probably worse places they could have ended up.
Eventually they will get their tank upgrade, a proper filter and hopefully we can put in some river pebbles or something to provide them with a bit more interest. I may also experiment with pond plants to see if there is anything they won't eat.
This is all three of them together, while this is the smallest one who has always seemed a bit 'off' since I got them.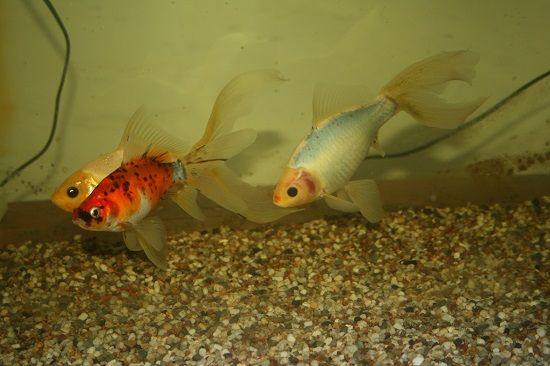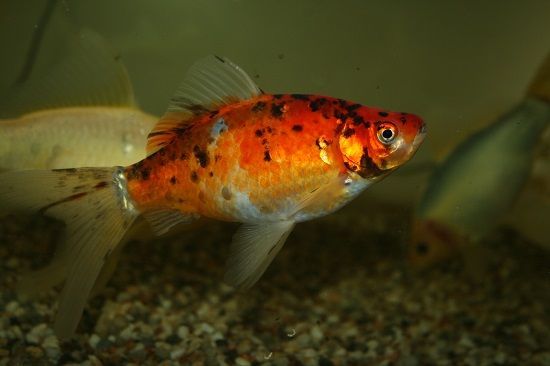 I don't think my dad's fish would even fit in the original 10 gallon tank he had it in, when he brought the original group over three or four years ago.
---
That's the other problem with goldfish, they grow so fast, you start out with a tank they grow, and you think he needs a bigger tank, you buy one, they grow again, and the pattern continues, lol.
---
The majority of fish issues are initially caused by poor water conditons.
You don't keep fish you keep water
Yeah, they could have ended up in way worse places. For minimal attention/maintenance, they look really good. I love the coloration of the right most one in the top picture. It looks like a koi we use to have.

And the tank that houses my dad's odd goldie/koi/pleco trio is barren too aside from some river stones for substrate and a piece of driftwood. They vacuumed up all the plants we tried to grow.
---
---
Last edited by Fenghuang; 06-17-2014 at

12:44 AM

.
They are very fussy eaters for goldfish. I tried to make them gel food once and they absolutely hated it even though I followed the instructions off a goldfish forum. I tried this New Era food, but they hated that as well. Omega One was tolerated but not taken with much enthusiasm.
Instead they love NLS large fish formula and the goldfish formula. They also like frozen bloodworms, brine shrimp and mysis shrimp. I've tried vegetables like zucchini in the past, and they had a nibble but most ended up needing to be removed before it made a mess. When I have excess duckweed out in my tub pond in the warmer months I usually scoop some up and they seem to like eating that.
I did tell mum I can't afford to feed the bettas and the goldfish - especially not with the price NLS is! So she is in charge of supplies for the goldfish and I take care of my lot.
Mum has her heart set on vallisneria in their tank but all the times I've tried it, they just work and work at the substrate around the plant until it comes loose and then they mangle it. They are big fish and very determined and it does not take them long to wreak havoc on any plants I put in.
Yeah the orange one reminds me of a koi as well. It's always been smaller than the other two and based on its tail, I think it is a slightly different variety. It also swims everywhere slightly tilted, and has done so ever since I first got it.
My uberis male now has a nest of eggs he is guarding. I'm hoping he proves to be a good father and doesn't eat anyone. He doesn't seem to mind my presence, in fact as soon as he saw me looking in the tank he swam over in his usual fashion.
Atlas meanwhile had his mind blown by a water change just now. I was careful not to disturb his nest, and I replaced the two smaller PVC pipes with bigger ones that he has been in exploring.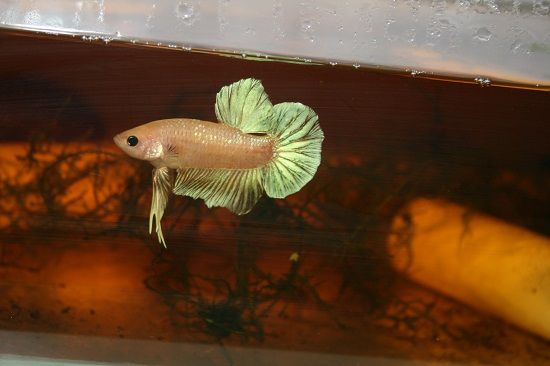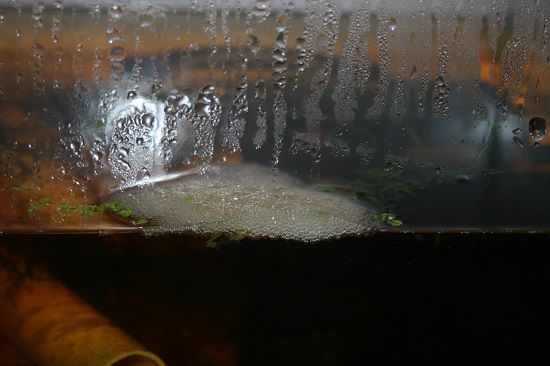 ---
Anubias may be an option. They are supposedly one of the few plants that can withstand repeated uprooting and they have tough leafs so notorious plant killers like goldies and cichlids and plecos don't find them that tasty.
---
I had considered anubias, but being from Africa originally, I'm not sure how they'd cope with the extreme drop in temperature over the winter months. Average water temperature is only about 10 degrees Celsius and probably overnight it gets even lower.
My Betta uberis male is doing a great job with his eggs! I woke up this morning and the first thing I did was go check to see if they were still there and both the eggs and the male were still in the canister.
Crossing my fingers I get some free-swimming fry out of this.
Placed an order for plants. I figure at this point I will just buy enough to fill up my rutilans tank and then order some more for my coccina tank when I have money at the end of the month.
I ordered hydrilla, hornwort, limnophila brownii, java moss, and giant duckweed. Also ordered some native riparian leaves to use along the bottom of the tank as these seem to last months longer than IAL and contain lots of sticks and seed pods etc. to give a more natural feel.
Hopefully if I pay today they will get sent out by Monday next week. A fellow hobbyist I am friends with purchased some Amazon frogbit and was going to give me a little bit as well, so my rutilans pair should be very happy with their new tank by the time they get here. It's been ages since I've put this much effort into getting a tank ready.
I'm crossing my fingers my 2ft light and heater arrive today and that nothing is broken. Got a 100 watt heater once and somehow the end was completely smashed even though the box wasn't even dented.
I still have to purchase some IALs. I can get them here from an online store, but I honestly don't like the 'perfect' looking leaves. I was thinking of getting some low grade ones from Bettawan but I am not sure whether they would pass through customs who may think there is something wrong with them.
Other than that, I have been looking into becoming sort of self-sustaining food wise for my fish. I have been researching how to culture blackworms, and also daphnia. I really want to try daphnia, but it seems like getting your hands on a starter culture is difficult. I can usually feed my wilds off mosquito larvae and live bloodworms from early summer to early autumn, but I don't want to rely so heavily on a worm based diet over the colder months as I don't feel it's as healthy for the fish. At the moment, I'm working on setting up a much bigger grindal worm culture. It's a shallow plastic tub, half-filled with peat moss. There's crushed coral mixed in to stop it from becoming too acidic, and I'm going to wet it all today and then introduce my grindals and white worms to it. At least it will save me having all these small, plastic containers sitting around, and hopefully I can get a bigger yield of worms.
I'm rather disappointed to see that the majority of my hendra fry seem to be developing into males. Initially I thought I had only two males, but now it seems like I'm going to be struggling to even have a couple of females to retain or sell off. I wish I could figure out how to get a more even split. It not only makes selling the fish difficult as no one wants singletons, but also makes continuing a line beyond F1 extremely difficult as well.
The mum was looking spectacular last night though. She was flaring at her oldest male offspring, and even posed for a nice photo.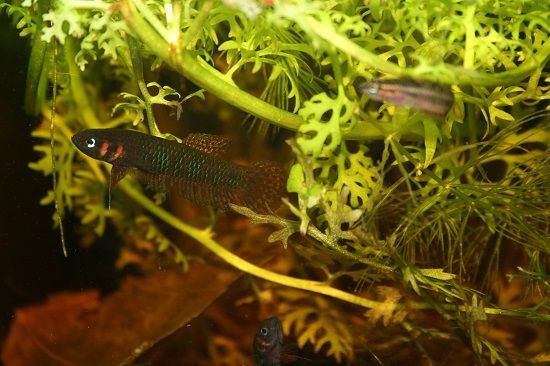 ---
Good news is that my 2ft light and heater arrived today. The light is really good quality for the price, and is doing a great job lighting up my Betta uberis and Betta rutilans tanks.
Bad news is that I put my plant order through and got a quote back from the owner saying that they were out of java moss. So either will steal some from another tank or pick up a small packet from a fish store.
My sp. apiapi group have also been really clamped and less active than usual. I added several bags of rooibos tea along with IALs to their tank the other day, and I wonder if I didn't cause the pH to suddenly drop. I've turned their sponge filter back on (it's been off since my air pump broke) and removed the leaves and tea bags and they seem a bit happier. I'm going to do a water change I'm going to do a water change on Sunday just because with my tap water, I to let the water age for a couple of days for the pH to stabilise.
I am really hoping that it is not velvet. I could not stand dealing with that again.
So far my uberis male is still doing a wonderful job with his fry. I expect them to be free-swimming very soon. It will never cease to amaze me those males that are just such great fathers right from the start. I don't know if this male has spawned out in the wild before, but he's doing a better job than some of my males that have several spawns under their belts.
Today I took some photos of my hendra group. They certainly are so much easier to photograph than my other wilds.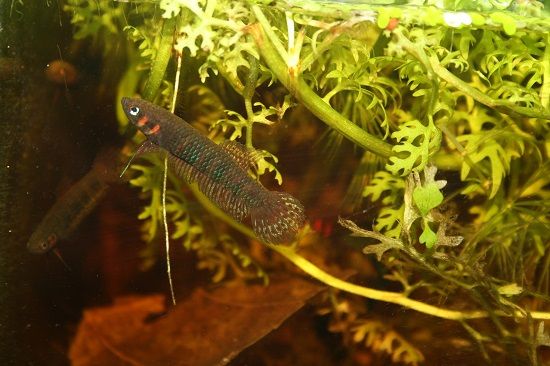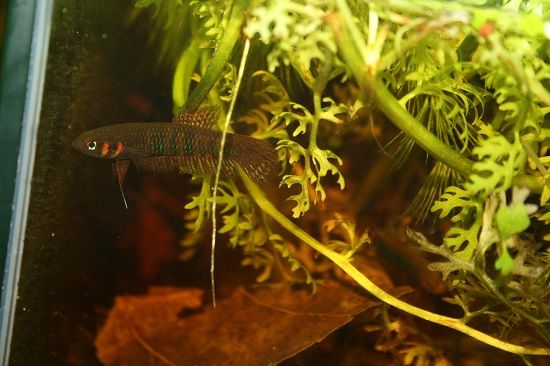 Mum (has to be tied with my sp. apiapi female for title of 'favourite fish')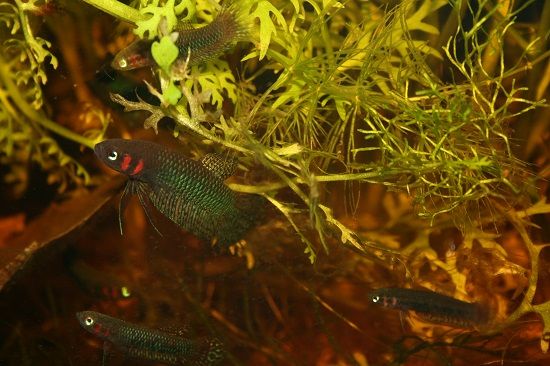 Dad with some of the kids
I also got single photo of my miniopinna female from Hermanus. You can see one of the juveniles in the background.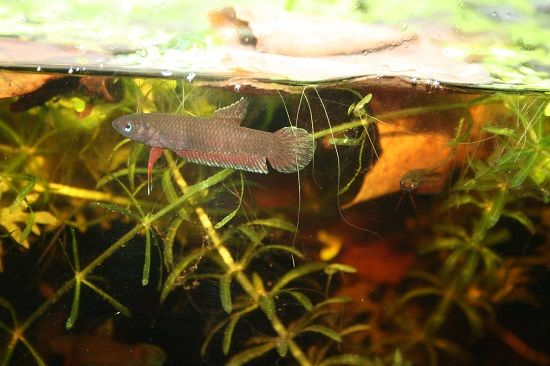 Apparently anyone with DOA fish from this latest shipment should be hearing from Jodi-Lea by Sunday. I so hope my rutilans pair made it to Australia alive and well. If they aren't DOA or die in quarantine, I probably expect they will be shipped out by mid next week. Hopefully their tank is ready by then!
Other than that, I'm going to post some photos up of Atlas over in the picture section of the forum. I don't want to clog up my wild betta journal with pictures of his big head.
---