I would love to try to heal that EE with the pop-eye but alas, still no money and I don't want to put you out either. But here's to hoping they find good homes anyway
---
Rembrandt II, Suiché
Leopards: 1:4 Hawkeye, Luna, Astrael, Dorian, Cullen
Gargoyle: Cloudjumper and Toothless
Quote:
I would love to try to heal that EE with the pop-eye but alas, still no money and I don't want to put you out either. But here's to hoping they find good homes anyway
That severe pop-eye EE is gone.
This one is still here as is another blue one I saw last.
Ah that's a shame, he probably died. That's okay though.
---
Rembrandt II, Suiché
Leopards: 1:4 Hawkeye, Luna, Astrael, Dorian, Cullen
Gargoyle: Cloudjumper and Toothless
Quote:
Ah that's a shame, he probably died. That's okay though.
Yeah, I probably would have caved if he was still there. But yeah, these things happen. :/
I did water changes on my two apartment tanks yesterday. The the little "plakat" is turning out so nice. The difference between him and his brother could not be more striking. You can see the difference here:
Some more shots of "PK boy" because he is on the end of the tank sections and is much easier to photograph because I was lazy.
(In my defense, I have been swamped this week. >_>)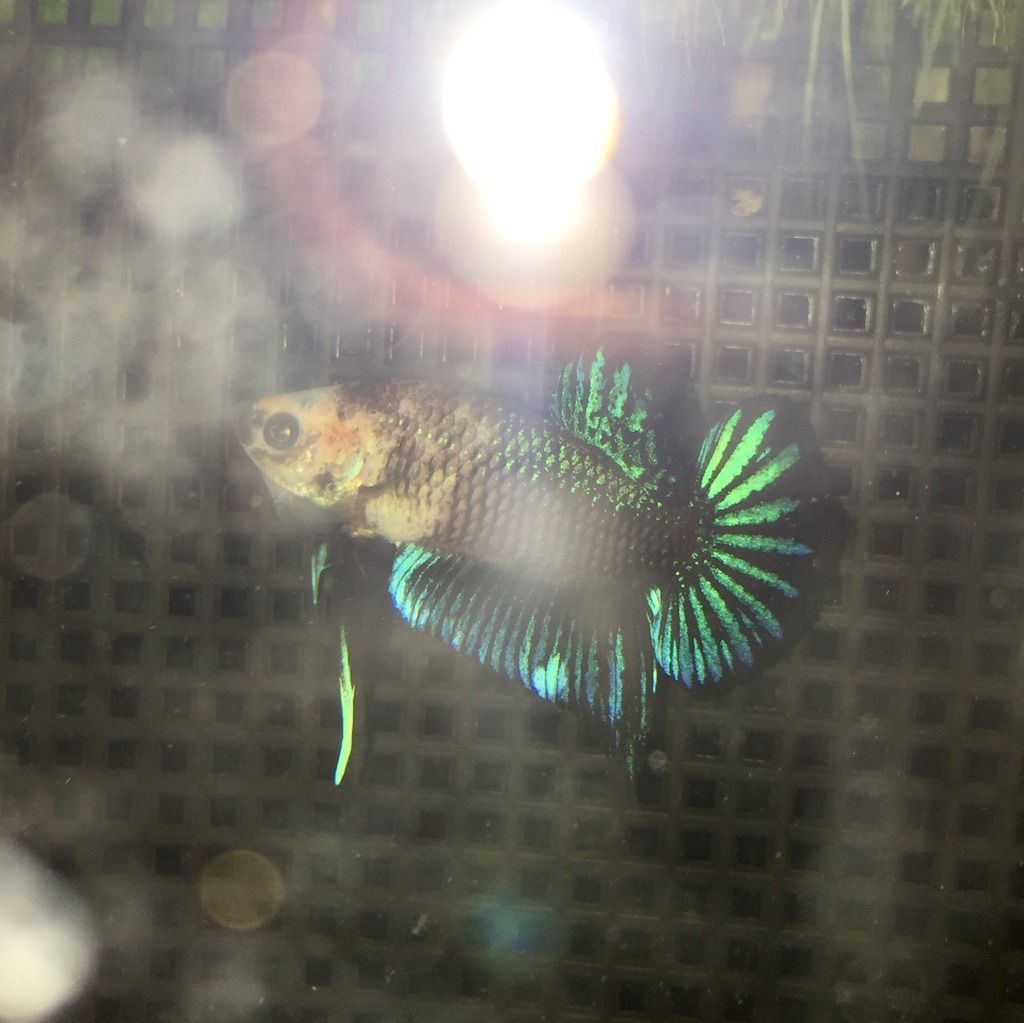 Yeah, yeah, I know the glass needs cleaning... I tried to do some here. I think slight improvement?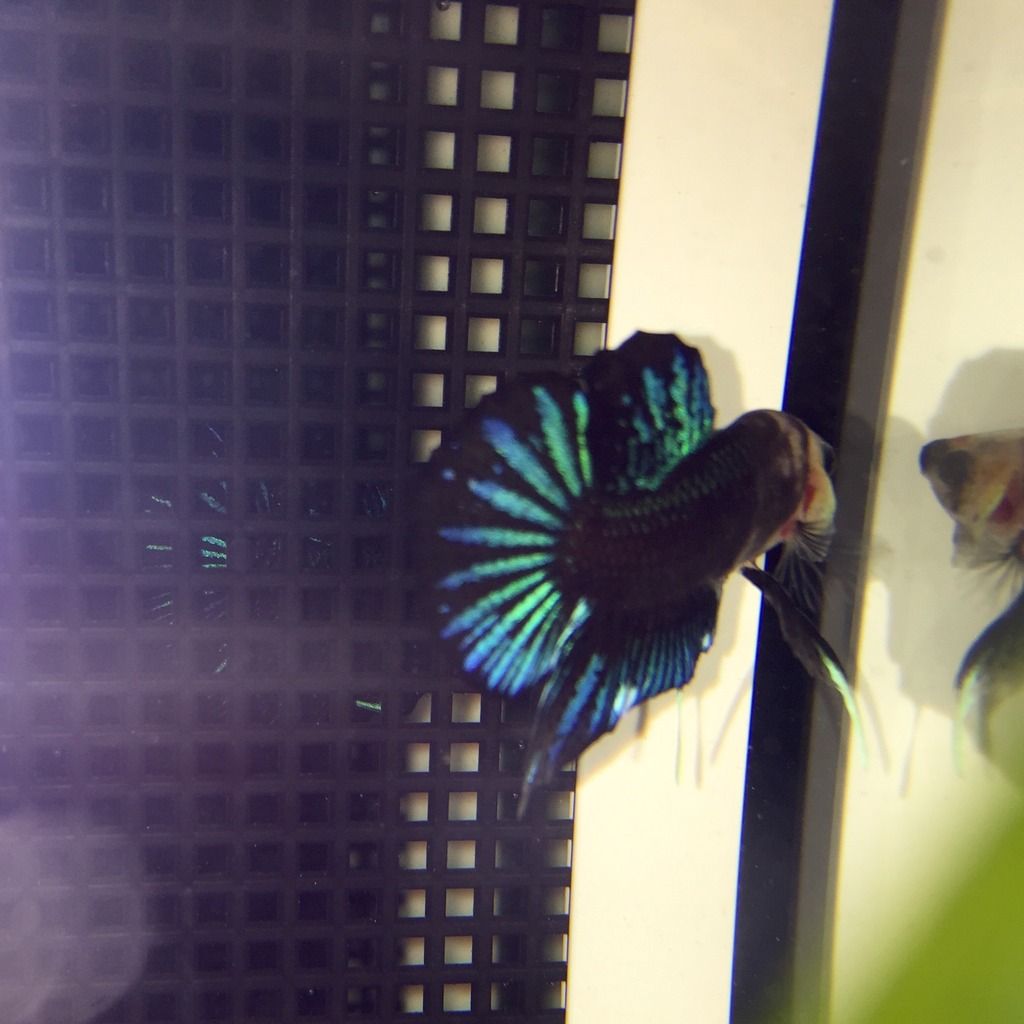 The gf told me today that their dad appears to be slowing down. I hope he sticks around for a long time still, but we're glad we have his children too.
---
Last edited by Fenghuang; 11-02-2016 at

01:52 PM

.
So, I ordered a lot of 50 extra large IAL from an eBay seller who is located in, I believe, Sri Lanka about a month ago. Good ratings and their product description looked good, so I thought I will give them a try... I don't order IAL that often so I don't have a go-to seller.

Well, the last estimated delivery date for this order has come and gone. Actually, a day before the last estimated delivery date, I noticed the status of the order said it was not shipped yet, but I was patient and tried to just wait and see.

I decided to finally send a message to the seller inquiring about my order this afternoon. They got back a few hours later (pretty good since it would have been rather late or early there). And they told me that my order had actually been shipped out a few of days ago, but they didn't get around to updating the status or the shipping info yet. They apologized and provided me the tracking (hadn't actually looked yet since I have been busy and mobile interface is messing up). What concerned me was they said they weren't actually able to collect the 50 leaves I had ordered. They said they were only able to provide about 30 leaves. Said most of the region was experiencing some flooding this time of the year and that made harvesting quality dried IAL difficult. Which is understandable since it is monsoon season in much of South/Southeast Asia right now. But I still feel like I should have been informed if/when they couldn't fulfill the order they were selling and I had expected when I placed the order? 20 extra large IAL goes a long way for my setups. Also it is actually nearly half the order. So, I feel like I'm being overcharged, since they weren't offering to adjust (partial refund?) the purchase costs or anything like that.

But I don't want to be rude and just cancel/ask for a refund since I know [things] happen. I dunno. Am I being unreasonable to feel dissatisfied about this?
---
Last edited by Fenghuang; 11-05-2016 at

02:55 AM

.
So I finally couldn't help myself and ended up getting this guy.
It took a few days for him to settle in. He was fearful and would dart away and hid whenever I got close to the tank or made any motions in front of the tank. He wouldn't eat at first for this reason too. But after about a week, he calmed down and now he seems fairly confident. He is still camera shy though, so I had to enlist Artemisia help to get some pictures.
He is eventually going to end up going blind, I think. He has pretty thick scaling over the top of both eyes. He might already be partially blind since he seems to favor the surface of the water and sorta of traces it as he swims. You can see the issues with his eyes in some of the pictures.
Also bonus pics of Artemisia who looks like she wants to beat him up.
I am thinking Guilliver for the name.