All right!
Hopefully she'll take to it.
Day 5 pictures
---
BB definitely enjoys the Hygrophilia!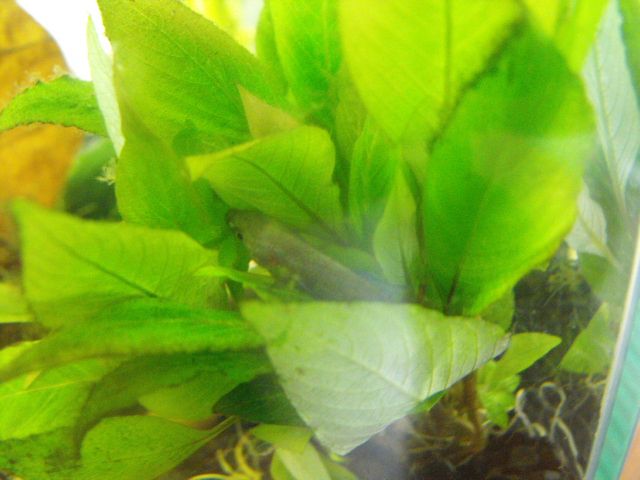 And finally saw her swim for like 1 minute today, before she settled under the IAL
Adorable.
You can clearly see the colours now! It's a really beautiful blue and I hope she keeps it
Also, I have only seen her come up for air once. She can stay in one place for hours it seems. Is the normal in Baby Bettas? All my other bettas come up for air quite often.
It's not so much "normal" for babies but in her condition I feel it's just that she's not strong enough to get up there all the time. Perhaps you can lower the water level for now to see if that helps her, also floating plants will help her to stay up there longer if she has something to rest on if she doesn't have any yet.
---
Rembrandt II, Suiché
Leopards: 1:4 Hawkeye, Luna, Astrael, Dorian, Cullen
Gargoyle: Cloudjumper and Toothless
She has Red Flame Swords and Pennyworts.
I also put the betta leaf hammock which all my bettas liked using, but she didn't take.

Can't lower it without buying another filter. :/ The Fluval Chi filter is built into the floating island at the top.
I'll see if I can get some hornwort/duckweed/frogbit tomorrow, so she can get more plants to rest on.
I could give you some duckweed and hornwort for free Mar. I have lots.
That would actually be so helpful! The hornwort at PetSmart looks super shady, and duckweed is 40 minutes away from where I live.

But are you sure? :s Don't want to mooch off you!
lol. Mooch away. I have to throw duckweed out sometimes it grows fast and my hornwort is bullet proof stuff. May be a ramshorn snail or two hiding in it though. They are food for my assassin snails which im selling if you know anyone who needs them. Its no problem. Glad to help.
Don't mind snails, I'll just pick em out when I see them!

Are you selling the assassin snails within Canada only?
Yes just in Canada. Ive have tons of teeny tiny ones right now. For some reason they are breeding like rabbits in Sorority tank 1. You could stop by this weekend if that works. I could give you a couple baby assassins just in case you get a ramshorn or two lol.
If you're looking into selling the assassin snails, you don't have to give me any!

Don't think I can do weekends since I work, or it'd have to be late at 8 or something. Thanks for the offer though :)