Baby Betta Journal
---
Day 1.
Okay, so all of the Local Pet Stores I've been to has never sold a baby betta, or at least none that I've seen. I've read about all the people getting baby bettas from Petco and really wanted one, even though I know it's bad to sell them at such a young age! Anyway, when I saw this baby betta, at PetSmart, marked under "Female Bettas" I instantly bought her for $3.99, cause I knew I probably wouldn't get another chance.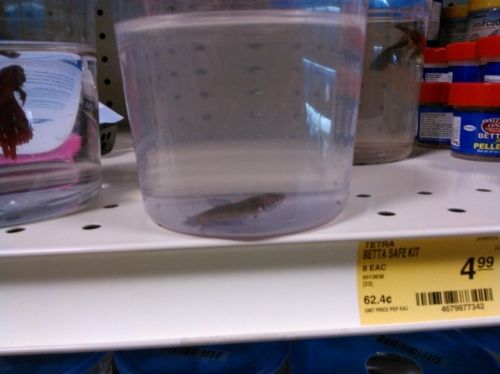 If you look in the far back right, you can see a dead betta I pulled out. Really sad.
Her water was dirty and cloudy, and she was/is extremely skinny.
I brought her home and acclimated her to this 1 gallon tank.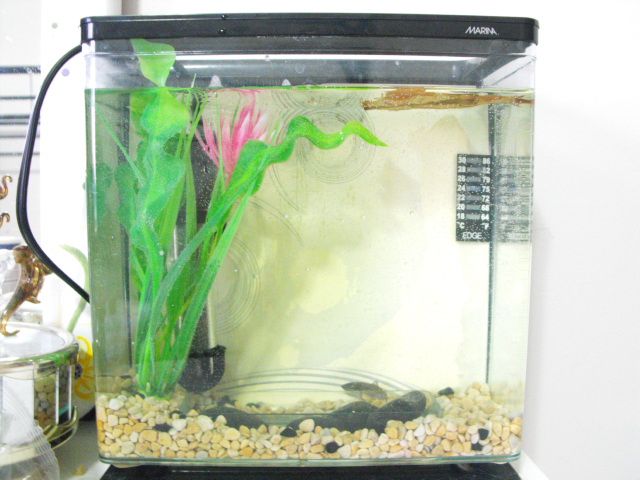 She barely moves, so pictures were easy. Her fins are slightly blue, and she usually hangs out near the bottom.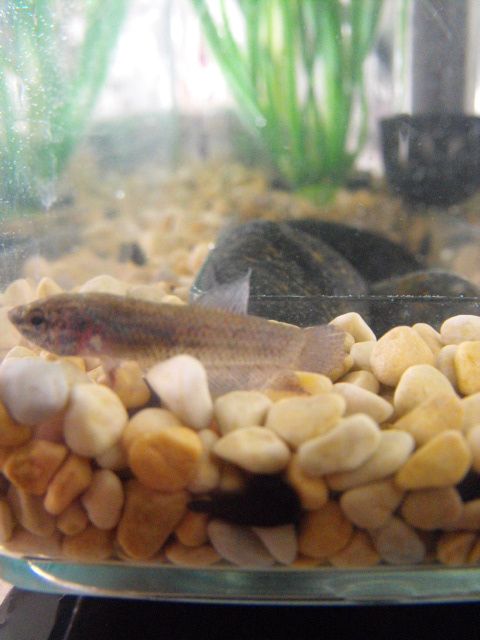 I decided that she was shy and didn't feel really hidden or safe, so I added some silk and soft plants to give her opportunities to hide, as well as an IAL that she enjoys hiding under.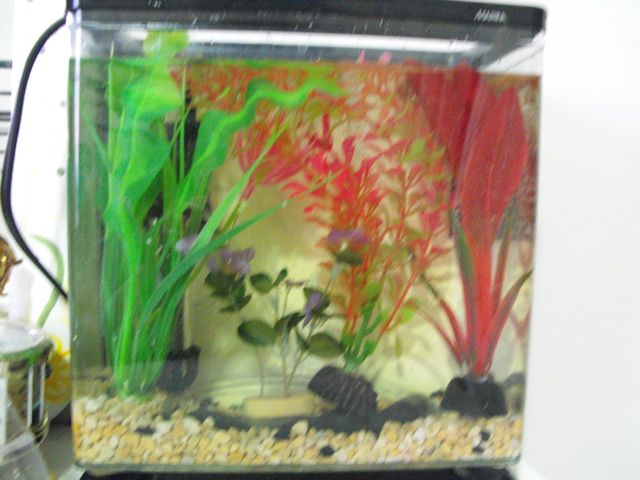 My most recent picture of her. Captures her colours quite nicely.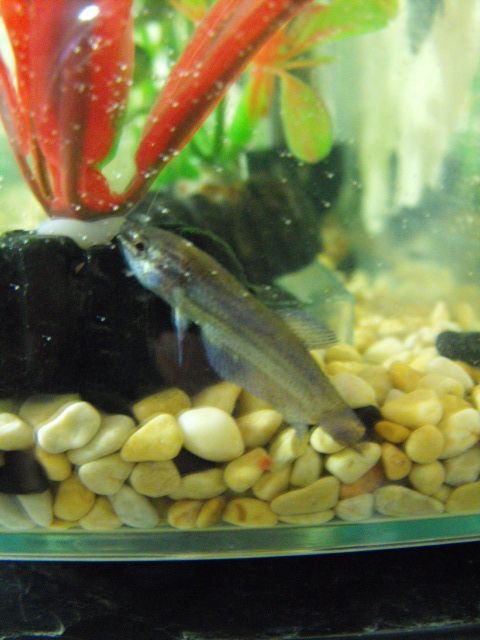 Big thanks to Lilnaugrim, who suggested I start a journal, and I was inspired by hers.
Hopefully, when she's older, I'll be able to add her to my sorority.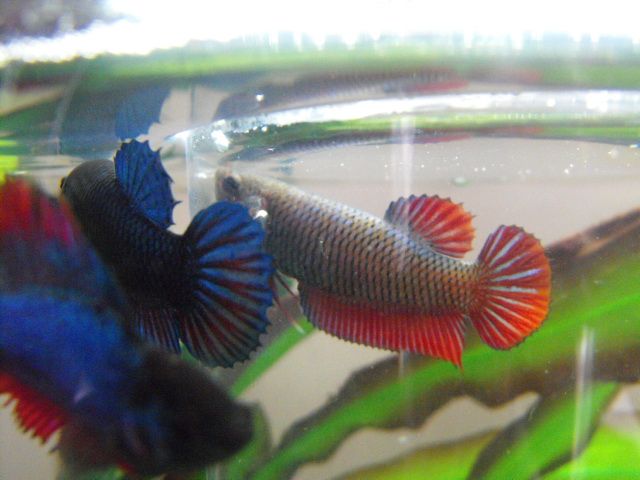 But as MattsBettas pointed out, it's really hard to guess her gender right now, so she might end up being a he!
I'll try to keep this journal updated, and thanks for your interest in my baby betta!
---
Last edited by Mar; 06-22-2013 at

03:16 PM

.
Day 2
---
Woke up at about 2 times last night because I was really worried and scared she wouldn't make it through the night. Each time, she was in the same spot, near the gravel. I guess she was sleeping. She barely comes up to breathe, so I guess the water is oxygenated enough? Anyway, just in case she had any trouble, I put lots of plants for her to rest on in case she wanted to sleep higher up.

So I tried feeding her again this morning. Crushed Omega One flakes, and dropped them right in front of her. No response.
I left to go feed my sorority and when I came back, she was chewing!! Success! I tried giving her crushed HBH pellets, but like Venus, she didn't really take to them.

I'll see if I can post some photos up later today. She's hiding now, so hopefully she's comfortable.
Sorority
---
Decided to post up pics of my sorority, so people can kinda know what I'm talking about.
They go from oldest to most recent, and top of the pecking order to bottom.
Themis:
Old -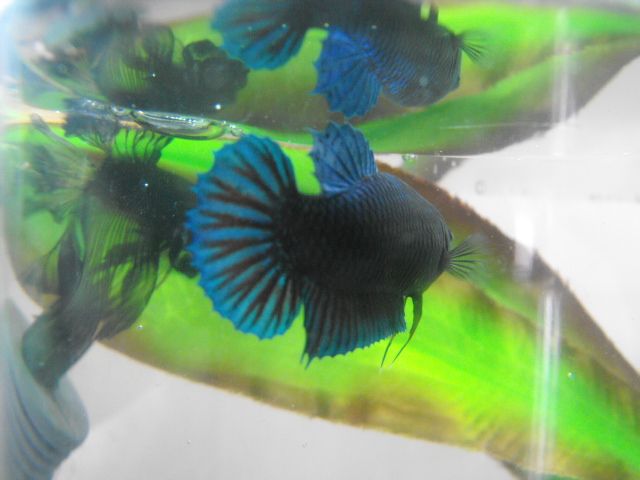 She looks exactly the same.
Theia
Old -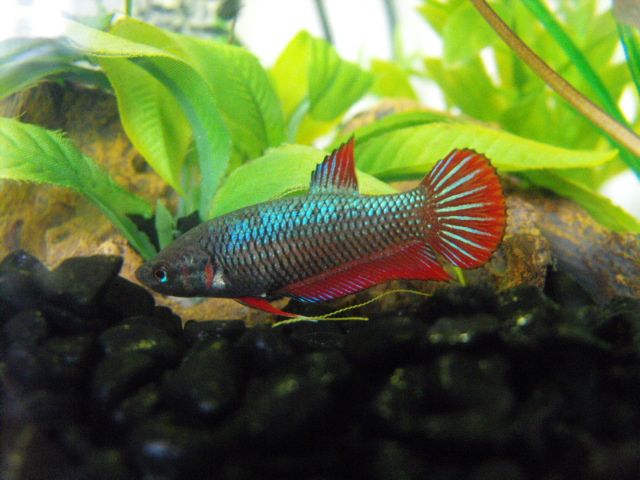 New -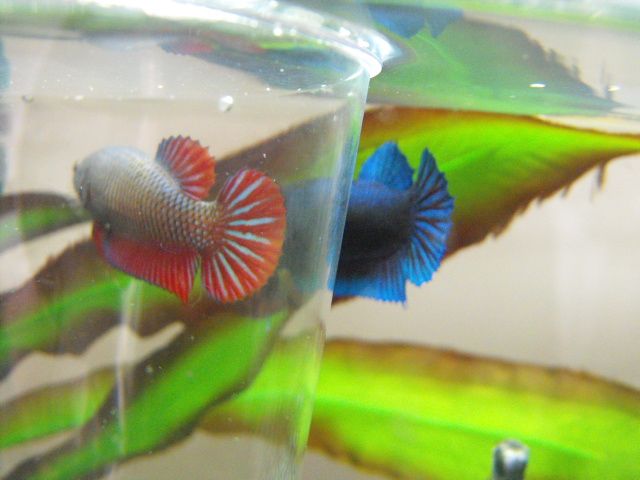 Artemis
Old -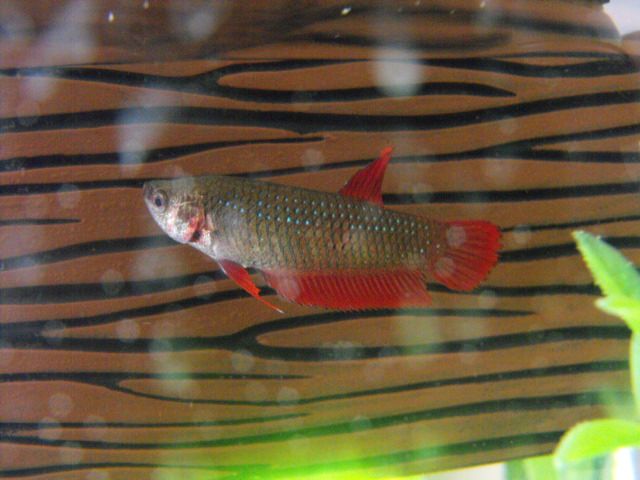 And she hasn't changed much.
Venus
Old -
When I first got her, she had really prominent stress stripes and little colour. How she's changed!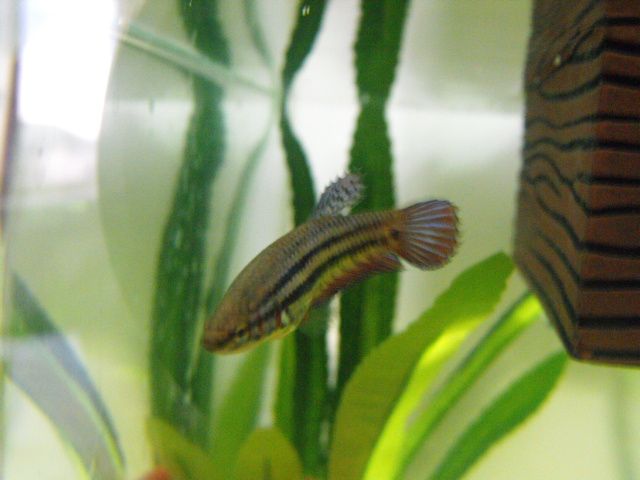 New -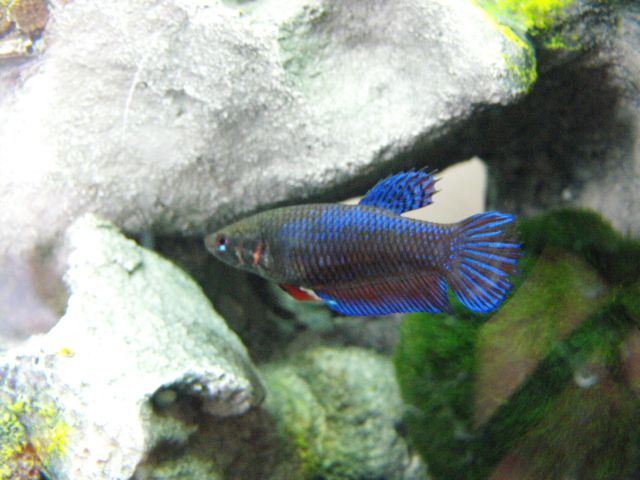 Awe so cute! Im glad you got her out of the pet store. Im seeing lots of "underage" babys at stores these days. Most seem very under fed to me and many stores do not provide any specific info on juvi care to the new betta keeper. As you know there is a different level of care required for babys. They are cute and sell easier than adults with less cost to the breeder. Ive been asked to sell a spawn of mine to the store as I was told easier for me to sell them now not later. This presents an ethical issue for me even though my fry are much bigger than the ones they sell at the same age. Im not really sure what to do or think.

Your sorority girls are beautiful and the baby will fit right in. Did they tell you how old baby is ? really cute do you have a name for her?
That is a tough situation. It is a bit more different to care for a baby Betta, and a lot of other Betta owners can barely handle an adult Betta. Right now her tank is at 78F, but i really want to up it to 80F. Contemplating putting her in a breeding box in my sorority tank. Any opinions? :\

They have no clue how old any of their bettas are. And as for a name, im going to wait a while, for her colours and personality to really come in. And she might even be a he? So gonna wait it out.

Thanks, I adore my sorority, they're just so adorable with their own personalities.
Ah k, measured my little betta. She's a bit more than an inch, so I'm guessing 7-8 weeks old. So tentative birthday, May 1st.
She has taken to eating frozen daphnia and and brine shrimp along with Omega One flakes, which made me really happy :)
She finally started to unclamp her fins and swim around a bit, so I snapped a couple pics.
Bird's eye view: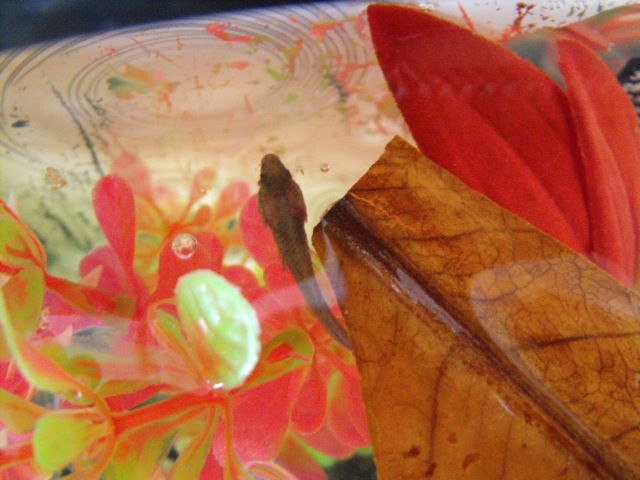 Regular: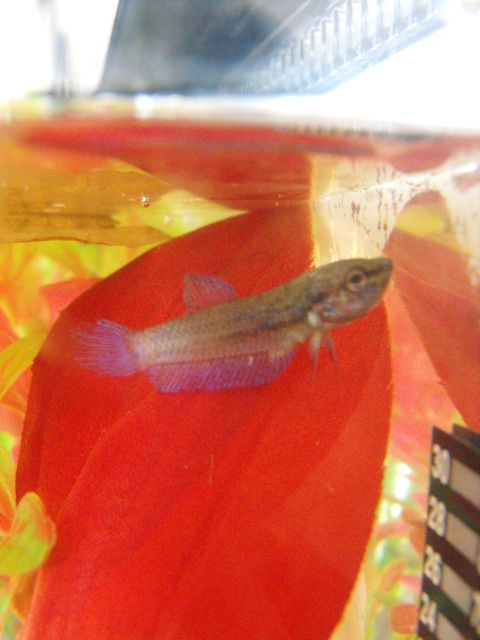 And this one really shows off her true colours: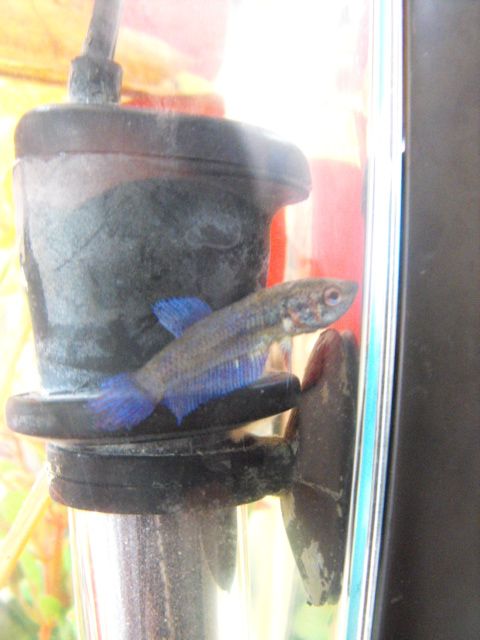 Can't really tell, but my guess is that she's gonna grow into a bicolour VT.
Glad you saved the little baby! Keep up the good work and I'm definitely going to be following this journal.
---
Gobber II (DBLT)
Goldies: Mr. Miyagi (Red & White Ranchu) | Kaneki (Calico Butterfly Telescope) | Hina (Orange & White Butterfly Telescope) | Gin (Orange Butterfly Telescope)
Saltwater: Marlin & Nemo (Black & White Clownfish) | Blue Damel | Corals
Reptiles: Sampson (Pied Ball Python) | Sophie (Crested Gecko) | Andromeda & Perseus (Giant Day Gekcos & Eggs) | Kimchi (Panther Chameleon) | Frilled Dragon
Thank you! It was no problem at all to buy her! Moment I saw her, I wanted her.

But ya thanks for your support, and hopefully ill be able to raise her into a beautiful adult.
Day 3
---
Moved her into my 5 gallon Fluval Chi.
She's not really exploring. Just kinda hiding out, near the bottom. There's lots of decorations, so hopefully she'll feel comfortable soon enough and start looking around.
What worries me is feeding her. It was hard enough in the 1 gallon when I had to put the food right in front of her face, but it'll be much harder in the 5 gallon.
Acclimating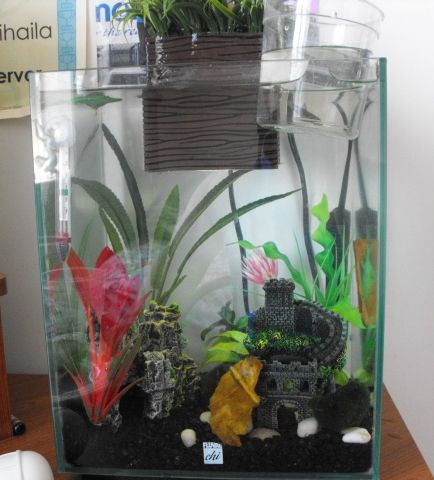 And she just went straight to the bottom.