Quote:
Originally Posted by
Huffle Puffles
View Post
Well, sadly my 1 year old betta died last night.
Not really sure why, he was swimming around then what seemed like all the sudden dropped to the bottom of his tank on his side and couldn't get back up. I moved him over to a little cup that had just enough water to keep him submersed but where he could move his head and breathe at the top. I saw him trying to swim up even in a bit of water and he couldn't. So I watched him for a little while, walked into the other room to get something, came back and he was still. My poor little Zen.
I tossed the idea of burial or flushing and I just couldn't put a fish into the ground...it just seems...not right to me to bury something aquatic in dirt. Hopefully he's having fun swimming around in little betta heaven.
SIP Zen <3
So I guess nature decided for me, as the baby has now made a new home in the 2.5 gallon. (After I rinsed everything 3-4 times in hot, hot water and let set over night) He/she seems to be taking to it very well. He/she went right into the log, zoomed out and yep, you guessed it went right for the thermometer. Big shock, lol. And now he/she even has two to play with. My only concern is I know the actual heater on the bottom gets pretty warm, I don't want him/her to get burned :/, I may have to make some sort of fence in front of it since he/she keeps going behind it. I swear, there's plants, a nice floaty log, a log on the floor to play with but oh no, we have to play with the thermometer and heaters. lol. Just like my dog, bought her tons of toys and she rather play with an old soda bottle or one of my hair scrunchies.
Oh and I wanted to call the baby Mystery, seeing as I have no clue what he/she will grow up to be, but I keep saying he/she...someone suggested I call him/her Heshi (he-she) to make it easier...I juuuuust might!
(Getting ready for our new home)
(Oh hi there o_o)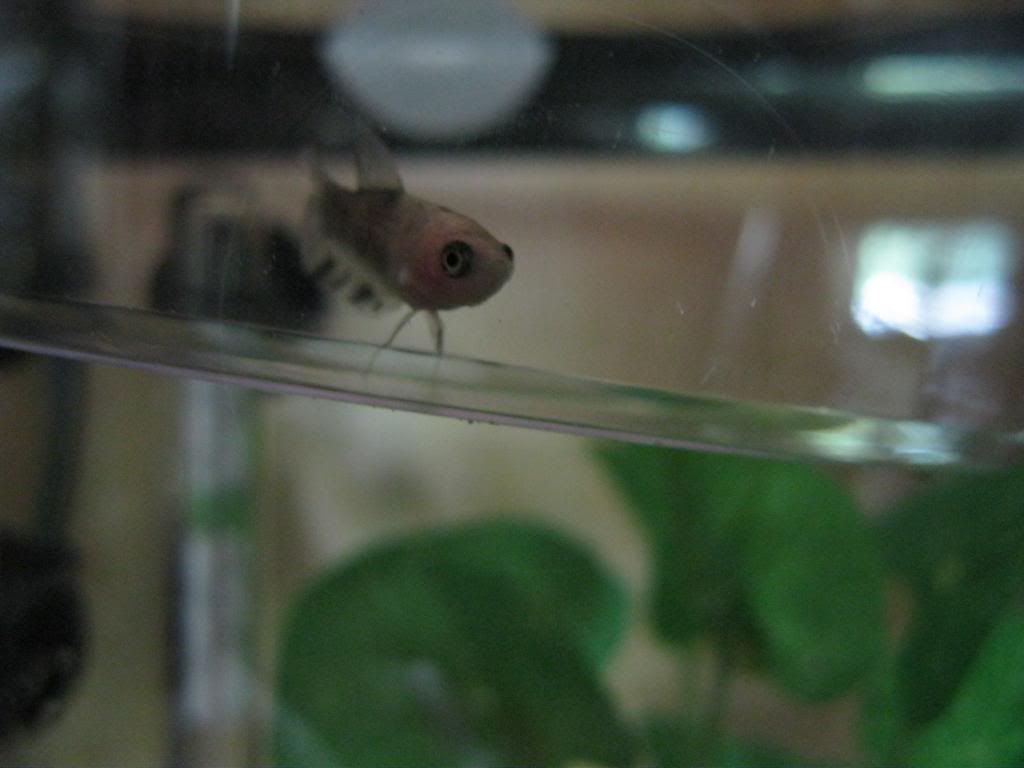 your tank seems bigger then a 2.5gallon, i have a 2.5gallon and it looks 10times smaller haha..and i have a floating log too..my betta loves them, and thank you for the earlier comment
@BettaLover1313 - Thank you, it was very sad to lose him. Hopefully he's perched in a little log in fishy heaven.
That was his favorite place to spend his day.
@mybabyjets - It does look pretty big in the pics huh? lol. I swear it's only a 2.5. The baby probably thinks its huge, he/she looks like a tiny little blip in all that space.
Speaking of the baby, he/she is doing wonderful. The tank is now on my desk, being bigger and sturdier I'm not as worried for the water sloshing. Every time I look over there and think "hmm where'd he/she go" its like the baby senses it and comes running to the front of the tank like "HERE I AM!". I don't think there's an inch of the tank he/she hasn't discovered. Taking pictures was not an easy task, out of about 25, 3 are good enough to upload. Yes, we decided to be a pain in the tushy today.
Also I had my finger above the tank steadying the camera when the baby swam over, backed up a little, considered for a moment and jumped up from the water to "bite" my finger before quickly darting under the nearest leaf and staring up like "Woah! That was NOT food!" Also, it seems like he/she is developing a sort of dark patterned band going around the middle part of the body with dark flecks as well. Perhaps a marble of some sort? I'm so anxious to know what the adult coloring is going to be! Still no clue on gender, does anyone have an idea/guess?
My camera decided to kick the bucket, just as well, he/she got very mad at the lens. So yea, they're camera phone quality again.
(Playing hide from the camera)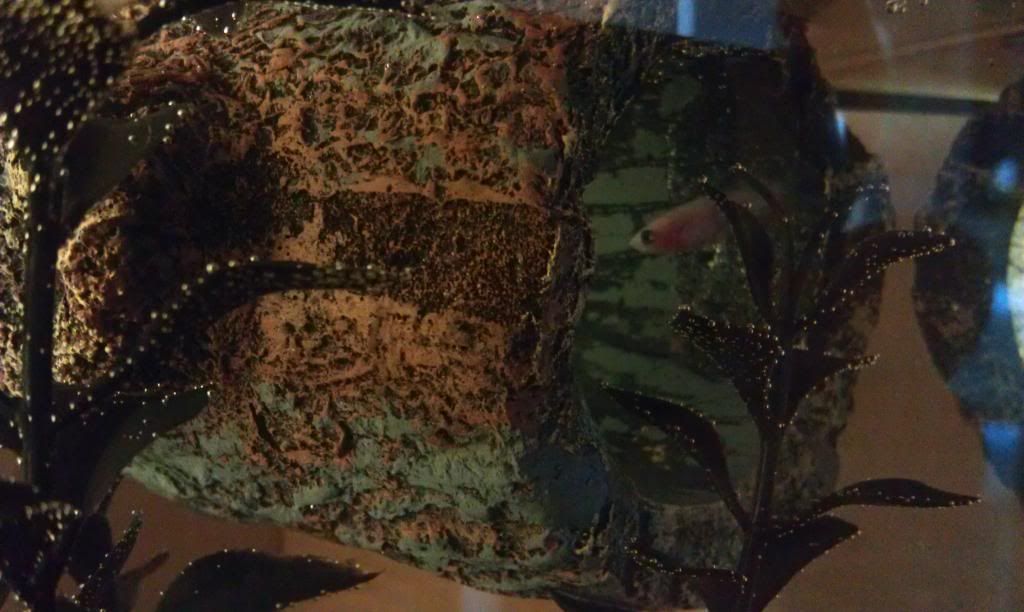 (A moment of vanity? - excuse the water spots)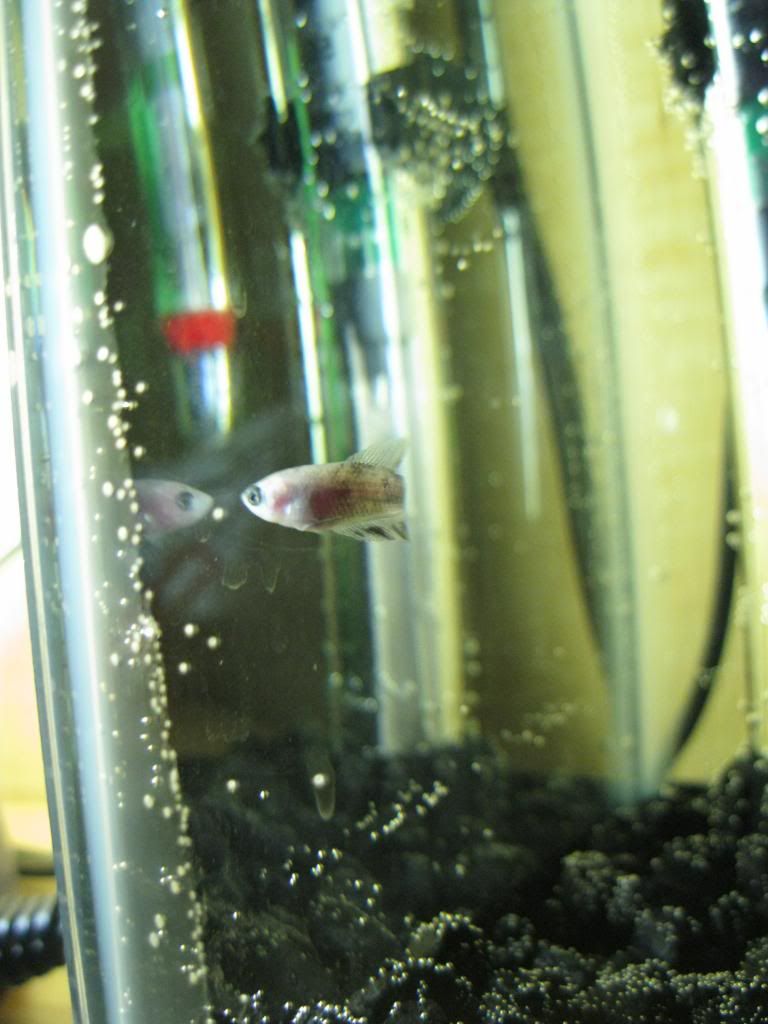 (o.o oh poo! you caught me!)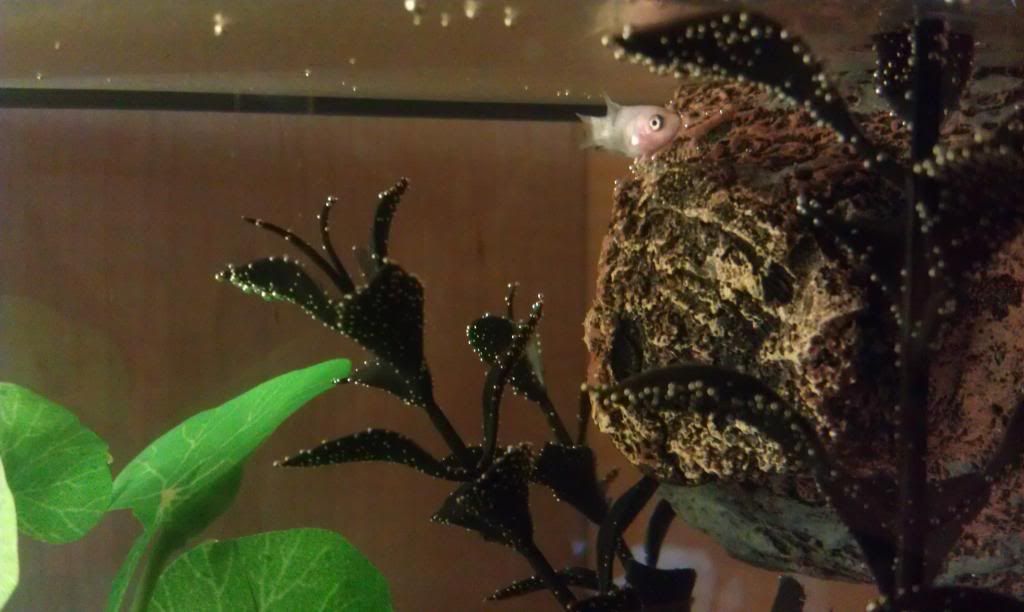 Well, the little fishy gave me a bit of a scare last night. After getting ready for bed I wandered over to the tank to check on him/her and he/she was wedged in the corner by the floating log, unmoving. So I poked the water, nothing. Wiggled my finger around infront of him/her, nothing. Moved the log, still nothing. My heart sank. So I stood there, waiting for him/her to take a breath and finally we got head movement. WHEW! Don't scare me like that! Guess I must of woke him/her up.
First thing I did when I woke up was rush over to make sure he/she was alive. Yep, relaxing by the moss ball.
Debated on putting in the new filter today, but figured the water needed a changing and might as well give it a shot. Ended up doing a nice full water change this morning since I bought a small Whisper 1-3 internal filter last night. I keep getting a film on the surface of my water, drives me bonkers, even with small every other day water changes. So I thought, hm, maybe I can do something to get a small current going so the water surface has movement. Yea, didn't quite work out. The baby didn't mind it, I don't think. He/she swam around, swam behind it, under it, through the current, but then I saw the water pouring down knock him/her around a bit and out it came. But not before the baby tried to swim into it 2 or 3 more times. Typical kid, they want to play with the stuff they aren't supposed to. lol. Anyway, it's just as well, this air pump's noise was sorta driving me batty. Maybe I'll just get an air stone/bubble wall sort of thing. This little fishy seems to like bubbles, maybe it'll give him/her something else to play with besides the thermometer.
What else is there to report...hmm...OH! I went to Petco last night. Almost came home with another fish...almost...might just go back to get him. Poor little gorgeous white male suffering from either finrot or ammonia burns? The fin tips were all blood clotted looking. :( I might just go rescue him. Was surprised to see that within 2 days that about half their betta stock was gone, I'm hoping to new homes and not because they died. I just wish I could figured out the gender of this one so I knew if I could house them in a 5.5 together (divided of course). Anyway, got the baby some freeze dried bloodworms, came home, dropped a small one in the tank and watched. Expecting him/her to grab it and carry it around like it does with the tiny pellets and chew happily, I was quite surprised when in one gulp it disappeared into his/her belly! I swear after he/she chewed it up he/she did a sorta "ooo that was yummy!" wiggle. Maybe it was my imagination. Either way. We had another little one this morning for breakfast and quite enjoyed that too.
He/she seems to be in a relaxed mood today. Just hanging around on the plants or in the log. Caught him/her gazing at his/her reflection earlier. Its cloudy outside today so I just have the shades half open, no lights on aside from the computer screen. Keeping it sorta dark in here incase he/she needs sleep. Can't be good for a baby to zoom around 24/7 without some sorta rest.
(Just hanging out by the moss ball. *pic with flash)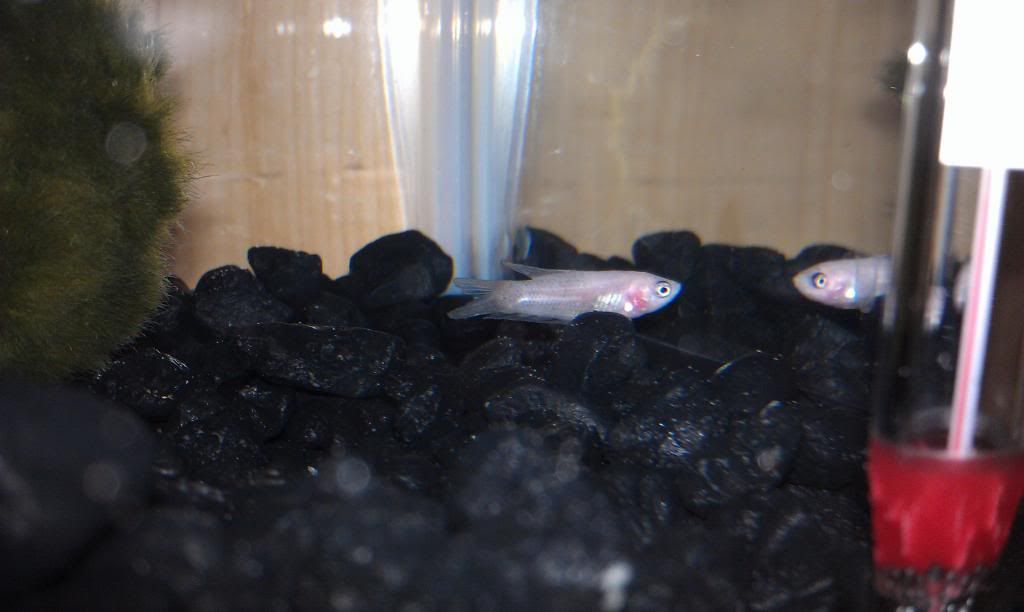 So cute! I want a DT! Your's looks like a black/white marble right now, beautiful!
---
10 gallon planted
- HMDT male betta, 4 peppered corys, assassin snails, Amano shrimp
10 gallon divided bare bottom
- HMPK male, 2 VT males
29 gallon sorority planted [journal]
- 6 females, 4 bronze corys, trumpet & nerite snails, 3 Amano shrimp
Thank you! I hope so, I'd love to see either a dark blue or black/white marbling. Total sucker for those.
But I will love him/her no matter how he/she turns out of course.
Glad to hear that you're having fun with your little betta!

Dragoon has scared me like that several times where he'll be sleeping (Mr. I Never Stop Moving) and motionless and I thought he'd died or something was seriously wrong, but then he'd move and look at me as if to say "What?".
---
"Animals are reliable, many full of love, true in their affections, predictable in their actions, grateful and loyal." ~Alfred A. Montapert
My Bettas:
Dude-Male Salamander HMPK & Molly-Female Marble HM
My Goldfish:
Rory
S.I.P. Beta-Blue & Black CT//Dragoon-Dark Copper DSPK//
Merlin-Red VT//Raku-Multi-Colored CT
My Journal
@BettaLover1313 - I am having fun, as well as a few anxiety attacks, lol.
Right!? The faces they give us sometimes! I was on the phone with my friend and I'm all "OMG my fish is dead!" and he's like "just leave it, it's late, he/she's probably sleeping" and I'm all "yea well *I* won't be able to sleep until I know that for sure!" >.> *pokes fishy*
He was actually doing the motionless thing a little bit ago so I leaned on my desk and put my face near the tank and he swam over and started talking to me, so we just had a little conversation. I asked him what else we could add to the tank and he went and did a parameter check, came back over to the front of the tank and moved his mouth as if to say "well I'd like another plant in the corner and uhm how about another thermometer! can never have to many of those!"...yes little fishy, yes you can.
I need to see if I can find some little local pet stores rather than the big chains like Petsmart and Petco, I'd like a different variety of decorations.
I know I can order online, but I'm one of those "I must touch it before I buy it!" people.
Oh and I think my fish is a he. I was noticing him head-butting his reflection so I held up a mirror to the tank and it seemed like he was doing that sorta pacing bettas do when they flare. Do females do that? I don't know, but until told otherwise, I shall refer to him as a he. :)
(checking out the plants. I seriously need to go buy a new camera >.<)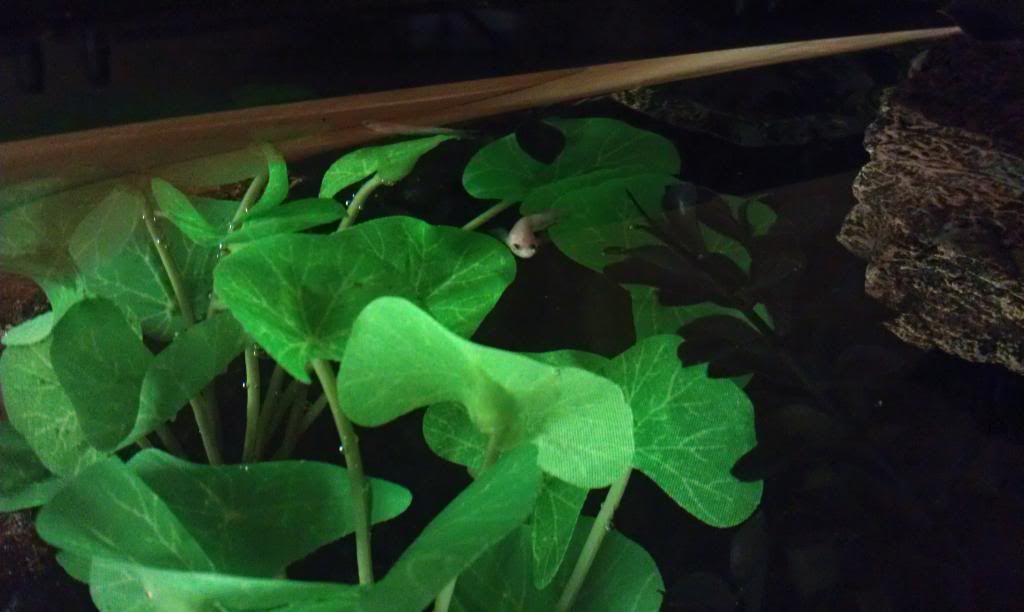 I believe I've read in different topics that females do flare and pace, but my memory might not be serving me properly on that one since I mainly read about boys since I have two of them XD.

Dragoon likes talking too! He claps his mouth constantly at me whenever I'm near the tank (I think he's trying to tell me that I need to feed him again XD). It's a cute little trait he has though!
---
"Animals are reliable, many full of love, true in their affections, predictable in their actions, grateful and loyal." ~Alfred A. Montapert
My Bettas:
Dude-Male Salamander HMPK & Molly-Female Marble HM
My Goldfish:
Rory
S.I.P. Beta-Blue & Black CT//Dragoon-Dark Copper DSPK//
Merlin-Red VT//Raku-Multi-Colored CT
My Journal