Aww well darn :-/ guess it's good they're less than half a dollar, but still sucks.
---
Rembrandt II, Suiché
Leopards: 1:4 Hawkeye, Luna, Astrael, Dorian, Cullen
Gargoyle: Cloudjumper and Toothless
Been a while, again.
Mysti is a certified killer. She killed the second shrimp while I went to shower, right after I had decided he would get a new home in the morning since she seemed to be getting more aggressive towards him. I figured he was hiding in his pot and would stay there until morning. Guess I thought wrong. She's such a stinker, when I came back in, she picked him up and started throwing him around like "LOOK MOM! LOOK WHAT I DID!" -.- B-R-A-T. So now what? I'm thinking maybe a snail...at least those can retreat into their shell, and I'll perhaps go for a larger one.
I ended up killing the "pretty plant". Don't know why, but it just turned to mush. The other three plants are doing well, one of them has already sprouted twice. But they are covered in a brownish algae? It comes off when I wipe it, which I've been trying to do while sucking things up with the gravel vac...but it'd be nice if I could get something living in there to eat what I miss, like a snail.
Mysti is doing good otherwise. She's gotten SO big. Her knew favorite thing is to wedge herself at the top of the heater and let the baffled filter water run over her. Strange lil thing.
Harley is still being fussy with his food. I have to feed him one pellet at a time otherwise he puts them in his mouth and spits them out one by one.
Koji has gotten even darker. I thought something was wrong with his mouth at first, but it's just that it is completely black now.
Ramses is finally starting to get better I think. I'd been tannin soaking him, cleaning his tank, etc etc and his tail got worse and worse, so I finally pieced together that his tail seemed to take a dive for the worse after I got him that new plant, took it out two or three days ago and it seems that his tail has stopped shredding. So hopefully it was just that. It was a silk plant, but the little nubs holding the leaves together were a little hard, not sharp, just hard. So I stuck it in Koji's tank after boiling it (just incase). He doesn't lounge in it like Ramses did, it's just a good divider between their tanks.
Relaxing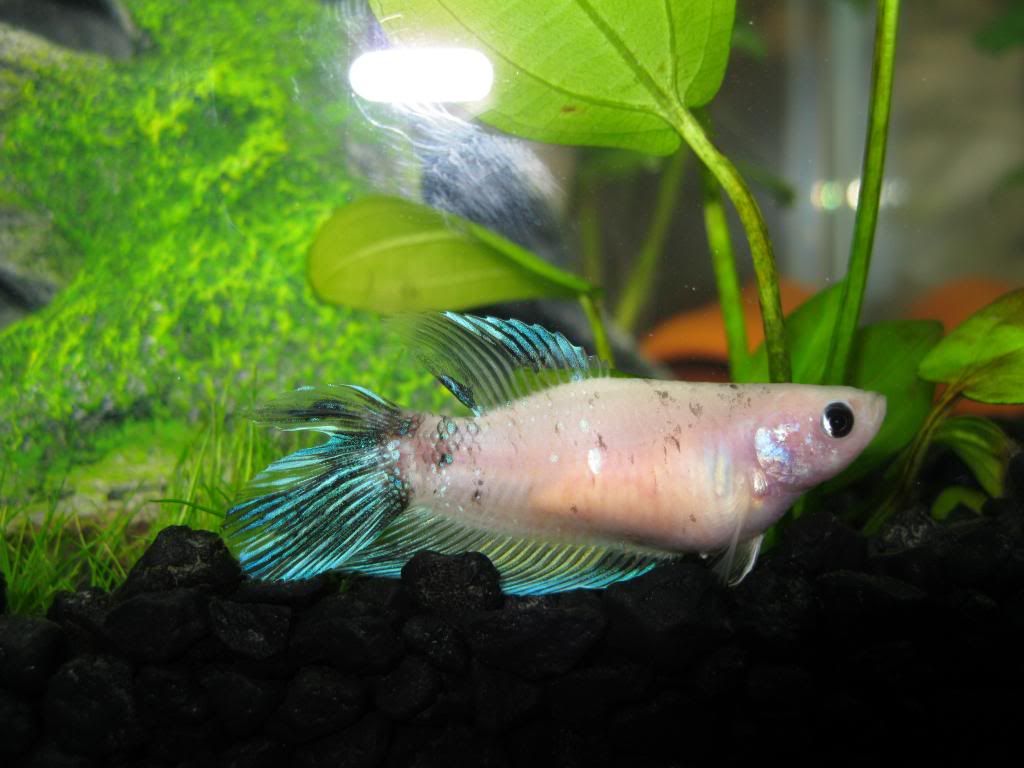 Exploring
Now the other side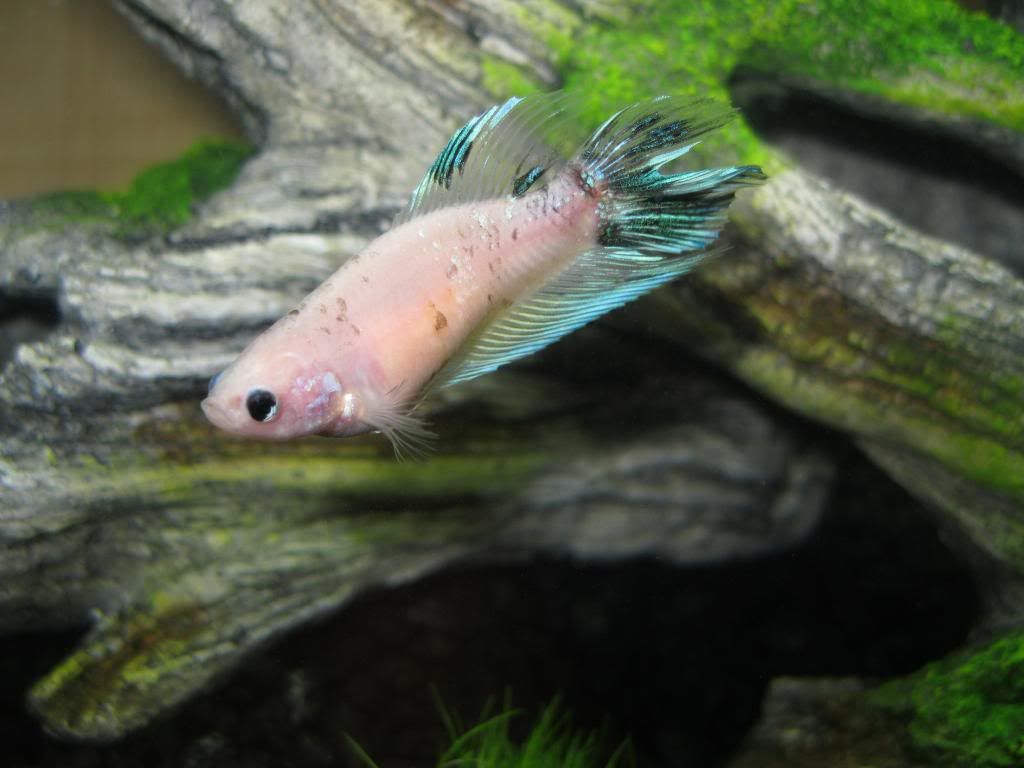 Full speed ahead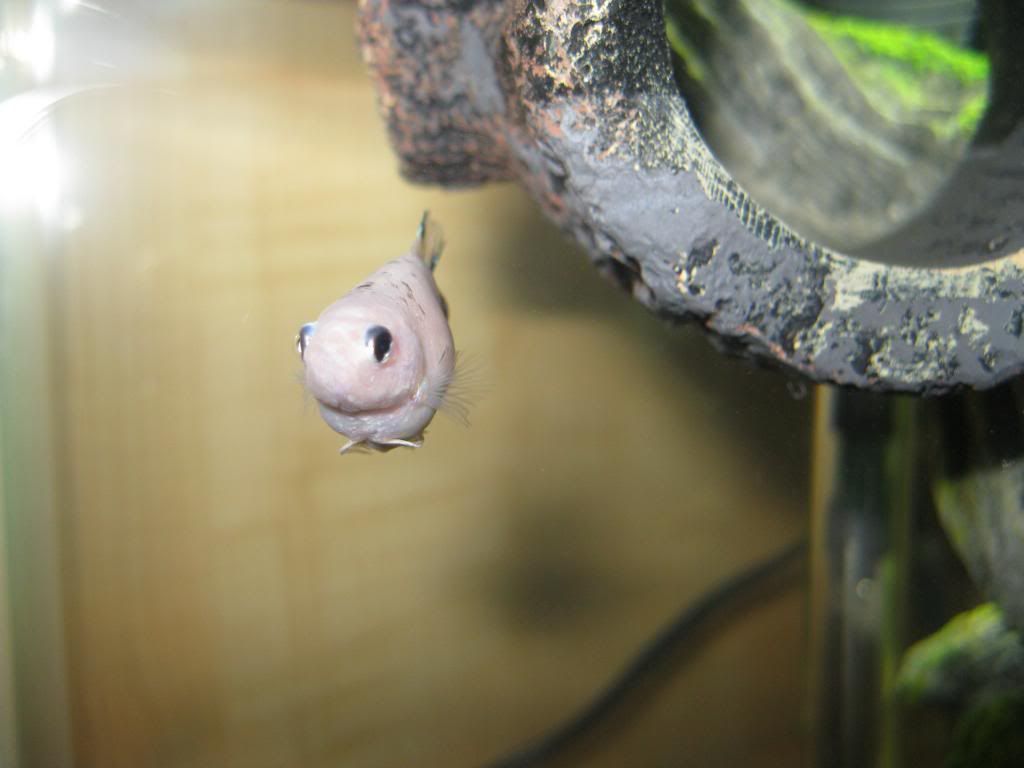 Guarding the log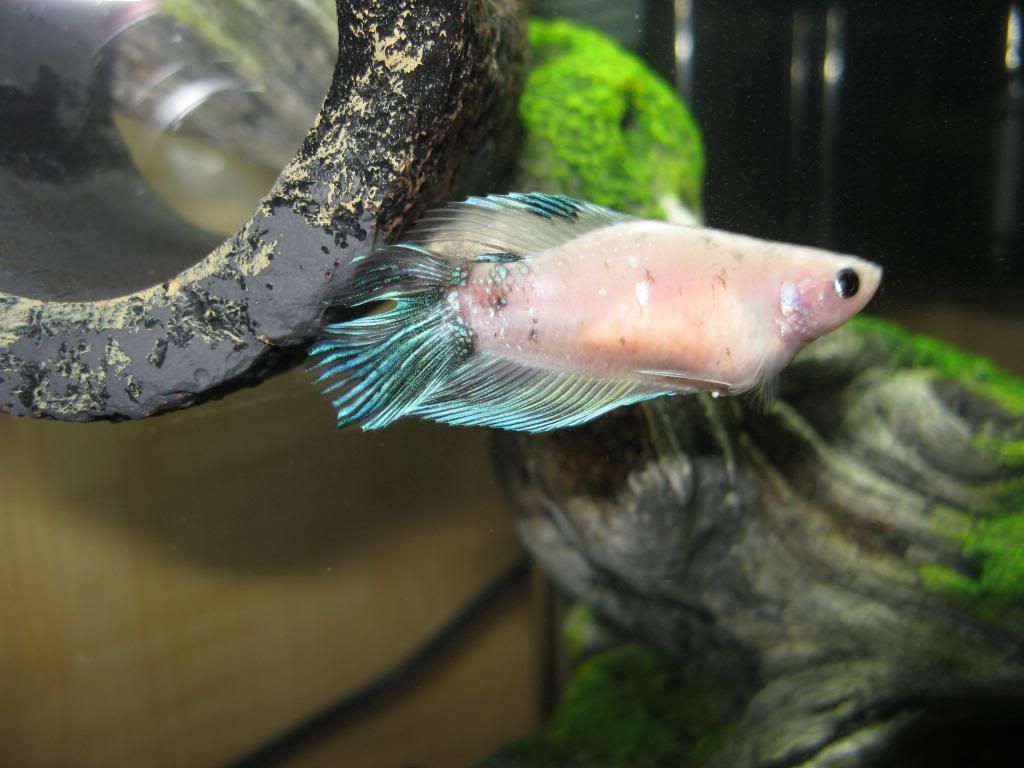 Darkened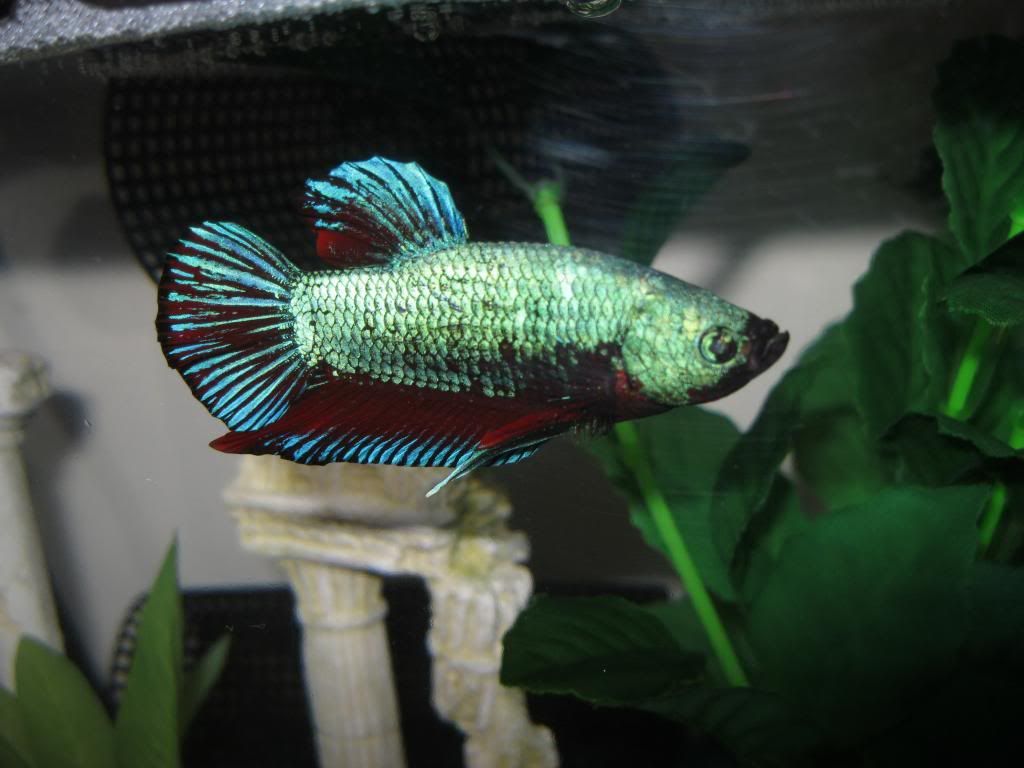 Down we go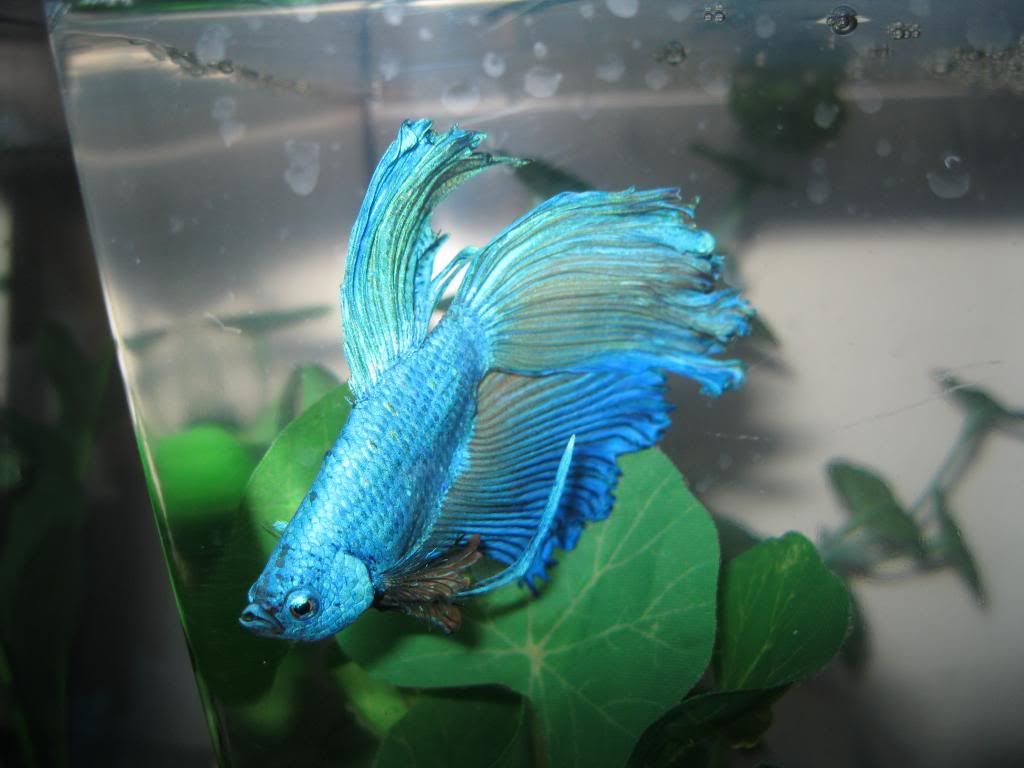 Getting better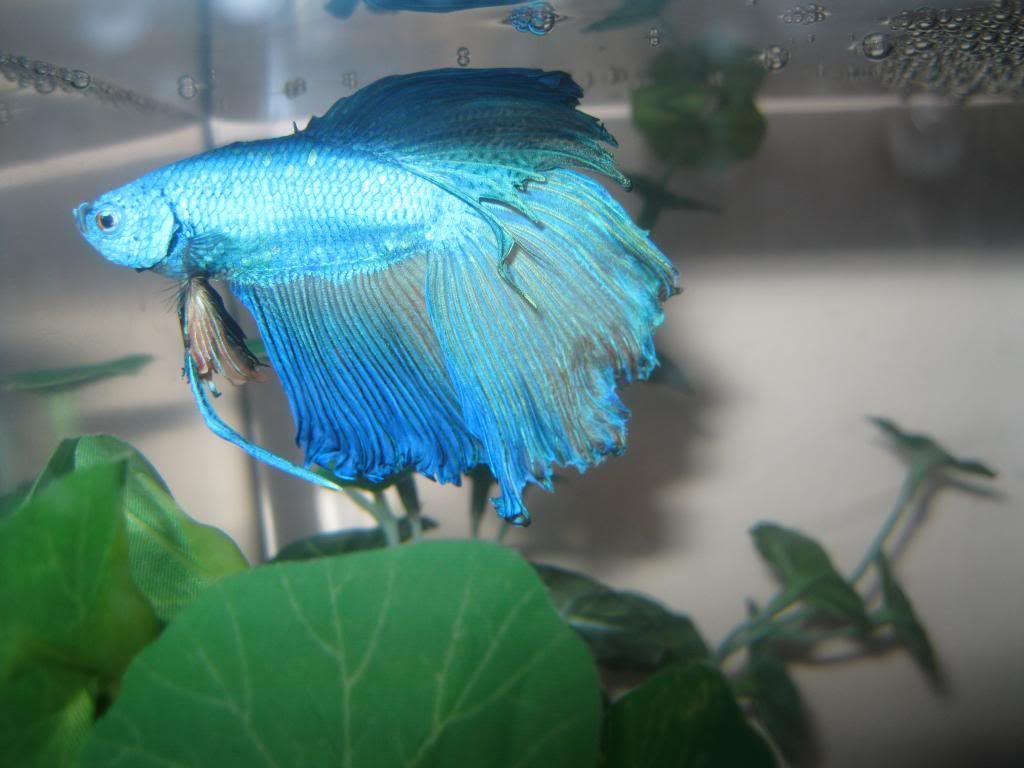 Anti-social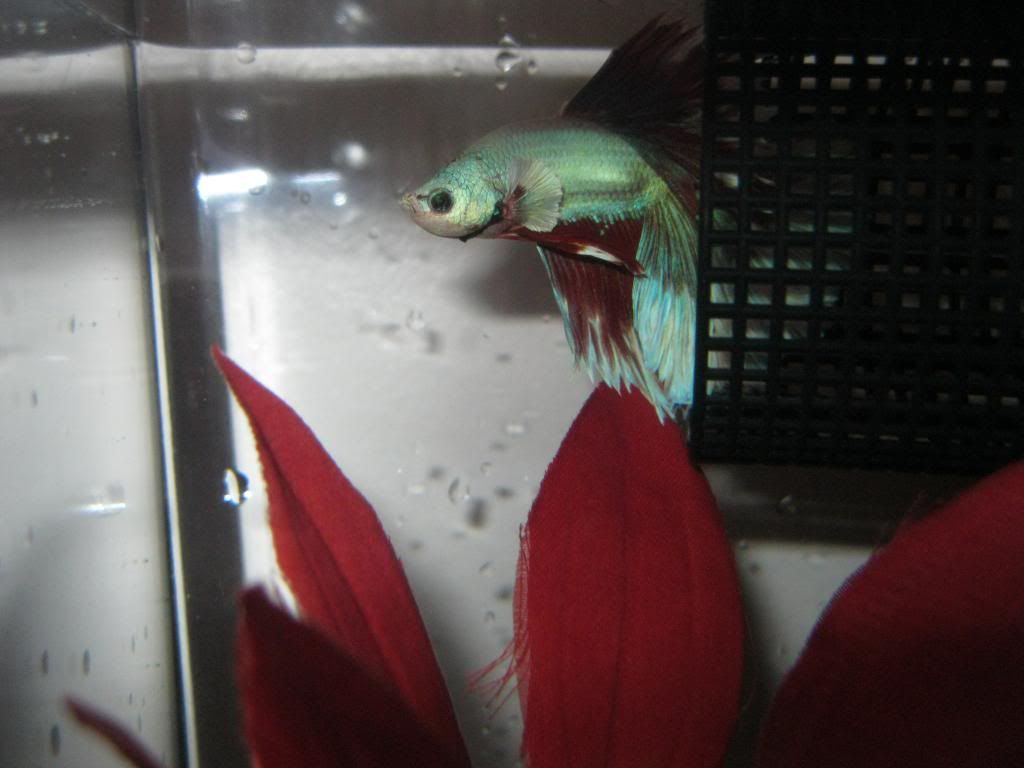 Go away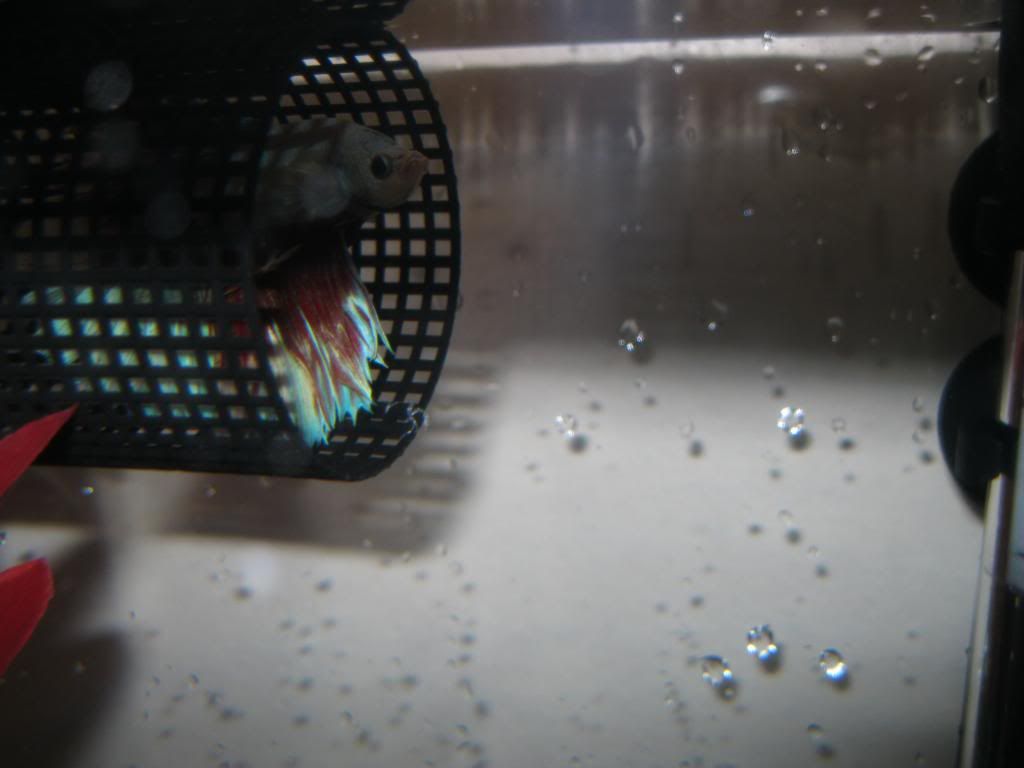 She gets me out of bed, so she can do this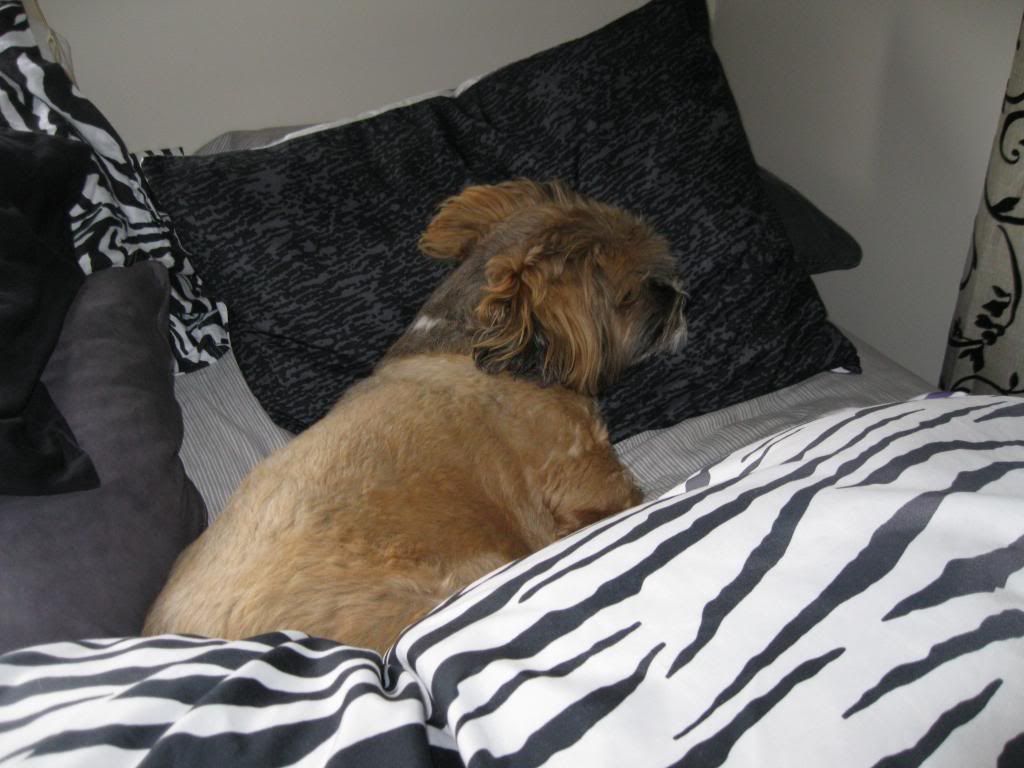 Freshly bathed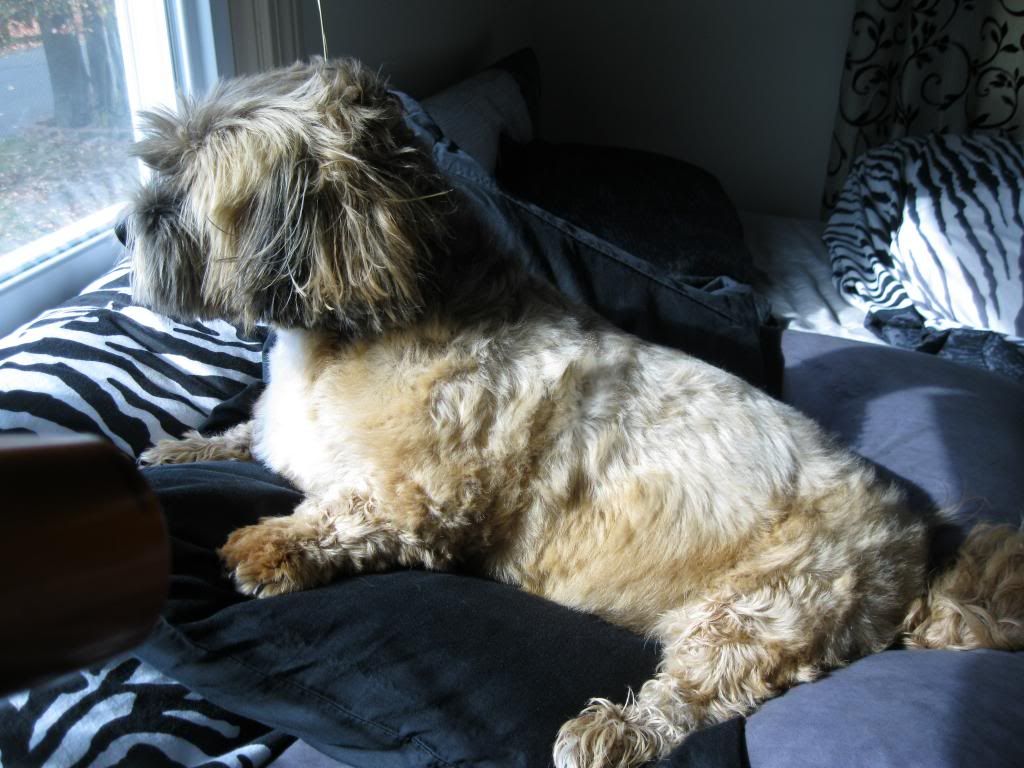 Gave Bailey a bath yesterday and she had, had enough of laying on the bathroom floor while I dried her, so I plopped her on her pillow throne so she could look out the window. She was being all cute so - a little video of me drying her. She LOVES the hair dryer. She will actually fuss if I'm drying my hair and don't give her a little bit of time with it sometimes. I was trying hard not to get her ear/face too much, but you can see her rub her face cause it tickled. And yes, that's her "What!? No more?!" face at the end.
(click for video)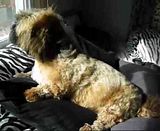 ---
Dates they swam into my life: Damon 04/17/14

SIP: Zen 07/06/13, Skully 07/31/13 - 10/07/13, Mysti 07/04/13 - 01/31/14, Ramses 08/07/13 - 05/17/14, Harley 07/16/13 - 06/23/14,
Koji 07/21/13 - 02/21/15, Damon 04/17/14 - 01/28/16

Omg mystery has grown into a beautiful betta, she looks amazinggg!!
---
10 gallon planted
- HMDT male betta, 4 peppered corys, assassin snails, Amano shrimp
10 gallon divided bare bottom
- HMPK male, 2 VT males
29 gallon sorority planted [journal]
- 6 females, 4 bronze corys, trumpet & nerite snails, 3 Amano shrimp
Thank you, Viva :)
---
Dates they swam into my life: Damon 04/17/14

SIP: Zen 07/06/13, Skully 07/31/13 - 10/07/13, Mysti 07/04/13 - 01/31/14, Ramses 08/07/13 - 05/17/14, Harley 07/16/13 - 06/23/14,
Koji 07/21/13 - 02/21/15, Damon 04/17/14 - 01/28/16

A certified killer, now she's REALLY a girl after little Tails' heart! (He STILL doesn't have a name so he may be stuck with Tails, as I called him that as a baby before I knew gender, personality, etc). Tails has also had some fun with shrimp. He ate the eyes off of a cherry shrimp a few weeks ago... And then once the poor thing died he had tons of fun playing with the body after stealing it from a snacking Mystery Snail. Much to my dismay of course. I am DETERMINED to make him behave darn it, I want my shrimp! :P
Your boys are very handsome too. I really wish I had the space for more tanks and more prettttyyyy fish!
Mysti is just adorable! Love the video of your dog! That was way too cute!
---
"Animals are reliable, many full of love, true in their affections, predictable in their actions, grateful and loyal." ~Alfred A. Montapert
My Bettas:
Dude-Male Salamander HMPK & Molly-Female Marble HM
My Goldfish:
Rory
S.I.P. Beta-Blue & Black CT//Dragoon-Dark Copper DSPK//
Merlin-Red VT//Raku-Multi-Colored CT
My Journal
Ok so I just sat here instead of working and read all 29 pages of your thread... Your captions and pics are hilarious. You have some beautiful bettas. You are an awesome fish mommy and your doggy is precious. Now I better go get some work done before I get in trouble...
Quinn - OMG. At least we know what their first date would be. Shrimp huntin', lol. She did the same thing, she was throwing the dead shrimp's body around like a toy. I let her eat a little bit then I took him out. So at least he became a bit of food and didn't just die so she could have fun.
I like the name Tails. He looks sorta punk rockery to me with his colors and finnage. So Tails sounds like a stage/nick-name sorta thing.
BettaLover1313 - Thank you
Bailey just loves to get fussed over. I'm a little OCD about being clean so she knows what "Lets wipe your bum bum" means and goes and runs to sit by the potty to get cleaned. "Lets sit under the dryer!" and she runs and waits then jumps in my lap on the floor. She knows "bath time!" too and if I say "shower time" she grabs a cookie and lays in front of the shower and waits for me. It's adorable.
erinbirdsong - Wow! You deserve a cookie or something for reading all of that!! Thank you so much for your compliments and kind words!
!!
---
Dates they swam into my life: Damon 04/17/14

SIP: Zen 07/06/13, Skully 07/31/13 - 10/07/13, Mysti 07/04/13 - 01/31/14, Ramses 08/07/13 - 05/17/14, Harley 07/16/13 - 06/23/14,
Koji 07/21/13 - 02/21/15, Damon 04/17/14 - 01/28/16

Is this time change killing anyone else? I know it's only an hour difference but man, it's thrown me completely off.
Got all the boy's water changed today. I've decided that when all the holiday sales start, I'm going to purchase them a 15 long tank if I can get one on sale. They've all been living next to each other for a while now and the flaring isn't bad at all. I think we will all be happier in the long run. Poor guys get taken out of their tanks twice a week. I'm planning on redoing my bedroom and I think a nice 15 gal and a pretty stand will look great right under my window. So for now, that's the plan.
Tomorrow's plan is to go to Petco and pick up a few more plants for Mysti's tank and a snail or two, if they have any black ones. I was there on, hm, Saturday? And all the snails in the tank were dead but one, I bought it since I felt bad he had to live in a tank of all his dead family...but he never came out of his shell, so I took him back. They said they'd get a new shipment in on Wednesday. I've got a slight bloom of green and brown algae going on. I try to scrape it off the plants with my fingers when I vac, but it comes back reasonably fast. But Mysti totally beat on the snail's shell so I will need to beef up the plants and hiding spots for them.
Harley is fine.
Koji's eyes are starting to color over even more. One of them has a thick piece of scale even. But he's getting around still, so I assume there's no problem with sight.
Ramses...my problem child. His fins seem to be doing alright, but now his back is torn up? Where his dorsal meets his back the scales are raised like he rubbed against something. There's also a lump on his back. So I'll be keeping an eye on those things now. His scales also seem to be getting thicker? If that's possible. Posting pics down below.
MY cave, no stinky boys allowed!
Hmm...what's in here...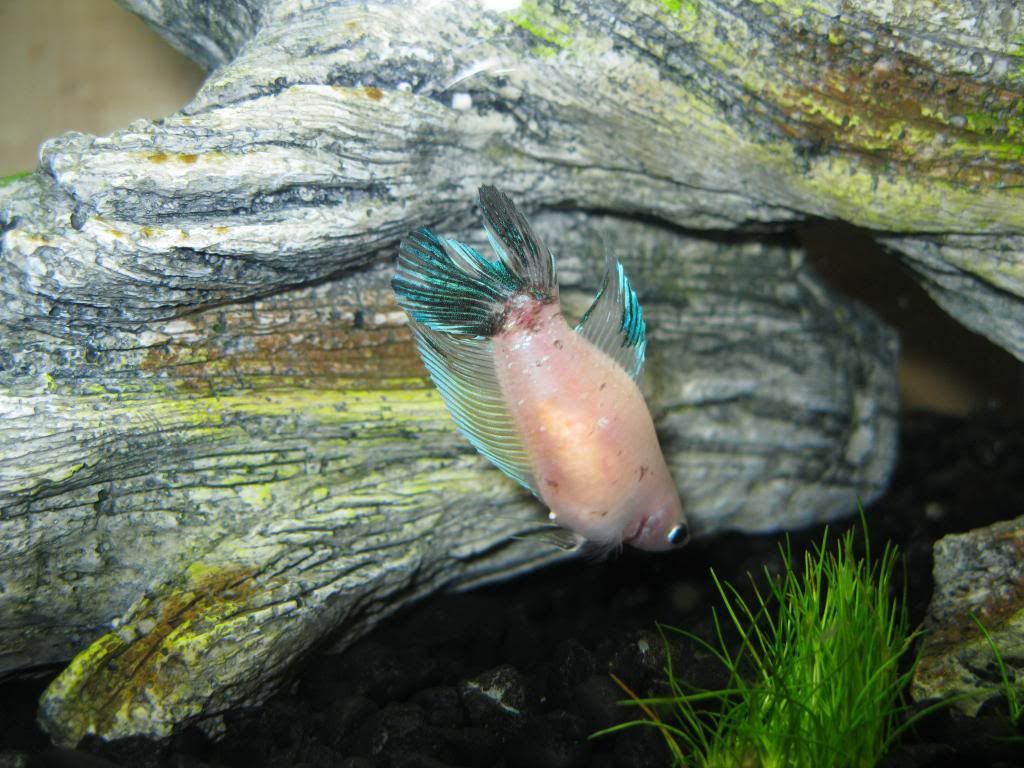 and what's over here...
Greeeen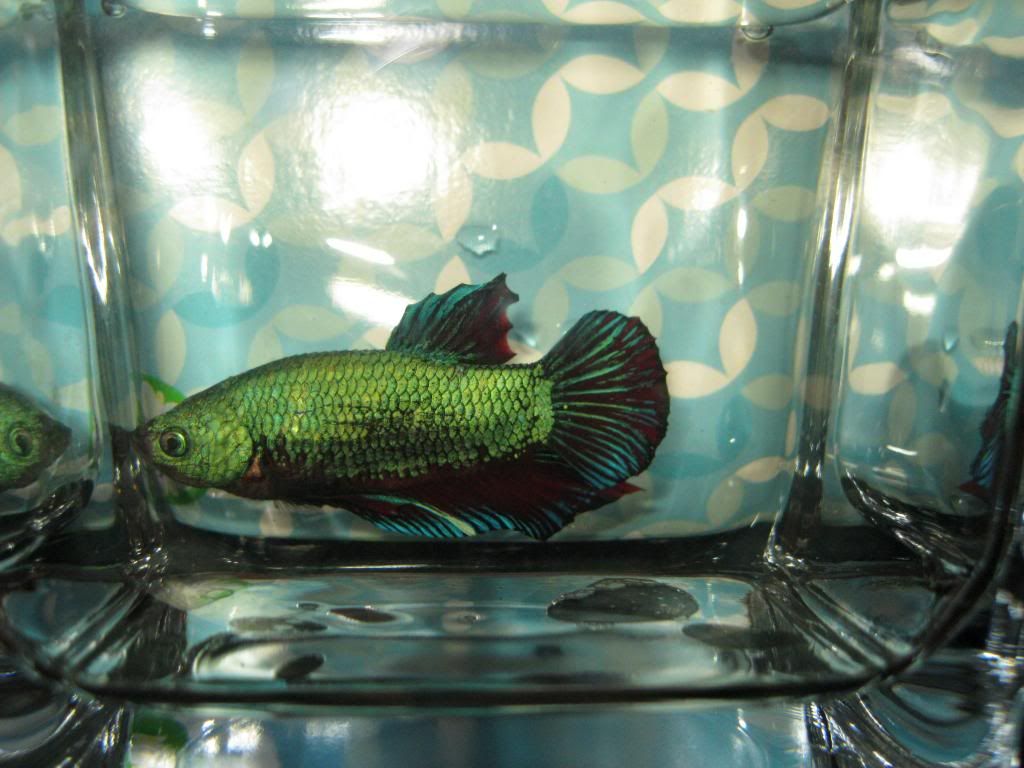 RAWR! I don't like you mirror image!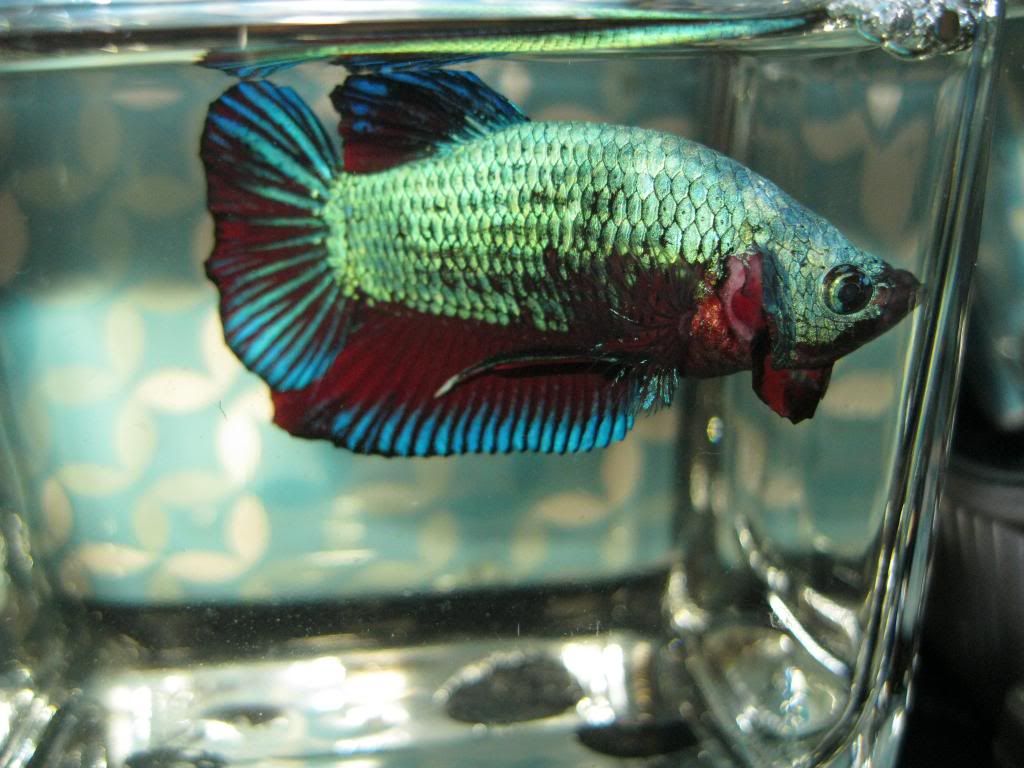 Contortionist!
Buuuurp.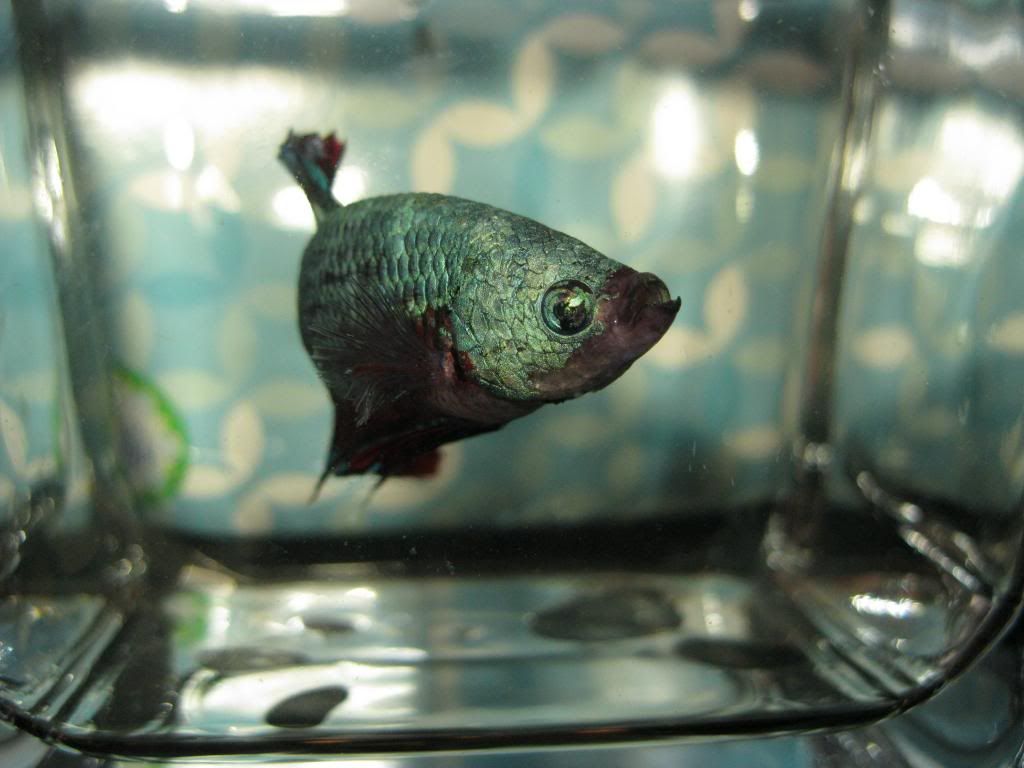 Help! Help! My fins are outta control!
I uh, I ment to do that..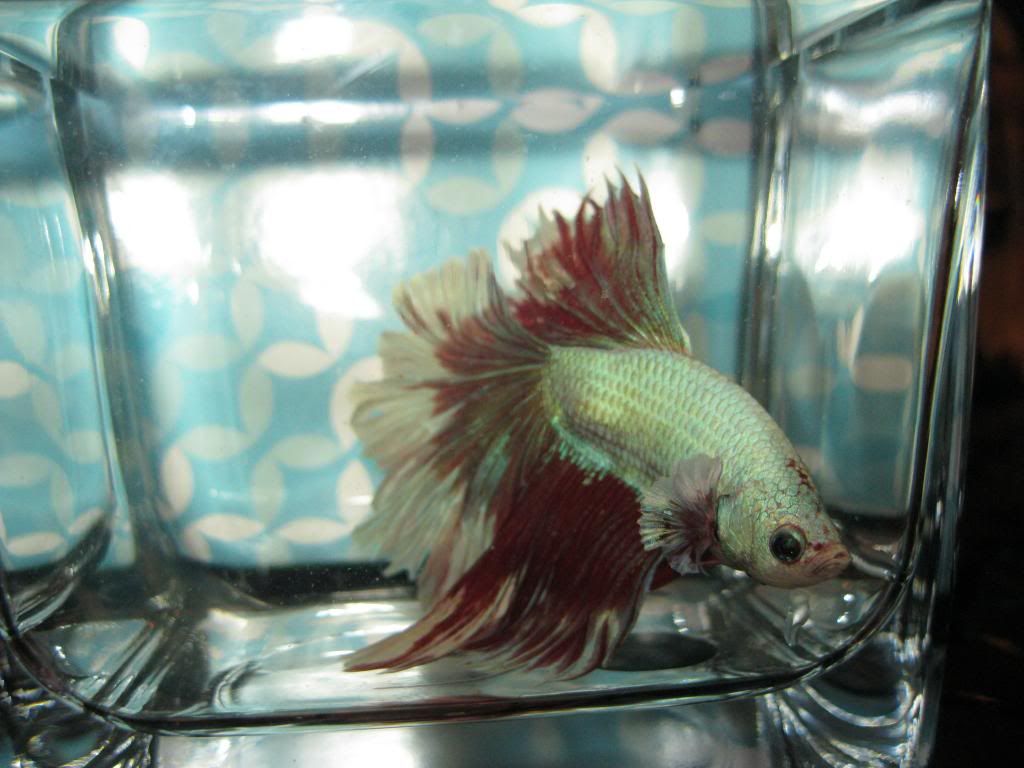 TRALALALLAALALAA!!!!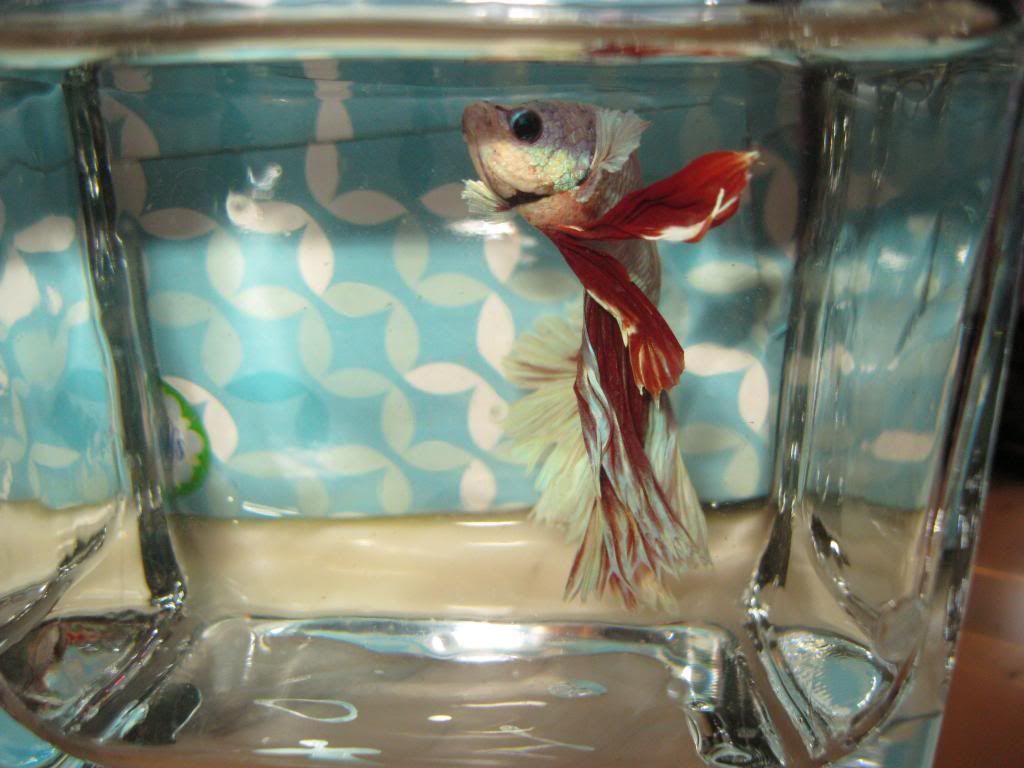 Oh please lady, don't even look at me like that, I see you dancing around all crazy too. DO NOT JUDGE ME!
Oye. That boy's crazy.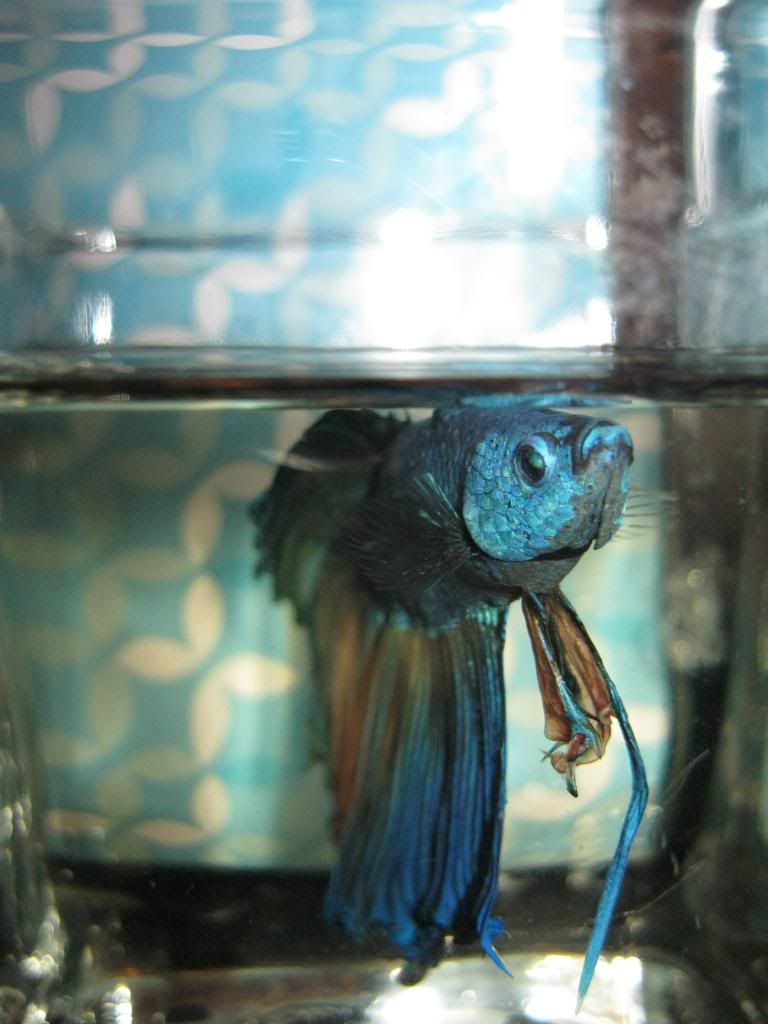 Don't look at me like you're expecting ME to do something crazy.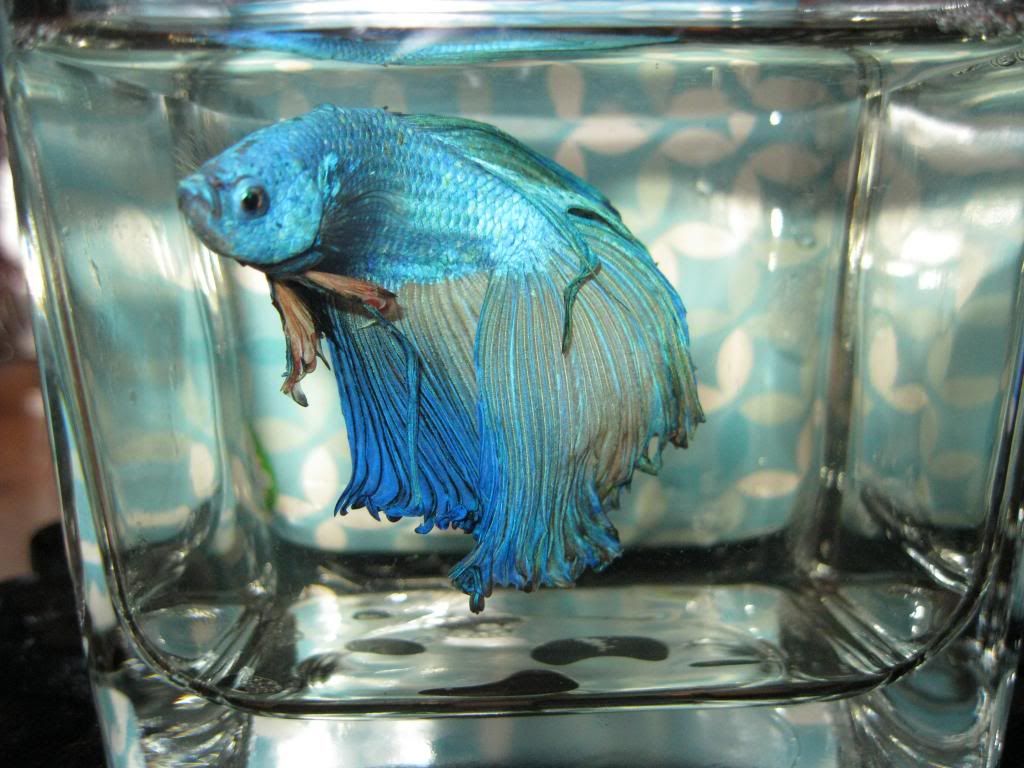 I SAID IM NOT DOING ANYTHING CRAZY
And the boo-boo pic. :(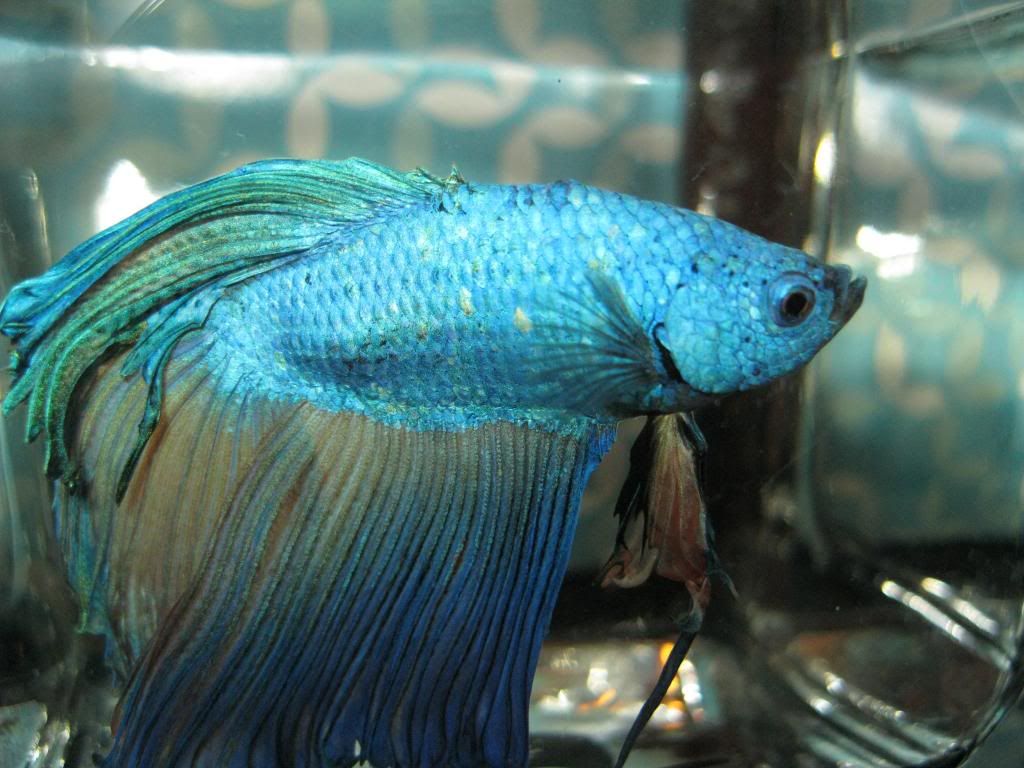 Growth!!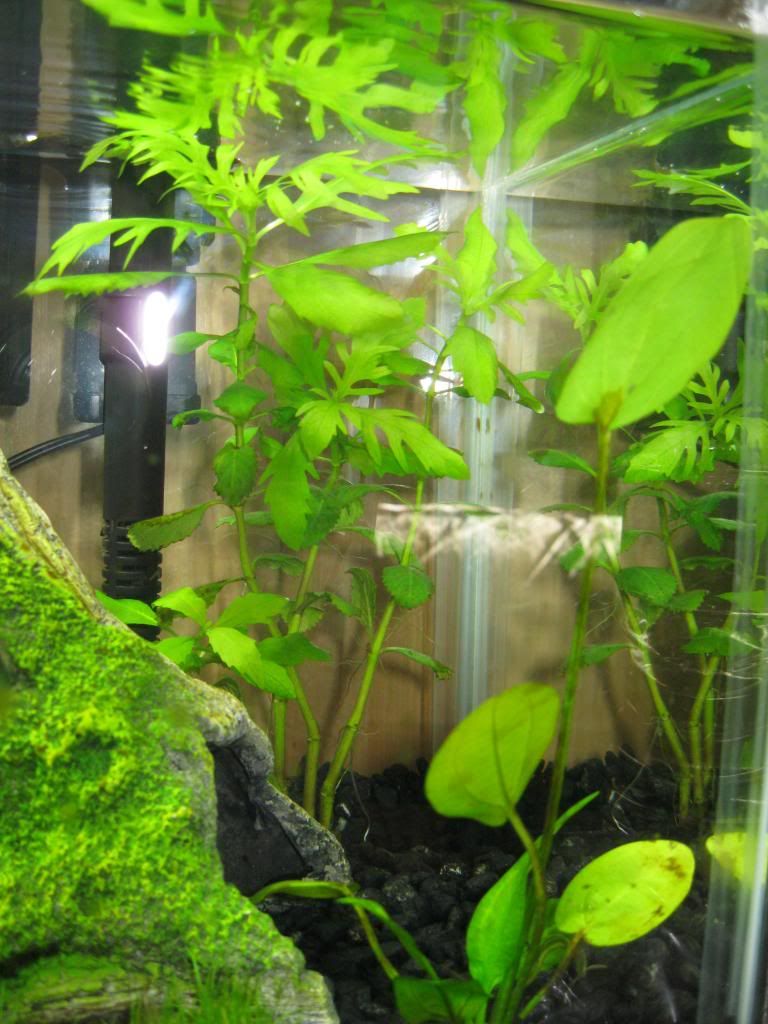 and now I shall go face-plant into my bed! z.z
---
Dates they swam into my life: Damon 04/17/14

SIP: Zen 07/06/13, Skully 07/31/13 - 10/07/13, Mysti 07/04/13 - 01/31/14, Ramses 08/07/13 - 05/17/14, Harley 07/16/13 - 06/23/14,
Koji 07/21/13 - 02/21/15, Damon 04/17/14 - 01/28/16

I've been doing reasonably well with the time change actually, this one is so much easier than the one in spring!
OMG, I love love love the picture of Harley dancing! TRALALAL! lol and the pic of Ramses yelling
too cute! Poor baby though, any decorations he could scrape it on? If so, take it out for now to see if he heals up.
---
Rembrandt II, Suiché
Leopards: 1:4 Hawkeye, Luna, Astrael, Dorian, Cullen
Gargoyle: Cloudjumper and Toothless