Huffle Puffles' Baby Betta's Journal
---
@BettaLover1313 - Yep, you're right, I looked it up and they can flare too. Hm...there went that theory!
Let's see, let's see, what did the lil' stinker do today. I think he's starting to understand feeding time. When I shake the pellets jar in front of the tank he looks up and waits now. So that's pretty cute. :D Right now he's playing hide and go seek in his log, goes in one end and pops out one of the random 4 holes only to go back in and pop out a different one. Wonder if he thinks he'll end up someplace different each time.
Been watching his tank and thermometers. I turned the heater up, I think with my fan on and the ac going it's not letting the water hit the right temp. But it's a 50 watt in a 2.5, I'm worried I might end up cooking him. But so far, the temp is only slowly going up, seems to have stopped around 77ish. I wanted to pick up a little 25 watt Hydor heater, Petsmart had them on the site but of course not in the store.
Oh well. Guess I'll have to order online.
Went over to Petsmart today to pick up an air pump and some bubble stones. Also snagged a cute little log with silk plants on it they had on sale that I'm going to rig the airstone in. Hopefully it'll work out well. I have to hand it to this particular Petsmart, they never have a huge overstocked selection of bettas, they all get their own row, no stacking the cups and none of them are dead in the jars and when they sit for too long, they discount them greatly. They had all their female bettas on sale for 99 cents and $1.99 (I think) for the crowntails. If only I had a sorority. The cashier asked how my betta was doing. I guess you know you go to a store too much when the cashiers start to remember you.
and on to the pictures!
(Oh hi! Don't I look naked when the flash shines on me?)
( I can TOO fit this whole thing in my mouth!)
(No more pictures, please)
(It was storming today and my fur-child is not comfy with that, so I sat her on the desk so we could watch the baby fishy together. I lol'd when I saw the pic and the fishy in the background looking all "WHAT IS THAT!?")
You have a very cute dog!

Yeah, the Pet Smart employees know me for my dog, Lucky. I think they forgot that I bought a betta from them XD.
---
"Animals are reliable, many full of love, true in their affections, predictable in their actions, grateful and loyal." ~Alfred A. Montapert
My Bettas:
Dude-Male Salamander HMPK & Molly-Female Marble HM
My Goldfish:
Rory
S.I.P. Beta-Blue & Black CT//Dragoon-Dark Copper DSPK//
Merlin-Red VT//Raku-Multi-Colored CT
My Journal
@BettaLover1313 - Thank you, she's pretty much like my kid. Probably more so in she gets more attention than an actual child probably would.
Funny thing is, I didn't even buy my betta there, I was just buying a bunch of supplies and the cashier had asked what sorta fish I had. Now she remembers. lol.
It's been one whole week with my baby! I'm so excited. I was so worried he/she wouldn't last 24 hours and here we are one week later still going strong. Did a water change today, rearranged the tank, put in all the new goodies. My moss ball fell apart
so I tore it into pieces and used some of it to line the floaty log and the other I stuffed into the opening of one of the logs so the baby wouldn't swim into it and get stuck since the other end has the bubbler. Overall I'm pretty pleased with the tank. I try to make one corner very full so if he wants to hide he can and the other side I try to leave sorta open for swimming space. It's a big change from where I started with bright purple/blue/pink plastic plants. I would really love to have real plants, I had bought five and killed them all within 2 months, so I gave up on them for a bit. But, the baby seems to really like it, he's been doing laps exploring everything.
My old camera decided to cooperate for a bit:
(I love his little eyeballs)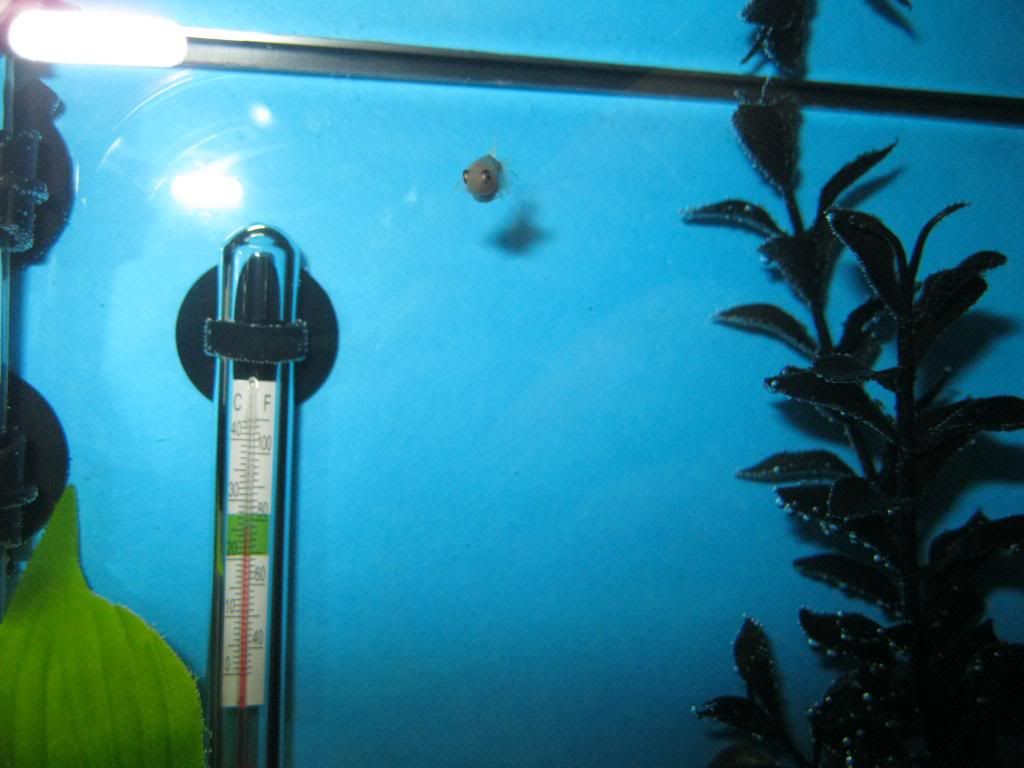 (New tank setup and a happy baby - piece of paper was temporary for the pics)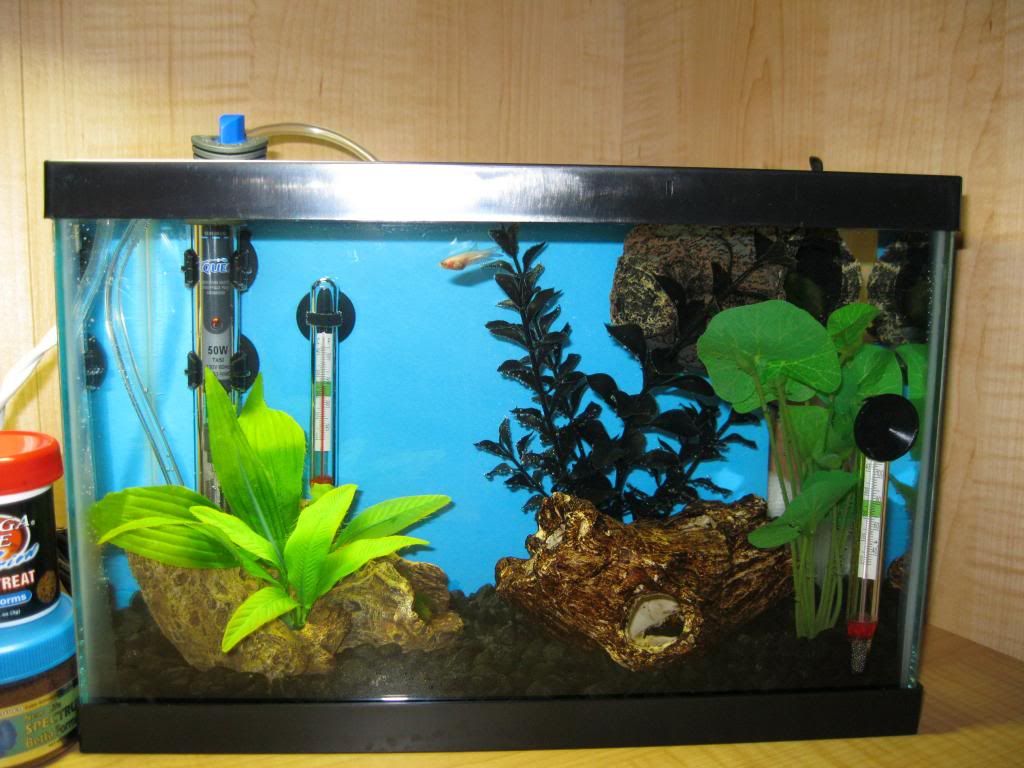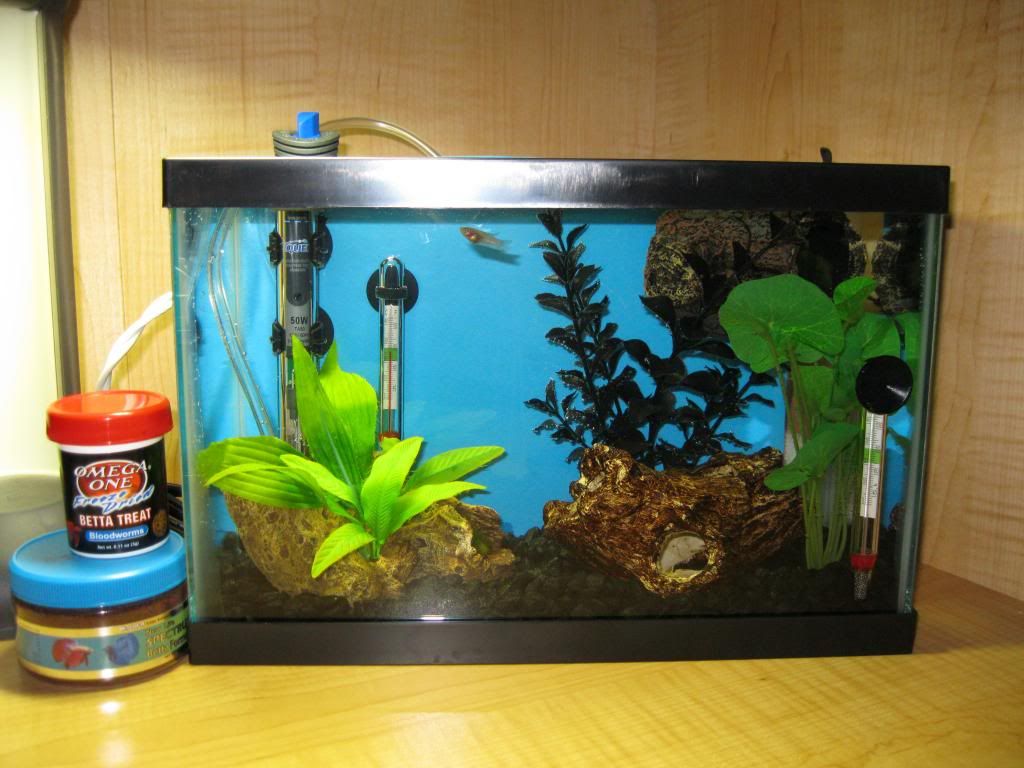 (Checking everything out)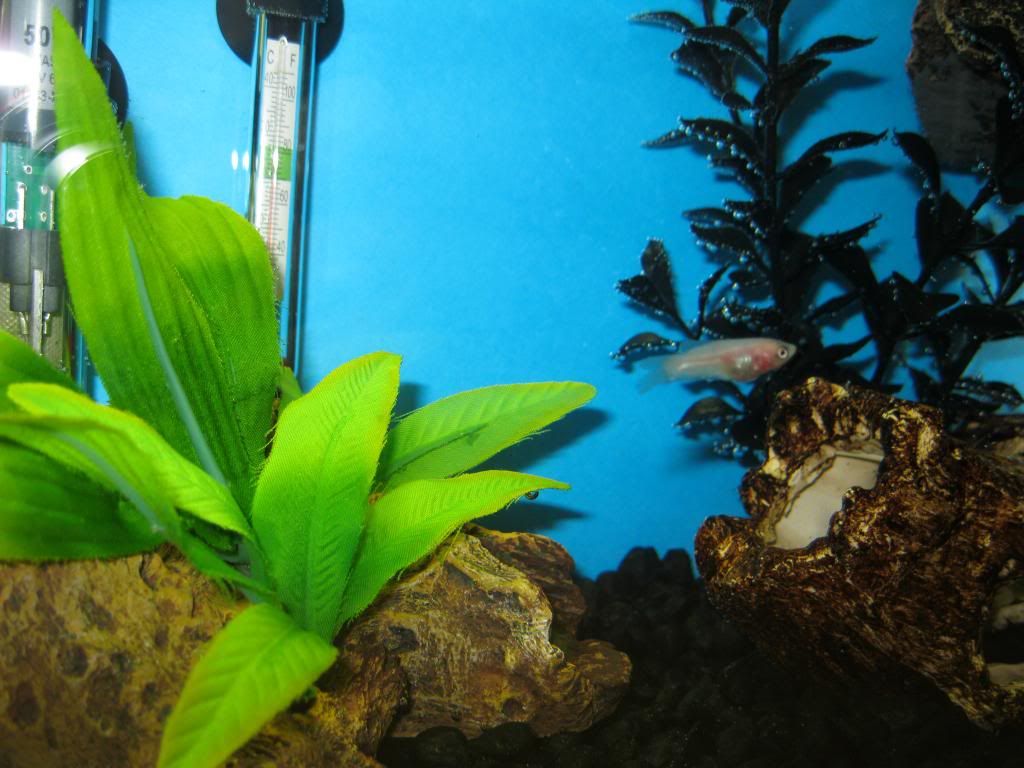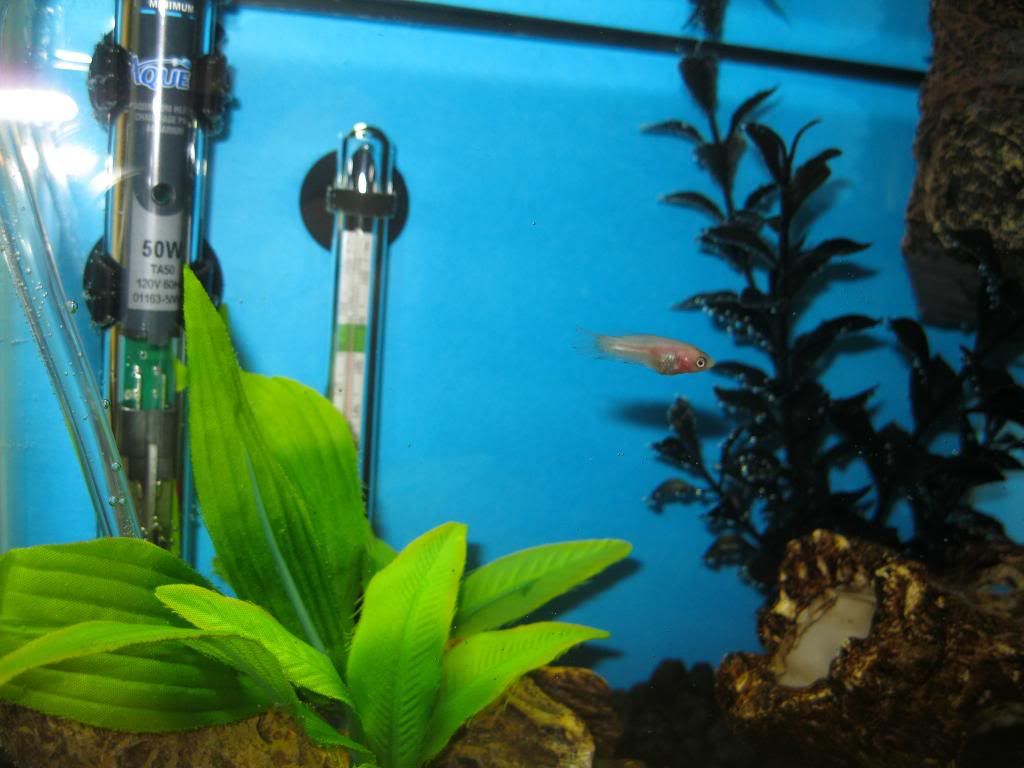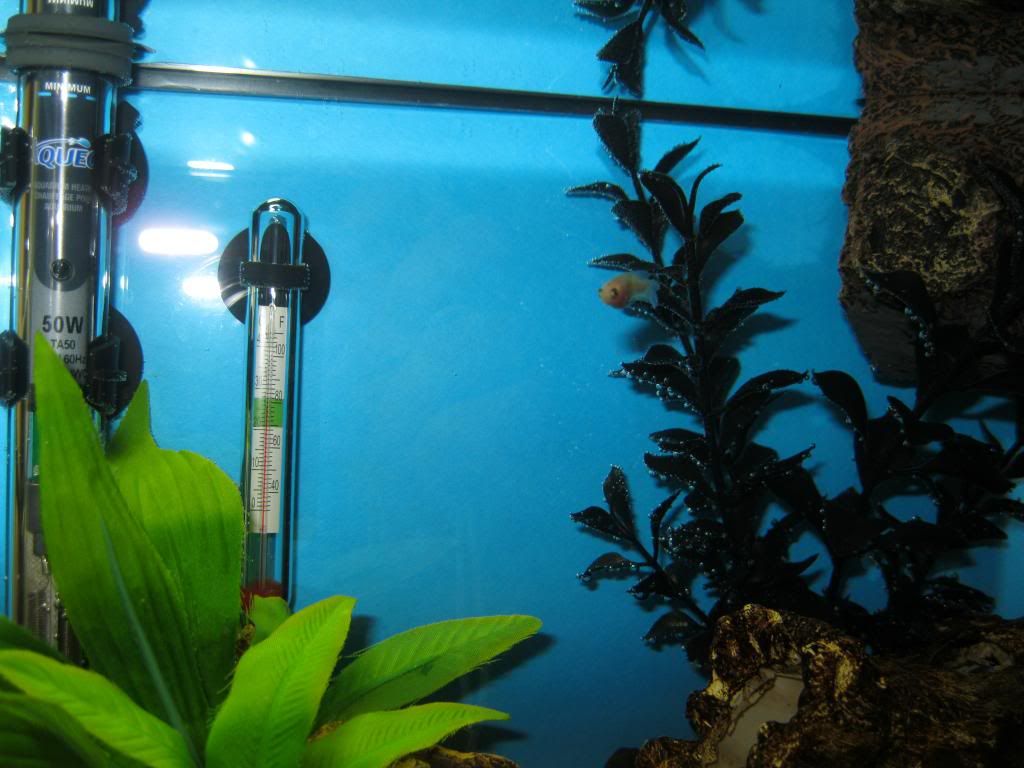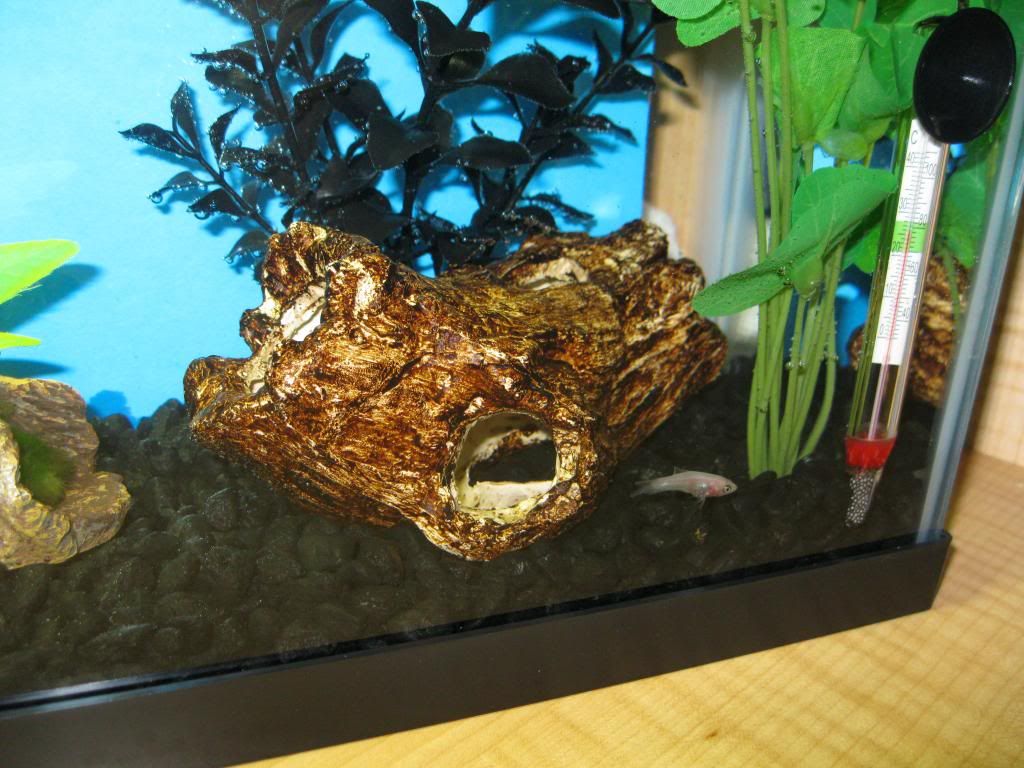 Your baby betta is actually so adorable! Can't wait to see how it grows up!
Your tank looks great!
---
"Animals are reliable, many full of love, true in their affections, predictable in their actions, grateful and loyal." ~Alfred A. Montapert
My Bettas:
Dude-Male Salamander HMPK & Molly-Female Marble HM
My Goldfish:
Rory
S.I.P. Beta-Blue & Black CT//Dragoon-Dark Copper DSPK//
Merlin-Red VT//Raku-Multi-Colored CT
My Journal
Awesome tank Huffle! The baby is so cute, I lvoe how curious they are. Mine would insepct the driftwood constantly and pick little pieces of food off of it. The other would hunt around for snails...she still does =p
---
10 gallon planted
- HMDT male betta, 4 peppered corys, assassin snails, Amano shrimp
10 gallon divided bare bottom
- HMPK male, 2 VT males
29 gallon sorority planted [journal]
- 6 females, 4 bronze corys, trumpet & nerite snails, 3 Amano shrimp
Day 09
---
@Viva - Thank you. They do have quite the personalities for being such itty bitty lil' things!
@BettaLover1313 - Thanks! I'm actually really glad I took a picture because today I took it all apart to clean it, and couldn't remember how I had everything. Tearing the moss ball apart and using it for liner was a baaaad idea, had floating particles EVERYWHERE -_-
@Mar - Thank you! :) Me too! Can't believe it's already been over a week.
So I decided to clean out all the floating particle stuff from the tank and while the baby was sitting in the cup with me waiting for the water to heat back up I snapped a few, okay a lot, of pictures. I was noticing that all the dark spots, what I thought was going to be marbling, seem to be disappearing, even the ones on the lower fin, there's only two little specks left. Will be quite interesting to see what the final color shall be.
I did a rough estimate on age today, using
http://www.bettatalk.com/fry_growth.htm
, estimated he's about 5-6 weeks old, leaning towards 6 since he's a good 3/4 of an inch.
Color on third day:
http://i1330.photobucket.com/albums/...ps11387bb6.jpg
Now:
Picture Time!
(Hey, hey you! Is my tank ready?)
(Got some decent shots of fin/head details)
.face.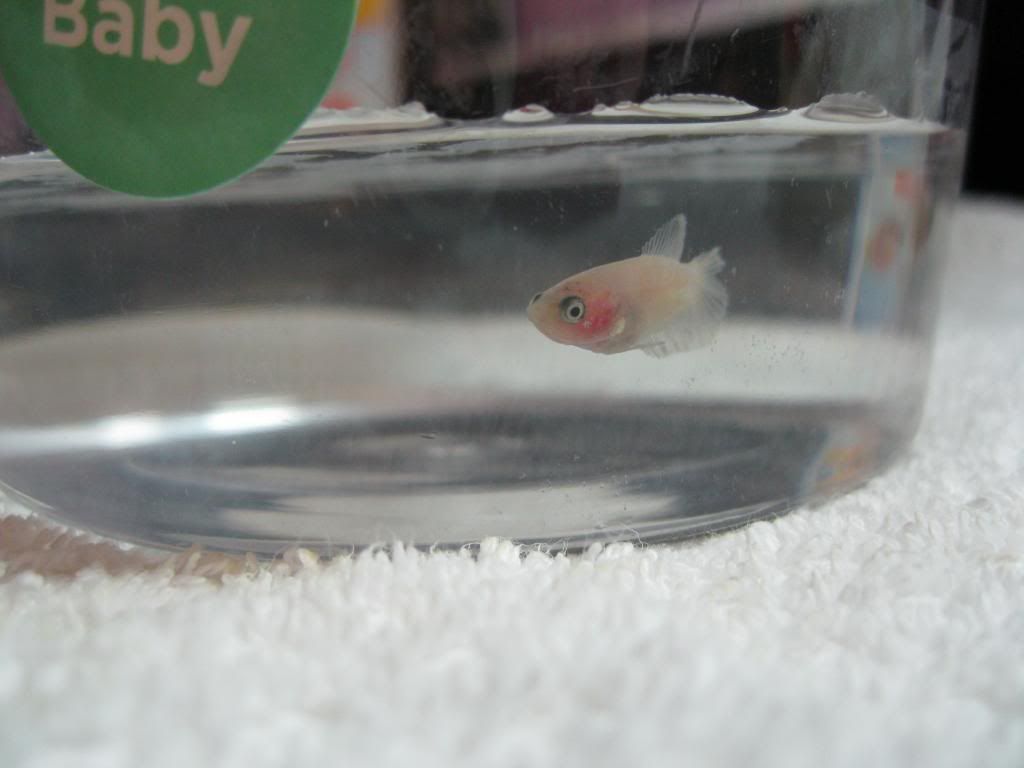 .top fin.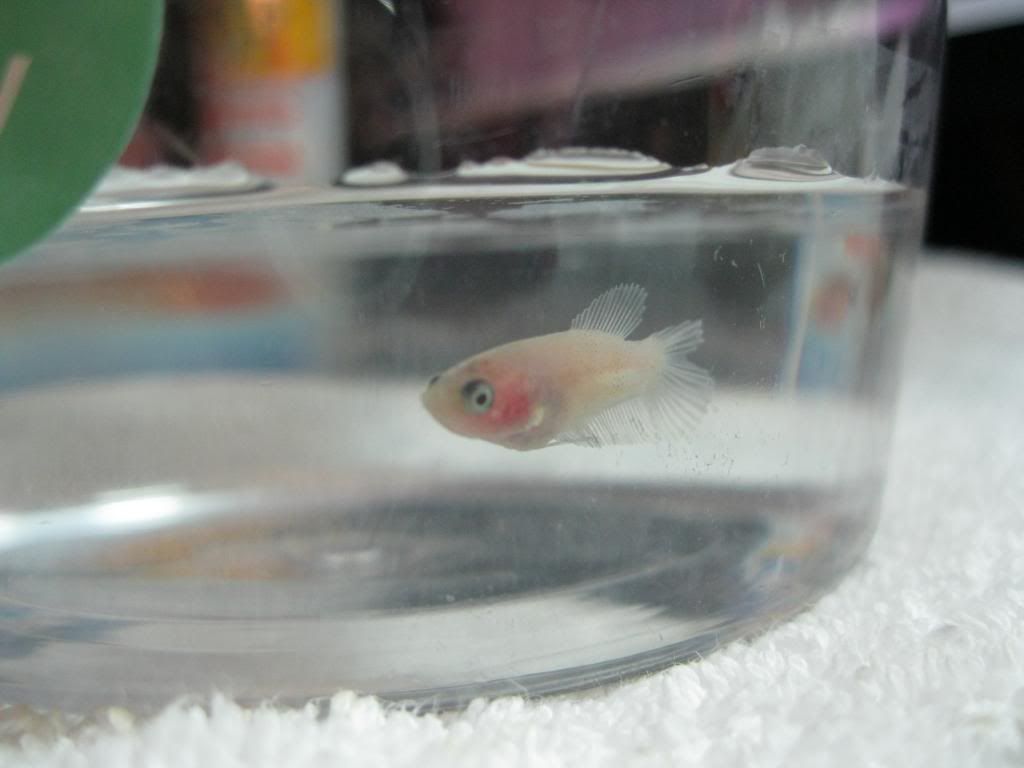 .back fin.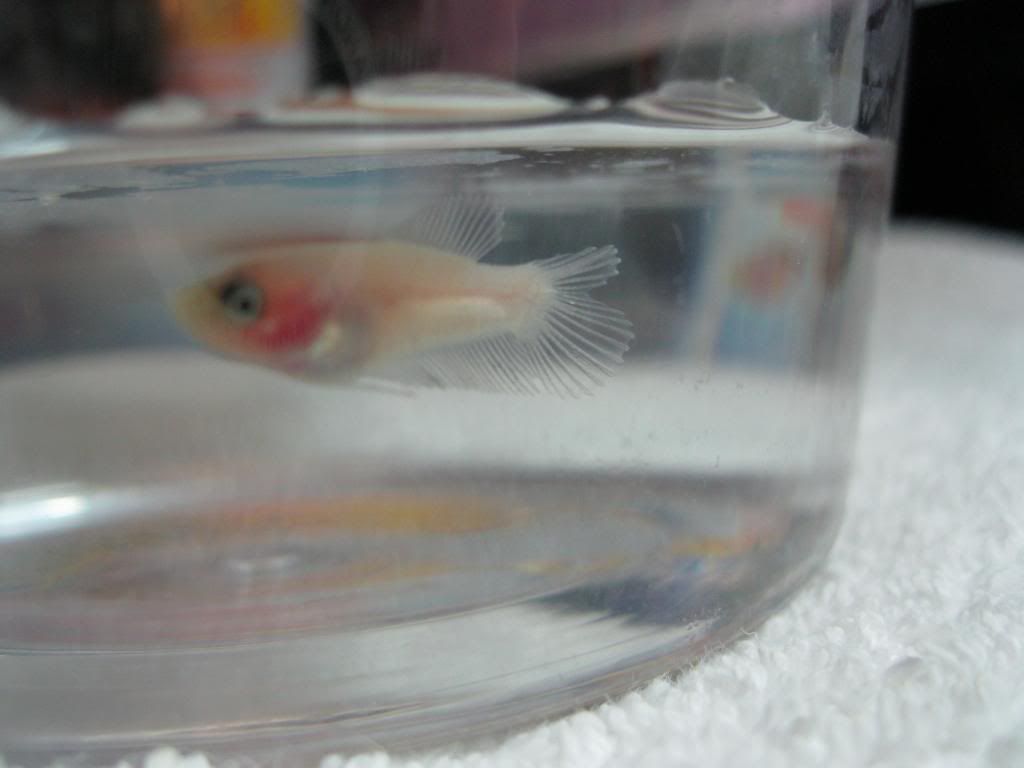 (Vanity)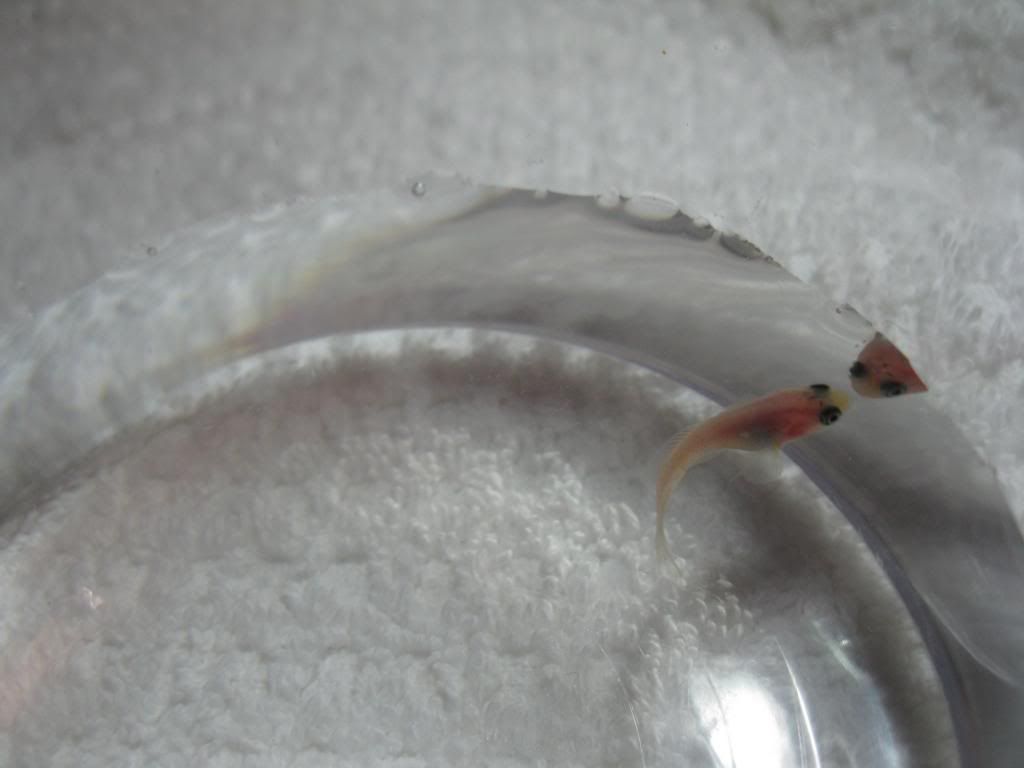 (U-turn!)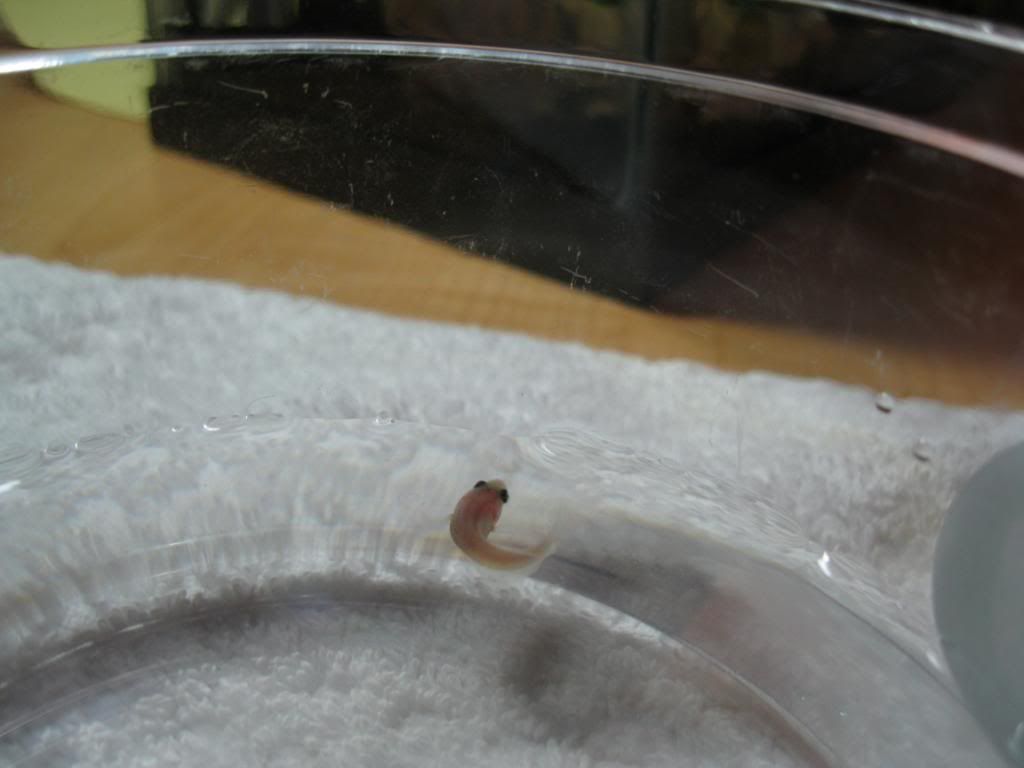 (Can we tell what gender yet? Still no clue, still referring to him as 'he'.)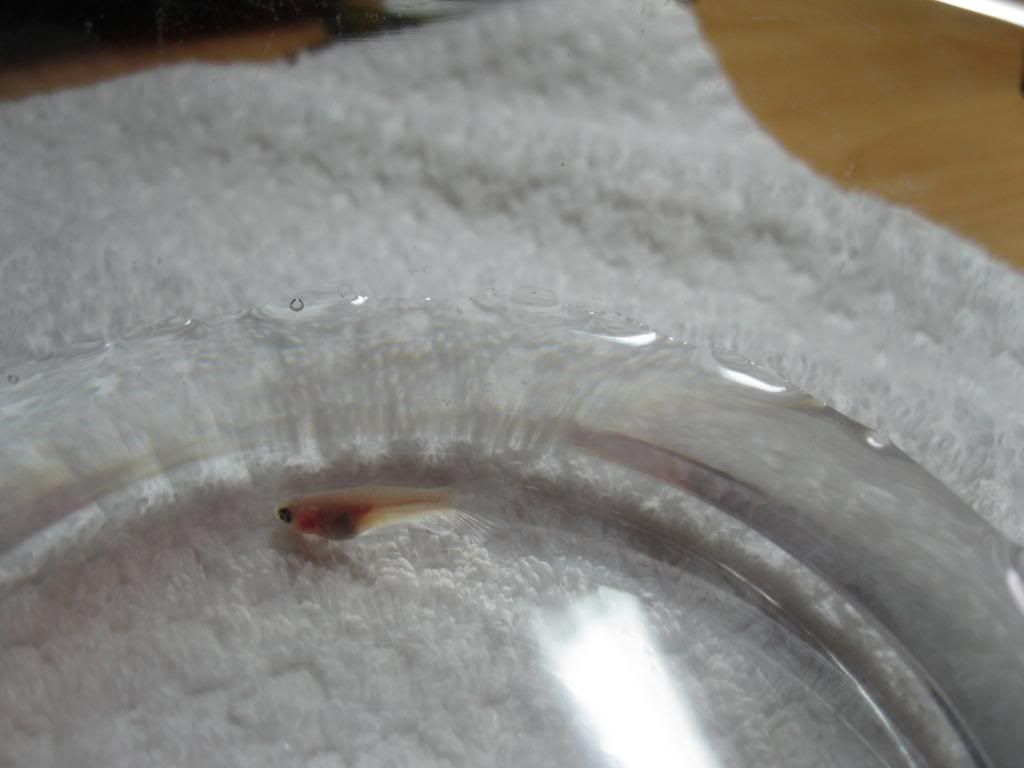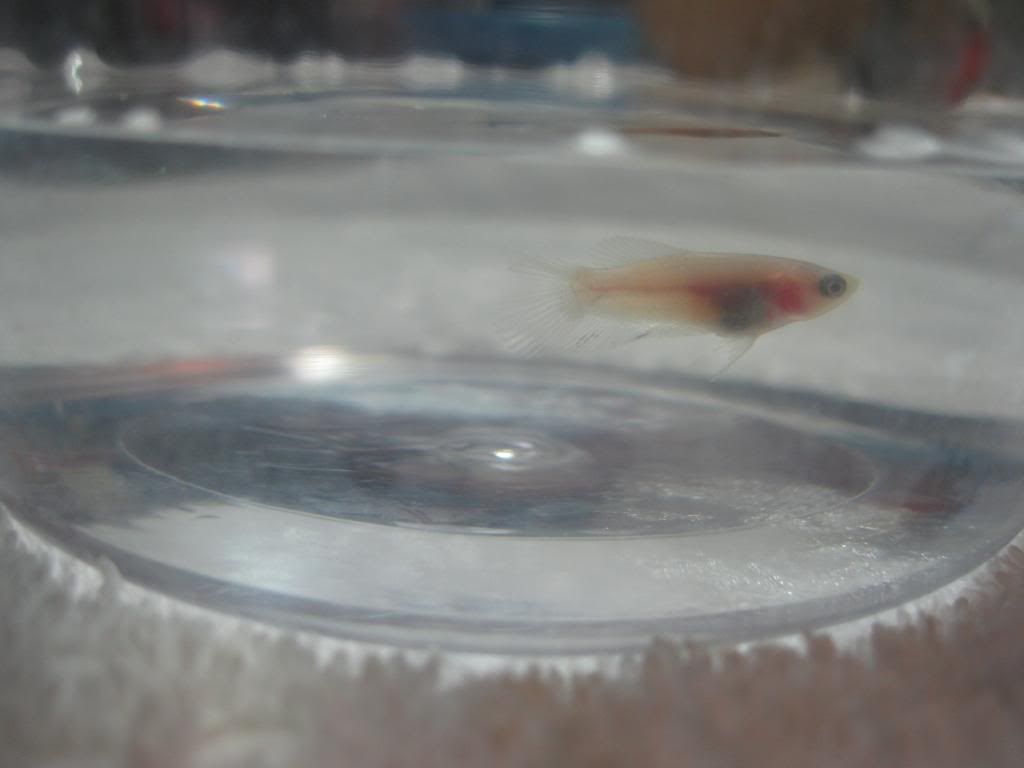 (Fishy kissies!)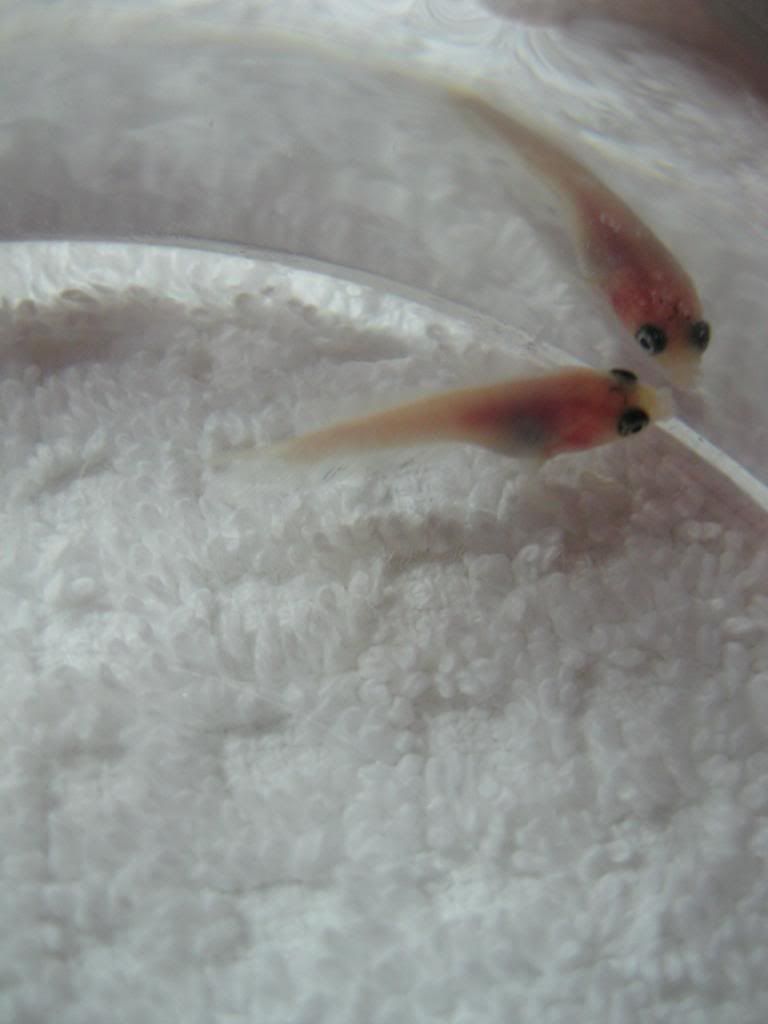 lol, as I am writing all this I looked over to check on him. Not in the floaty log, not in the dark log (which I positioned so I can now see inside), not by the thermometer or the heater, hmm, where'd he go? *Out he pops!* Removed the moss from blocking the entrance to the new log with silk plants on it...he was hiding in there -_- I tell ya, he finds everything!
One thing you can look for to tell gender as he grows is look behind his stomache area and if you ever can see a triangular yellow organ inside that is the ovaries and will show that he is actually a she. Also, though not very reliable until they are more mature, is a white spot on their belly, that's an ovipositor. My baby is a girl and her ovaries are the only part of her that is still see through enough to see inside, lol. I'm pretty sure your little guy is indeed, a little man, but he could surprise you! Just keep looking for them ovaries and if they never come and the fins start getting longer then you know you've got a little man :D

I got my girl at about the same age yours is now. I've had her for just over 3 weeks now. She has grown so much! she was somewhere between 6 and 7 weeks when I got her. Your baby is so cute~~ <3
---
~Rainbow Sorority Ladies 10g~, Mystique~ CT, Alexa~ CT, Lulah~ VT,Icelia~ CT, Goldeen~ CT, young unamed female.
Tangi~ GIANT VT on her own because of SBD 2.5g
My little man ~Mayim~ 5g
~I loved you Rainbow, you were the best~
~R.I.P. 5/12/2012~
Just a quick post of pictures today. I wanted to have a bubbler for the tank just to have a bit of water aggitation, but it was causing too much current so I got a big ole piece of pvc pipe stuff and rigged up a little bubble arch. Oh my god, the baby is having TOO much fun with it! He keeps swimming under and over and "riding" the bubbles up the pipe. Then he goes and sits on the bottom and tries to eat them, I keep seeing him bump his nose against the pipe.
(Bubbles! O_O)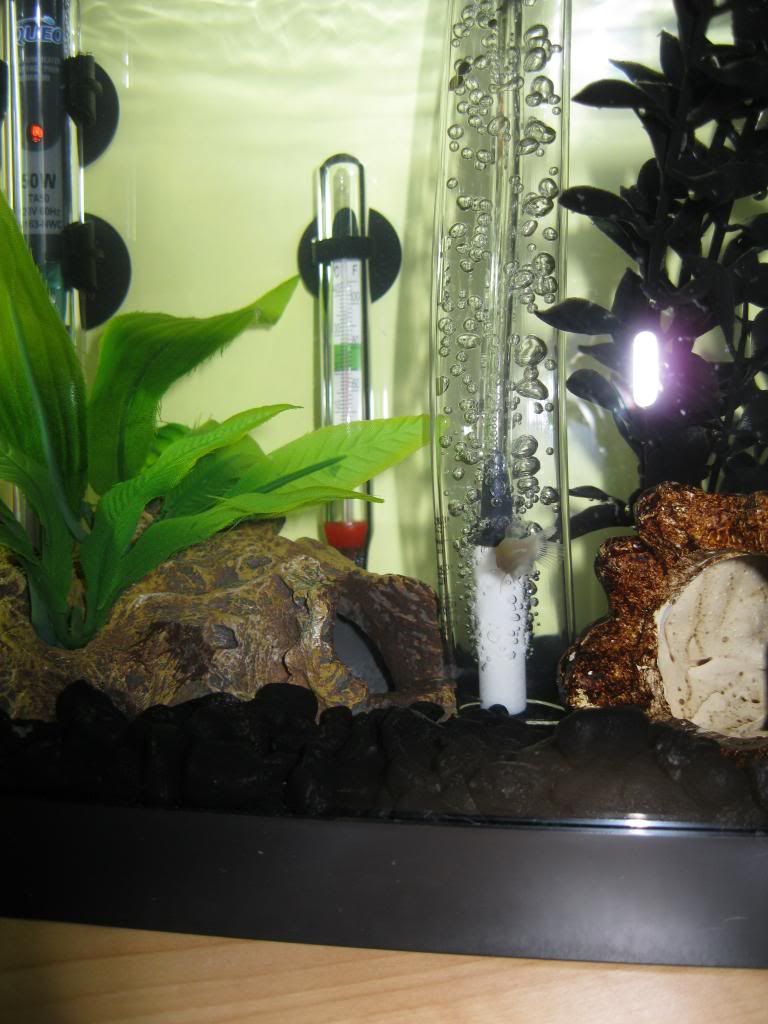 (Hey you! Lady with the camera! Why can't I get the bubbles!?)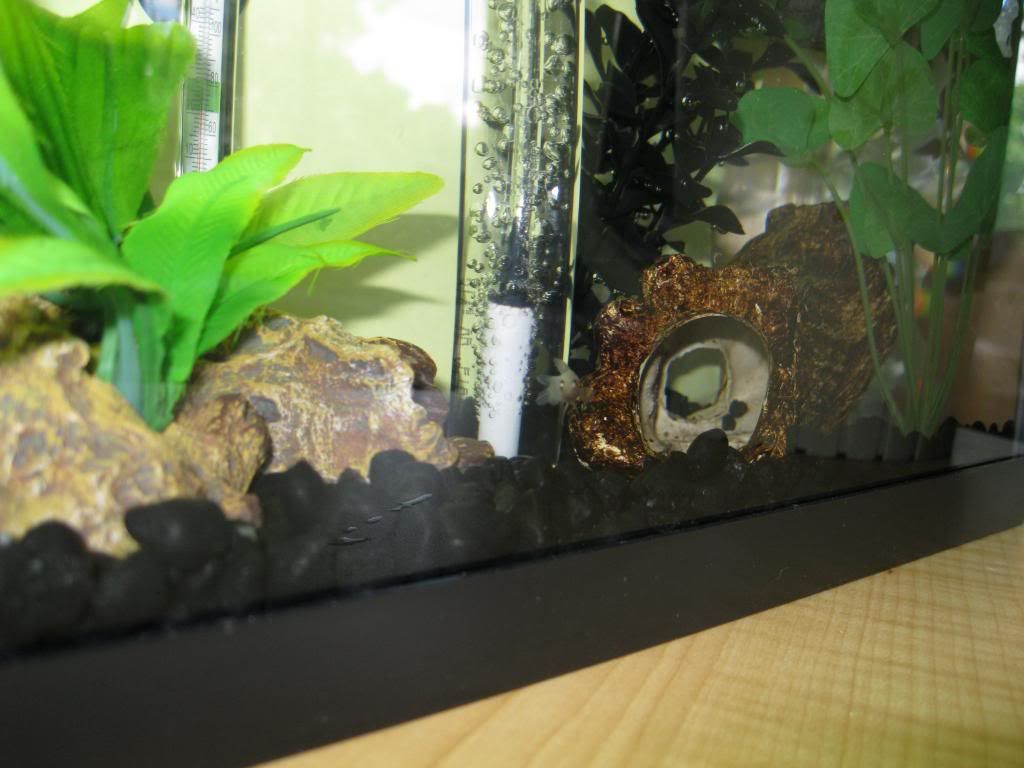 (...bubbles..come out and play! *nose bumps*)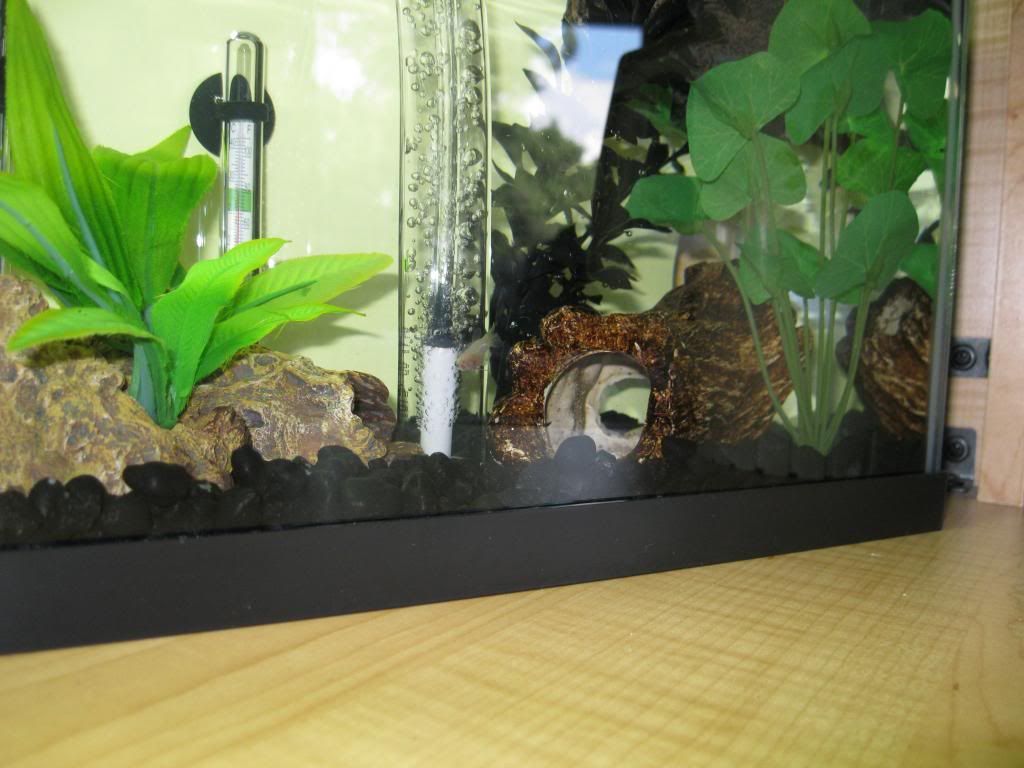 (*stares at camera lady* so NOT cool)