I love all the antics Mystery gets into! Definitely adorable with the bubbles!
---
"Animals are reliable, many full of love, true in their affections, predictable in their actions, grateful and loyal." ~Alfred A. Montapert
My Bettas:
Dude-Male Salamander HMPK & Molly-Female Marble HM
My Goldfish:
Rory
S.I.P. Beta-Blue & Black CT//Dragoon-Dark Copper DSPK//
Merlin-Red VT//Raku-Multi-Colored CT
My Journal
LOL! Omg cutest thing ever! She's just staring at the bubbles in amazement...so cute!
---
10 gallon planted
- HMDT male betta, 4 peppered corys, assassin snails, Amano shrimp
10 gallon divided bare bottom
- HMPK male, 2 VT males
29 gallon sorority planted [journal]
- 6 females, 4 bronze corys, trumpet & nerite snails, 3 Amano shrimp
That is freaking adorable :D
---
~Rainbow Sorority Ladies 10g~, Mystique~ CT, Alexa~ CT, Lulah~ VT,Icelia~ CT, Goldeen~ CT, young unamed female.
Tangi~ GIANT VT on her own because of SBD 2.5g
My little man ~Mayim~ 5g
~I loved you Rainbow, you were the best~
~R.I.P. 5/12/2012~
@AltheaGlyndwr - Thank you!!
@Viva - Thanks hehe.
Yea, he/she was very into the bubbles. Discovered they come out the top of the pipe and make a little play area, so he/she was swimming through them all evening. Shut them off before bedtime so there would be calm sleeping water though.
@BettaLover1313 - Thank you, yes, definitely gets into some antics alright!
So apparently we want to be a cranky pants this morning. During feeding time, I plopped a pellet on the water's surface in front of him and I guess he didn't notice because he swam to the front of the tank to watch me close the jar, so I used my finger to get his attention and lead him back over there, well, he bit my finger about 5 times! Grumpy pants, guess someone isn't a morning fishy!
Aside from that, it looks like the last two dark spots on his lower fin are gone. So now he's completely white/see thru color, aside from the blushing cheeks and the little dark spots on his forehead, looks like freckles! You can sorta see it in the first pic.
Fun part, picture time!
(Freckles)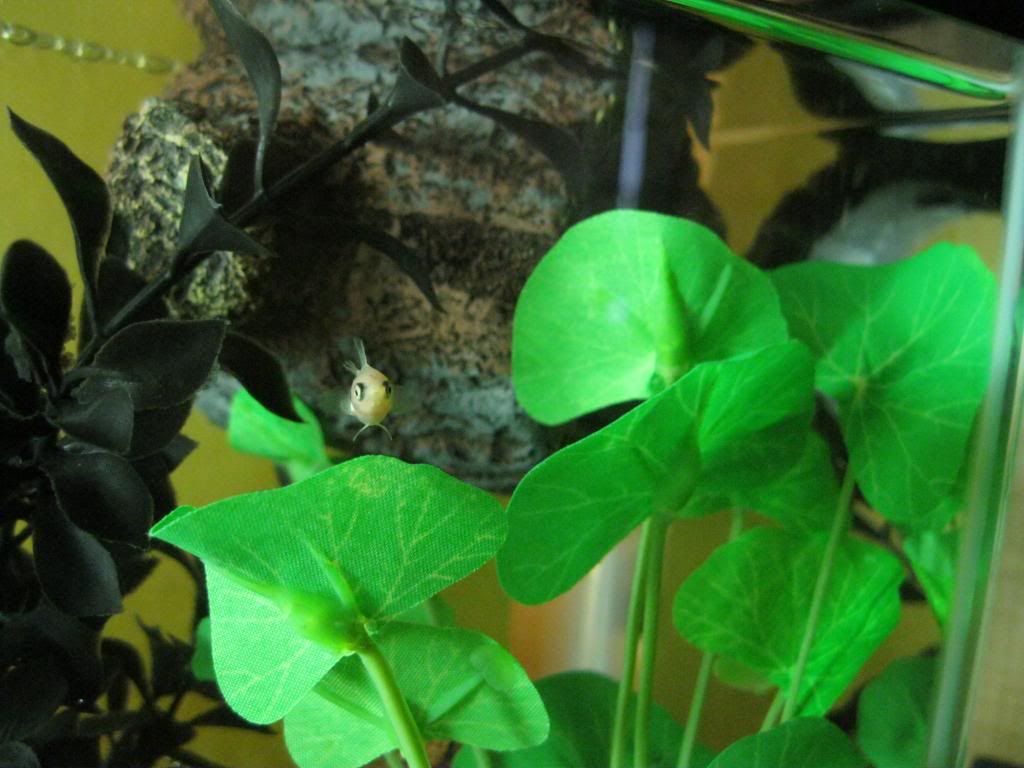 (Dark spots all gone)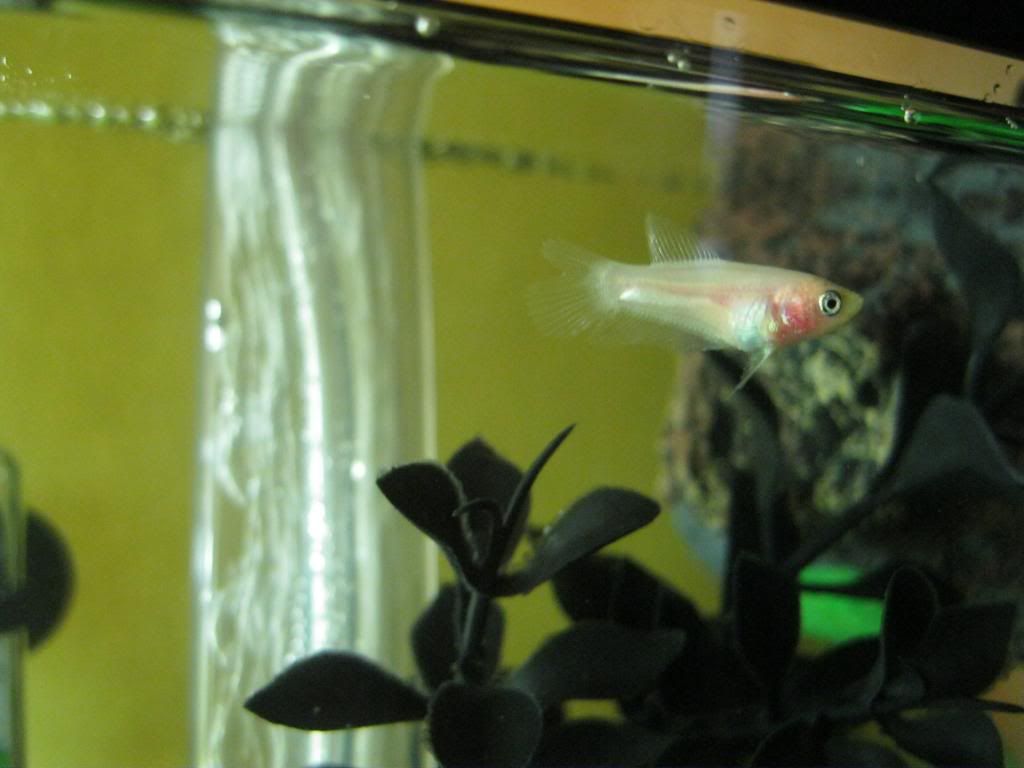 (who YOU lookin' at huh?)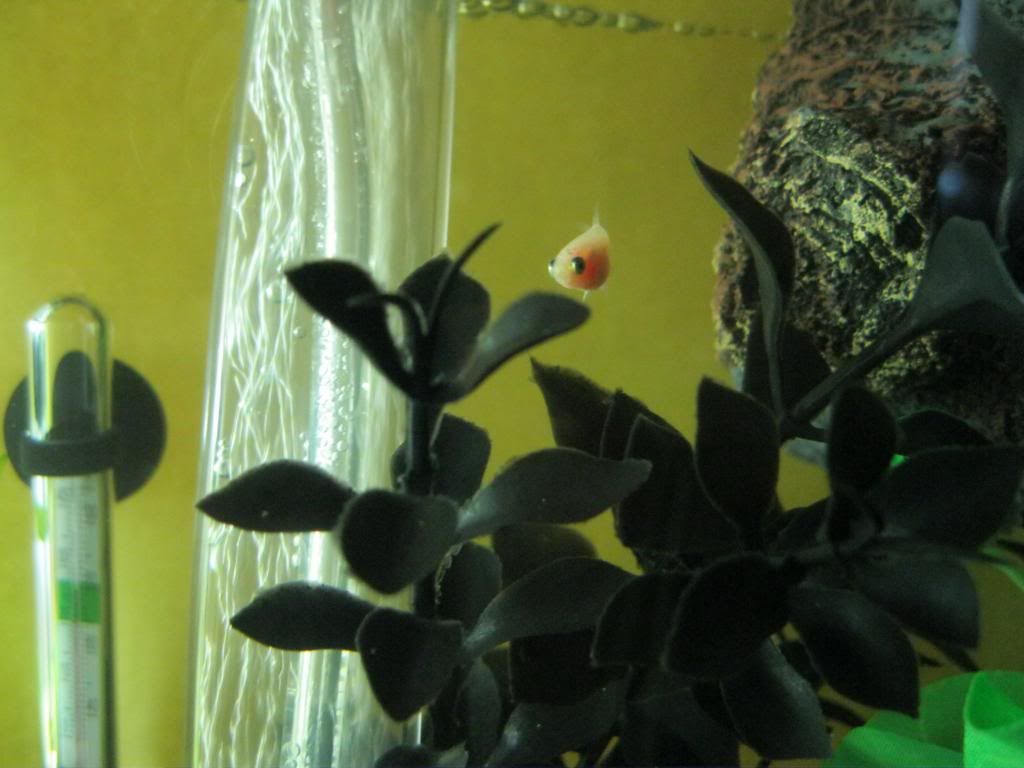 (Shiney)
(Can you find meeee?)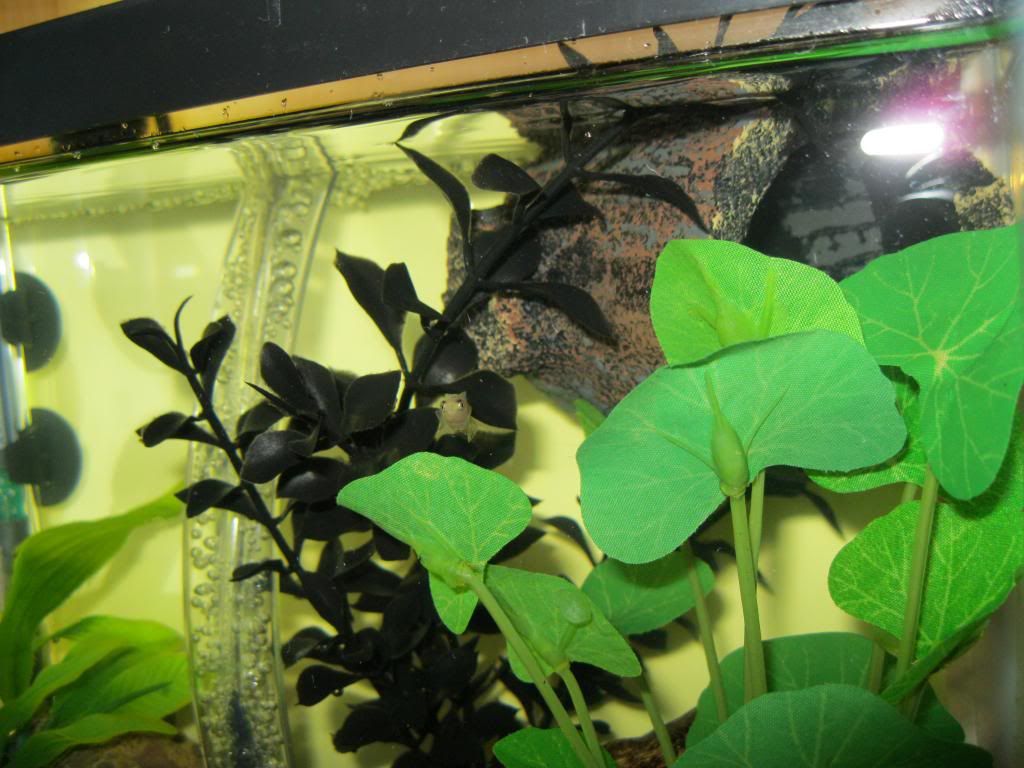 Fiesty little one today
got to record him nipping at my finger a bit, and yes he attacked the bubble at the end too.
(click me for video)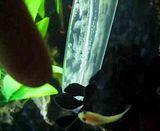 (I rinse my hands really well before letting him do this and my nail is super filed down on that finger so I don't have to worry about him hurting himself that way.)
Not a lot to report today, I was gone most of yesterday and today I woke up sick as a dog, so I've been laying around being a lump, however I started to feel better and cleaned out the baby's tank. I bought a small glass bowl to put him in while the tank warms back up and he was going around and around and around, it was making ME dizzy! So I put my finger to the bowl to see if he'd stop and caught the reverse on camera!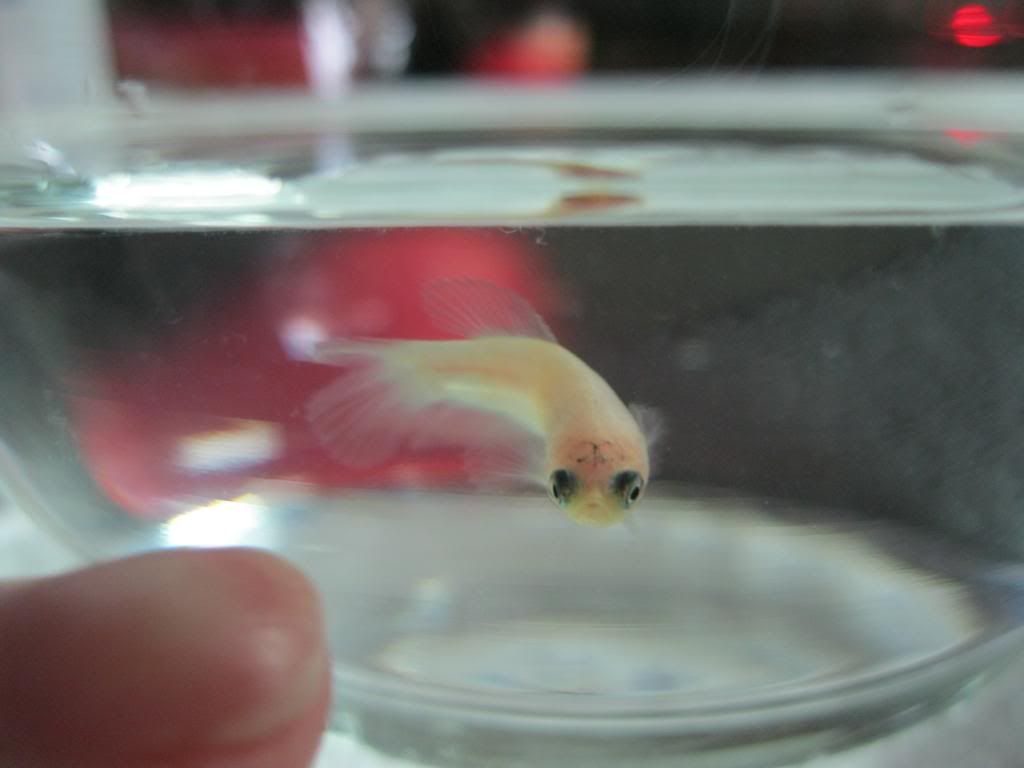 As for yesterday, I went out to Petco since it was restocking day to check and see what they had for bettas and my aunt decided to go with me. There was this really pretty boy we both liked there, but he wasn't exactly what I was looking for, but I didn't wanna leave him there either. He was this really awesome white/gold/green/rust mix, which turned to pink/purple/bright red when we got outside. So, after nudging and whispering "he liiiikes you, he wants to go home wiiiith you" lol, she adopted him! I'll be watching him for the next few weeks though since she left for vacation. Got him a little 1.75 gallon critter keeper "hotel" and I used some decorations I had left over and he's been happily swimming around today. At first he was pretty grumpy, wanted nothing to do with me or the front of the tank, so I said to him "that's fine! I'll gain your friendship somehow!" So, I broke out the bloodworms
Today he's been more social, comes to the front of the tank, he's settling in nicely.
Grumpy face!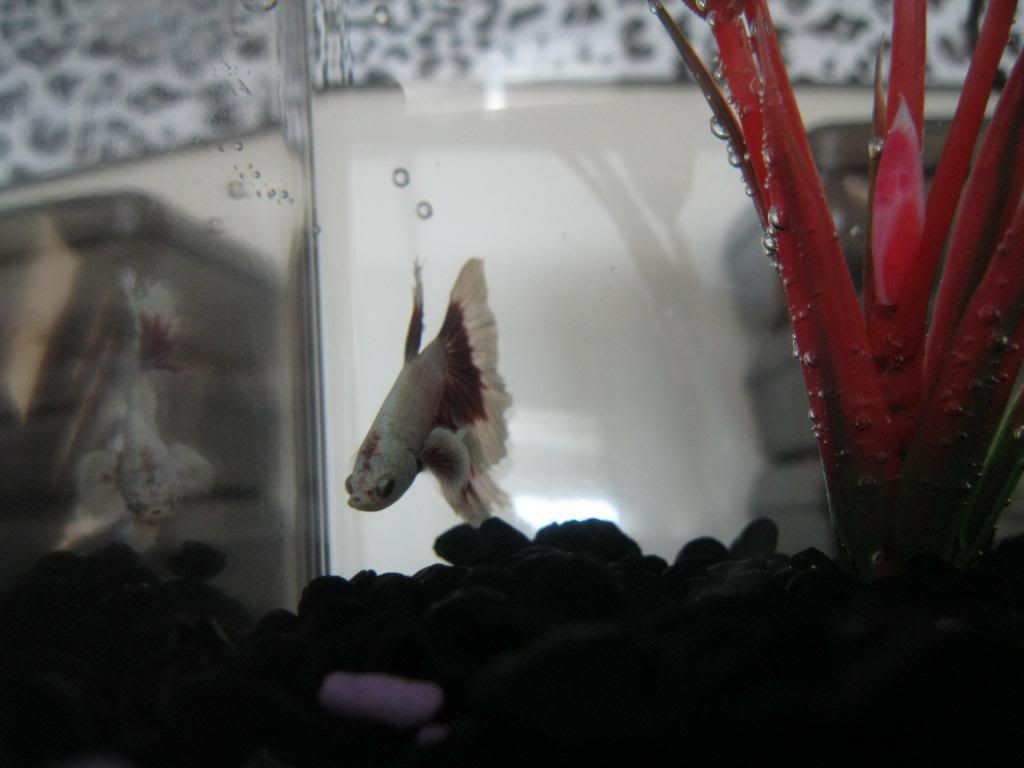 Colors 1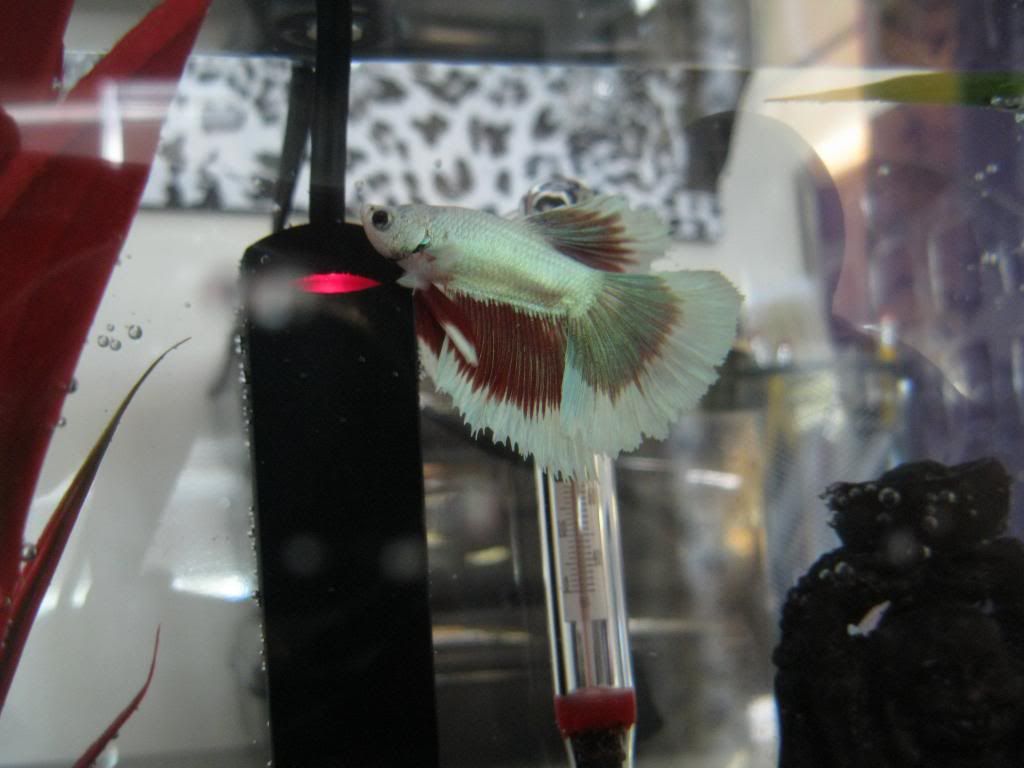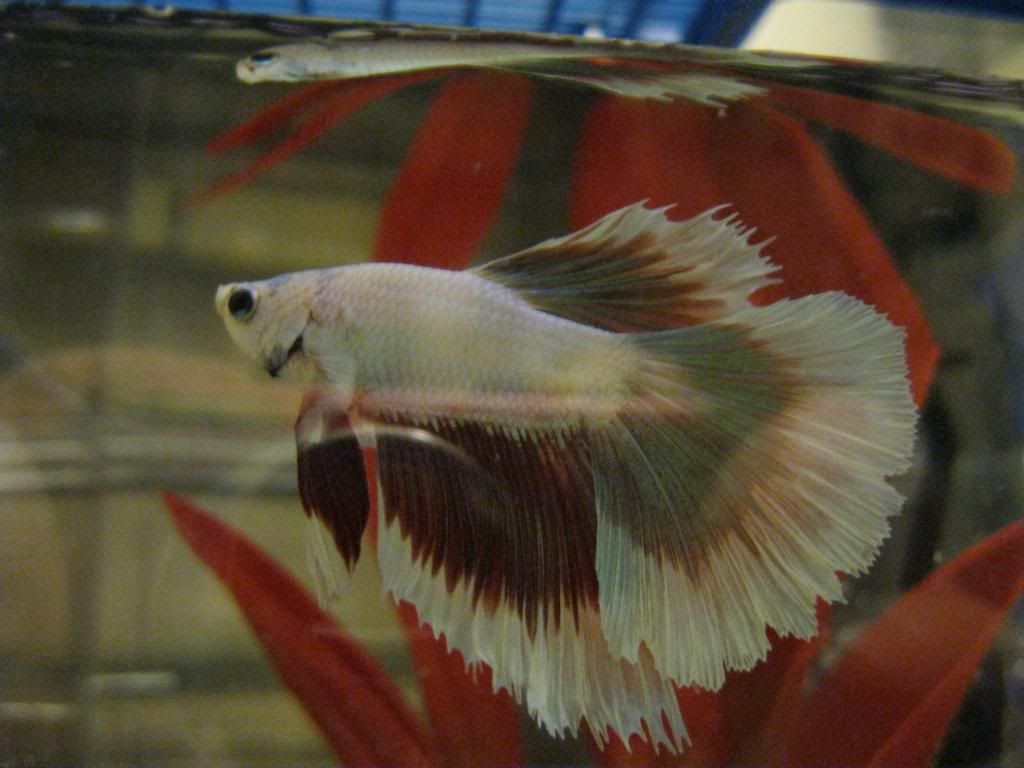 Colors 2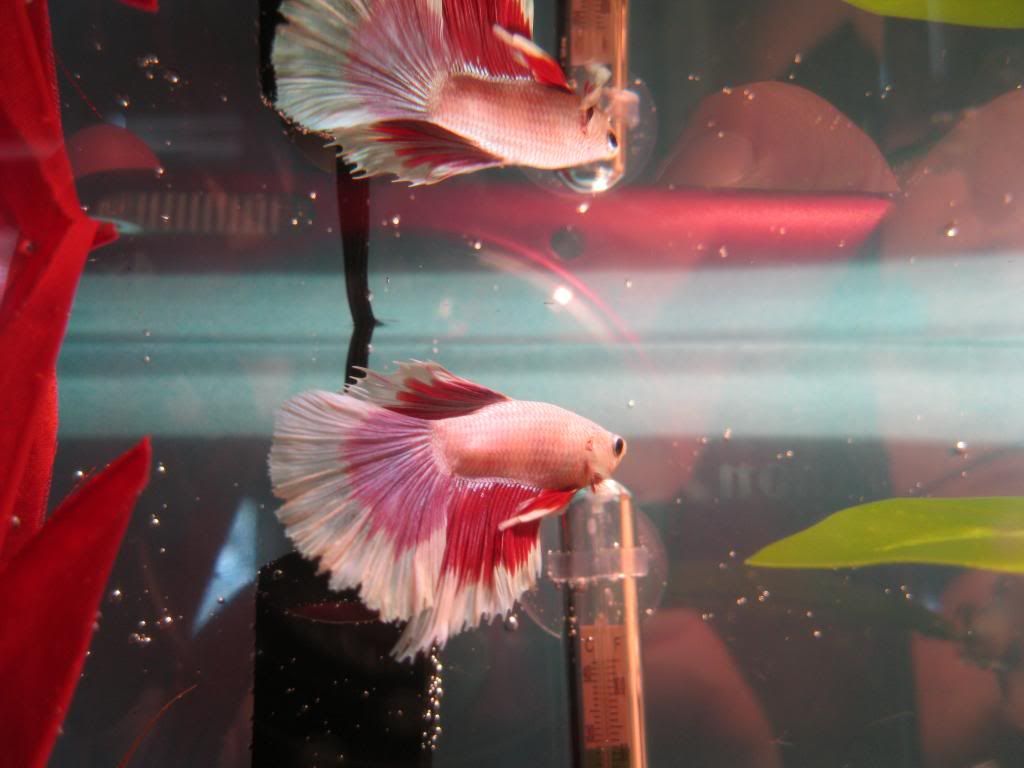 (What YOU lookin' at?)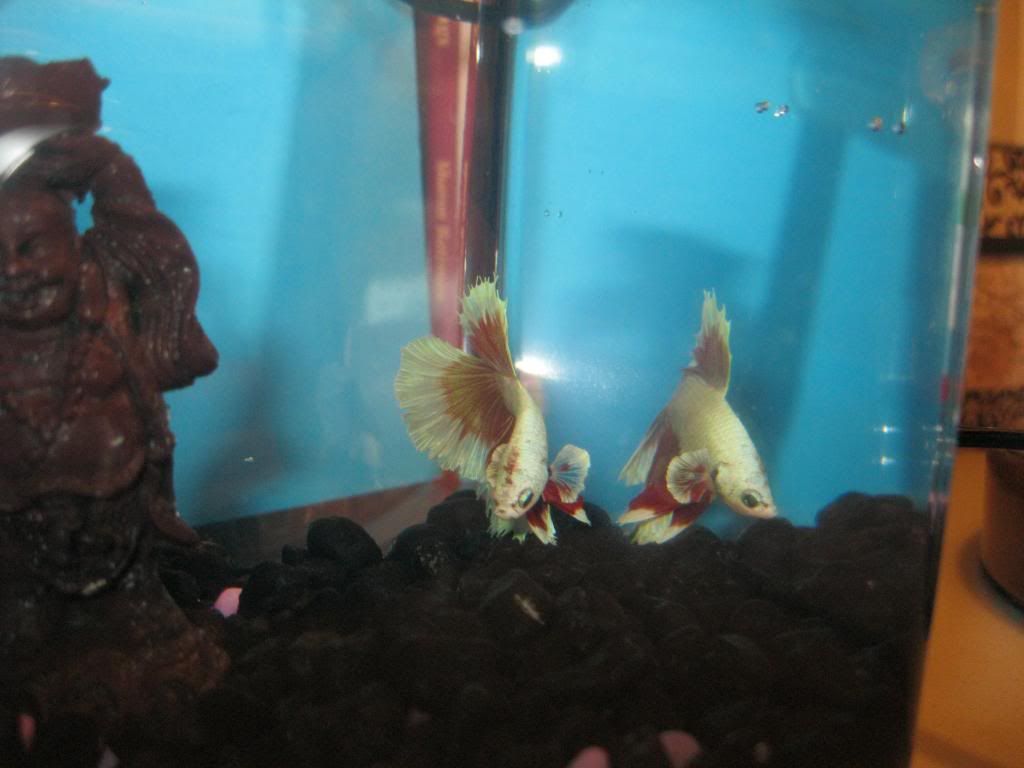 Side note, the baby just did a little poo in the holding bowl. Hehe it's so little and cute! - did I just call poop cute!?
Also if you like the videos, this one is from yesterday: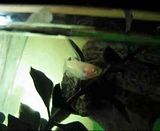 Cute log! Just wanted to pop in and say that Mystery is a boy
and yes a double tail, very uneven but a DT nonetheless
Love the new Dragon boy too!!
---
Rembrandt II, Suiché
Leopards: 1:4 Hawkeye, Luna, Astrael, Dorian, Cullen
Gargoyle: Cloudjumper and Toothless
@sushiisaboss75 - yup!
@lilnaugrim - Thank you! Yay, it's a boy!! lol. Yea, I noticed it was a pretty uneven tail when I got him, but it's okay, I love him as is, I think the "flaw" just adds to his quirky little personality!
And Harley (Davidson) says thank you, I think he knows he's a handsome boy, he's got a very smug look as he saunters through his hotel/tank.
It's been two whole weeks with the baby! He's so smart, totally recognizes his food jars, me, we play hide and seek, where I take a q-tip and run it outside the tank, pull it out of his eye site behind a plant and he goes to look for it. Do they make bumper stickers that say "My Betta is smarter than your honor student?"
As for him physically, it almost looks like he's getting a golden sheen to his color...might be the lighting though. Just seems he went from dark, to that really clear, or pearly white color to a slight golden hint. As I keep saying, time will tell! I know, I repeat myself alot.
He's almost a full inch in size! But still absolutely hates when I put the tape measure up to the tank.
And what a lil poop face today, out of 39 pics, two were usable, he was just too excited and wanted to play chase the fingers. He seems to really like to chase pinkys the best.
(New toy!)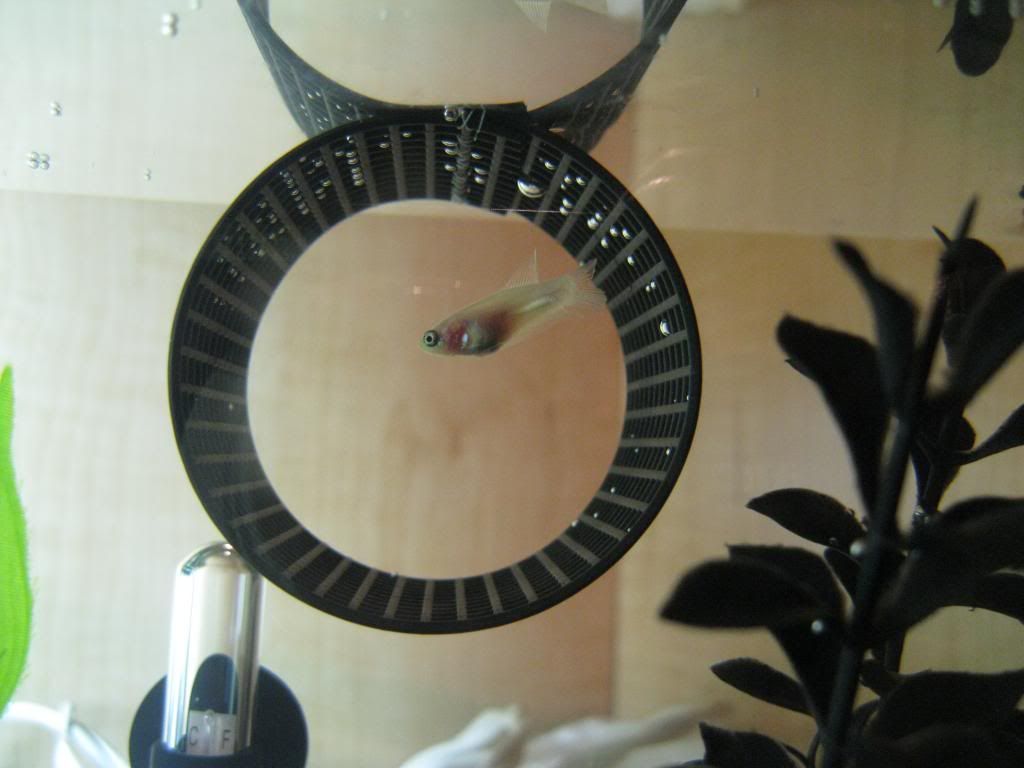 (Body Shot)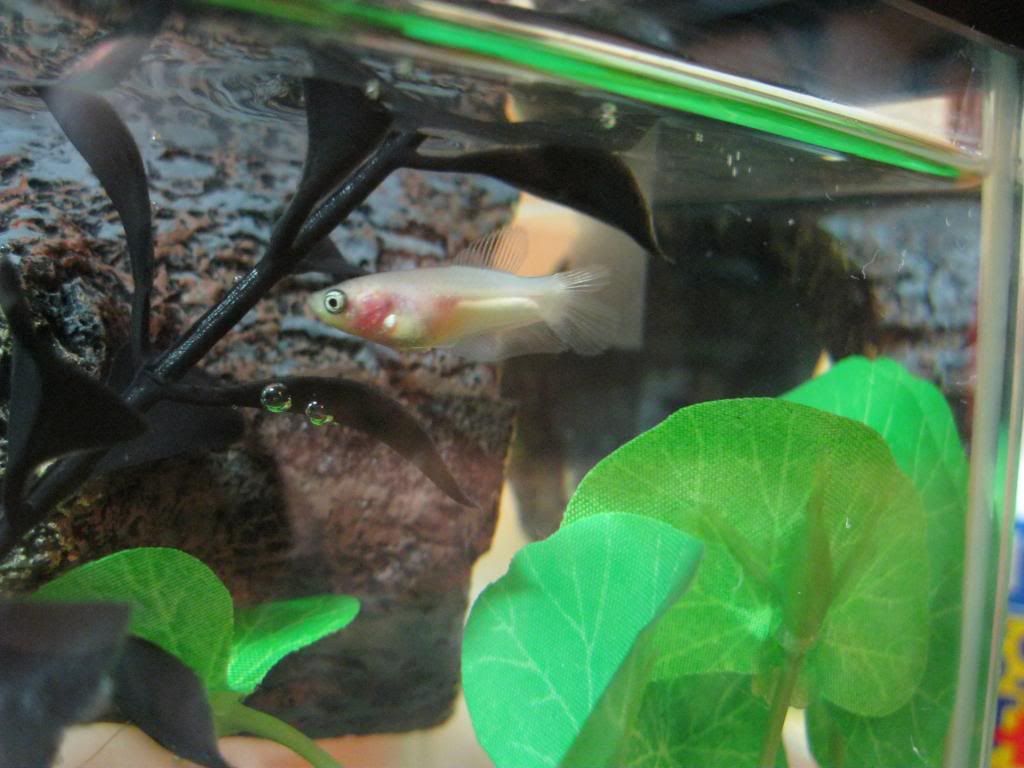 lol! I had named two of my Nerite Snails (which I don't normally name inverts or school fish) Harley and Davidson! haha too funny!
Oh geez yeah, I took 279 pictures today and got maybe 10 good ones XD that's normal with most animals unfortunately
Mystery is growing really well though! Glad to see great improvement!
---
Rembrandt II, Suiché
Leopards: 1:4 Hawkeye, Luna, Astrael, Dorian, Cullen
Gargoyle: Cloudjumper and Toothless