Baby Betta Journal (07/04/13 - Mystery)
---
Hello everyone :)
So I wandered into PetCo today and happened by the betta area...okay, okay, I purposely poked my nose in over there
, and sadly
noticed a lot of the babies and even some adults were dead. I had been thinking of getting a baby, and after about half an hour of kneeling on the floor and searching through all the cups, I saw this one, and instantly I knew he/she was the one. Just couldn't leave him/her to possibly stay there and die in a cup. So home with me he/she came! So very energetic, he/she was bumping into his/her reflection, following my finger and looking at me like "I didn't do it" with those big round eyes. So I set up a small (temporary) 1 gallon tank, heater, few hiding spots and let him/her acclimate for a while before letting him/her loose into his/her new home and boy was he/she off and running! Zooooooom he/she went! Already had two successful feedings today, I crushed up some Hikari betta pellets and he/she went right for the biggest piece first! lol. Anyway, I'm starting this journal so I force myself to steadily update about his/her growth. I'm very excited to watch our journey unfold together <3 Anyone have any guesses on the gender? I'm not good at figuring that out, not one bit. I keep wanting to call him/her a she though.
Here are some pics...quality isn't the greatest, had to use my phone he/she was not fond of the camera lens.
Meet Mystery!
(Preparing for the car ride home - made a little stow-away compartment in my middle console, was terrified he/she would slosh around too much!)
(Whew! We made it!)
(Reflecting)
(Meeting my new big sister! Although I think she was more interested in the bag full of treats.)
(Is it ready yet?!)
(...How about now?)
(WHAT IS THAT?! o_o)
(Home <3 ...for now)
Glad you decided to get one! Sadly, I can't see the pictures! :(
Oh good grief, I totally brain-tooted last night and moved all the pics after posting. That'll teach me to post things half-asleep.
I can't seem to edit the first post, so here goes again. Sorry for the mess!
(Preparing for the car ride home - made a little stow-away compartment in my middle console, was terrified he/she would slosh around too much!)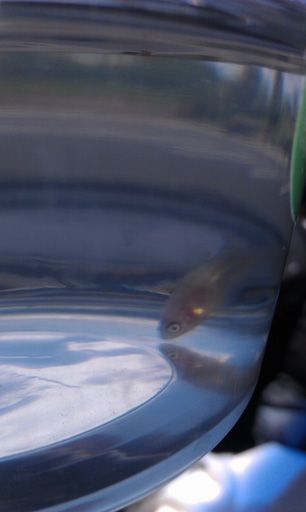 (Whew! We made it!)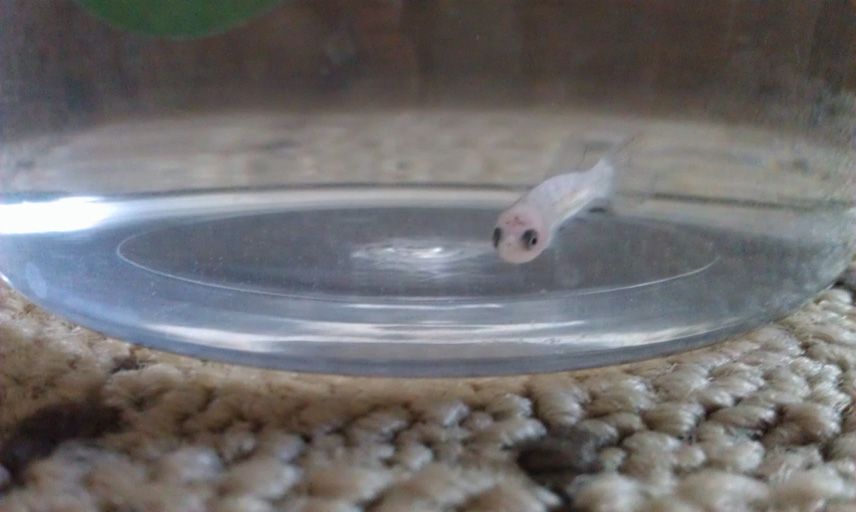 (Reflecting)
(Meeting my new big sister! Although I think she was more interested in the bag full of treats.)
(Is it ready yet?!)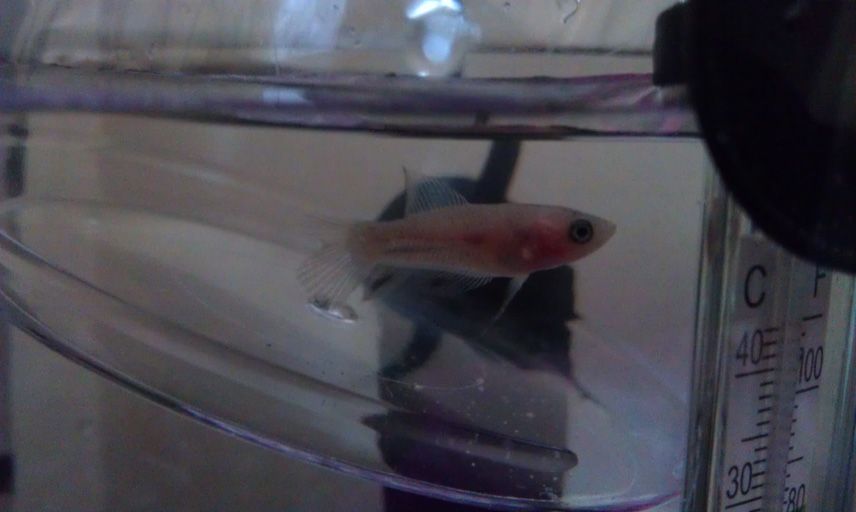 (...how about now?)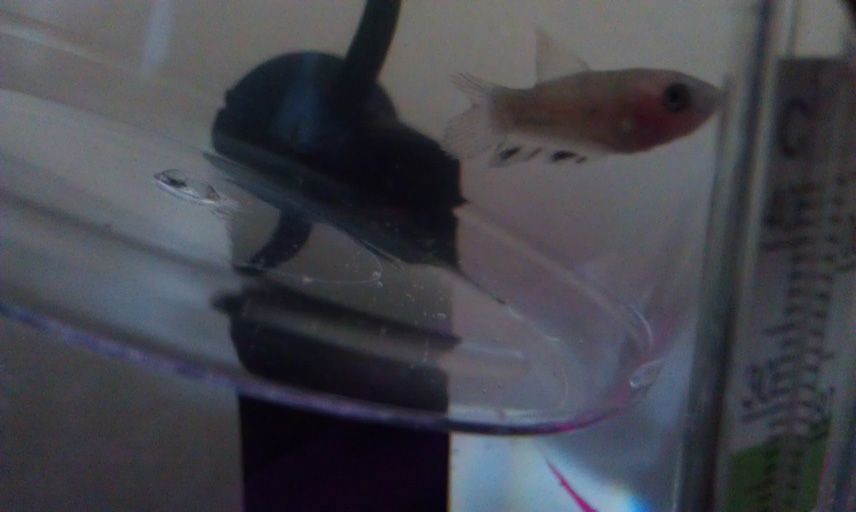 (Waiting...is not going to be my strong trait
)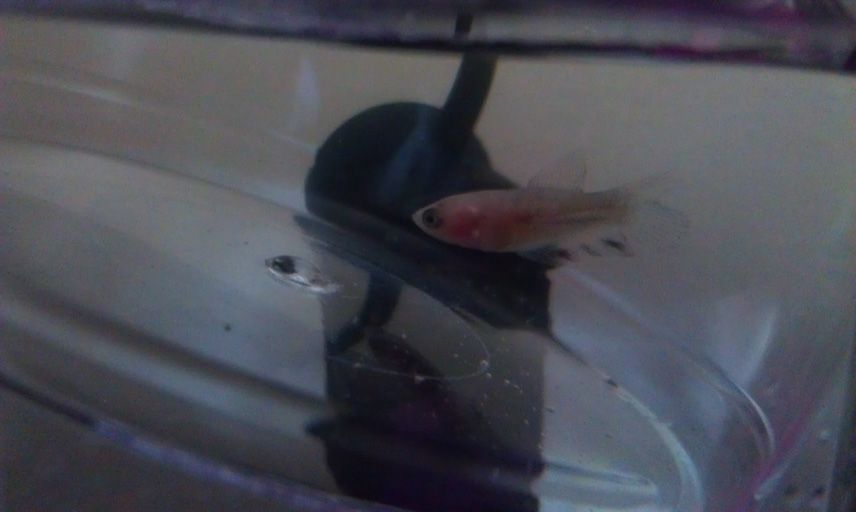 (WHAT IS THAT?! o_o)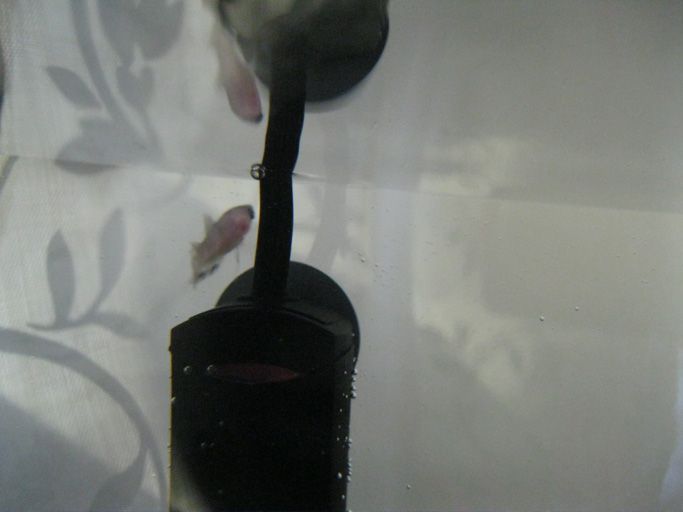 (Home <3 ...for now)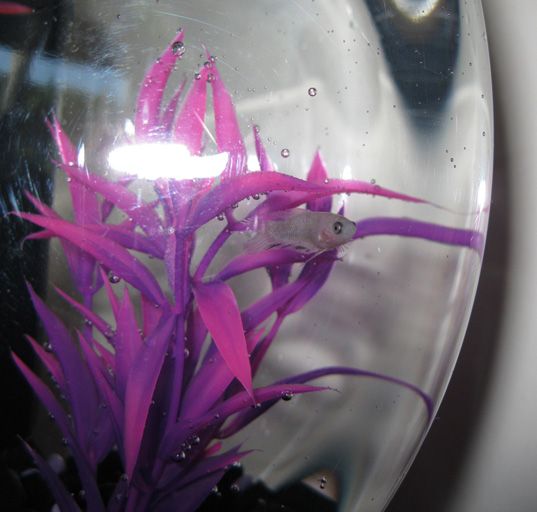 Also, little update for today:
Woke up, he/she was staring at me from my bed side table like "Gosh you sleep too long!" I'd love to put him/her on the computer desk, but I don't want the constant drawer banging to keep sloshing his/her water. Seems to be doing well, still zipping around. Ate a little breakfast, seemed happy about the food. He/she seems most interested in the thermometer. He/she just sits and stares at it then squeezes his/her way between the tank and thermometer before turning back around and doing it again. I assume it's some sorta game...fine by me!
Oh yea! Also saw him/her use the cave last night, that was nifty. Exploration! I do, do the nylon test and try to nail file any rough edges, but eh, I'm going to buy a smoother one maybe today or tomorrow. I need to baby proof the tank a bit better, silk plants, smooth hiding log, etc. But I didn't want him/her to have an empty tank last night. Wanted him/her to have something to hide in if he/she needed to feel safer. We're having a baby frog migration outside today, so if I can help it, I rather not use my car, I feel AWFUL running them over. :( Anyhoo, new pic!
(<3 Thermometer)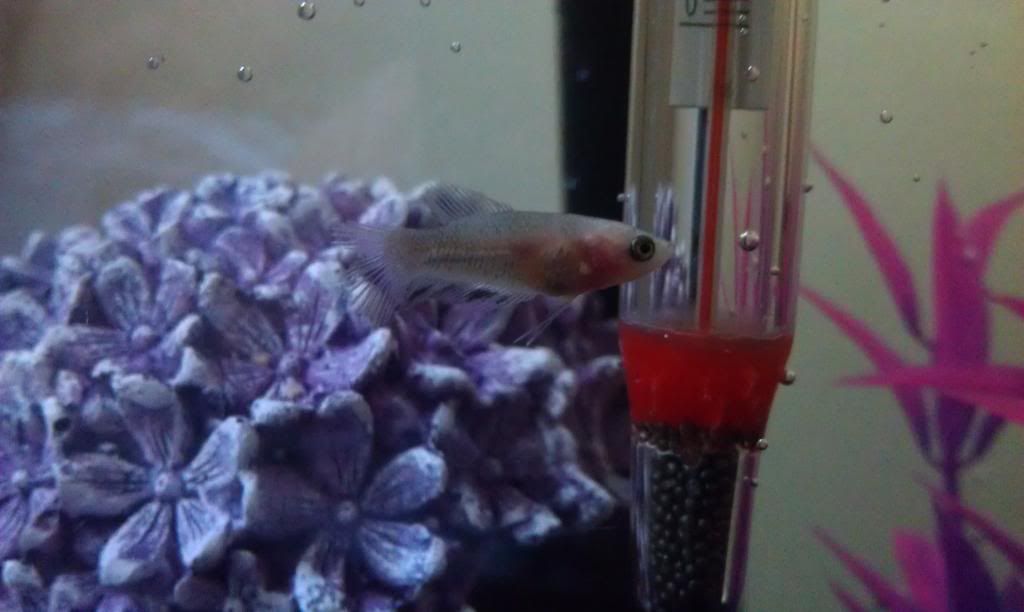 So cute! I'm really happy you have a good, active betta! And I'm happy yours is willing to eat.
He's extremely cute!
@Mar Thank you! :) I'm glad too, except when it comes to picture taking time. So hard to get a good shot as soon as I focus in he/she is already zoomed out of the frame, haha.
As far as the baby goes...I woke up a few times last night and he/she was swimming around. I hope he/she got at least a little sleep. I actually had a dream about betta fish lol. I think I'm spending too much time reading up and creeping around the forums.
He/she seems to like the new silk plant, he/she is swimming in and out from between the stems. I took out the cave ball and the fishy is liking the extra swimming room too. But he/she is still completely in awe with the thermometer, I think he/she thinks the tiny balls on the bottom are food or something. So when I cleaned the tank earlier, I pushed the bottom into the gravel, now he/she is trying to bump the top where he/she sees his/her reflection, lol. Whatever, if it's entertaining for him/her, have at it.
I also caught him/her 'eating' the tiny air bubbles forming on the tank walls, figured that might mean it was time for breakfast! Found 3 of the tiniest little chips I could in the handful of pellets I grabbed. Soooo cute to watch him/her take one in mouth and swim around with it poking out before chowing down on it!
I'm really considering heading over to Petsmart later and buying the 5.5 gallon they have on sale and splitting it for the baby and the other betta I have who is currently in his own 2.5. Not 100% sure what I want to do. One big tank for the two or 2.5 of their own. I kind of like the idea of having separate in case something happens in one tank it doesn't affect the other one. Although one 'big' tank to take care of seems easier? Decisions, decisions!
Anyhoos, onto the pictures!
(Food? Food? IS THIS FOOD?)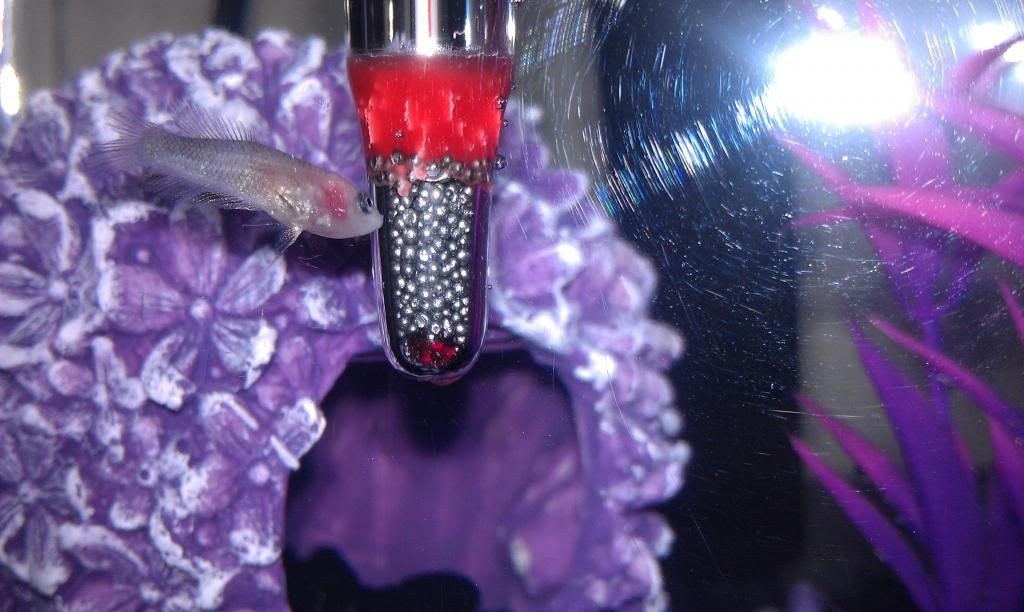 (Just swimming around enjoying the fresh water...does he/she seem like he/she's darkening in color? Maybe it's the lighting)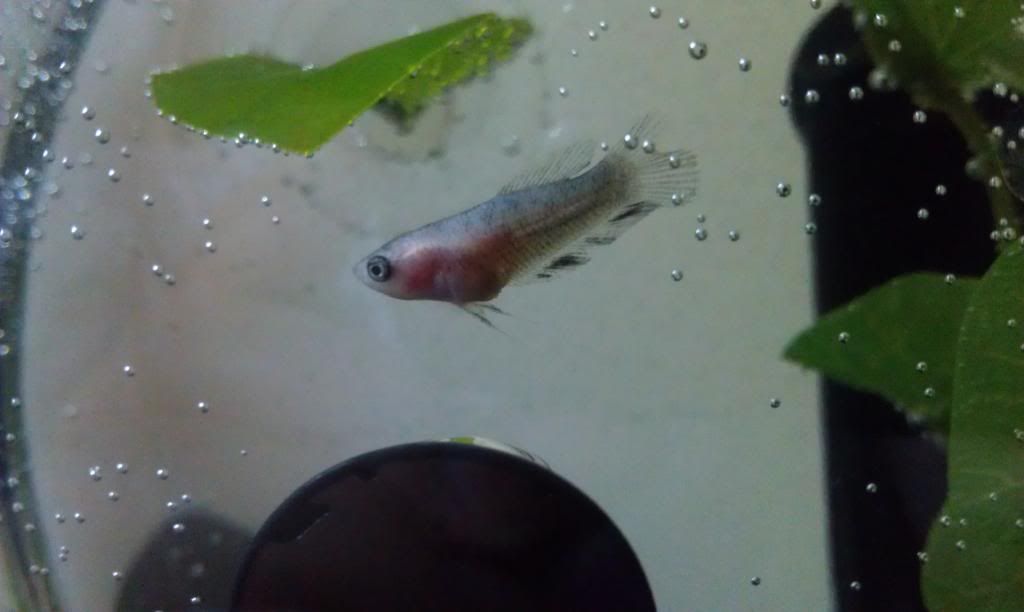 omg so cute, i never have baby bettas in my area (although that seesm like a good thing, less being killed) but i so wish i could just buy on baby betta and raise it...
Aw! So cute! Glad you picked up the cute little one!
---
"Animals are reliable, many full of love, true in their affections, predictable in their actions, grateful and loyal." ~Alfred A. Montapert
My Bettas:
Dude-Male Salamander HMPK & Molly-Female Marble HM
My Goldfish:
Rory
S.I.P. Beta-Blue & Black CT//Dragoon-Dark Copper DSPK//
Merlin-Red VT//Raku-Multi-Colored CT
My Journal
@mybabyjets, Thank you! Hopefully someday you'll be able to find one to raise. :)

@BettaLover1313, Thank you! :)


Well, sadly my 1 year old betta died last night.
Not really sure why, he was swimming around then what seemed like all the sudden dropped to the bottom of his tank on his side and couldn't get back up. I moved him over to a little cup that had just enough water to keep him submersed but where he could move his head and breathe at the top. I saw him trying to swim up even in a bit of water and he couldn't. So I watched him for a little while, walked into the other room to get something, came back and he was still. My poor little Zen.
I tossed the idea of burial or flushing and I just couldn't put a fish into the ground...it just seems...not right to me to bury something aquatic in dirt. Hopefully he's having fun swimming around in little betta heaven.
SIP Zen <3
So I guess nature decided for me, as the baby has now made a new home in the 2.5 gallon. (After I rinsed everything 3-4 times in hot, hot water and let set over night) He/she seems to be taking to it very well. He/she went right into the log, zoomed out and yep, you guessed it went right for the thermometer. Big shock, lol. And now he/she even has two to play with. My only concern is I know the actual heater on the bottom gets pretty warm, I don't want him/her to get burned :/, I may have to make some sort of fence in front of it since he/she keeps going behind it. I swear, there's plants, a nice floaty log, a log on the floor to play with but oh no, we have to play with the thermometer and heaters. lol. Just like my dog, bought her tons of toys and she rather play with an old soda bottle or one of my hair scrunchies.
Oh and I wanted to call the baby Mystery, seeing as I have no clue what he/she will grow up to be, but I keep saying he/she...someone suggested I call him/her Heshi (he-she) to make it easier...I juuuuust might!
(Getting ready for our new home)
(Oh hi there o_o)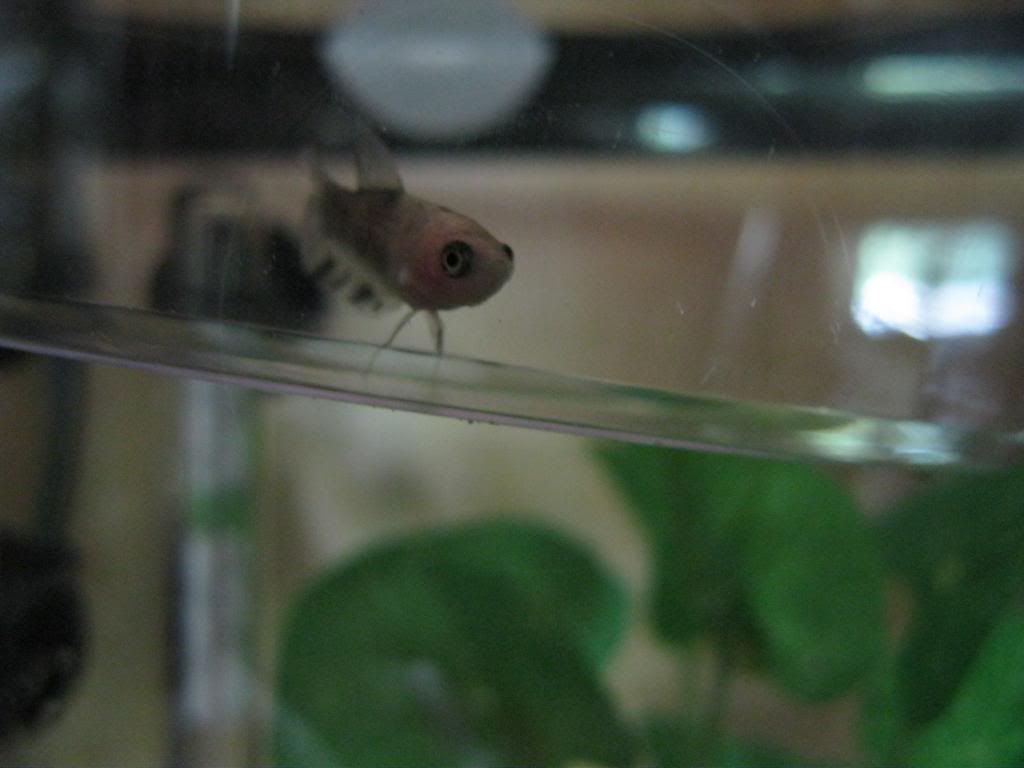 So sorry to hear that you lost Zen :(

Good to hear that the baby is still doing well though.
---
"Animals are reliable, many full of love, true in their affections, predictable in their actions, grateful and loyal." ~Alfred A. Montapert
My Bettas:
Dude-Male Salamander HMPK & Molly-Female Marble HM
My Goldfish:
Rory
S.I.P. Beta-Blue & Black CT//Dragoon-Dark Copper DSPK//
Merlin-Red VT//Raku-Multi-Colored CT
My Journal