LOL OH. Mustard gas, of course /facepalm

Uploading pics right now.
These pics are from my usual camera, so kinda the same quality.
However, I took some pics of him with a different, lower quality camera, but they turned out better than the higher quality one (10MP) ;o My opinion anyway lol.

As soon as I figure out how to upload from the low quality camera (7.2MP) then I'll post them here.
Had a bad camera day today, so the pics kinda suck lol.
Don't really show his true beauty.
You can't really see, but the end of his tail isn't gone, it's clear which is absolutely gorgeous in my opinion. (7.2MP camera will show it all lol)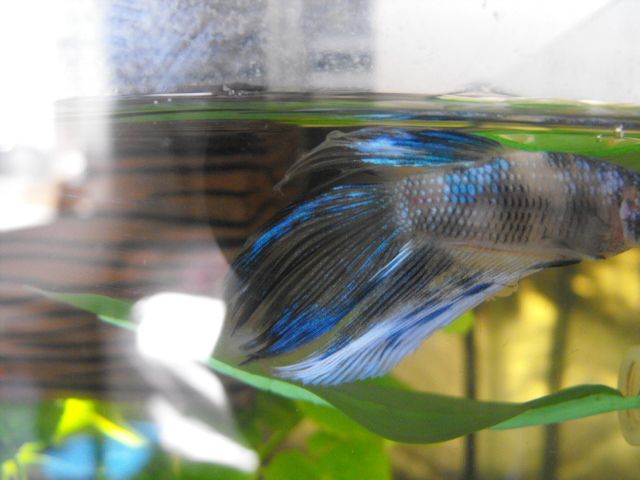 I Adore the top of his head, so cute!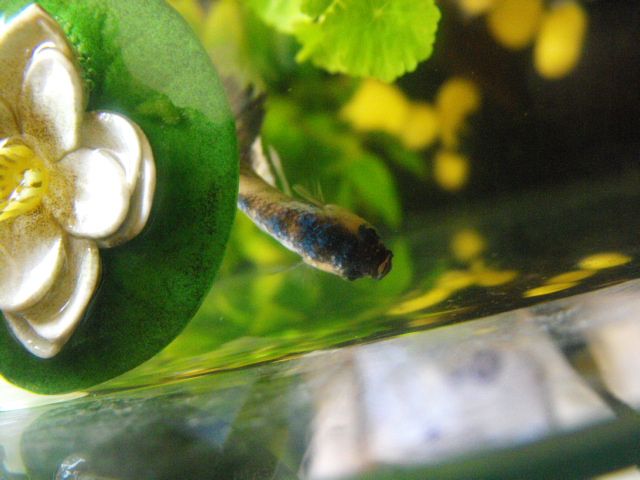 His eyes are really pretty! This is kinda blurry but it shows the colour nicely.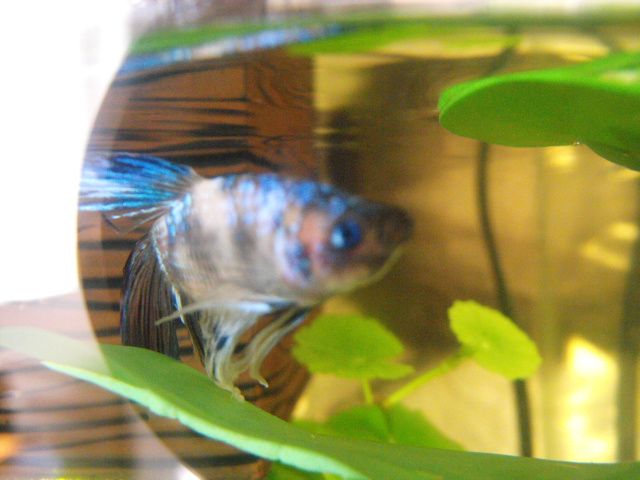 More pics soon!
Marine is so cute! I love his coloring!
---
"Animals are reliable, many full of love, true in their affections, predictable in their actions, grateful and loyal." ~Alfred A. Montapert
My Bettas:
Dude-Male Salamander HMPK & Molly-Female Marble HM
My Goldfish:
Rory
S.I.P. Beta-Blue & Black CT//Dragoon-Dark Copper DSPK//
Merlin-Red VT//Raku-Multi-Colored CT
My Journal
Thank you! The pics on the other camera shows off his colouring much better! Kinda sad I haven't been able to upload them yet, but i'm still working hard :p
OH MY GOD! he's gorgeous!!!! Day-um! lol He definitely beats my Gambit out of the park!
Oh I love his little black face and the splashes of blue! He's so darling! I'm so glad you found him!!!!!
---
Rembrandt II, Suiché
Leopards: 1:4 Hawkeye, Luna, Astrael, Dorian, Cullen
Gargoyle: Cloudjumper and Toothless
Definitely not. Gambit and Marine are on par :p
He is so adorable. When I picked him up, he swam over to me,
opening and closing his little mouth. That was what tipped the scale of getting a VT. I'll post up his story once I get the pictures!
That's so adorable about Marine! I love when then do that...well sort of, that means I have to take them home and I don't have any more space or time to clean the tanks XD lol
---
Rembrandt II, Suiché
Leopards: 1:4 Hawkeye, Luna, Astrael, Dorian, Cullen
Gargoyle: Cloudjumper and Toothless
Yeah lol, it's good that I had a tank up and running for a while, just waiting for a fishy. Lol I really pictured a HM in there or considered ordering a DT, never imagined I'd get another VT. But nope, he just had to be adorable.
He's totally worth it though! Bright colors and unique pattern and all!
I mean, Gambit is nice a bright but he's not very unique, me thinks
I think technically his pattern would be a variation of a wild type which is interesting but definitely not what I had been looking for! What I really wanted in a VT was a beautiful, true MG! Now that's hard to find lol but I am happy with Gambit, he's a little sass-ball too! haha
---
Rembrandt II, Suiché
Leopards: 1:4 Hawkeye, Luna, Astrael, Dorian, Cullen
Gargoyle: Cloudjumper and Toothless
? :o
That's gonna be quite a hard search, if you ever find one, let us know! If I ever find one, I probably can't buy it, but I'll take pics and show XD
Also, do you think Marine is gonna marble and change colours? I really hope not :( What if he just becomes one solid boring colour? Well, at least we'll always have his eyes, they're gorgeous