Any news? I think you should have gotten the new boys in by now... Hoping to hear some good news.
We should find out the ship date very soon. The first spawn attempt was cut short by my having to leave for a couple of days and couldn't leave Lambchop in there without supervision. Good practice for them. The pair were reconditioned and tonight is another try.
Cookie continues to eat and grow at an amazing rate. She will be the biggest giant girl for sure. Bullwinkle is hyper active which is a good thing I guess. He quickly built a decent bubblenest so hoping for some eggs.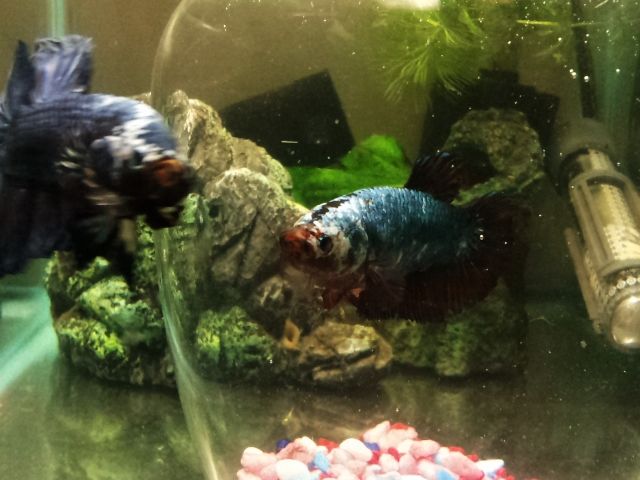 It looks like this spawn attempt was a success! We have wigglers
Awesome! Congratulations!
---
"Animals are reliable, many full of love, true in their affections, predictable in their actions, grateful and loyal." ~Alfred A. Montapert
My Bettas:
Dude-Male Salamander HMPK & Molly-Female Marble HM
My Goldfish:
Rory
S.I.P. Beta-Blue & Black CT//Dragoon-Dark Copper DSPK//
Merlin-Red VT//Raku-Multi-Colored CT
My Journal
Thanks! I am very excited, its been a bumpy road to get here.
Free swimmers now! It looks like quite a few fry too.
I forgot how tiny new born fry are and for some reason thought giant fry would be larger than normal. They are not from what I can tell.
Woohoo! Can't wait to see how they develop!
Me too!!! I may just buy some
!
---
5 gallon
One betta
10 gallon
Two bettas, divided
Three mystery snails
20 gallon
Seven female bettas
Four oto cats
Five juvenile female guppies
One goldfish (temporary)
29 gallon
One dwarf gourami
Six tiger barbs

27 fish....