Quote:
I love the name Cruella Deville for girl 1. 101 Dalmatians!
Cruella and Delilah I can work with that! My son wanted to call her Spot, like a dog..so no way kid.
Lazarus in comparison with my Kyocera Hydro cell phone. It doesn't show his full size, because he kept turning towards it to figure out what the heck it was lol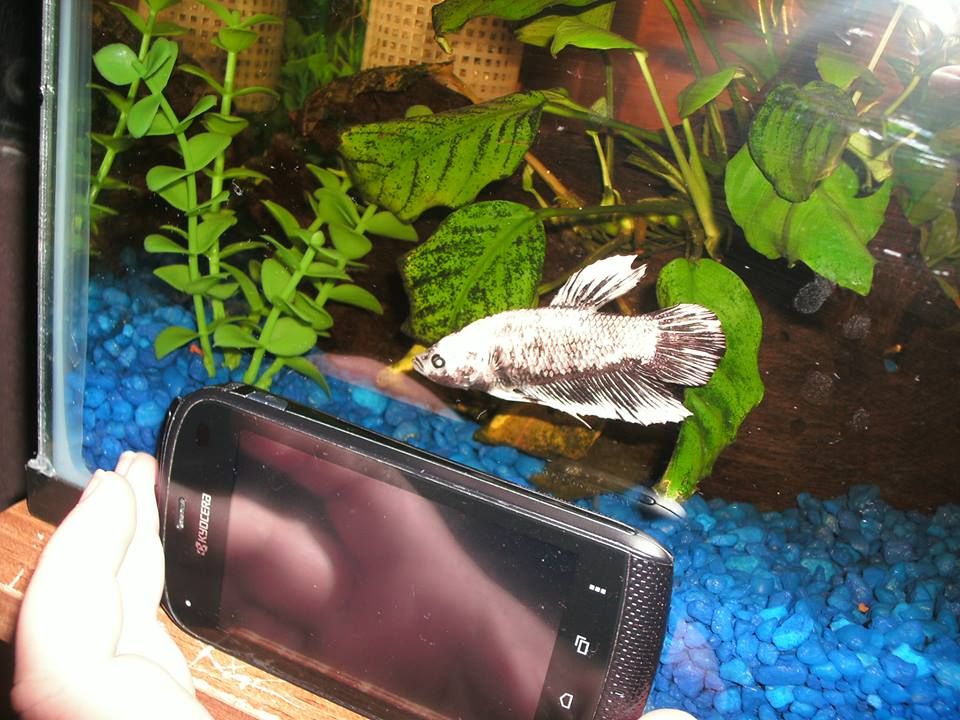 I'm feeding this monster probably 4 times a day, different things throughout the day, like rehydrated mysis or krill, in addition to the NLS pellets.
Lol elvis is very active and very smart, he seems to know his name, I can be sitting across the room look over at his tank and not see him, he will be in the back hiding in his plants or under his turtle basking platform, and I can call out "elvis" and he will come to the front of the tank and look right at me. He is a very fun fish I keep changing room mates on him I have had shrimp and baby fish in with him and he doesn't mind them at all, right now he has a mickey mouse platy adult female in with him and a mixed platy boy, he will chase them around a bit here and there, the girl platy doesn't mind she does her mating display to him all the time.As far as feeding him I feed him NLS pellets 2x daily about 12 or so at a time plus I am sure he gets some of the flakes for the platys and then once or twice a week frozen bloodworms and brine shrimp. here is elvis being himself
https://www.youtube.com/watch?v=xqsYRVN04dY
Elvis should come give Lazzy some pointers. He has a very baby attitude AND attention span... and he pouts... a lot
Lazarus is so unique looking I havnt seen a giant like him before. Moose is oblivious to other fish in his tank unless its a female betta and seems very smart and into whatever is going on outside the tank. The Panda corys love him cuz he is such a messy eater.

Stone and Skye thanks for posting what your feeding your feeding them its good to compare notes on these guys because info is much more limited on their care. Moose had a growth spurt after moving into the 33g but seems to have slowed down lately. Both new females ate well tonight and looking better with no signs of stress or ammonia issues yay.
Lazarus attacks everything that goes into his tank. He took out a large trapdoor in just a few days.

And I wish I could catch the way his scales shimmer green, he's a very pretty boy.
Update. The giant girls are doing well. They are slowly adjusting to pellets which the green girl is not crazy about at all much like Moose was when he arrived. Tonight was bloodworm night and after some hesitation both ate about 6 of them. This girl is blue near the top and green when further away so I understand what you mean Skyewillow.
The jolly green giant.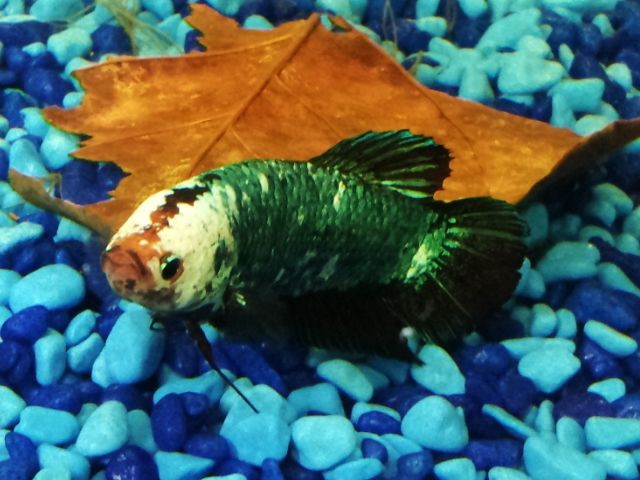 Banned
Join Date: Jul 2008
Location: Central Texas
Posts: 27,607
He's huge! Lol and very pretty.
So today was terrible. I found my giant who was in perfect health last night in awful shape today. He is bloated, grey belly, super lethargic and slowly sinks on his side at the bottom. We have started Epson salt and kanaplex and he is in a 10g hospital tank with ial. Ive had other males die like this the last few weeks and trying to get to the root cause, any advise appreciated. Im just sick about this! The 1st pick is this afternoon laying on his side at bottom.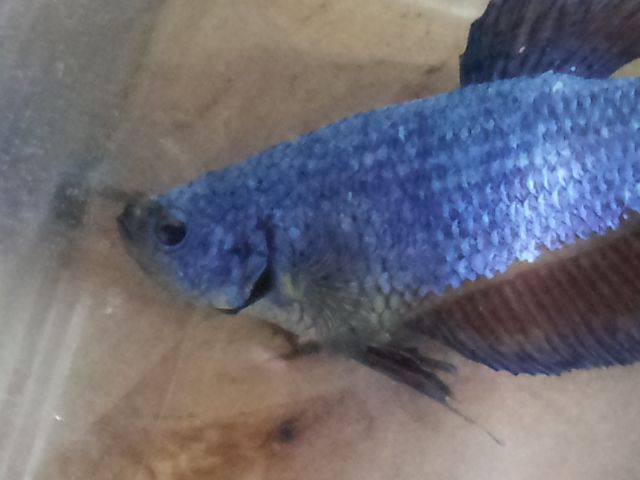 This is tonight at least he is no worse.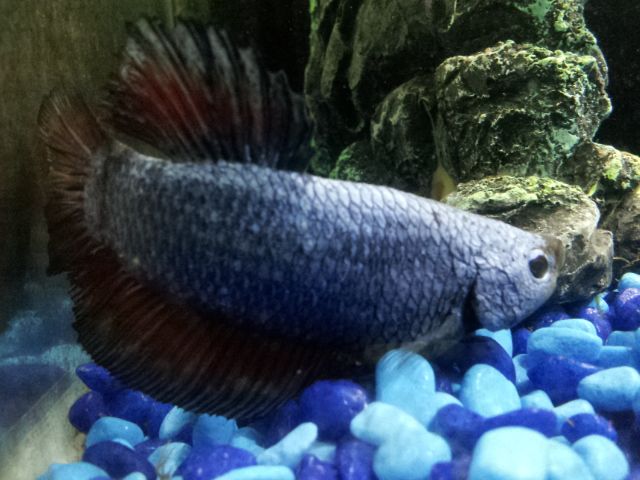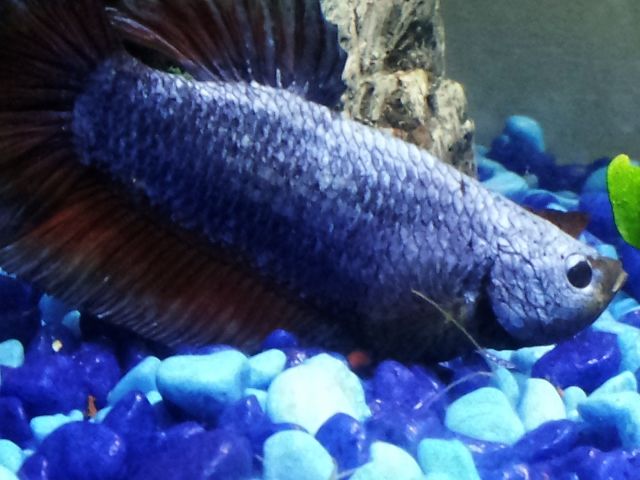 [/url]
To kill time and try to feel better while keeping an eye on Moose I reworked the sorority tank and added a bamboo in a vase to the tank.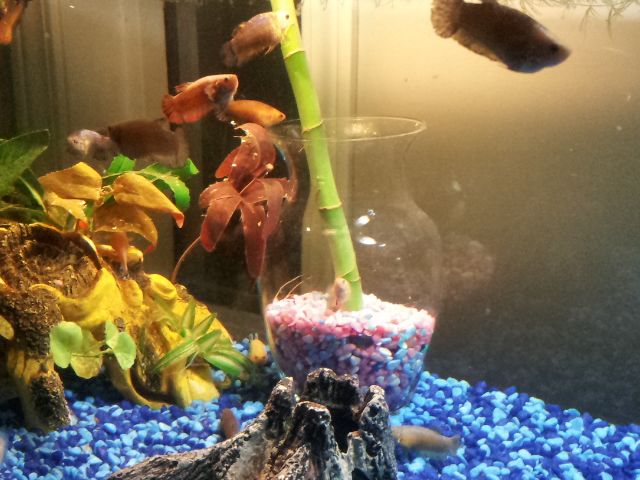 Banned
Join Date: Jul 2008
Location: Central Texas
Posts: 27,607
I'm sorry about Moose. I hope you're able to figure out what's causing your fish to die.