image.jpg
Not a great photo, but it shows his size... That thermometer isn't small(CJ, you should measure it!).
---
Last edited by MattsBettas; 08-22-2013 at

04:18 PM

.
Today Moose looks worse. Not as bad as 2 days ago but he is not well. The grey streak on his body and belly have turned black. Anyone know what that's about? I will try to post a pic soon.
Aww shoot. I was hoping he would stay healthy... Hopefully he won't get any worse. I honestly have no idea why his belly would turn black, but pictures will help. Have you talked to LittleBlueFishlets and Sakura8 yet?
Notice the black streak on his back and belly. That was greyish before and now has gone dark. I really have no clue what is going on. I have pm Sakura to get expert opinion on this.
Member
Join Date: Apr 2012
Posts: 611
Did you see his poo? Is it normal color ? Just want to make sure it not internal parasites?
I hope he will recover, he is gorgeous:(
I'm glad you PM'd Sakura. Hopefully, she'll know what's going on....

Some questions which occurred to me as I read through the thread:

1) Did Moose (or his equipment) have any contact with the new girls? He looked great the other day, and this had a very sudden onset. Is it possible that he was somehow exposed to a disease from them? If they were exposed to it early on in life, their immune systems may have developed antibodies to it. But if Moose hadn't been exposed previously, it may be something that could affect him.

2) You said you've had other males with similar symptoms die in the last few weeks.... Is it just males? Were they all Giants? And is there any chance there was cross-contamination via water or equipment from their tanks? Did they die in quick succession? What was the lag time (time intervals) when each developed symptoms? Did they get sick at the same time? Or did each occur several days apart, etc? Can you determine any type of timing pattern?

3) From what I'm reading, it sounds like he was OK until Tues 8/20. Then he suddenly developed a gray belly, lethargy, and lay on his side on the bottom. (In the photo, it also looks like there could be slight bloating.) I don't know anything about Giants or their anatomy, but could they be prone to some kind of food/feeding issues? (I'm not thinking this is the cause really, but I'll ask about it, just in case.)

4) The Thurs 8/22 photos were WAY better than those from the previous day. So, at that time, the Kanaplex/Epsom salt (2 tsp/gal) definitely seemed to be helping.

5) You said that today, the gray streaks on his back/belly turned black. Was he lying on that side? If so, could it the pressure from lying down caused bruising? (Marine mammals who are beached will develop dark regions where their bodies are lying on the sand. If they stay beached for long, it starts to cause internal damage, due to their massive weight. A betta probably wouldn't have this sort of damage, but I wonder if there could still be bruising since they don't normally lie on their sides.)

6) How is his behavior today? In today's photo, it looks like his color is much better than it was the other day - is this the case?

7) So he's on the 2nd round of Kanaplex right now? And you're still using 2 tsp/gal Epsom salt? When was the last time he pooped? Was it normal-looking?

Mmmpphhfff.... I'm out of questions.... and ideas.... Kanaplex and Epsom salt still sound like the way to go, though. Kanaplex is one of the few antibiotics that can treat both external and internal issues. And the Epsom salt should help, as well. But I'm concerned because if you've had other fish with similar symptoms, then it could be something contagious, and it seems to have a very sudden onset.

I'll keeping thinking about this. Hopefully, Sakura will have something definitive....
---
Last edited by LittleBlueFishlets; 08-23-2013 at

04:40 PM

.
I just want to thank you all for the help diagnosing this problem. I don't think Sakura would mind me posting her advise so here is what she said.

Oh my goodness, when I saw the first pic I thought he was a goner. But it seems he's bounced back, yay! Because of this, it most likely isn't the graphite disease although I wouldn't rule out a strain of it. Only way to know for sure is lab testing. Another possibility is the beginnings of columnaris.

Because the color came back, it looks like stress was the cause of his color loss and it was not the result of necrotic tissue or tissue being eaten by bacteria and dying. The Kanaplex appears to be having a good effect so I would suggest continuing with it so he's had a total of 6 doses. If he doesn't need the epsom salt, you can stop using that any time to avoid the possibility of dehydration (yeah, I know, sounds weird for a fish in water but it IS a laxative/diuretic, after all). If he'll eat, feed him. He needs all the strength he can get.

He sure is a very handsome, stunning guy and I'm glad he is fighting whatever he has.
So Im pretty sure the only way to know exactly what this is would be a lab. The grey areas that turned black leads me to believe it is possibly graphite but not sure. Moose is not good today and spending too much time struggling to breath and looks quite awful. I am almost sure he wont make it but what a fighter he is so I wont stop trying. Just did rd 3 of Kanaplex. So far no signs off poop since he moved into the hospital tank. Next post I will try to answer littlebluefishlets questions. This is 2 pics from 20 min ago. 1st on his side then after he struggled to surface to get air. As you can see he is very very sick.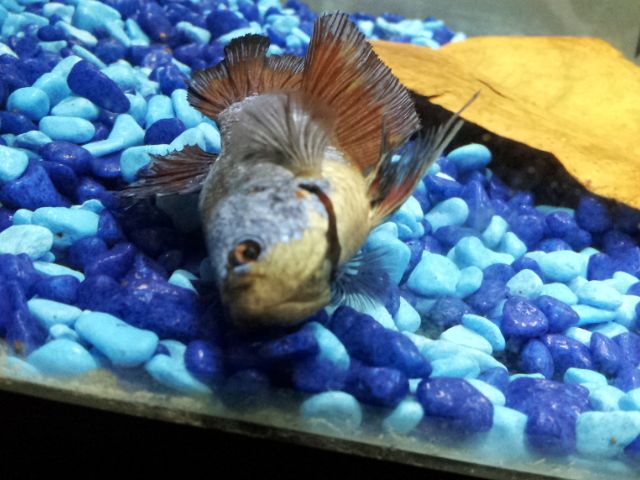 The "graphite disease" (mycobacteria) would probably show on the fins first and move quite a bit faster... That's not to say it couldn't be a different strain though. Keep up kanaplex and Epsom salts. If he isn't swimming around you could put him in a breeding net to make it easier for him to surface.

If he dies, have you considered doing a necropsy to check for any granulomas?

Still really hoping he makes it.