Banned
Join Date: Jul 2008
Location: Central Texas
Posts: 27,607
Don't worry about it. Lol This is a busy time of year for a lot of people.
You're bettas are looking wonderful!
---
20g NPT sorority-
Clarissa/CT, Ellianya/CT, Tessa/CT, Derpy Fins/CT & 5 Olive nerites (all named Gary)
Swim In Peace
- Asteroth, Teressa, Apple Bloom
I finally got some pictures of the fishies! I couldn't find my camera so I had to use my phone - sorry for the poor quality :) these are the best I could do! And Pascal who is normally a natural model, was having none of it today, so I just left him be :)
Gilligan!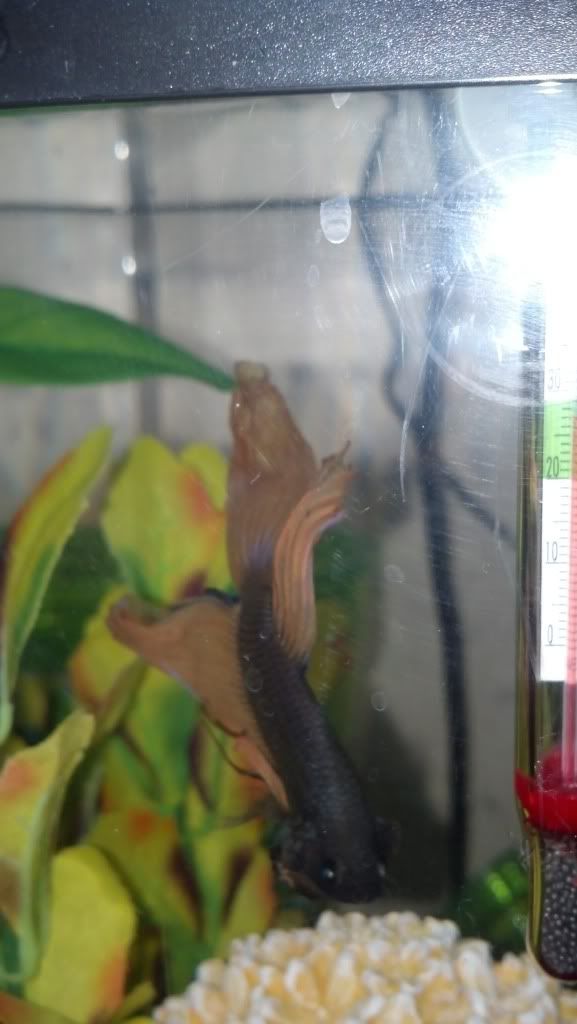 Lady Icarus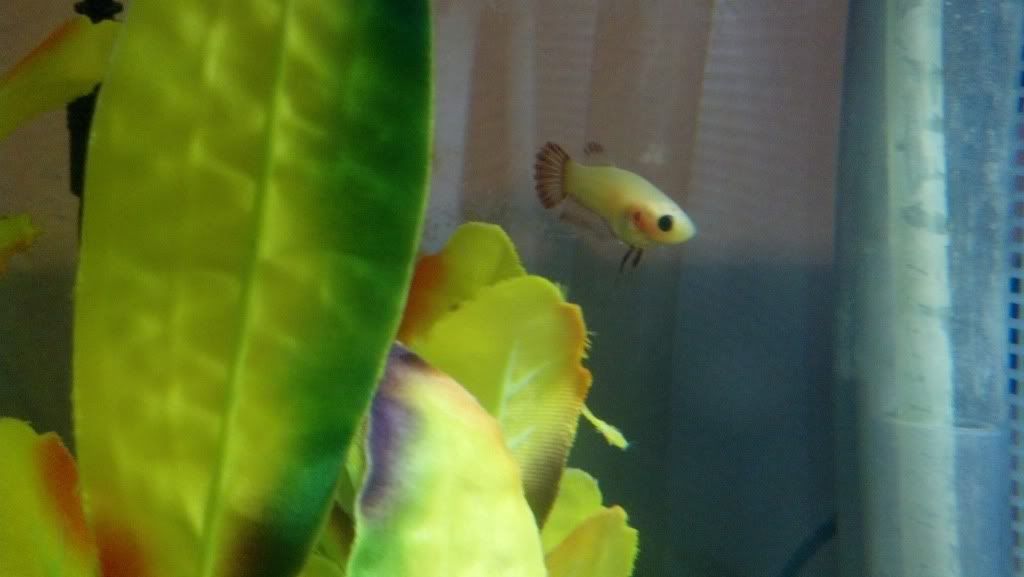 Darryl - this is his favorite place to sleep lol I'm sorry for the calcium ring blocking part of your view of him lol he wouldn't budge.
Sir Alaric :)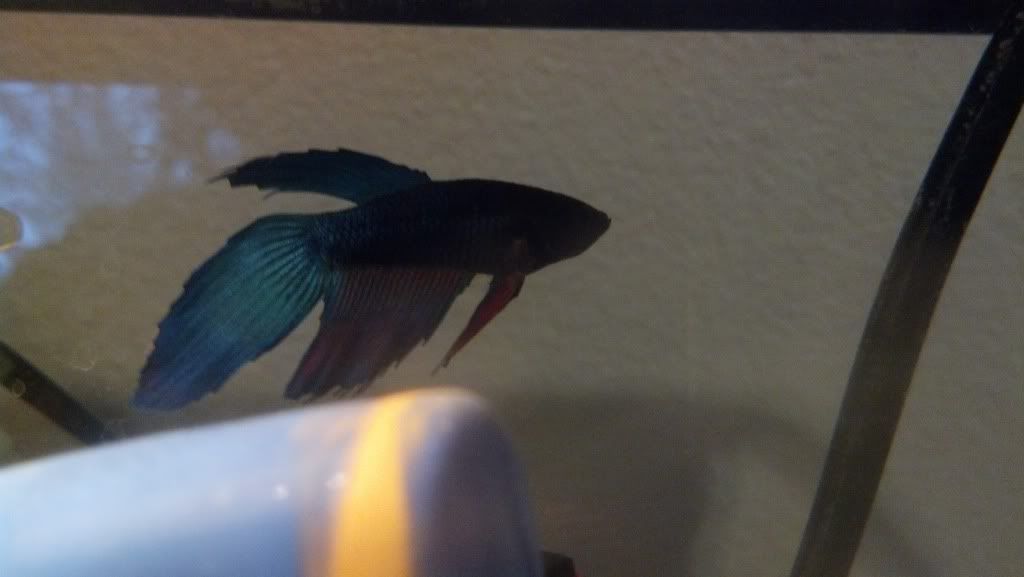 Stinson - he wanted a close up haha
And the one you've all been waiting for, Yoshi!
A great shot of his big beautiful tail :)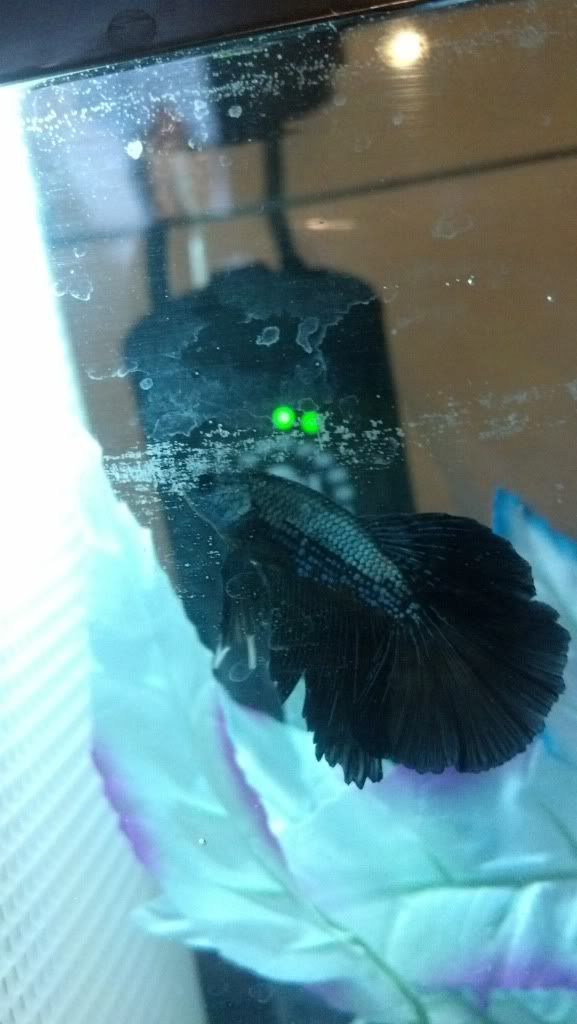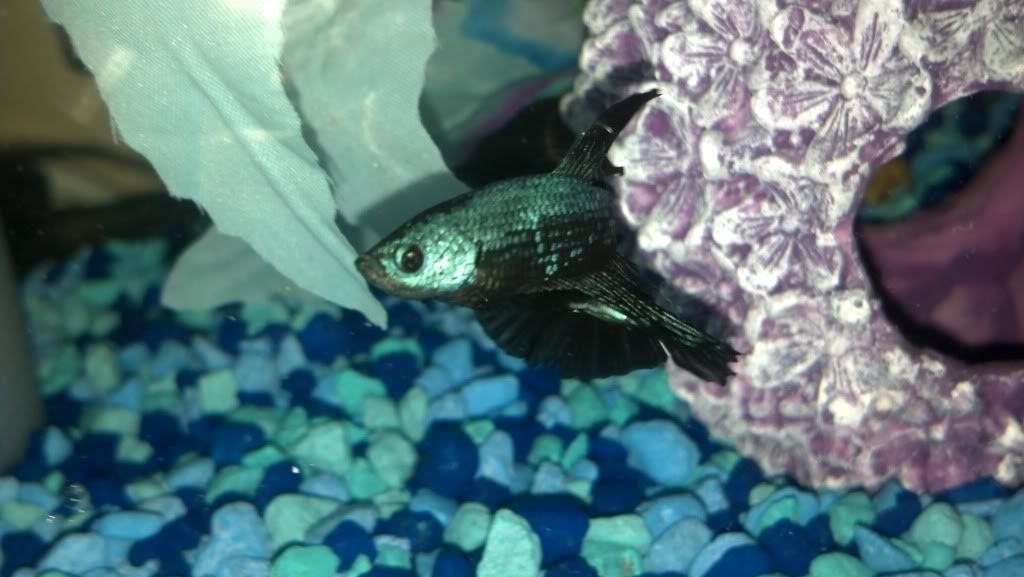 Tada! And those are my fishies as of today :) If Pascal decides to cooperate later I'll post a picture of just him.
---
--Tiffany
Proud fish mom to:
Flame -
veil tail,
Nimbus
- veil tail, and
NoName
- crown tail.
And fur mom to my kitten
Smeagol
<3 Check out my journal
HERE
:)
YAY!! Awww they're all so beautiful! I love your little lady. She's so cute!!!
GUYS! Guysguysguysguysguys! I just saw Yoshi flare, and I'm about 98% certain that he's up to half moon status! I saw a full 180° spread, at least from this angle! AH! I'm so excited :D
---
--Tiffany
Proud fish mom to:
Flame -
veil tail,
Nimbus
- veil tail, and
NoName
- crown tail.
And fur mom to my kitten
Smeagol
<3 Check out my journal
HERE
:)
Hey hey guys! I hope you all had a safe, happy, and very Merry Christmas :) I've been here there and everywhere lately so I apologize for the hiatus. The boys and Lady Icarus are doing super well - I'm just incredibly happy with all of them :)
Stinson - He's doing well and loving life again in his 1.75 gal tank. He did NOT like the 5 gallon tank and seems to be thriving in his little home, so there he shall stay :) He's grown quite a bit since I got him in October, and he's my jumper/biter lol Gotta love lil cantankerous fishies!
Pascal - I think his big ol' fins are finally starting to bother him as he's been biting his tail a lot lately. They aren't infected or anything, I just think he's irritated with how big they are. Poor guy :( I also think he's getting a cyst or a tumor on his dorsal fin :/ I'm not sure what it is, but I know it's growing. I hope it stays small and that it doesn't bother him too much. I would hate to lose him!
Alaric - he's become quite the Starvin' Marvin lately, which is good! He needs to grow :) He's pretty active and likes his 2.5 gallon home.
Yoshi - he is doing super well, my mom recently came to visit and he was the first one she noticed haha He's quite the eye catcher :) He's definitely a halfmoon and I'm super excited about that :D After things settle down and Grace gets back to her mom's and school starts up again and everything I'm going to get him into his own 5 gallon tank so he can grow nice and big :)
Lady Icarus is just an adorable little lady :) She's gotten a bit of blue iridescence in between her rays which is kind of fun. I think she's just going to be your typical veil tail female betta :)
Gilligan is doing wonderful too. He's quite happy in his 2 gallon home. I love having him around, he's such a handsome guy!
Darryl is... just Darryl lol I've actually contemplated seeing if there's anyone in my area who would take him off my hands for me. I hate to say it, but I just don't have a bond with him like I do with my other fishies. I'll keep him for now :) But if someone wants a skittish not very personable double tail betta in a gorgeous white/turquoise-y color - let me know! :)
And *trumpet fanfare* I made the trip to the next town over to stop at PetSmart... And a little dude labeled as a dragonscale followed me home :) Luckily I had Grace with me and he was able to ride warmly between her legs on the way home (about a half hour drive) If you recall, Grace is a terrible enabler and was guilt tripping me about taking him home haha So anyway, the little guy is I estimate about 6-7 months old? He's just a bit smaller than Alaric but a bit larger than Yoshi. I had him warming up in Yoshi's side of the tank and they were flaring at each other - and I'm fairly certain he's going to be a halfmoon plakat! He flares just like Alistair did! I've named him Nemo as he has a lucky fin (one pectoral fin is smaller than the other), just like the cartoon does. He won my heart over and even without Grace egging me on, I probably would have brought him home anyway :D Here's his picture! He needs to gain some weight and he's still got a bit of growing to do, but I'm super excited to have him! He's temporarily in a 1 gallon tank until I get Yoshi into his 5 gallon, then he'll take Yoshi's place in the divided tank :)
---
--Tiffany
Proud fish mom to:
Flame -
veil tail,
Nimbus
- veil tail, and
NoName
- crown tail.
And fur mom to my kitten
Smeagol
<3 Check out my journal
HERE
:)
For whatever reason the above post posted twice so... here's a funny picture to keep you entertained :)
---
--Tiffany
Proud fish mom to:
Flame -
veil tail,
Nimbus
- veil tail, and
NoName
- crown tail.
And fur mom to my kitten
Smeagol
<3 Check out my journal
HERE
:)
---
Last edited by TiffanyP; 12-30-2013 at

04:22 PM

. Reason: Double Post :)
Happy New Year!! (6 days late)
We've had some ridiculously cold temperatures today so I stayed indoors and decided to do a photo shoot of the boys and Lady :) I've had Nemo for a week now as well and he's such a little doll! I'm so glad I picked him up! Darryl was the only one who didn't want to cooperate today, but her are pictures of the rest of them!
Here's my Gilly :) I'm thinking now I should have named him Fabio because of his long blond locks ;)
Lady Icarus is still pretty shy when it comes to the camera, she hides from the light, but I managed a decent shot of her face, and an okay shot of her hiding in the back.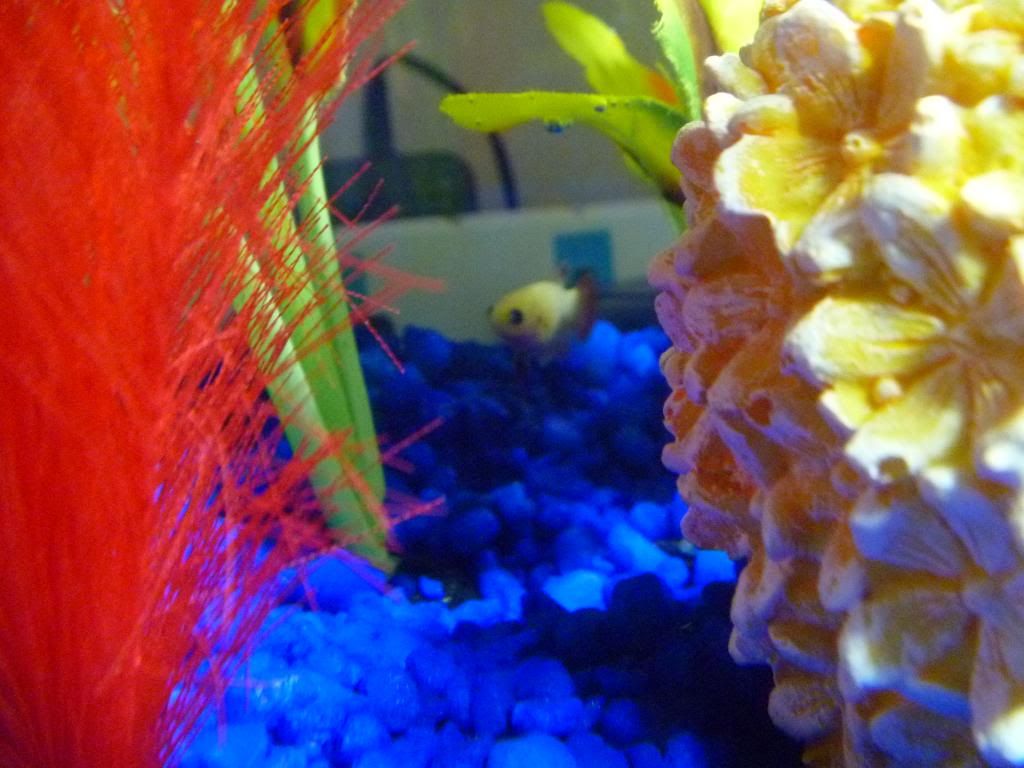 Yoshi is still just a handsome little stud, though he's growing like crazy. I forgot to buy a new filter insert for his 5 gallon tank or I would have switched him over today when I did water changes earlier. Will have to wait a week I suppose :)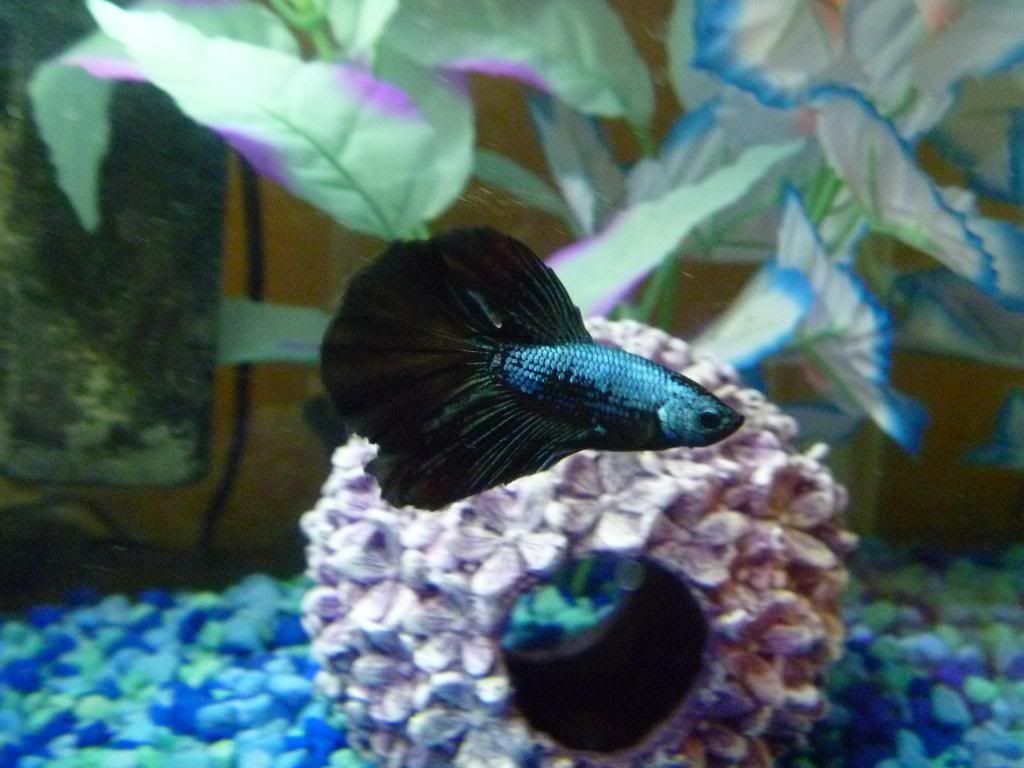 Alaric is going thru another growth spurt, but his insides seem to have decided to work properly :) He's having good healthy poos a few times a week now instead of maybe once a week. He's grown a lot since then too I've noticed - look how long his tail is!
Pascal is doing well - he hasn't bit his tail in a few days, so that's good. But whatever's growing on his dorsal fin is still growing :/ It's completely white now instead of a little colored so I'm not sure what to make of that. I tried to get a good clear shot, but it's a weird angle, so this is the best I could do. (Look at his face! AH! I just love it :D) Any ideas of what it is?
Stinson, my dear boy is so beautiful :) He's probably my most friendly yet cantankerous fish. He's so curious about everything :)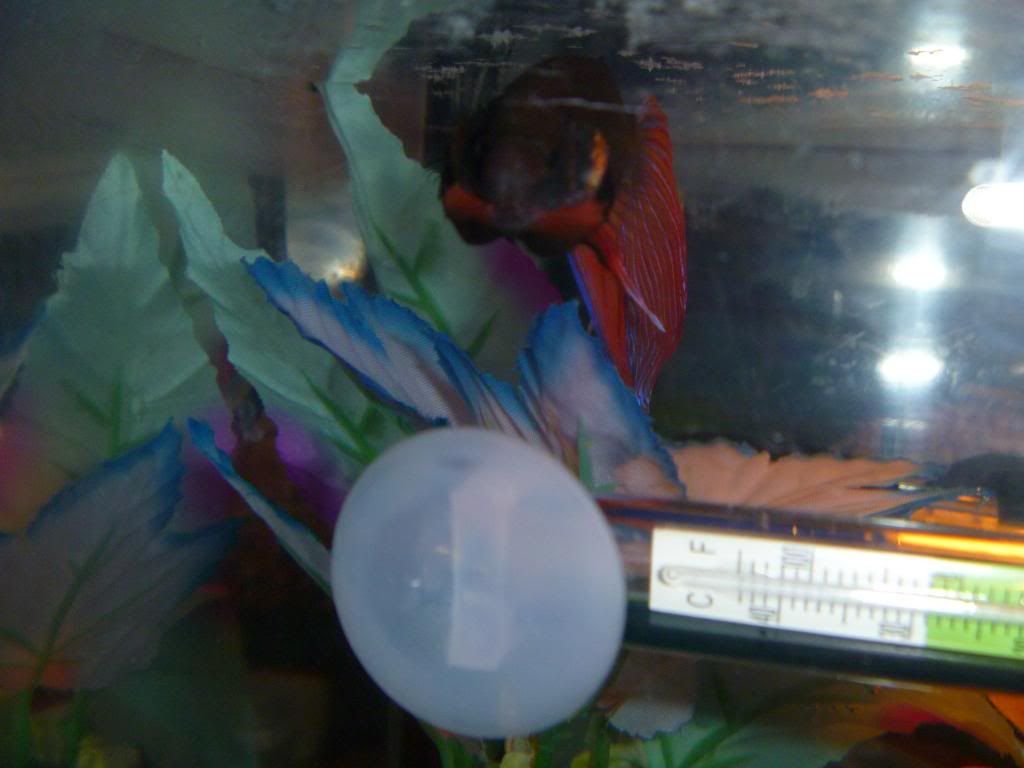 And last, but certainly not least, my Nemo :) He was feeling like being a model today so I got a few good shots!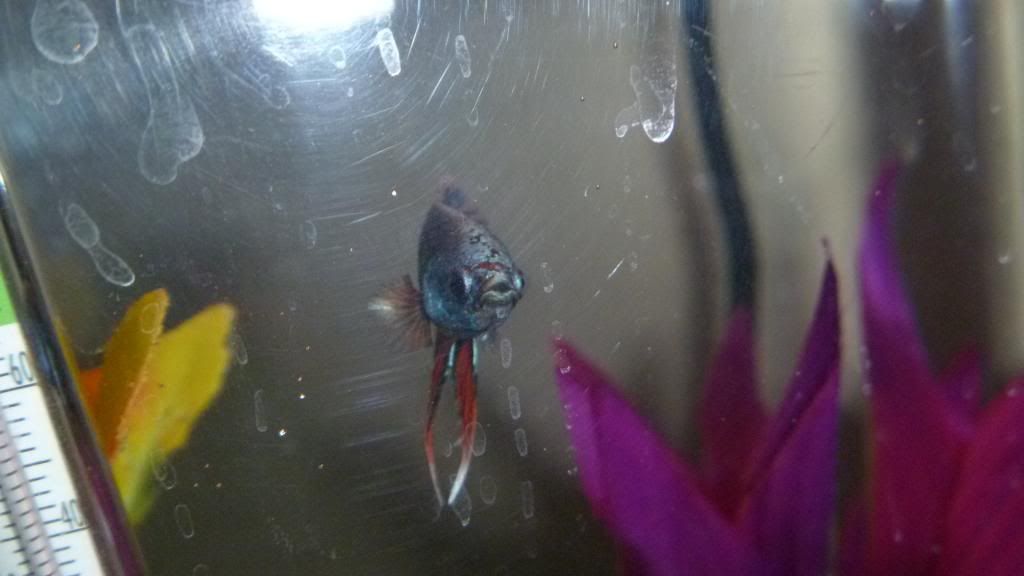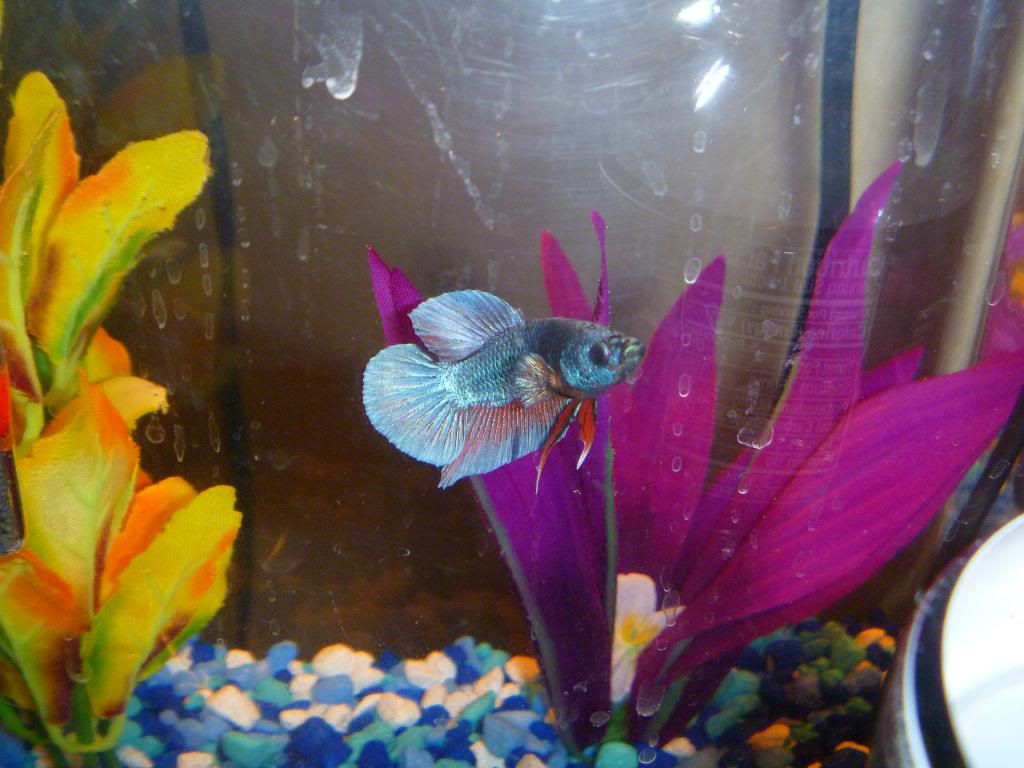 And that's it on my fish family for today :) I hope you all have stayed warm on this most Arctic of days <3
---
--Tiffany
Proud fish mom to:
Flame -
veil tail,
Nimbus
- veil tail, and
NoName
- crown tail.
And fur mom to my kitten
Smeagol
<3 Check out my journal
HERE
:)
Hello hello again!
Things here are pretty quiet - and for that I'm not complaining one bit :) Everyone is healthy and happy and active and growing! I did some musical aquariums yesterday and moved a few fishies around. Gilligan and Nemo now share the split 5 gallon, Lady Icarus has moved to Gilly's old 2 gallon, and Yoshi has his very own 5 gallon! Everyone seems to be pretty happy, though Gilly's going to take a little bit to get used to having a 'roommate' of sorts lol He keeps flaring at the divider, and Nemo couldn't care less :) I only have one more tank upgrade I'd like to do, and it's to get Stinson into either a 2.5 glass aquarium or a 3 gallon kritter keeper. Nothing too big as he freaked out when I put him in a 5 gallon tank, but his little 1.75 gal kritter keeper has about an inch of calcium ring around the top and it's just not aesthetically pleasing :P
I'm really wishing I had some more room right now too - I went to Petco to get a new filter insert for Yoshi's new tank and naturally had to walk by the bettas... there was a GORGEOUS halfmoon plakat, I have no idea how to even begin to describe his color, but I love him and if I had the room I'd absolutely go back and get him haha There was also a gorgeous blue and white delta tail I believe. The startling blue against his white body was just really pretty :)
I took a few new pictures of my minions. This time though, Darryl wasn't cooperating - so no new picture of him :)
Gilly
Lady Icarus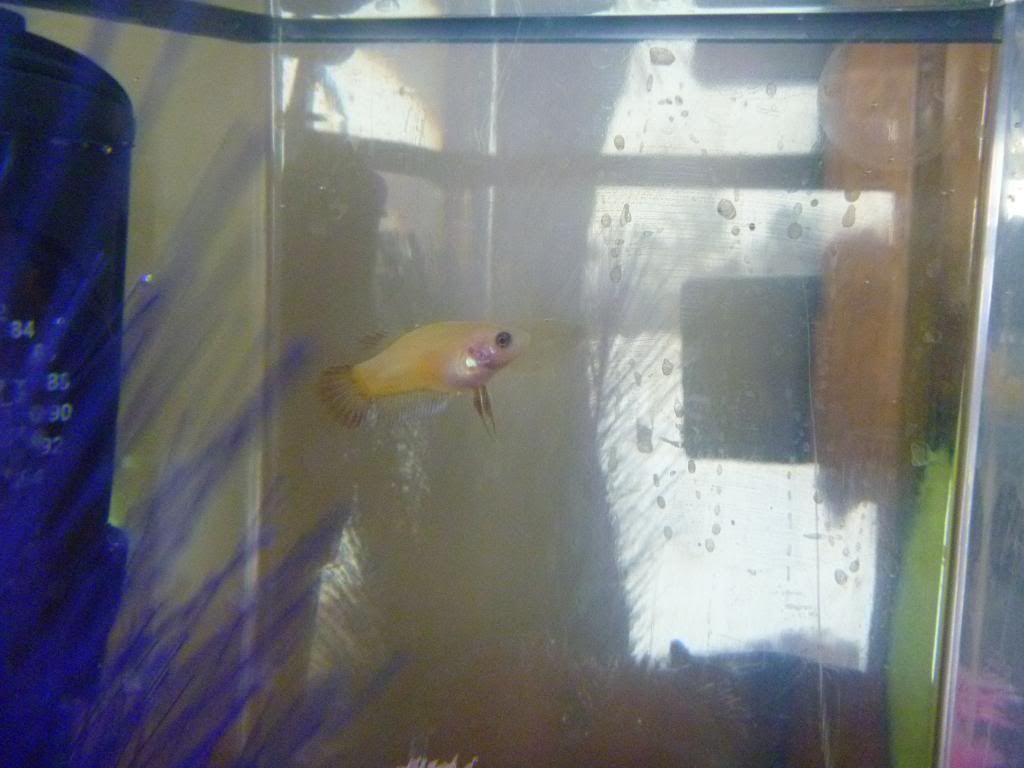 Nemo
Pascal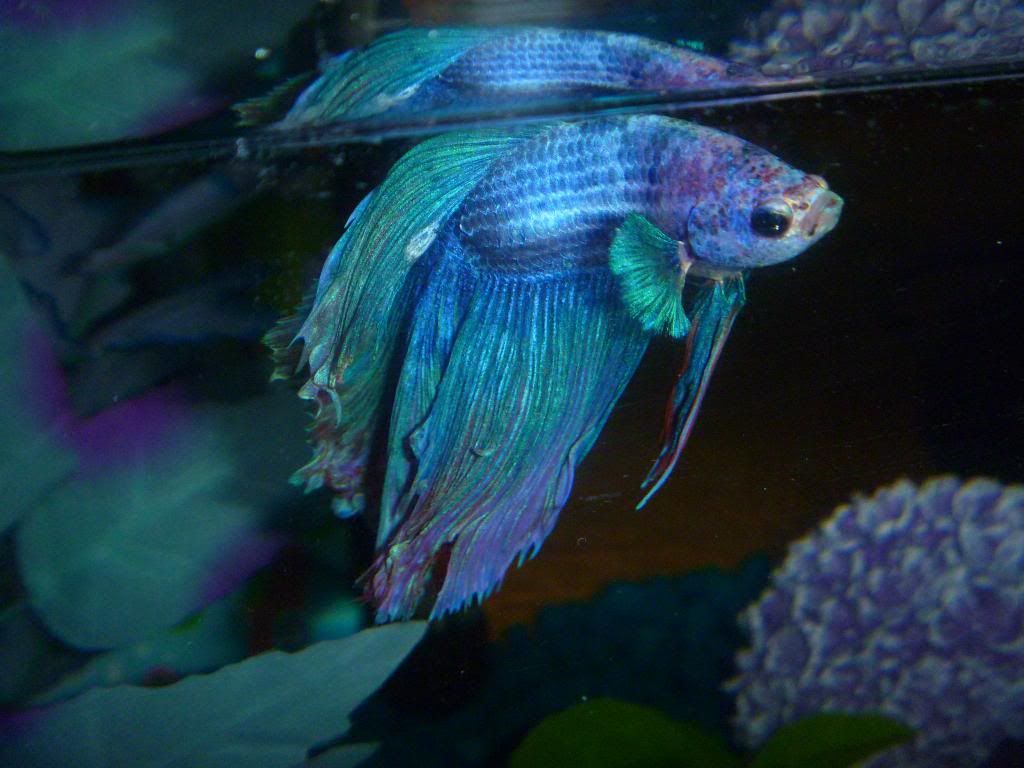 Alaric - I just LOVE his little face <3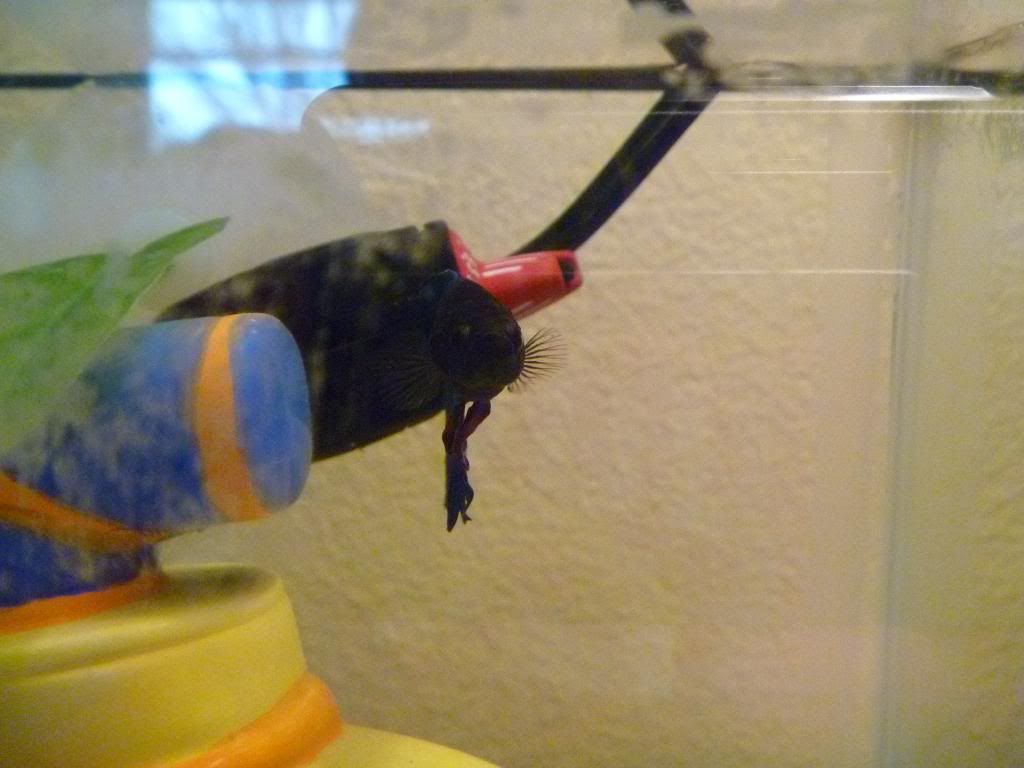 Stinson
Yoshi's new home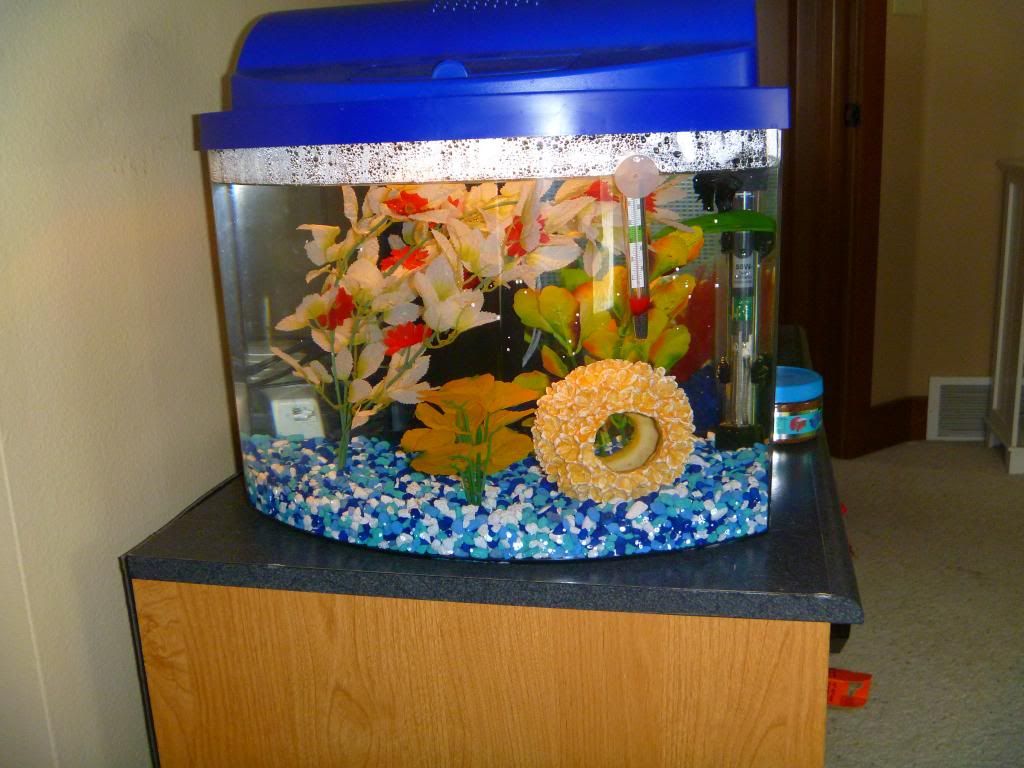 Yoshi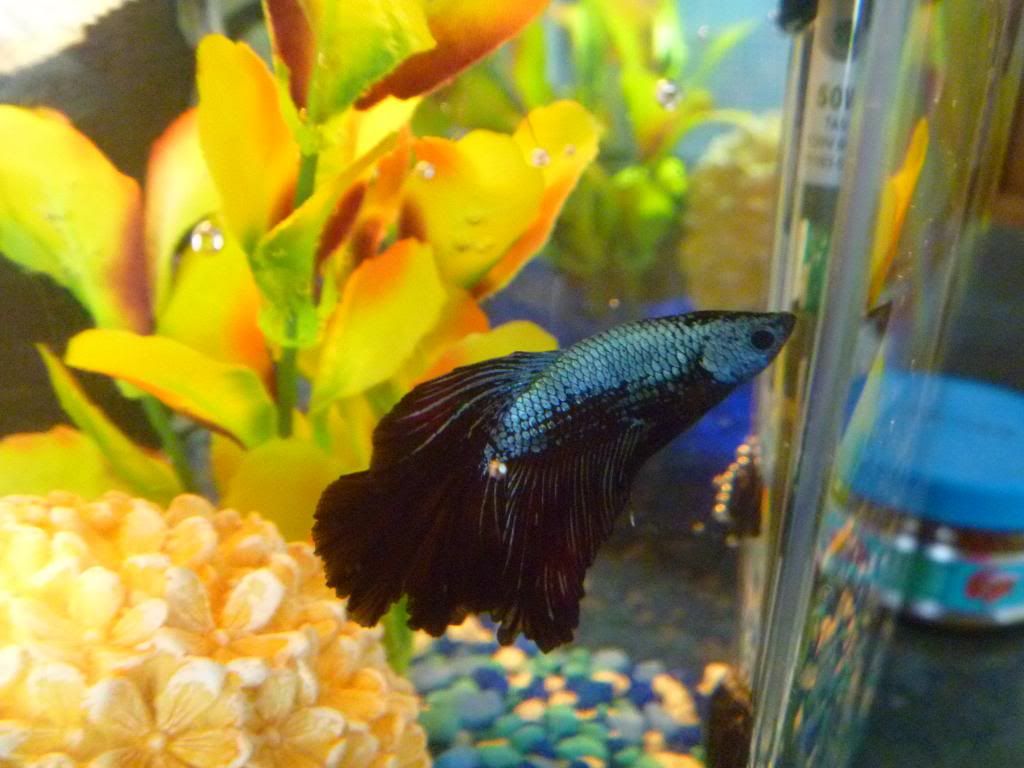 ---
--Tiffany
Proud fish mom to:
Flame -
veil tail,
Nimbus
- veil tail, and
NoName
- crown tail.
And fur mom to my kitten
Smeagol
<3 Check out my journal
HERE
:)
I'm glad I took pictures when I did on Friday. Last night in the night, Stinson passed away :( I noticed he was not quite normal on Saturday as he wasn't swimming around as much, but I figured it was because he needed to take a poo... less than 8 hours later I realized that something was up and it was taking hold fast. I put some Kanaplex in his water and hoped for the best as I really had no idea what was wrong with him. I was going to leave him in the Kanaplex for a full 24 hours, then change his water and do a fresh dose this morning. But unfortunately he didn't make it til this morning :( Whatever it was was literally eating him alive. Poor boy :(

On another note - I'm going to toss out all of the stuff that was in his aquarium because whatever the infection was it was very aggressive and rapid moving, but I'm going to keep the heater as they aren't cheap. What's the best way to sanitize a 25W Hydor Theo heater? Should I make a bleach bath of sorts and let it soak in there a bit and rinse it like 50 million times before I use it again? lol
---
--Tiffany
Proud fish mom to:
Flame -
veil tail,
Nimbus
- veil tail, and
NoName
- crown tail.
And fur mom to my kitten
Smeagol
<3 Check out my journal
HERE
:)