Awww poor sweetie just doesn't like change I guess lol
I'm so glad he's doing better!
I think 'doesn't like change' is a bit of an understatement lol He's my persnickety drama king :)
So... I did a big no-no tonight. And I went to Petco. There was a black double tail betta I saw there on Monday that I was going to go get - I mean, I had a dream about this fish! I even named him. I was fighting it so hard because I already have 4 fish I really don't need a 5th lol But I gave in today and went to go get him... Buuuut he wasn't there. So, of course in looking for him, I had to look through all of the other ones and came across this little GORGEOUS double tail. He's white with like a minty green opalescence/iridescence to him, and some turquoise spots. I looked through all of the bettas three times to be sure that the black one (who I named Diablo lol) wasn't there. I was also texting a friend of mine and he was like "Oh yeah, get another fish, you already have 4 what's one more?" -_- and I have no self control to begin with when it comes to animals, so naturally I got him. Got a 3 gallon critter keeper (which really works out well! perfect size for a betta tank!), a plant, a cave, and a hammock for him and headed back home. I decided to go with a more 'natural' decor for his tank - earthy colored rocks and green plants, one has a purple leaf section in it, so I got a matching purple (purple is manly! haha) cave. So far he seems to be settling in nicely. I've got a 25W adjustable heater in there right now, so it's at 78 right now, though I hope it creeps up a degree or two soon. I also still need to find a name for him... I was thinking Vaughn but I'm not sure. I'll have to get to know his personality a little better :)
In his cup at Petco: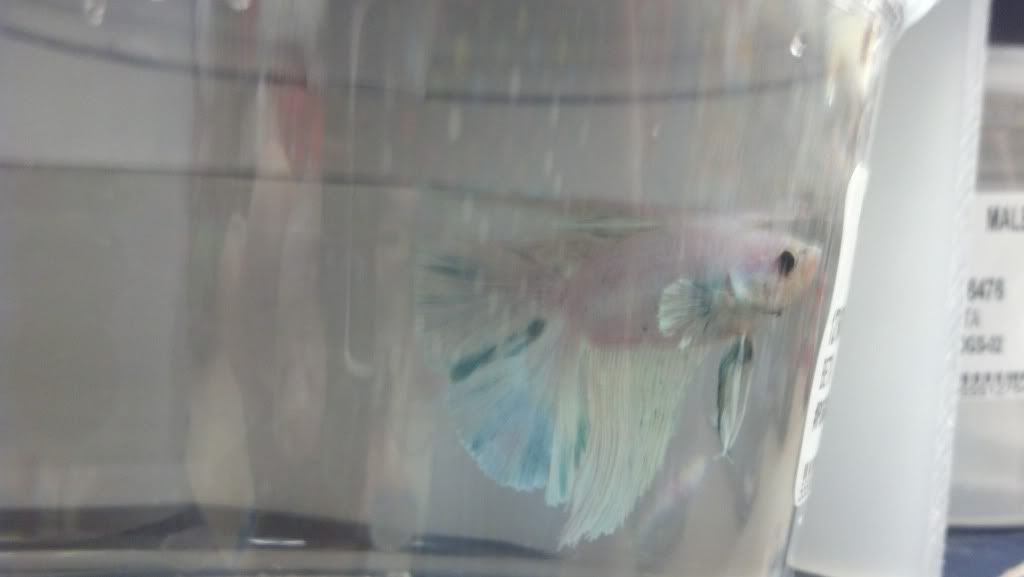 Right after I released the Kraken!: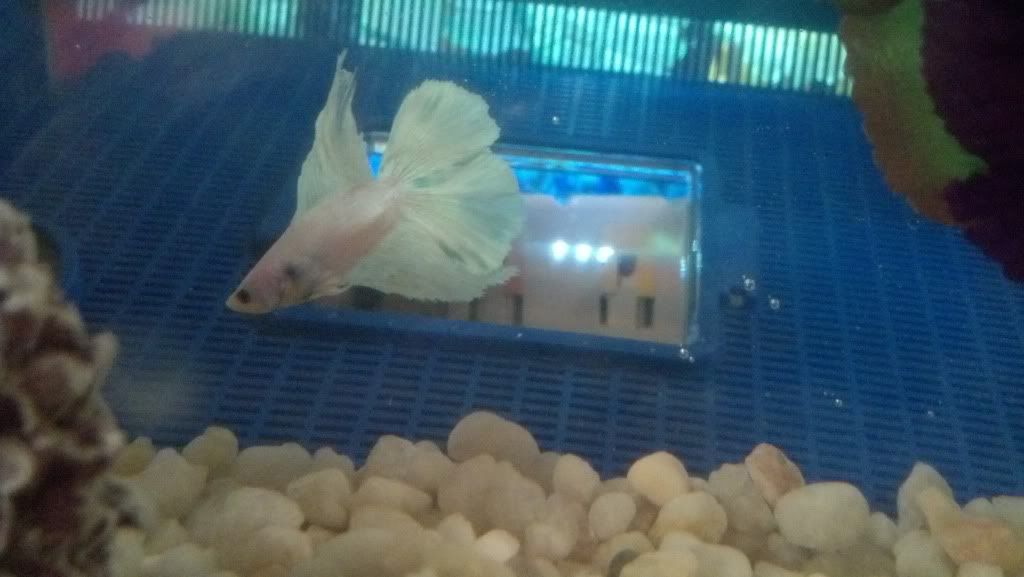 Picture with flash, you can kind of see his minty iridescence:
I floated him in Alaric's tank for a few minutes to try and keep him warm hahaha that didn't work out well - both he and Alaric were flaring at each other, and it was stressing the poor guy out. So I took him out and, after I cleaned Pascal's tank, I floated him in there with Pascal in his cup too. That worked out better I think. I had to rinse off the new rocks I got for him THREE times. Dusty little buggers they were. Fiyero is growing like a weed - but also healthy as a horse, with an appetite to match. Luckily, since I work in the house I live in, I'm able to feed him multiple small meals throughout the day, which is probably helping him to grow :) Pascal is doing well too - I think of him as my grand-daddy fish. He's so laid back, and I think he's a bit visually impaired. He just seems like an old man to me :) Gaston is still doing pretty well, he's rested a lot today, but he's not clamped anymore and he's been swimming a lot more too. I think that's about it from the fish clan of Tiffany :) Hope all of your little guys and gals are doing wonderful as well!
---
--Tiffany
Proud fish mom to:
Flame -
veil tail,
Nimbus
- veil tail, and
NoName
- crown tail.
And fur mom to my kitten
Smeagol
<3 Check out my journal
HERE
:)
Picture Heavy! :)
---
Well, after throwing around a few names and talking to him for a while -I've decided that the new guy's name is... Darryl. Quite possibly more for the comedic effect of saying, "My fish, Darryl..." than the name itself haha though it really does seem to suit him and it comes naturally when I talk to him :) So Darryl it is.
I've also decided I have a knack for picking out the picky fish on the shelf lol I offered Darryl an Omega One pellet this morning, which he looked at and the ignored. So I removed it and tried some NLS small fish formula pellets I have (that Alaric and Fiyero both eat, though I'm changing things up with Alaric, I give him NLS in the morning and OO at night) and he gobbled those right down. So looks like he'll be eating those for a while, which is fine, so long as he's eating something.
I went around and took pictures of the boys today and their homes and thought I'd post a few here for you. I had such a fun time taking their pictures!
Alaric: I've had him for 2 months and 9 days now. He gets SO super excited when I go by his tank, and darts here and there and everywhere, making it really hard to get a clear picture of him. This is the best I could get today, out of probably 25+ pictures lol
And his home (I flippin love his little submarine!):
Gaston: Oh my cantankerous little guy Gaston :) I've had him for one month and 3 days. He has THE cutest little grumpy face and I just flipping love him to pieces. He currently is in a 1 gallon little aquarium, as I feel he likes it better in there right now. I would love to upgrade him back to his 5 gallon, but the past 2 times I've tried that he 'broke'. So I'll keep him in here and maybe upgrade him in a month or two if it works out :)
His little home :) He's building a bubble nest in there right now! First one in quite some time!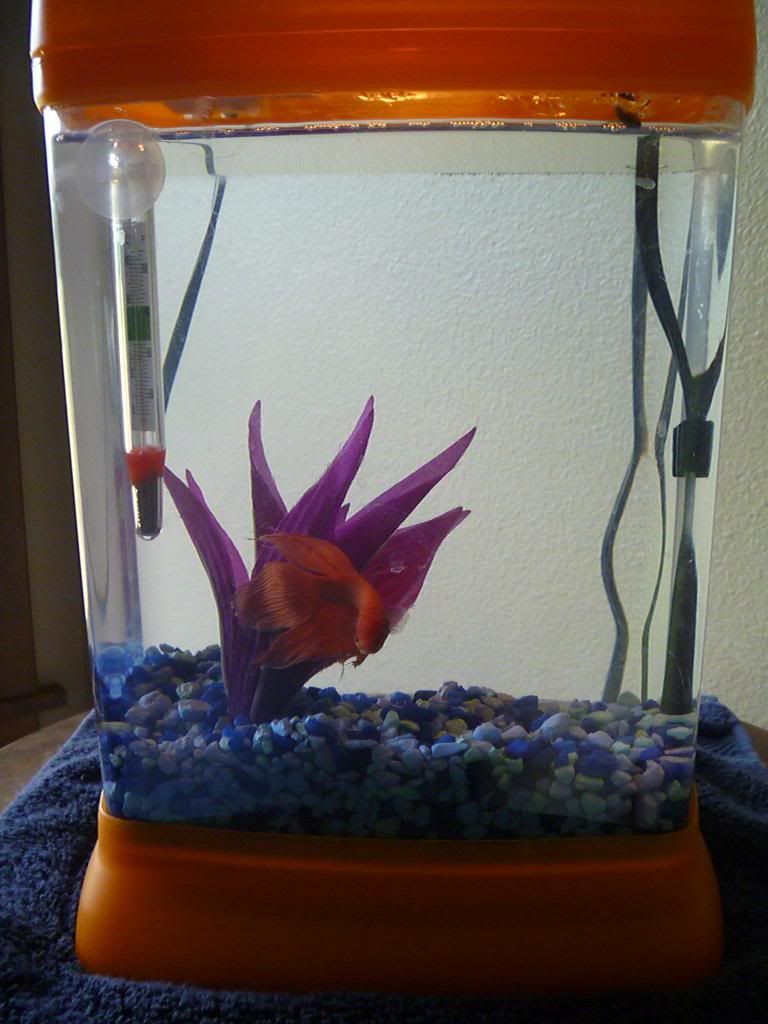 His face!! <3 His fins are a work in progress. AQ salt seemed to help but I'm giving him a bit of time off from that right now. If they're much the same by next Monday I might try some Jungle Fungus Clear for a few days, as I read that was an option for persistent fin rot.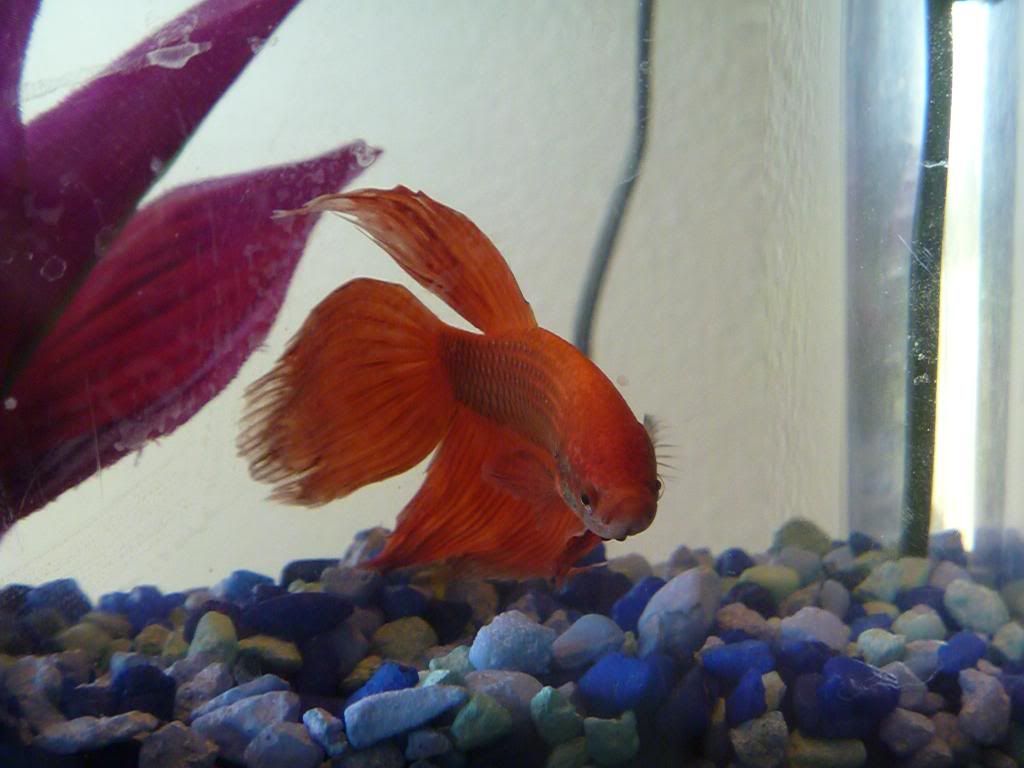 Best. Grumpy. Face. Ever.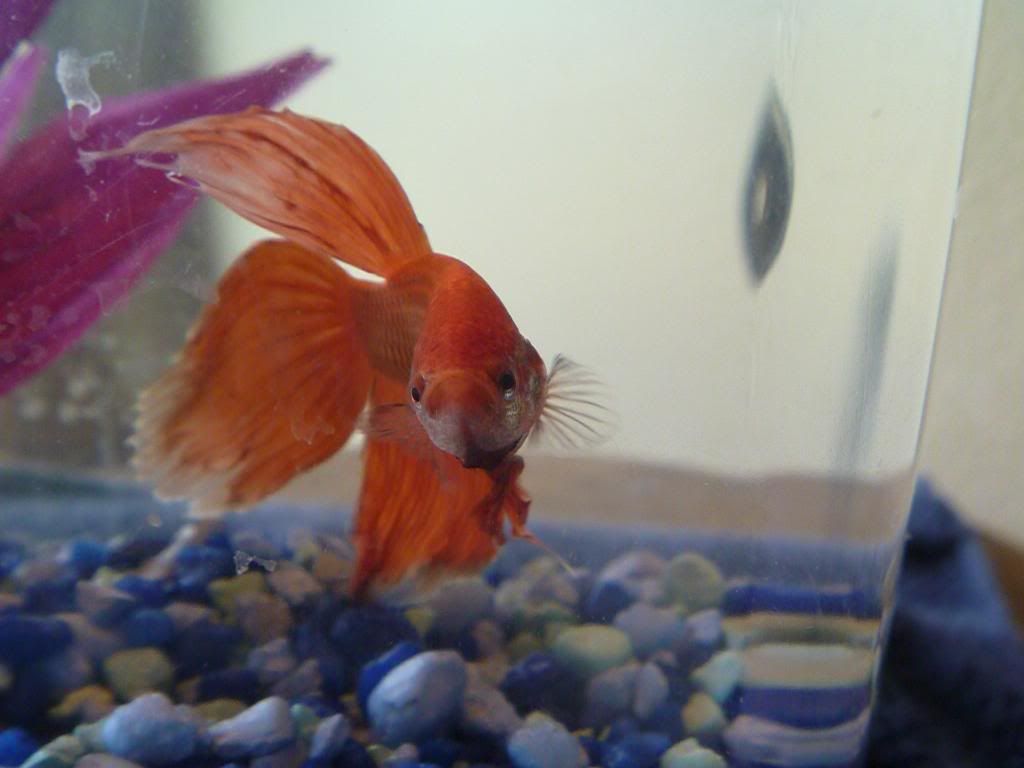 I love his little ventral fins all curled up and crossed the way they are. It doesn't bother him at all, it just makes me feel like he's very gentlemanly :)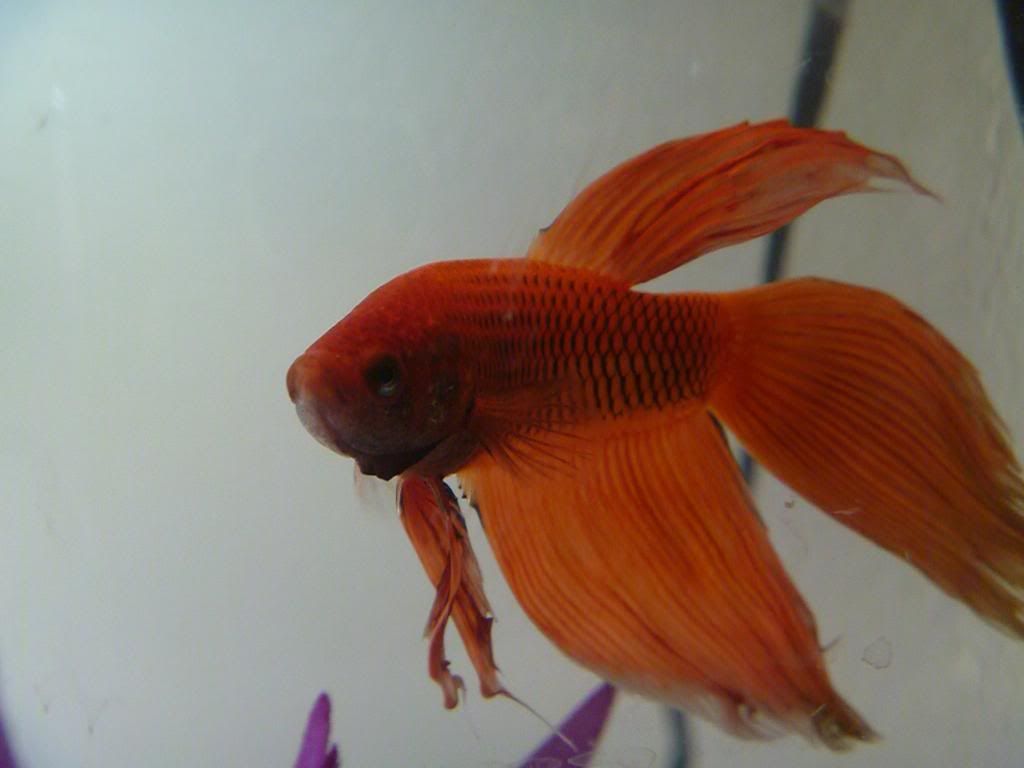 "Are you done yet mom? Get that thing out of my face." haha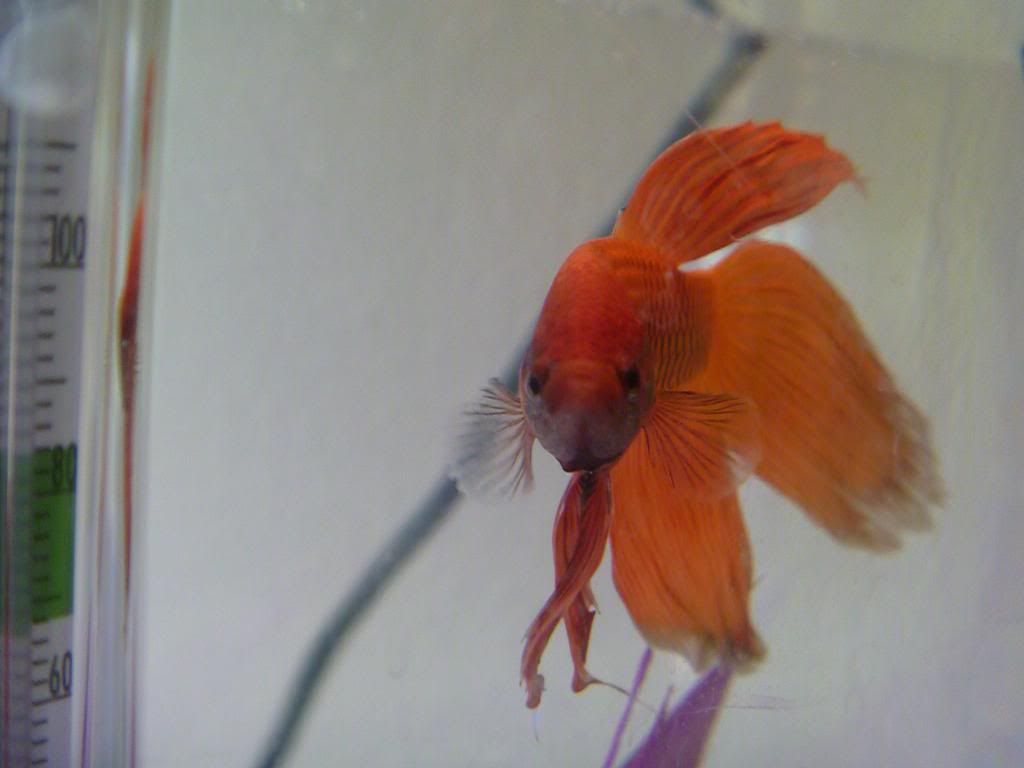 Fiyero: I've had this little stinker for 2 weeks tomorrow and he's grown SO much! He's getting some really nice color to him, and I'm anxious to see how he turns out :D
His spacious (for him) 2 gallon living quarters (the top of the water looks nasty, please ignore that - I just changed the water yesterday and it keeps coming back. He's too small for a filter right now or else I'd put one in there)
Would you just look at him?! SO adorable!<3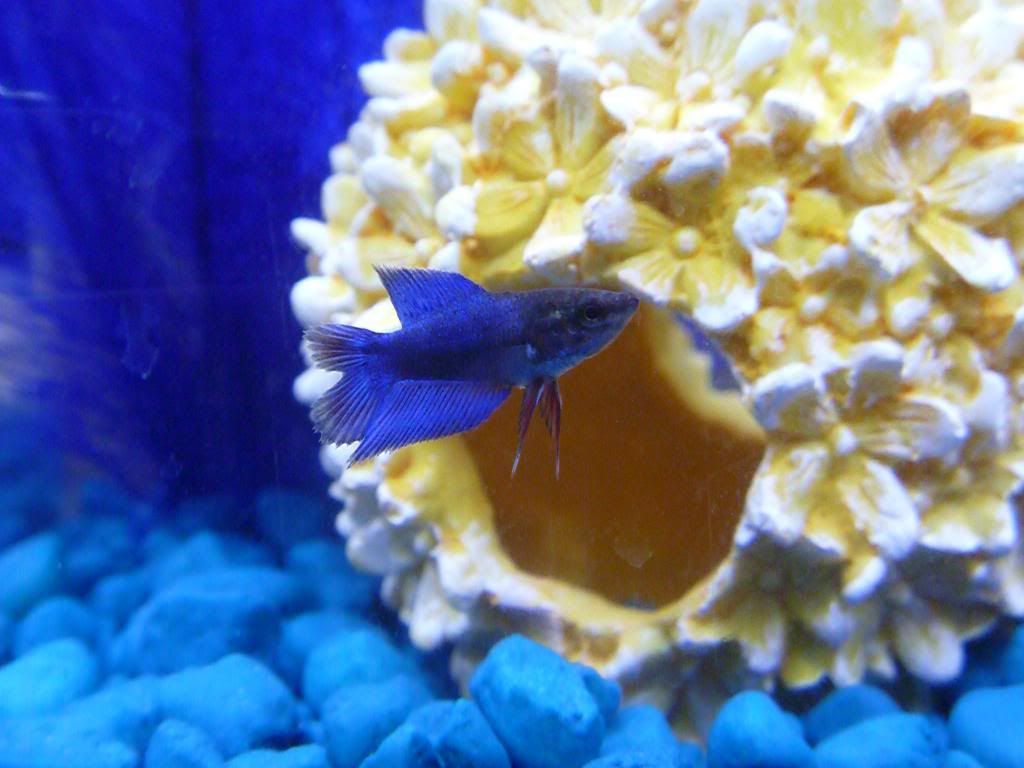 "What's that thing mom? Why does it shine a light in my face?!"
Pascal: I've had Pascal for a week and 2 days. This guy... is such a natural camera model haha I swear he was going "Here, try this angle. How about this side, it's my good side. No? Okay, here's my other side, try that." He's my most laid-back fish so it's pretty easy to get good pictures of him.
This is his 5 gallon home. I'm planning on putting a filter in there, and I have the perfect one, but it's missing a suction cup so I need to get another one of those from Petco and then it will go in there. Super quiet, very low flow - I think it'll work out pretty swell!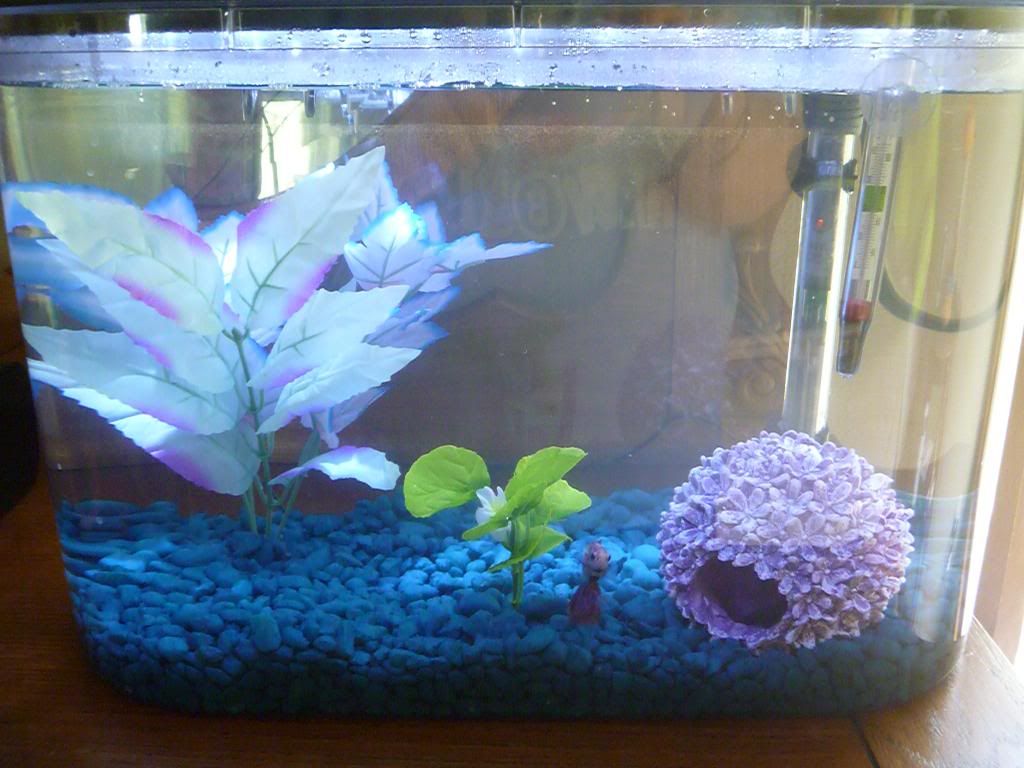 "This side? How do I look from this angle?"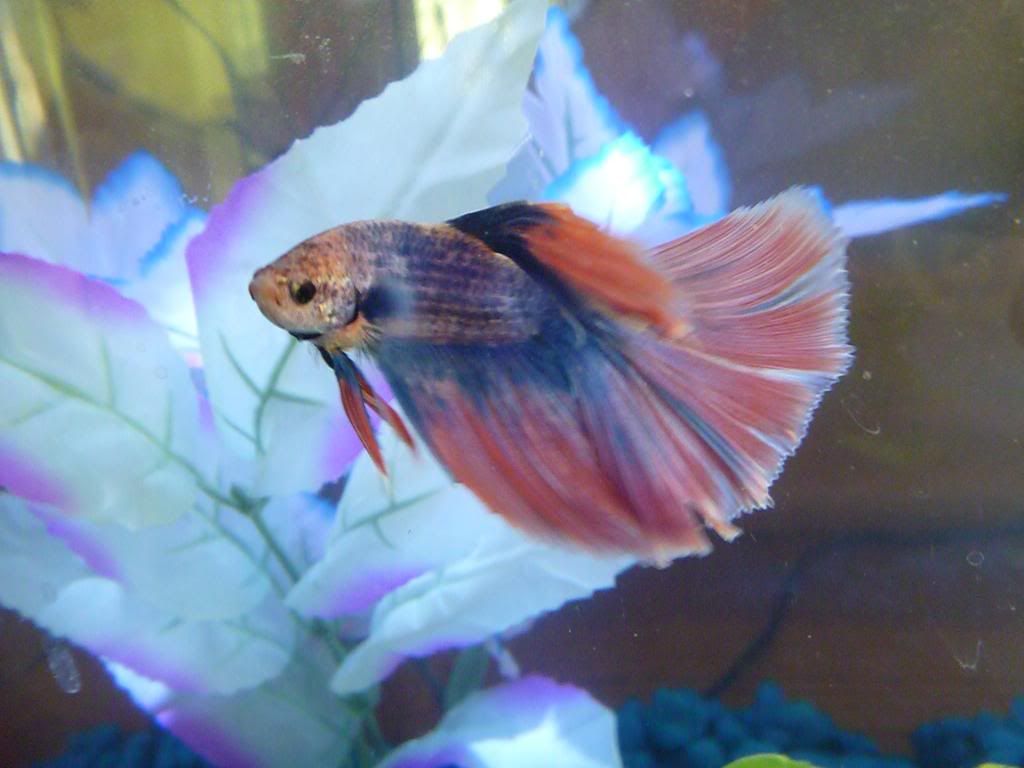 His fins never fail to impress me! I've never seen him flare, but his fins are just HUGE and so pretty!
"Wanna see my face?"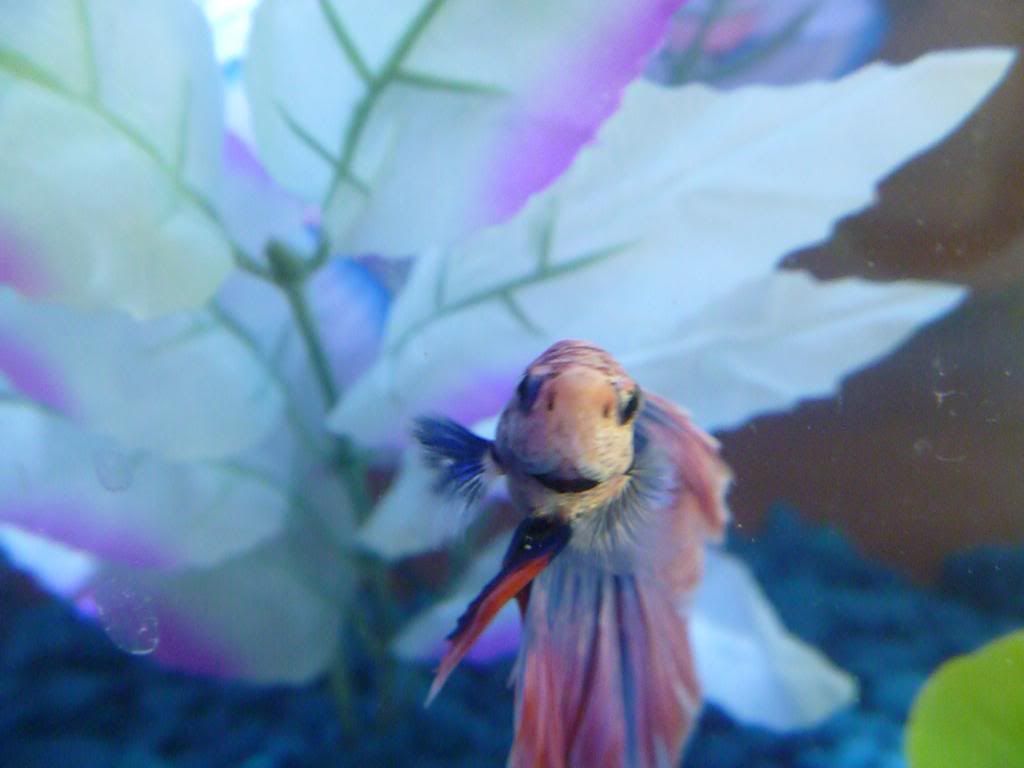 Just being handsome, as always.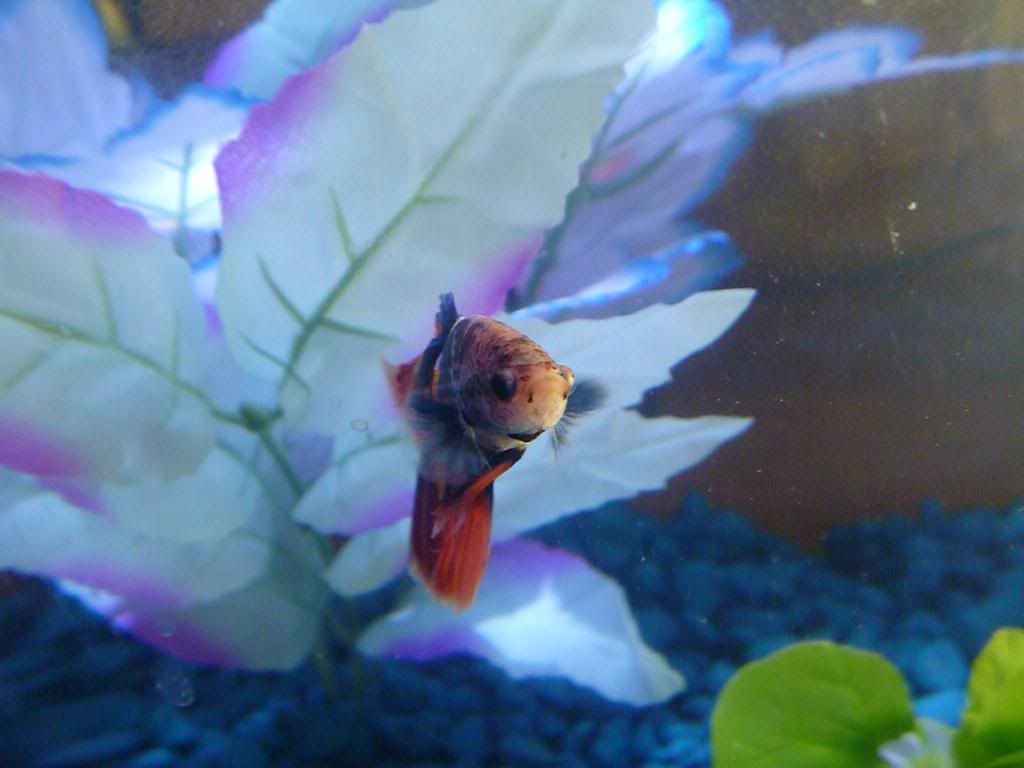 Such a hunk!
And last but not least, Darryl! He's still not sure what to think of me, but he'll warm up with a bit of time. I've only had him for just under 24 hours so he and I are still getting to know each other yet :)
His 3 gallon home - definitely gonna change out the rocks sometime soon, I really just don't care for them now that his tank is set up with them.
Just chillin - wasn't sure what to think of me or the camera lol
His little pouty face :)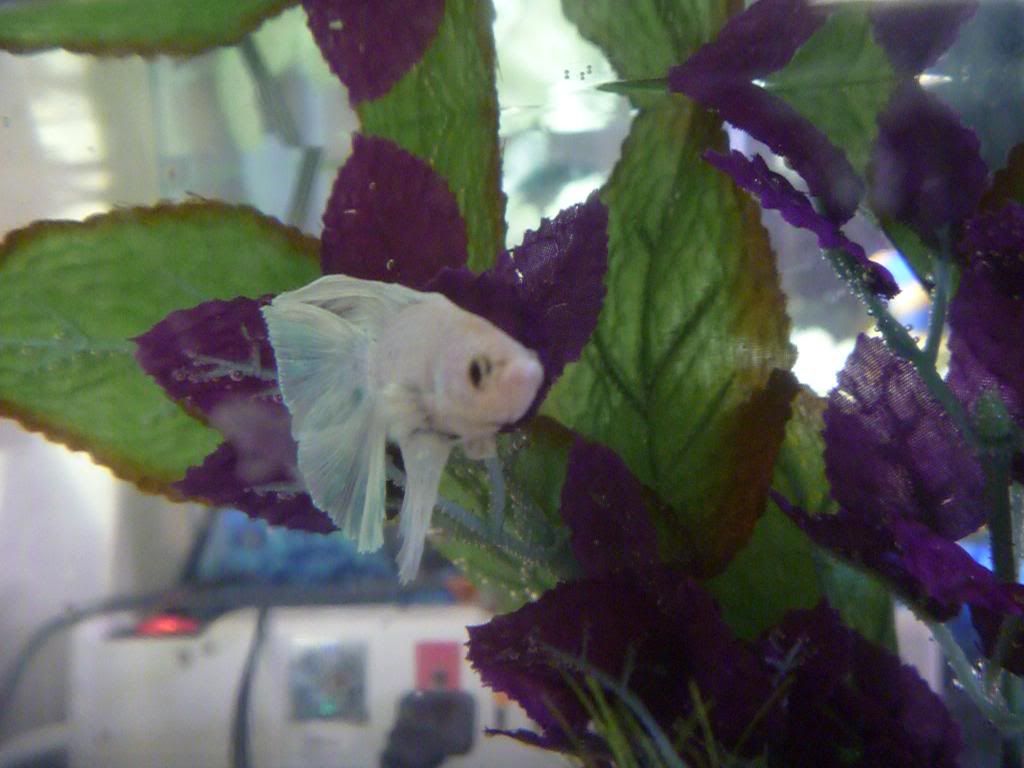 I put my finger up to the tank so he quick turned around to look at it
Aww... They're all so cute!! You've got an awesome bunch of fish Tiffany!

One of my boys won't eat Omega One either. I tried giving it to him one day. At first he ate it without a second thought. But, like, 5 seconds later he coughed it up, started at it briefly, then turned on me like "What are you trying to pull, lady? This isn't food! What the heck is that stuff???" It was hilarious. So now he just gets NLS... the brat lol
Thank you so much :) My fish are kind of my life right now - I moved to a bigger city and I'm not great at socializing, and don't have any friends already here, so these guys keep me company :) Everyone thinks I'm nuts for having 5... meh - I wouldn't have it any other way!
---
--Tiffany
Proud fish mom to:
Flame -
veil tail,
Nimbus
- veil tail, and
NoName
- crown tail.
And fur mom to my kitten
Smeagol
<3 Check out my journal
HERE
:)
Gorgeous fish! I love your new guy!
---
"Animals are reliable, many full of love, true in their affections, predictable in their actions, grateful and loyal." ~Alfred A. Montapert
My Bettas:
Dude-Male Salamander HMPK & Molly-Female Marble HM
My Goldfish:
Rory
S.I.P. Beta-Blue & Black CT//Dragoon-Dark Copper DSPK//
Merlin-Red VT//Raku-Multi-Colored CT
My Journal
Thank you so much! Darryl is a great addition to the bunch :D The other guy I wanted is still there... I think I have a small amount of space I can fit a 1.75 gallon tank for a while, and I have an extra heater haha No, no no I just can't. Unless... the daughter of the guy I work for can convince him to buy it for her and I'll take care of him while she's not here... Oooh I'm so devious but that just might work!! Haha

I've read about people complaining about pet stores' complete and utter lack of knowledge when it comes to bettas, but tonight I witnessed it firsthand and was kind of shocked by how outraged I was. I was listening from afar... There were 2 college girls wanting to get a fish for their dorm room. The associate told them that tap water was fine and no conditioner was needed, the fish only needed to be fed once a week, room temperature water is fine, and water changes only 'when the water is dirty'. O.M.G. are you even kidding me. Luckily they continued to browse the bettas for a while so I sidled on over and I told them I had 5 bettas at home and basically everything the worker told them was a lie. I proved it with pictures on my phone and I think they listened to me a little at least. I sent a complaint to Petco via email because I'm just disgusted with that. I'm probably fighting a losing battle, but I can't stay quiet. After all, some of the biggest influential people were just one person who complained about something and didn't stay quiet.

This is what I wrote:
I have a complaint about how you are informing your customers on how to take care of betta fish. I overheard an associate tell a customer the following: 1. Tap water was fine and no de-chlorinator/conditioner was needed. 2. They only need to be fed once a week. 3. Room temperature water is fine. 4. Water can be changed 'when it's dirty'. All four of those statements are completely and utterly false. Tap water MUST have a conditioner added to it or the fish will die of chlorine poisoning. They should be fed once, if not twice A DAY 6 days a week, fasting the 7th. Room temperature water is on average between 2 and 10 degrees lower than actual room temperature air. Unless the temperature inside a house is between 80 and 90 degrees Fahrenheit or higher, then room temperature water is much too chilly for a tropical fish, such as a betta. Their water should be between 78 and 84 degrees Fahrenheit. Water should be changed at a rate of NO LESS THAN 50% per week, particularly in smaller than one gallon containers, in which case the water should be changed much more frequently, lest the fish live in it's own waste and deteriorate from ammonia poisoning. All in all I'm disgusted with the information I witnessed being told to some amateur betta owners. What you are informing your customers to do is basically animal cruelty, which should not be condoned no matter how small the animal. I urge you to rethink and reform your associates' knowledge of betta care; as quality wins over quantity.

I tried to be firm and knowledgeable, but not rude about it. I feel better after sending it at least, so that's gotta count for something, right?
---
--Tiffany
Proud fish mom to:
Flame -
veil tail,
Nimbus
- veil tail, and
NoName
- crown tail.
And fur mom to my kitten
Smeagol
<3 Check out my journal
HERE
:)
Good for you for sending that email!! It sounds excellent to me! I hope it makes a difference! :)
Well, hey, good news guys!

I got a return email from Petco saying that they had received my message. They were sorry that I had a bad experience, etc etc kind of a generic response - but they also said they sent the information along to the general manager of the store I was 'concerned' about. This afternoon I got a phone call (unfortunately missed it since I was at a movie - which, by the way, The Mortal Instruments: City of Bones - AWESOME!) and a voicemail. The voicemail was from the manager of the store saying that he had done a store meeting in regards to betta care and that he made note of the key points of my complaint letter, and that he was sorry for the experience I had and that they were working to make things better.

I went to the store to talk to him after the movie was over and personally thanked him for taking action so quickly. I said that what I overheard was basically a good way to take your fish home and kill it right away. He also mentioned that even though the fish were the smallest pets that they should still be properly cared for and that's something he strives to pass on to his employees.

I don't know about you, but I'm pretty impressed with the response he gave and how quickly he gave it. It might not be perfect yet, but it's SO much better than not taking any action at all :)

And since this journal is, after all, about my fish - they're all doing great. I'm pretty sure that Gaston's fin rot is completely gone as the colorless area at the tips of his tail (that I wasn't sure if it was grey or just colorless) are coloring in orange! So I think we're hopefully in the clear with that :D Pascal is just his normal laid-back self - I put a leaf hammock in his tank and he was checking that out last I looked at him. Fiyero is just growing like a little weed and he needs to stop already! Okay, so I know he needs to grow... but... he's just so cute! Alaric is much the same - he's just kind of... not terribly interesting right now lol don't get me wrong! I love him SO much, he just doesn't have anything remarkable happening with him right now, which is good! And last, but not least Darryl. I just stinking love Darryl - he's such a curious little fish and I love watching him 'loosen up' and learn to love his home and begin to recognize me and get excited for food :) He ate an Omega One pellet for me tonight, so I hope he'll continue with that - it's so much easier to monitor his intake with OO pellets vs NLS SFF pellets! My boss' daughter Grace is here all weekend, so she's been helping me change water and stuff - she actually took the bait when I mentioned she could get a fish and I would care for it when she's not here, and actually asked her dad haha so we'll see how that turns out :)
---
--Tiffany
Proud fish mom to:
Flame -
veil tail,
Nimbus
- veil tail, and
NoName
- crown tail.
And fur mom to my kitten
Smeagol
<3 Check out my journal
HERE
:)
---
Last edited by TiffanyP; 08-31-2013 at

10:09 PM

.
Had a bit of a scare this morning! My usual routine is to get up and go get dressed, brush my hair, etc and then go uncover the boys (it gets very cold in the house at night so I cover them with a light blanket to keep the heat in). The only one I usually don't cover is Fiyero (the baby) since his tank regularly sits at 83-86 degrees because the 10W heater is a bit too strong, but okay for right now since he's such a little squirt, he'll get an adjustable 25 watt when he upgrades tanks when he's bigger :)

Anyway, so I get over to Fiyero's tank and check on him and he's lost almost all of his color and he has 2 stress stripes! Even at the store he only ever had one! I checked the temp and it was 66 degrees in there! AH! The poor baby was freezing! So I quick scooped him out of his tank into a cup and plopped his cup into Pascal's toasty warm 80 degree tank to float for a while. His heater must have broken sometime last night :( I put my spare 7.5 watt heater in his tank, but it's just not quite doing the job - been in there almost 5 hours and its only about 74 degrees. Today has been a lazy day in the house, so I'm going to have to suck it up and go out and replace the 10 W heater so I can get him back in there.

It's kind of humorous though, Pascal must think he's a girl because he's built a nice bubble nest all around Fiyero's cup haha Been showing off for him too, the cheeky handsome guy :)
---
--Tiffany
Proud fish mom to:
Flame -
veil tail,
Nimbus
- veil tail, and
NoName
- crown tail.
And fur mom to my kitten
Smeagol
<3 Check out my journal
HERE
:)