Just checking in quick :) Icarus is doing wonderful - eating like a little pig and just swimming ALL around. I'm so glad I could save him :)

I cleaned out Alistair's tank and put him in to float with Pascal lol they were flaring at each other so much, it was great :) Here's a couple pics, of course neither of them are flaring - but good pics nonetheless!
---
--Tiffany
Proud fish mom to:
Flame -
veil tail,
Nimbus
- veil tail, and
NoName
- crown tail.
And fur mom to my kitten
Smeagol
<3 Check out my journal
HERE
:)
Banned
Join Date: Jul 2008
Location: Central Texas
Posts: 27,607
I took a couple of pictures of Icarus today - he's SO adorable :D I can't wait til he starts getting some color - or maybe he'll just stay white! But I've decided I'm going to take a daily picture of him from here on out - to kind of track the progress of him gaining color and growing. I'll post most of them on my photobucket account which you can find here:
http://s1319.photobucket.com/user/ti...library/Icarus
Also if you look around there I have other pictures of my other boys too!
:) This is him compared to my pointer finger!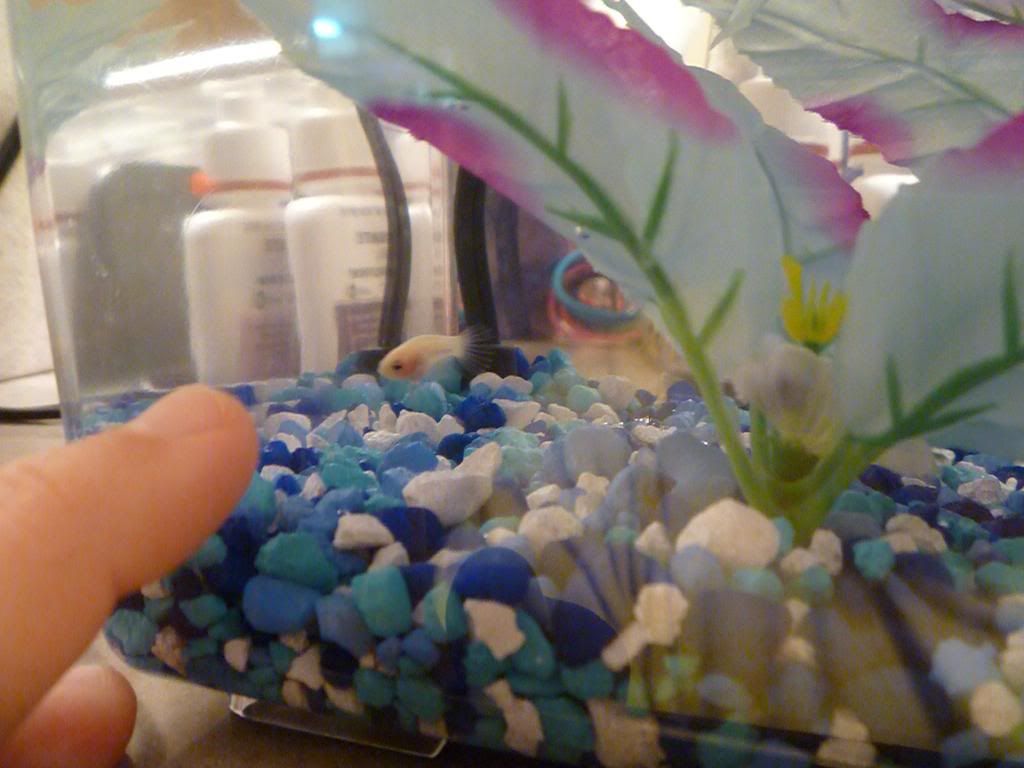 ---
--Tiffany
Proud fish mom to:
Flame -
veil tail,
Nimbus
- veil tail, and
NoName
- crown tail.
And fur mom to my kitten
Smeagol
<3 Check out my journal
HERE
:)
---
Last edited by TiffanyP; 10-04-2013 at

10:27 PM

.
Today I played musical aquariums! I had a little extra cash, so I went out and bought a new 5 gallon aquarium (a MiniBow 5), meaning to put Icarus in it... But after I got it home and was looking at it was like... Nope... nope. I don't see Icarus in here. So I was going to return it for a different tank when it hit me... I already have this one bought... why not put Alistair in it? So that's exactly what I did! And I'm very pleased with how everything came out. I think Alistair really likes having more space to swim around. The filter makes a bit of a current, but I think since he's a plakat it doesn't bother him as much as it would if he had bigger fins. Icarus then upgraded to Alistair's 2.5 gallon and a 25 watt heater :) He's been swimming around exploring all evening, darting from one side to the other and back again.
Here are a couple of pictures of both boys' new homes :) Icarus I *think* is getting a wee smidge of red to his tail fin! It's very faint and I can only see it sometimes though.
Oh, side note! I fell in love with a white/silver double tail at Petco today, his tail looked like it had a heart in it! I SO badly wish I had room to set up another tank. Okay, pictures now :D
Alistair's new tank
Checkin' out his new home :)
He was semi-flaring at himself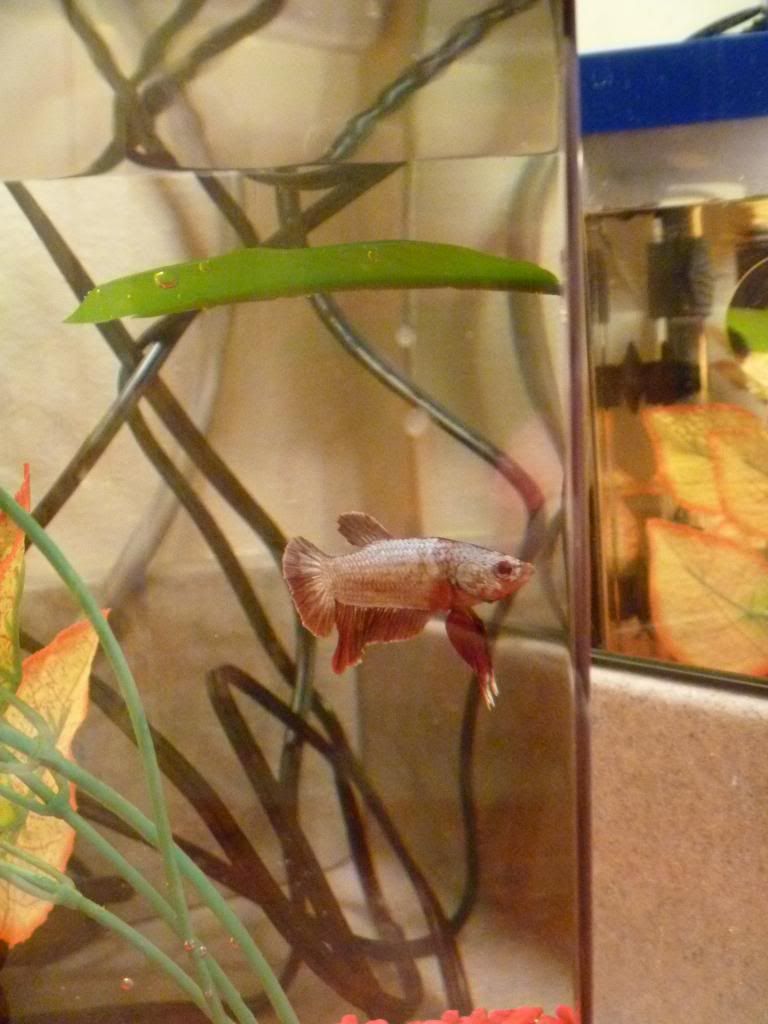 Icarus' new home, you can see him peeking out from behind the thermometer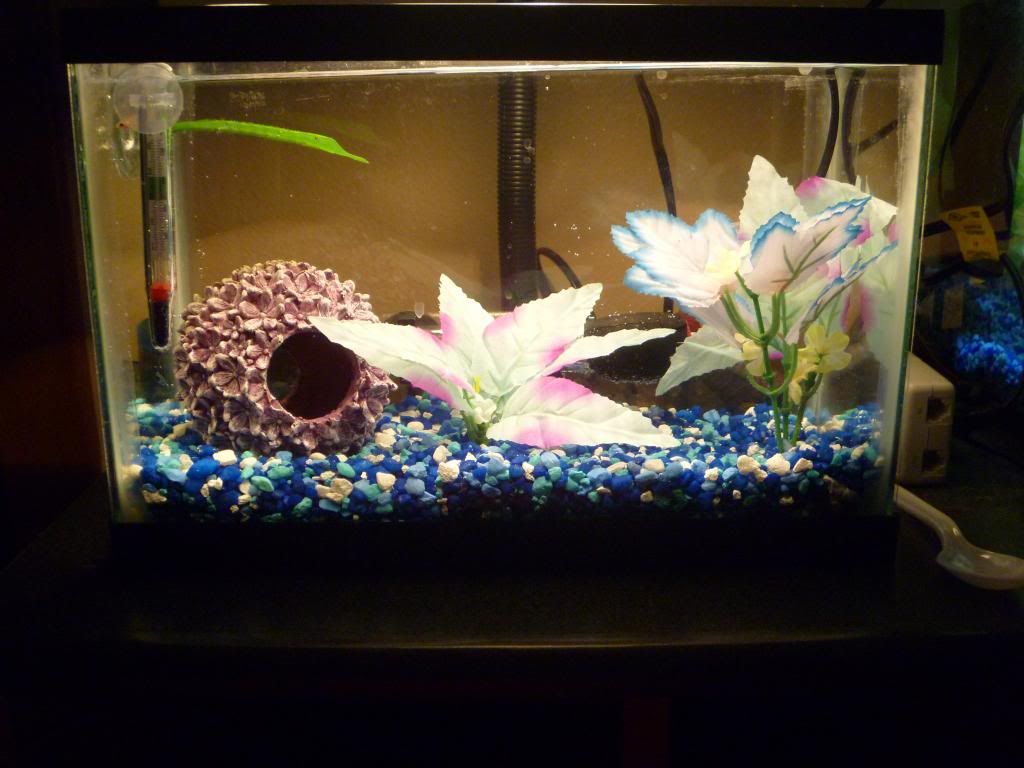 He was studying that bubble SO intensely lol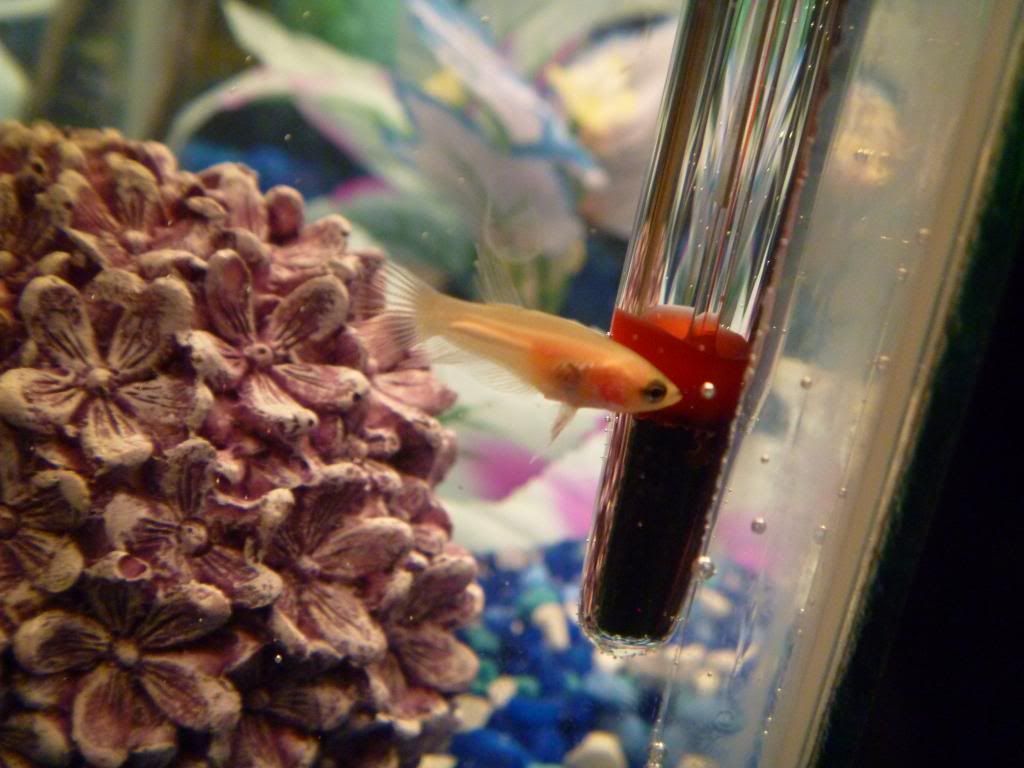 ---
--Tiffany
Proud fish mom to:
Flame -
veil tail,
Nimbus
- veil tail, and
NoName
- crown tail.
And fur mom to my kitten
Smeagol
<3 Check out my journal
HERE
:)
*sigh* Oh, my dear Pascal. It seems that I just absolutely cannot have any sort of filter in his tank. I got a sponge filter for him (this one:
http://www.amazon.com/Jardin-Aquariu...+sponge+filter
) and put that in his tank yesterday with a Whisper air pump. It came with a flow adjuster so I adjusted it so that it wasn't too strong - it had a bit of surface agitation which was unavoidable, but I tried to make it as minimal as possible. He seemed fine with it yesterday, I kept a close eye on him. But overnight, as per usual, his tail is shredded again! It only happens when there are filters in the tank and I've tried 3 different kinds now. So I guess he just won't have a filter in his tank *shrug*. Silly finicky fish <3
---
--Tiffany
Proud fish mom to:
Flame -
veil tail,
Nimbus
- veil tail, and
NoName
- crown tail.
And fur mom to my kitten
Smeagol
<3 Check out my journal
HERE
:)
Happy Hump Day!
This week has been a whirlwind! A little about me: I babysit for many many kids whenever I am able to, and one of my favorite families has 2 boys ages 3 and 4. The 4 year old has cerebral palsy and hydrocephalus (fluid on the brain). Because of the hydrocephalus, he has a shunt in place to drain any excess fluid that might accumulate. On Monday he was rushed to the ER as he was having severe seizures and wasn't responding, and then was life flighted to a big children's hospital in Iowa. He had brain surgery on Monday night to clear out the blockage in his shunt, which was the cause of his seizures. That was stressful for everyone. But the little guy's a trooper and made it through just fine. I went to visit yesterday afternoon and he was still pretty groggy from all the meds he was on, but he woke up a couple of times and talked to us as much as he could - his throat was raw from being on the ventilator. His little face lit up when he saw me though - melted my heart! He's still got a bit of healing and recovery ahead of him - but I know he'll do just fine.
I know fish don't rank anywhere near human life, but I had a scary moment with Alistair on Monday morning - he was laying on his side, fins clamped, at the bottom of his new tank and wouldn't move at all even when I tapped on the glass. I think it's just because the filter is a bit too strong for him. I bought some "Marineland Rite-Size bonded filter pad" to cut and see if I could baffle the flow any - and I think it worked quite well! It's more of a trickle now - still effective, but not as strong as it was, so I think he'll be happier now.
And then there's my little guy Fiyero :( He's not doing well. He's lost nearly all of his color - gone from a bright vivid blue to a dull translucent brown with stripes. He hasn't eaten or pooped in nearly 2 weeks, so I'm fairly certain that's his problem, but lately he's been laying on his side at the bottom of the tank and not swimming around - only to come up for air. I've got him in a bit of Epsom salts right now, just .25 tsp/gal since he's a baby still, and I'll up it to .5 tsp/gal if he doesn't poop in a couple of days. Silly little fish worries me <3
Icarus is doing well - I've been doing daily pictures and posting them on my Photobucket. (The link to the album is in post #73) He's getting a tiny bit of red to his tail! Woot! Still just a tiny little squirt though - he eats like a piggy though, so I know he'll grow soon enough.
Alaric is doing well - I think whatever he was battling, he handled it on his own, yay buddy! He still isn't pooping on a regular basis, so I have to watch for that, but he's much more active (became more active when I changed the filter to a Tetra Whisper 10i - maybe there's some correlation there?) and just seems happier in general now :) He likes to play in the current that the filter makes and doesn't seem to be pushed around by it, so it's not baffled by anything right now. He's got more of a green iridescence to him now than he did before, but still has the blue and red he's always had. Love watching him grow - I can't believe I've had him for almost 4 months!
Darryl is doing well, too. He's a very active fish and is constantly swimming all around - he even flares at me sometimes when I go over to talk to him. He seems to be a very healthy fish and I love having him around :)
Pascal is... well he's Pascal haha his tail is healing from the latest filter escapade. I really don't know what to try next. I just don't think he's meant to have a filter lol There is one more option I'd like to try -
http://www.amazon.com/Elite-A896-Spo...+sponge+filter
. I have that one in Darryl's 3 gallon tank and with a water bottle baffle it makes little to no current and he can swim RIGHT in front of it and it doesn't have much intake. Once Pascal heals up from this one I think I'll try that - and that will be my last resort.
I think that's all for now - I'm going to go see my little guy at the hospital again if he's up for visitors :)
---
--Tiffany
Proud fish mom to:
Flame -
veil tail,
Nimbus
- veil tail, and
NoName
- crown tail.
And fur mom to my kitten
Smeagol
<3 Check out my journal
HERE
:)
Banned
Join Date: Jul 2008
Location: Central Texas
Posts: 27,607
Aww, I'm glad your little friend is doing better after his surgery! How scary for his family and loved ones!
New Member
Join Date: Sep 2013
Location: Northern California
Posts: 11
I just wanted to say that I enjoy reading your journal!

Icarus is adorable and I'm looking forward to seeing more pictures of him as he grows up.

And I'm glad that the little boy is recovering. That's one tough kid!
Thank you Emrae :) Konner is still doing pretty well, he's still in the PICU as the ventricles in his brain are still enlarged and they want to make sure that's not going to cause another round of seizures. He's been running a fever as well, so they're keeping an eye on that and doing tests for infection. He's been sitting up and talking with people though, and was able to eat a popsicle of his favorite color, orange :) I'm hoping to go see him tomorrow if he's feeling up to it, as he wasn't today.
Now for some sad news :( Fiyero still isn't doing well at all :( I don't expect him to live through the night, I'm actually really surprised he's still alive right now. He's laying on his back on the bottom of the tank, either breathing very heavily as if it's a great effort, or very shallow like he might die right then. I hate seeing him suffer like that :( I've got the water level in his tank down as low as I can with the heater in there still, it's warm and clean and I'm just waiting for him to pass right now. Poor guy. I know there's nothing I could have really done, but still makes me wonder "What could I have done differently?" I'll post again when he passes.
And another little tidbit of good news :) There's been this super pretty mustard gas (?) betta at Petco for the past 3 weeks that I always go over and see whenever I stop in. I knew earlier this afternoon that Fiyero wasn't going to make it so I could finally, guilt free, go get him! They had moved them around this time though so I had to look thru a few to find him but when I did he was staring at me, not moving at all. I snatched him up and brought him home and knew that he really had picked me more than I picked him :) He's in a temporary tank at the moment, or if he does well with it - potentially a new permanent home. He's really enjoying all the clean water and room to swim around so I haven't gotten a great picture of him, but here are a couple I took from my digital camera. His body is a darkish charcoal grey with pineapple scales, and vivid yellow fins. Not entirely sure what 'mustard gas' coloring really entails, but I think he is one :) He's so pretty, even if his fins need a little TLC. (sorry the pics are massive haha not sure how to make them smaller)
What do you think I should name him?
His cute little face!
This is the best picture I could manage with him swimming all around :)
---
--Tiffany
Proud fish mom to:
Flame -
veil tail,
Nimbus
- veil tail, and
NoName
- crown tail.
And fur mom to my kitten
Smeagol
<3 Check out my journal
HERE
:)
Fiyero passed last night sometime between 11 and 11:30 :( In a way I'm glad he didn't make it through the night, watching him suffer was torture. I noticed something weird though when I scooped him out for his porcelain funeral - the tip of his tail fin had some color missing, like it was completely white. And I'm absolutely positive that when he was still alive it was still all blue. It looked like, you know if you have a kid's picture drawn/colored with markers? And you drip some water on it and then pick it up quick to get the water off, but it bleeds some of the color anyway? It looked much like that. Like the color was literally, melting towards his body. I have no idea what it was, and I should have taken a picture now that I think of it, but I was pretty upset and didn't think of it then. So my dear boy, may he swim peacefully now :)
---
--Tiffany
Proud fish mom to:
Flame -
veil tail,
Nimbus
- veil tail, and
NoName
- crown tail.
And fur mom to my kitten
Smeagol
<3 Check out my journal
HERE
:)