Thanks so much guys!
Unfortunately I think little DT boy is developing some fin rot *sigh*. I had noticed some black developing on his tail, but he's also been seeming to marble out his red and developing some black scales, so I thought maybe it was just a color change at first, and it's so hard to get a clear look, he's such an active boy, AND he LOVES to squeeze in tight places, so he's already gotten himself a sizeable chunk of scale missing on his side behind his pec that I've been keeping a close eye on, and now this. I'm hoping it will just resolve on its own, annoying that he developed it even though his water prams have always been good, and he seems to be doing so well! In happy news though, he does seem to be doing well, hungry, active, playful, curious. He's also been doing a lot of bubble nest building lately. He like to build them under the floaters, but they aren't very well built and usually pop or disperse, but he keeps on truckin'! He's so funny, I love the little bugger so much more than I thought.
Well maybe it isn't rot... His fins are a bit wonky to begin with, some areas are curled, and what I thought was rot may be color change as I suspected. I'll try to get new pics to show what is developing. He seems to have gone back to flesh toned in the middle, and is developing black scaling near his front/pecs, but still has his baldy face with one black spot on his forehead. And still needs a name! Any suggestions?
Here are a few pics showing his color changing. His mid section has gone back to flesh tone, so the red is only on his bum now, and his upper body is getting black. I'm so curious to see how he ends up, but I hope whatever it is, he stays as stunning as I think he is in his young age!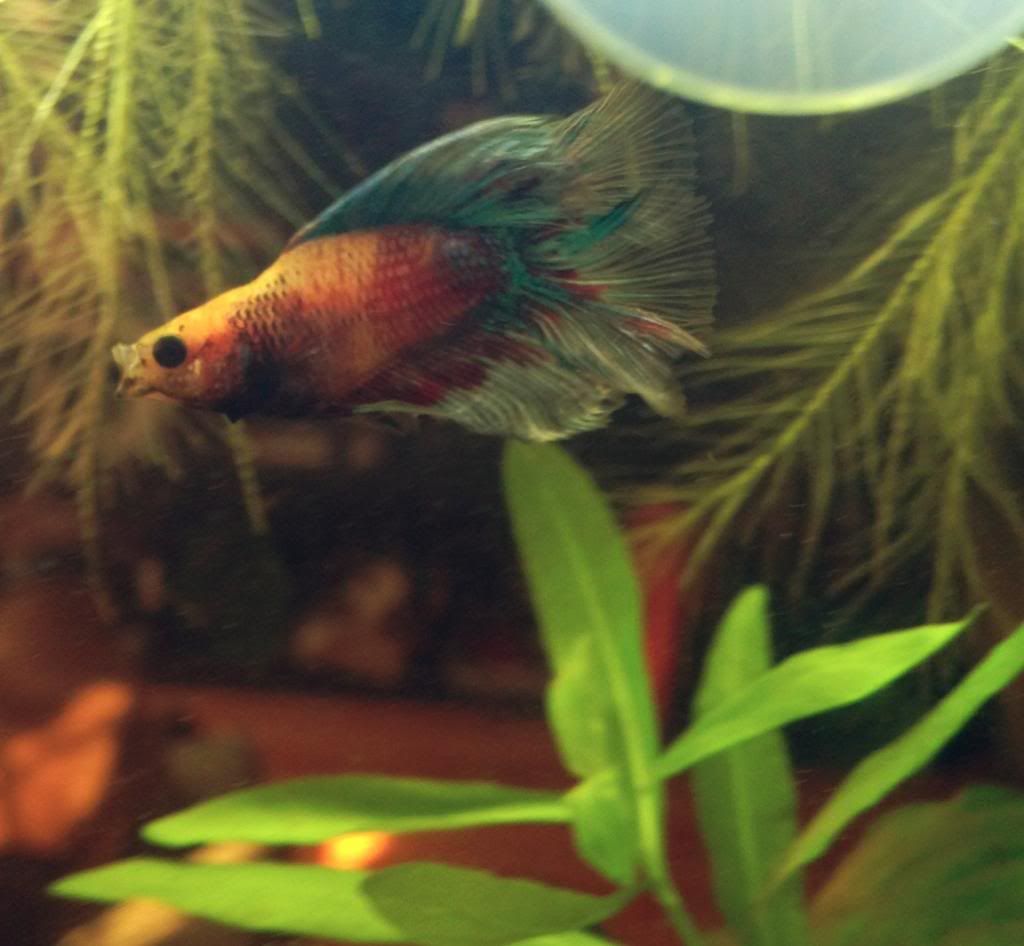 Trying to steal Agent Dunham's algae wafer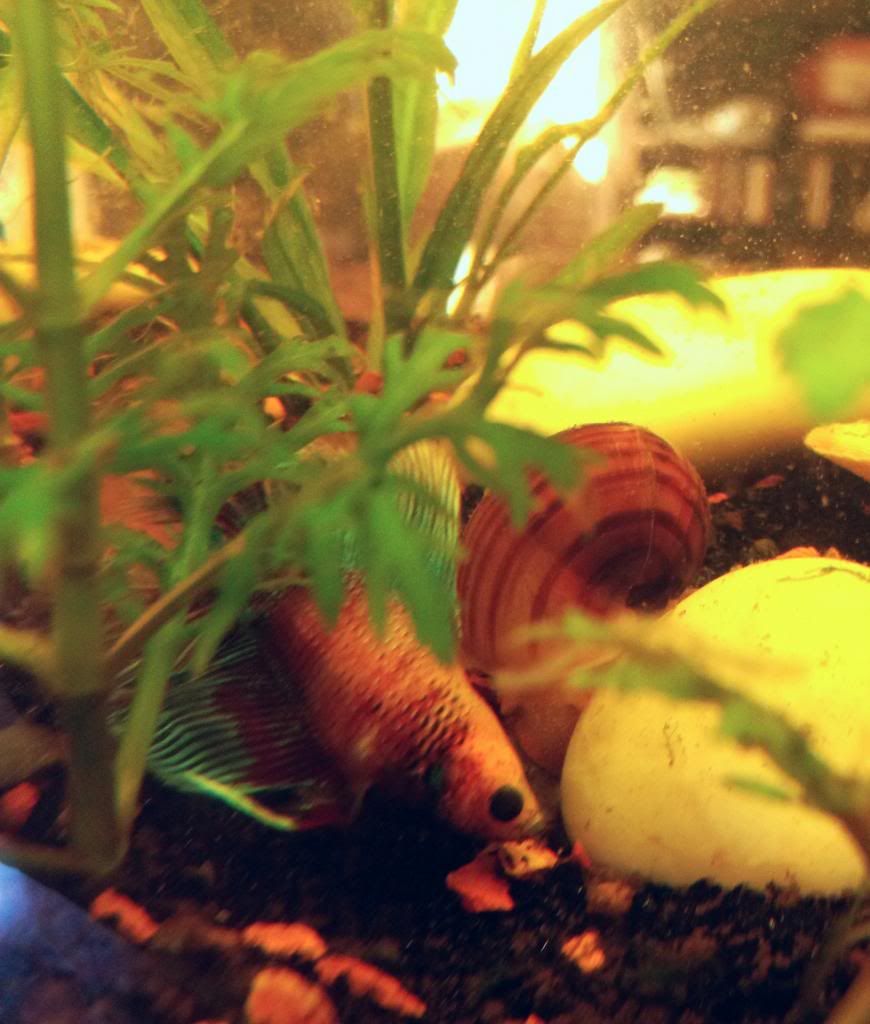 Oh and the front view of the 10 gal.
And Pinkman so he doesn't feel left out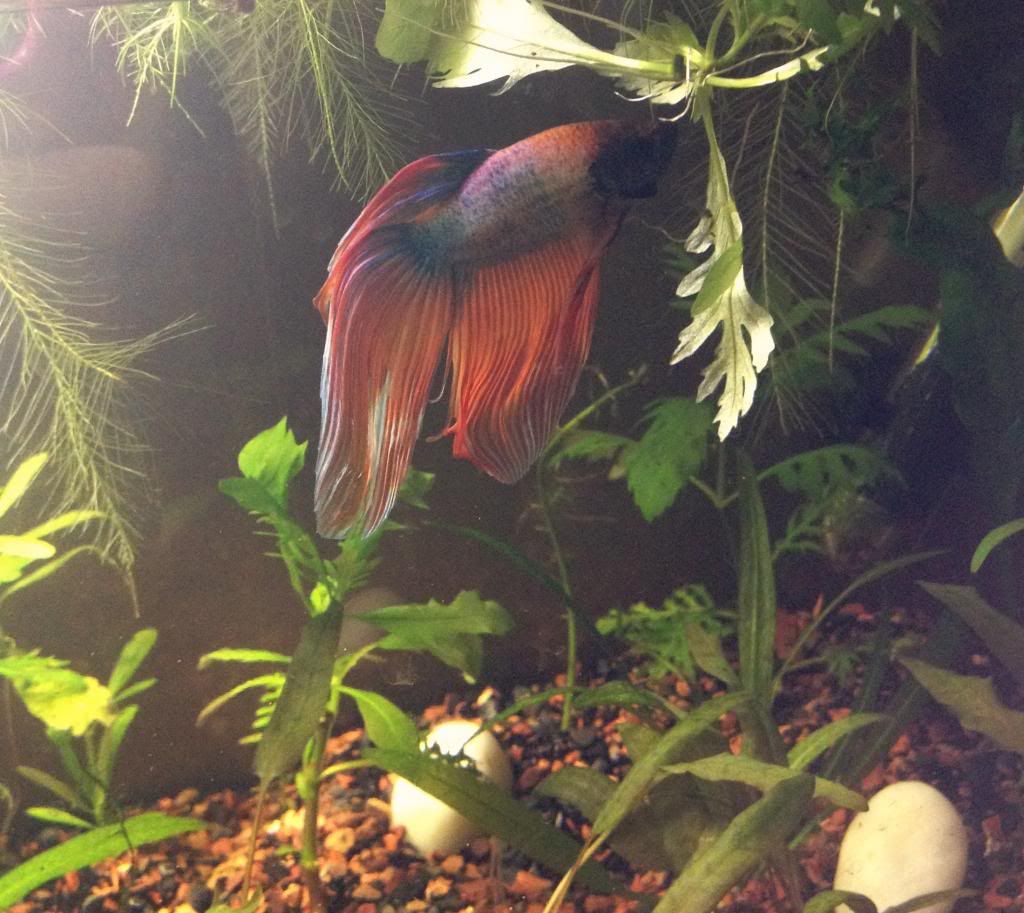 What color is Pinkman considered? Anyone?
---
Last edited by Quinn; 10-02-2013 at

10:13 AM

.
I would say the veil tail could be a multi colour, but I am no expert. your little guy is growing up nicely, and his colours really are coming through now.
So since the last pics he has completely lost the red on his body, and is now back to flesh tone with the black scaling near his pecs/gills. He's been this way for about a week, but has developed some color changes on the fins. We'll see where this is going!
However I am STILL debating on if it is rot, or if he is just shredding his fins by cramming himself into tight spaces. I thought he was going to kill himself the other day squeezing into/under java moss. I was rushing to his aid but he freed himself before I got there. This involved wiggling himself as hard as possible against the gravel and damaging his fins. This isn't the first tight spot he's gotten himself into, I swear he does it just to scare me. He really seems to enjoy being squeezed in tight spaces at the bottom of the tank. I've never seen him use a plant to rest on, only under. The tighter the better *sigh*

I also got some Amano shrimp who whipped my hair algae problem into shape in no time, woohoo.

Will update pics when I get a chance.
What a handsome little boy he is! Mysti is over here swooning ;). His home is gorgeous too!
---
Dates they swam into my life: Damon 04/17/14

SIP: Zen 07/06/13, Skully 07/31/13 - 10/07/13, Mysti 07/04/13 - 01/31/14, Ramses 08/07/13 - 05/17/14, Harley 07/16/13 - 06/23/14,
Koji 07/21/13 - 02/21/15, Damon 04/17/14 - 01/28/16

Another picture dump!
We have some new family members around here, more snails from Peachii! One large dark footed purple stripe, and two tiny light footed babies, one purple and one ivory. I also got a few small pink ramshorns, and some MTS. My shrimp experiment hasn't gone too well unfortunately. I'm really bummed because I want the shrimp! I'm wondering if I get a higher number of them, if they will seem less of easy prey? The Amano have done okay, 3 went in the tank, one disappeared after the first day and was never seen again, I think he just didn't acclimate well and was eaten over night by the fish/mystery snail, and the other two had been out and about for a week plus mostly hanging on one log and suddenly went into hiding. Maybe molting? I did find one shell, but I don't know if it was the Amano or if it belonged to a RCS who are being picked off and mostly hiding *sigh*. The little DT baby who started out very meek has certainly grown up and turned into a little killer
He immediately went after the MTS when they went in, and I've seen him successfully take down a few, went after a baby ramshorn but wasn't successful and hopefully wont try again, thankfully doesn't bother the mystery snails (he'd be in BIG trouble, I love them). I saw him pick the eyes off of a RCS the other day... I'm not very happy with him. This AM I found him and the biggest mystery snail snacking on a dead RCS but don't know how it died. I'm really bummed because I wanted to keep shrimp in here. The Amano's seem to fair ok when they don't run and whap him with their antennae and such, he backs off, so maybe I'll only be able to keep them. Blah
The little killer still doesn't have a name either. I just can't find anything that sticks! I wonder if he's done with his color changing or if I have more to look forward to. Hope I do!
I also got more plants from Peachii, but I need to give it time to acclimate and not look so blah before I post it haha.
Snails of all sizes!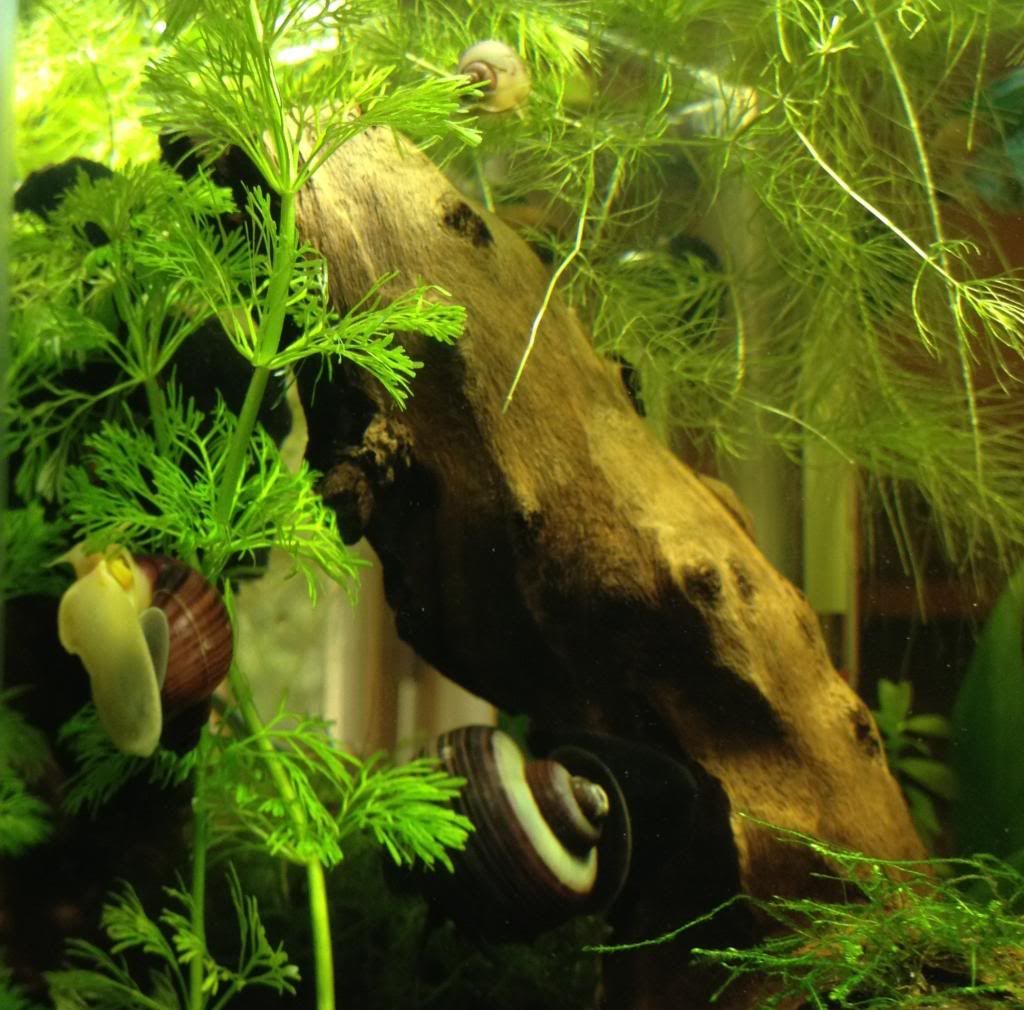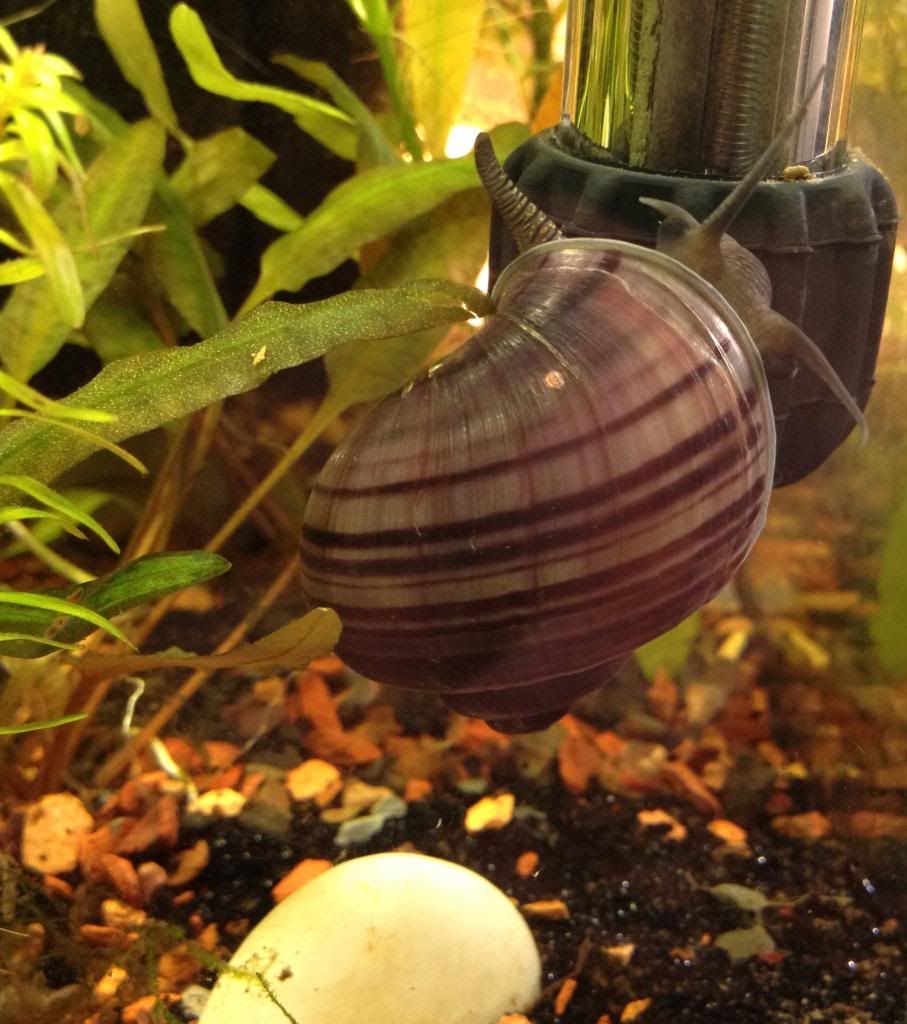 Snacking together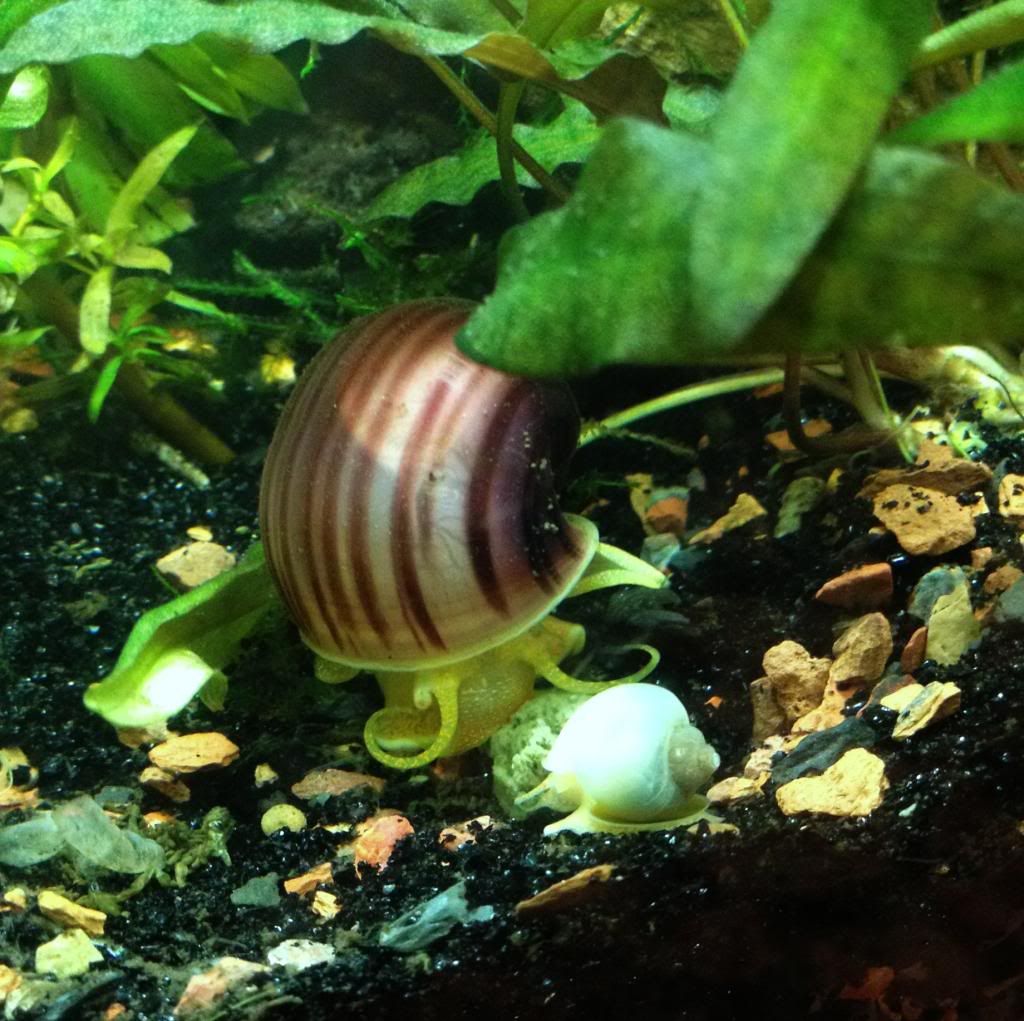 Piggy Back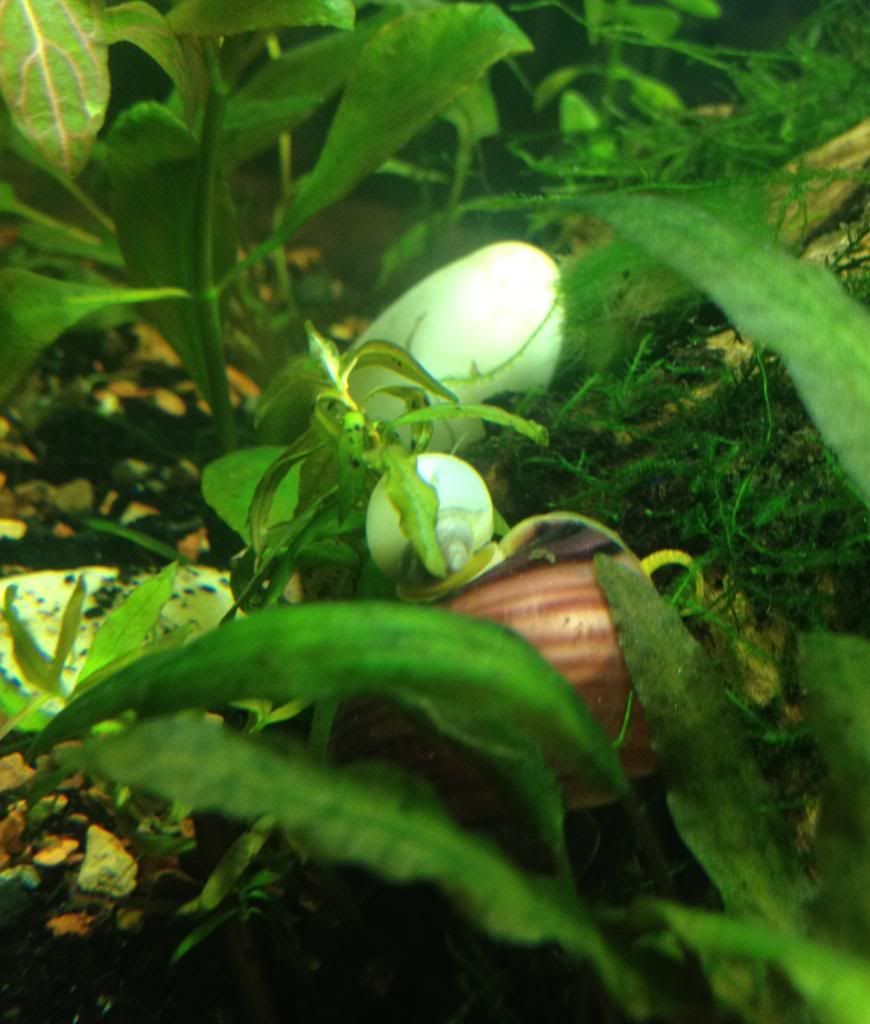 Trying to steal the slain shrimp from Fauxlivia, the snail.
Always hunting for micro-noms on the driftwood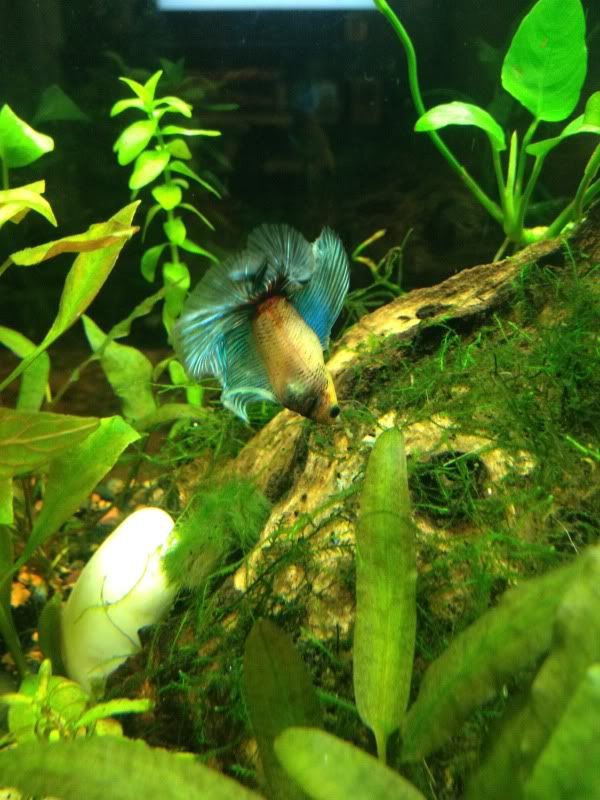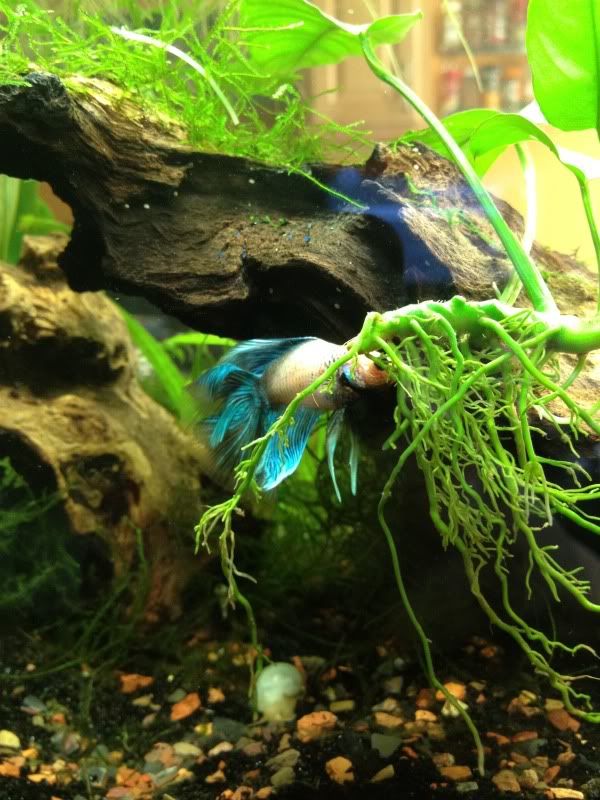 No more red on his body, but still hints of it in his fins, and now on his pecs too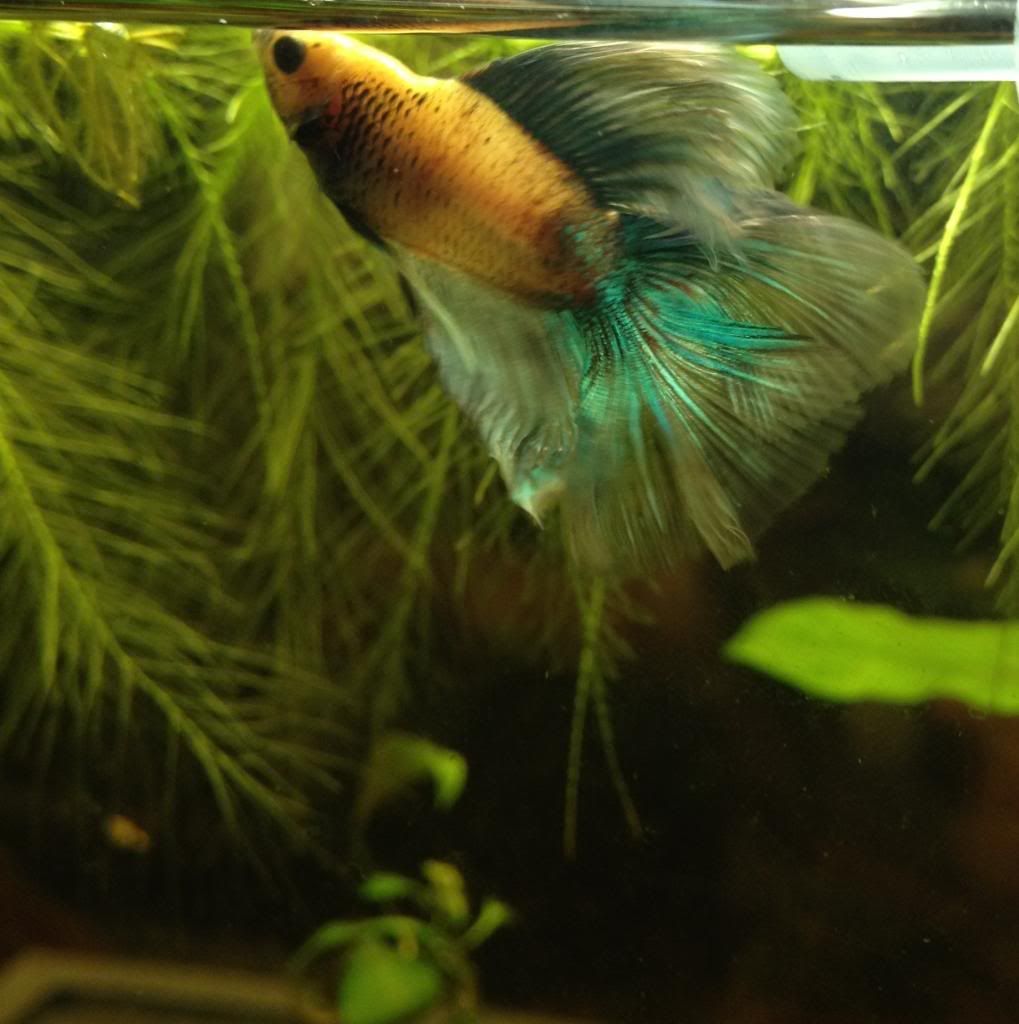 Bubbles
"I don't trust you, Finger..."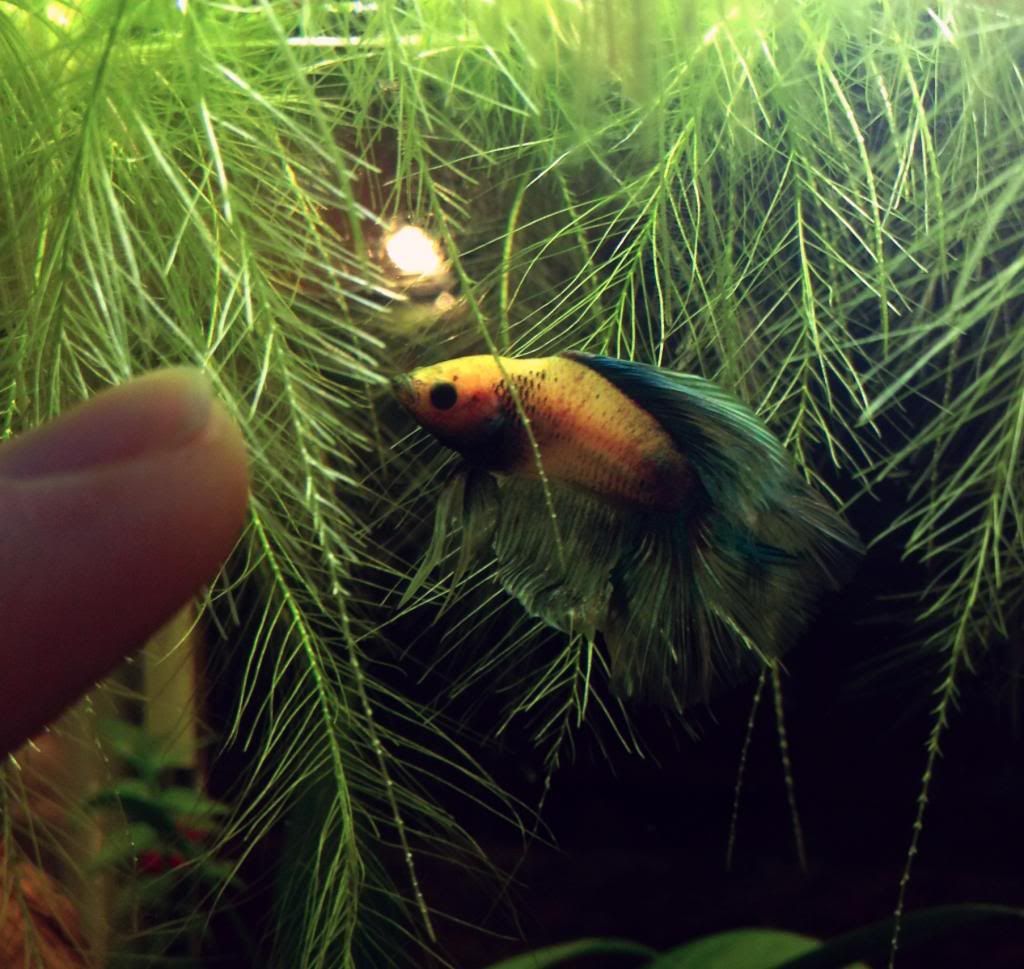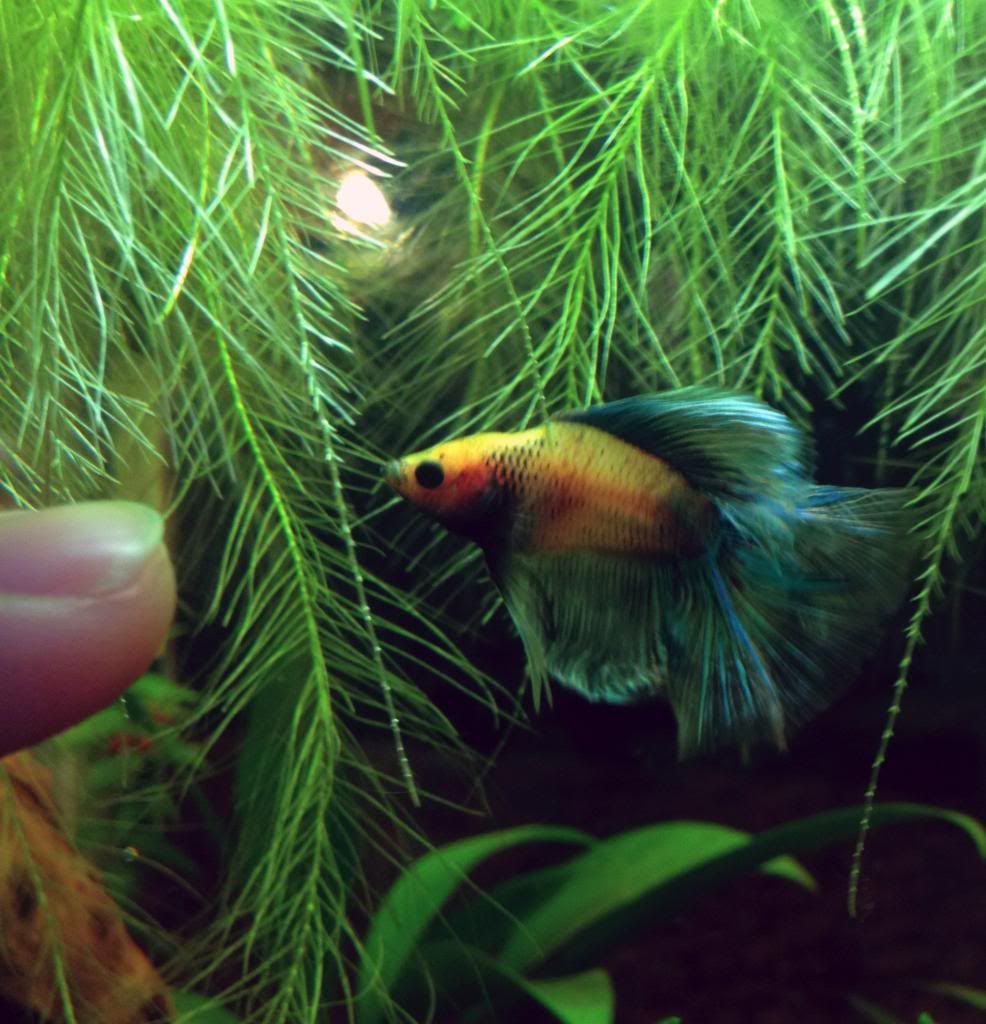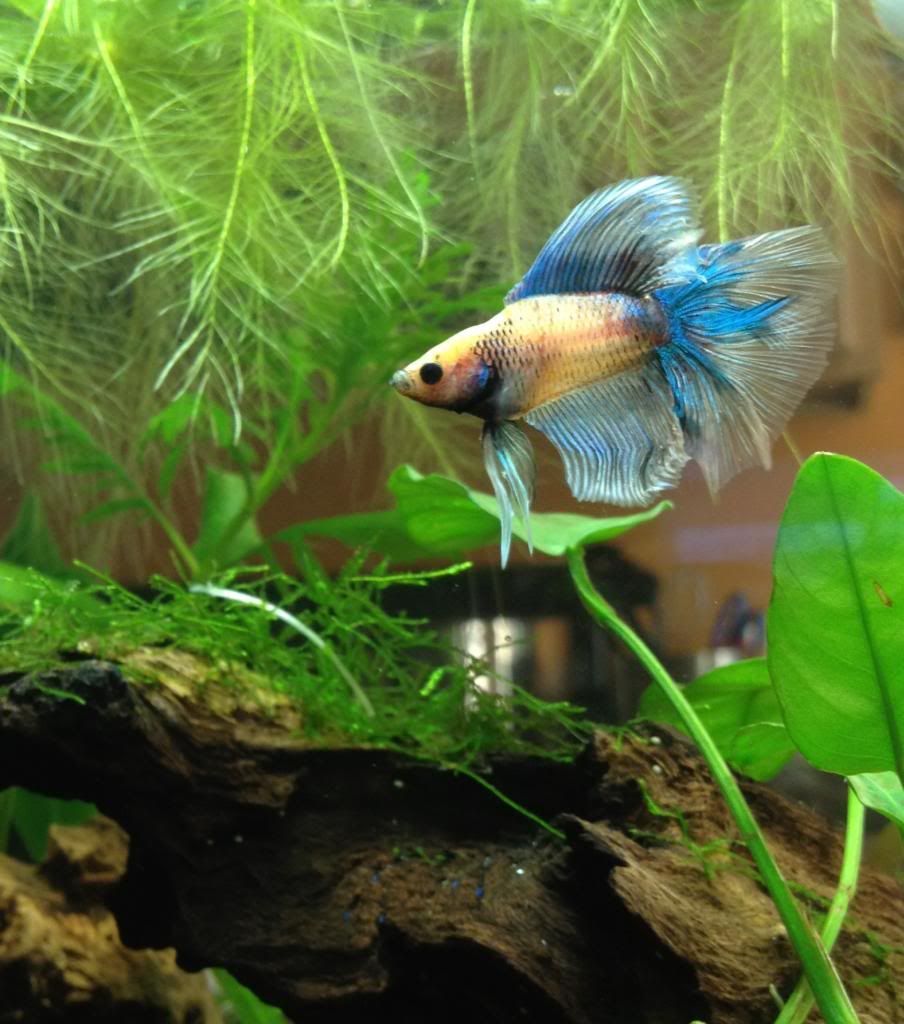 Mmmm, all these tasty evil noms I've been slaying make me... *BUUUURP* full!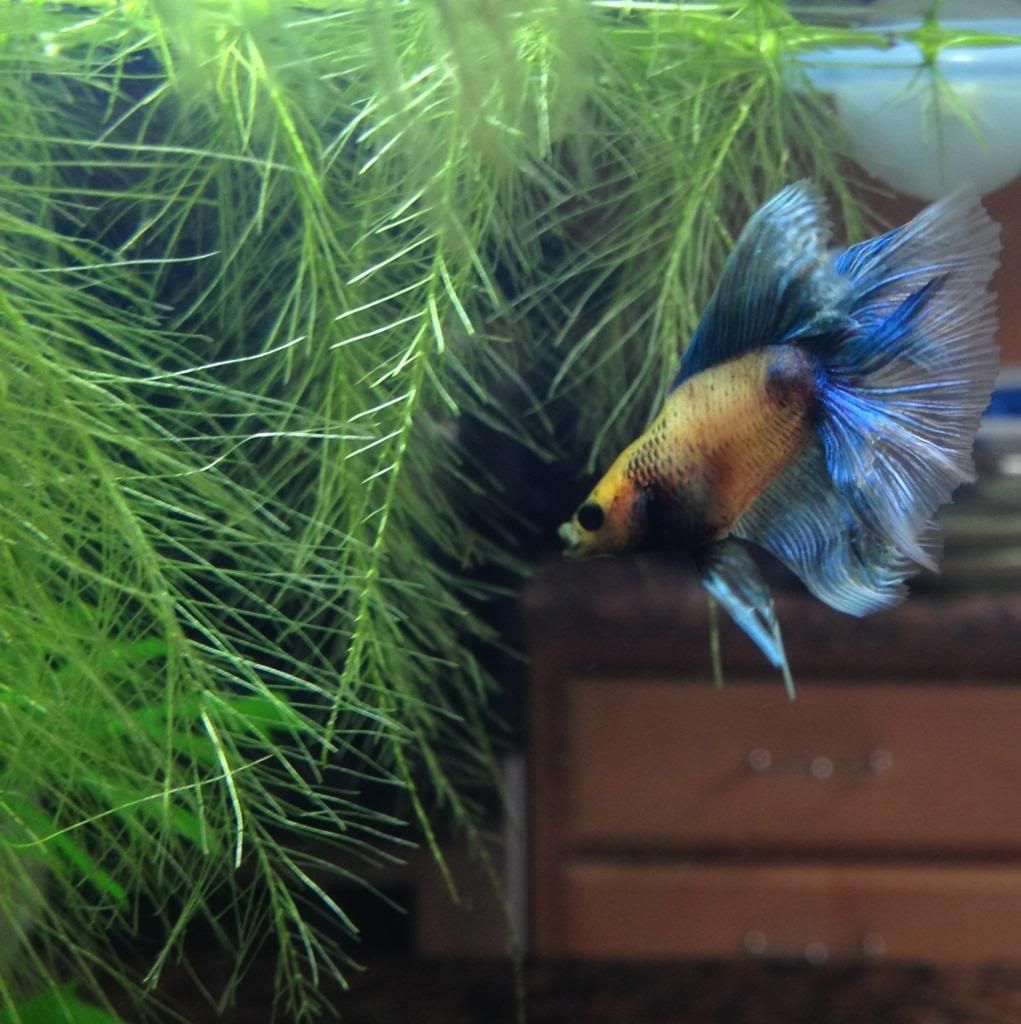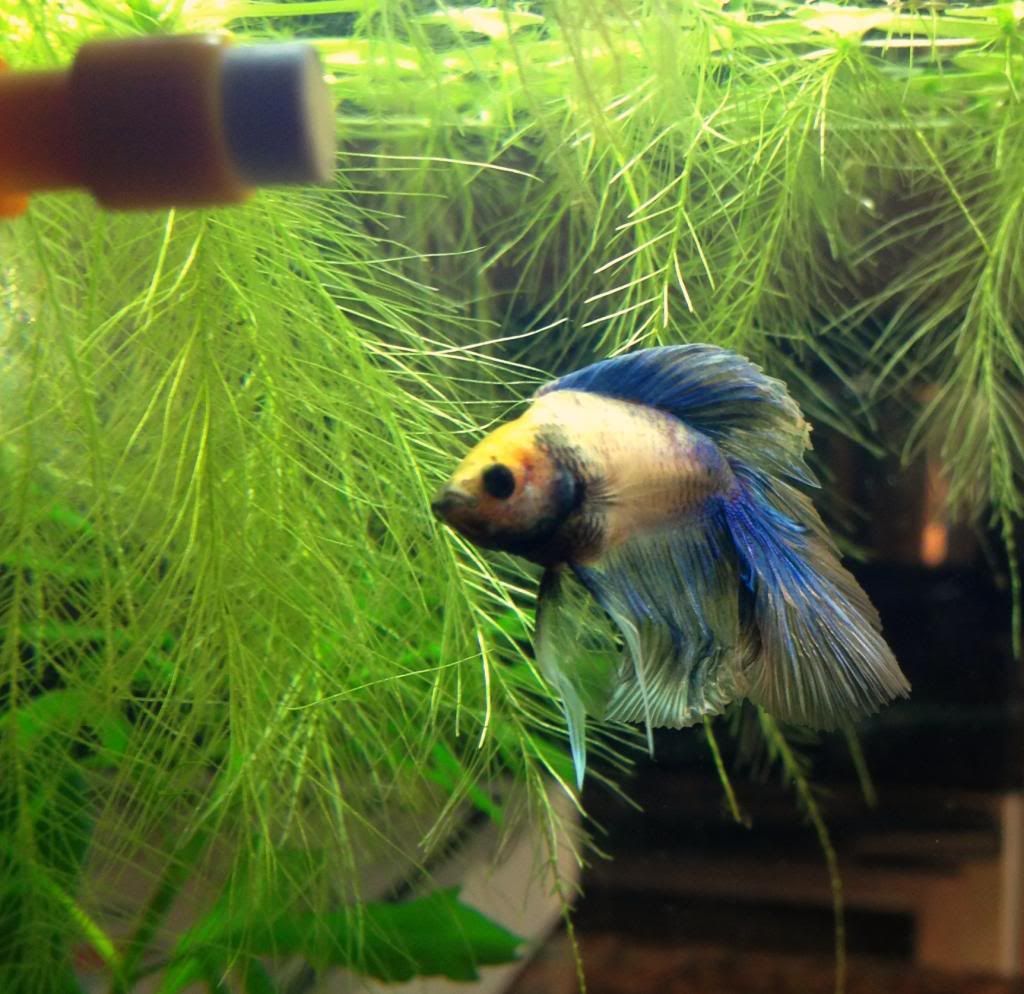 "MONSTER!"
Pinkman hates the camera phone, so no pics of him. And I think thats more than enough pictures for DT's few fans haha.
I absolutely love the royal blue streaks in his tail :)
Banned
Join Date: Jul 2008
Location: Central Texas
Posts: 27,607
I bet he likes all those plants.
Thanks guys. He definitely does like his little jungle! His favorite thing is hunting for little yummy critters all along the driftwood. I have a lot of little live organisms in there, I really didn't think I was/am over feeding, but meh whatever, as long as they do no harm they provide him with fun activity, so I don't mind!