Banned
Join Date: Jul 2008
Location: Central Texas
Posts: 27,607
Nice shots of your fish and snails.
So all 4 of my mystery snails are really not feeling well or happy. I wish I could just ask them what the heck is wrong. I really REALLY like my snailies. I honestly think more than the fish (shhhh!) and I'm super bummed out right now. I'm assuming it is either poisoning from the fenbenzadole I used to rid my tank from Hydra (thread in planted section) or the additions of Flourish and Excel into the tank. They seemed fine all through treatment, so I'm almost leaning towards the ferts, except I've been under dosing those! All other types of snails, RCS, Amanos, and Bettas in the same tank and my other tank are doing super well, no deaths noticed, plenty of berried shrimp and i saw at least one shrimplet since treatment and adding ferts. Except the Nerite who is dying from the fenbenzadole. My water prams are fine, though my pH is 7 (or 6.8) so I want to add crushed coral to bump it up a bit in that tank (which soon will be invert only). I can't believe something could be SO sinister to the Mystery crew and not have any ill effects on the other critters. Especially the shrimp!
I removed them to a KK with clean water and have seen no improvement. They aren't eating. They barely move. Some of the symptoms seem like what I read ammonia/nitrite poisoning looks like, but it def isn't that. I tried an air treatment. Will try again...
Anyone have ideas? What can I do? I love my snail crew, I really want to save them. I feel so helpless. It was all supposed to be safe enough for them, others have used it all with nonissue. Why my snails :'(
Well I'm 99% certain my first and favorite snail has died. I was more attached then I could have expected, and it really has me quite down. I want to get more, because I really really enjoy them and I have a sinking feeling none will pull through, but I'm now worried that my tank will be toxic to snailies. Agh, animals are such heartbreak. If only I didn't love them so!
Banned
Join Date: Jul 2008
Location: Central Texas
Posts: 27,607
I'm sorry about your snail.
Thanks DQ.
Hmmm, my plant order was supposed to arrive yesterday and tracking info hasn't been updated in 2 days now. Really hoping mail isn't messing up and I'm going to get a bunch of dead plants now too. Waiting on them to set up my new 6.6 gal that I'm trying NPT.
So after my plants getting lost in the mail and delayed (thankfully most arrived alive anyway) I was finally able to set up my new 6.6. I'll try to get pictures up today. Wont look so great because the plants need to grow in, but I think I like it so far. I forgot to get a thermometer though! Ugh. So I'll have to see if any near by petstores have any when I have time. And then I'll be able to take Bauer out of the 10 gallon, and that will be all for my shrimpies (even though he doesn't pester them much anymore) and hopefully despite the fenbenzadole fiasco I can have Mystery Snails again... I lost all 4 of my Mystery and my Nerite :(
I'm so sorry you lost all your snails :( I'd be pretty depressed if I lost any of mine... I really hope you can have them again!!

I'm excited to see your 6.6! I think I bought the same tank... >.> ... and I'm going to try a NPT too!! :D Hopefully I can get mine set up tomorrow.
Derpy forum tricked me into posting twice... -.-
Whew, so I know I don't have much of a fan base reading this, but sorry for the departure anyway! Life has just been busy busy. But I'm back, and with more poor quality pictures! Huzzah!
So first up, some crappy pics of the new 6.6 I got. Naturally I realized that I forgot to get a thermometer, so I haven't moved Bauer in yet... But I guess that's ok, give some time for the soil to settle and not leech as much ammonia. Considering taking one from another tank, since the temps have been stable for a while, but there's always a risk of heater failure, sooo I dunno. There are some MTS and Rams (mostly or only pink) and I did see a pond snail or two who must have come in on the new plants. The moss is having a bit of trouble adjusting, so a lot of my moss trees have gone brown :( Some of the plants have had a good amount of growth already, the cabomba especially. I SWEAR it looks nicer in person! Much more depth, and not just like crap thrown all together. Oh well. Need a better camera! Maybe with xmas money...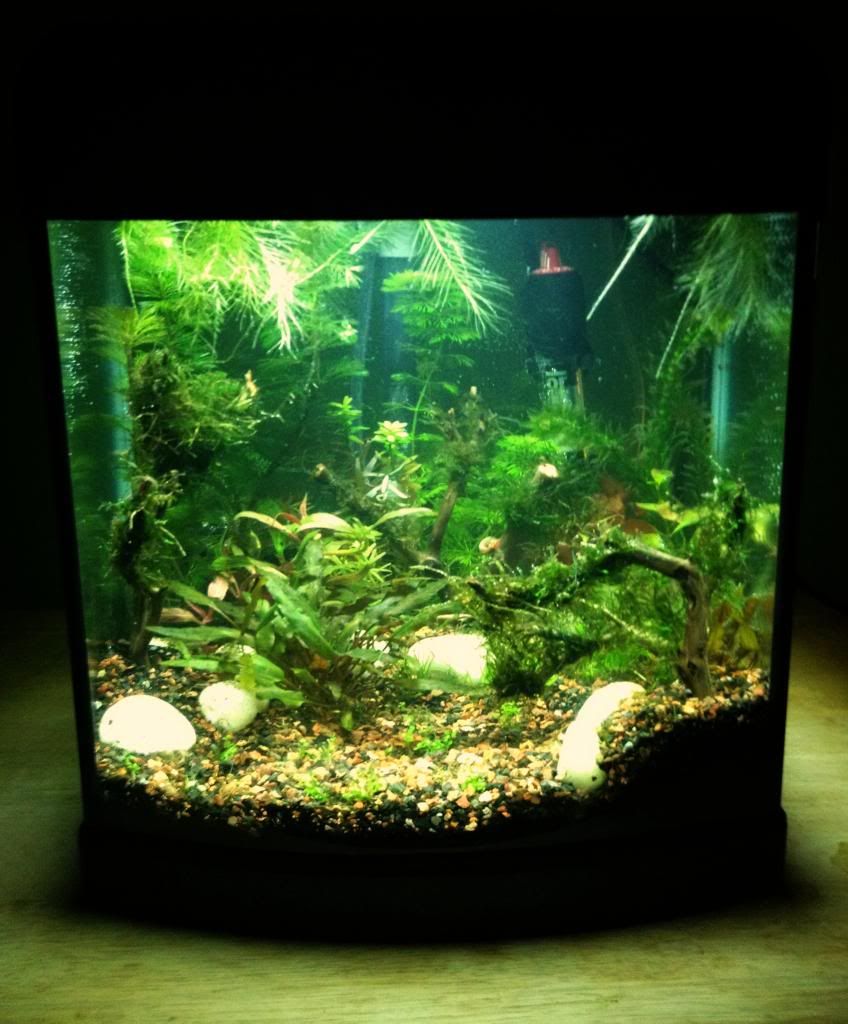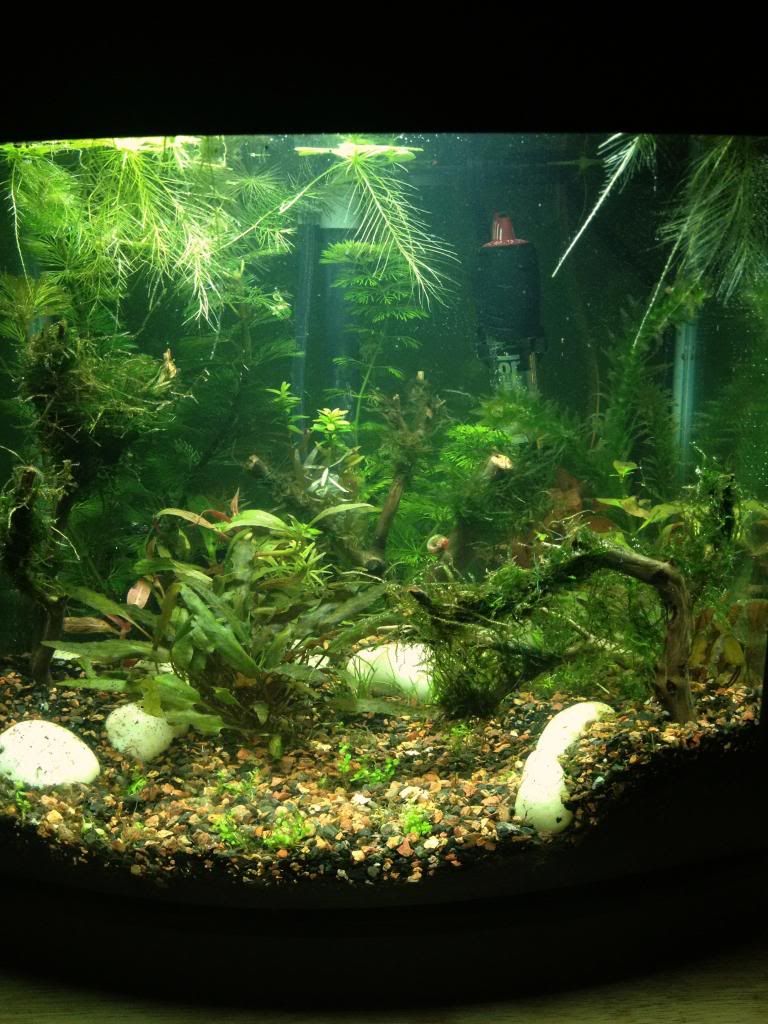 The floaters I may remove once the tank is stable. There is anachris, purple cabomba, limnophilia sessiflora, naesea sp red, alt. reineckii, red crypt wendtii, rotala, ludwigia repens, micro sword, dwarf baby tears, and the moss trees, I think that's everything....
Here is Pinkman's 6.6 long. I redid all of the tanks when setting up the new one, and he seems to LOVE the big new driftwood. He's always sleeping or hiding behind it, and around the sponge filter, and comes running out as soon as he notices someone approaching. It's pretty cute.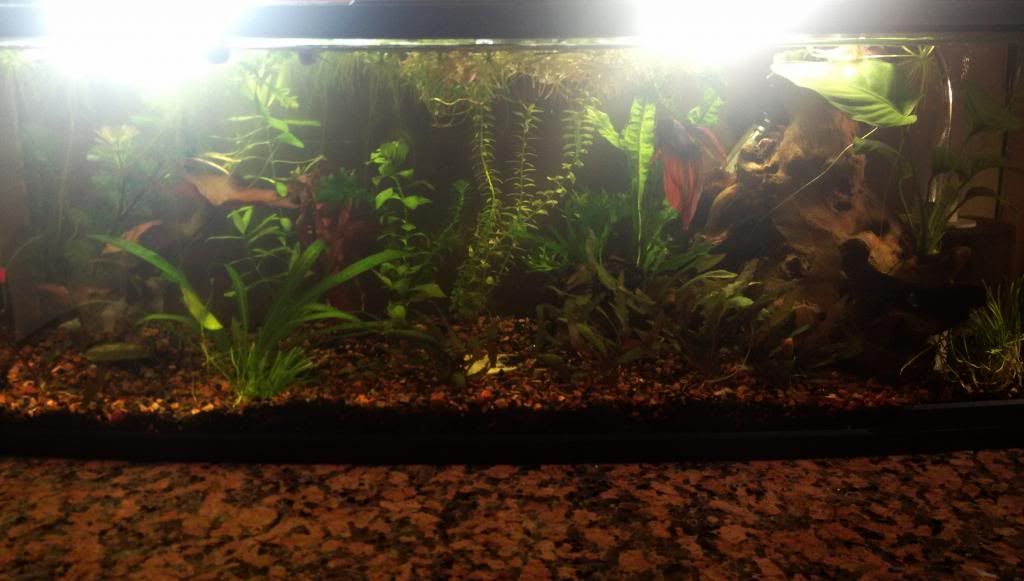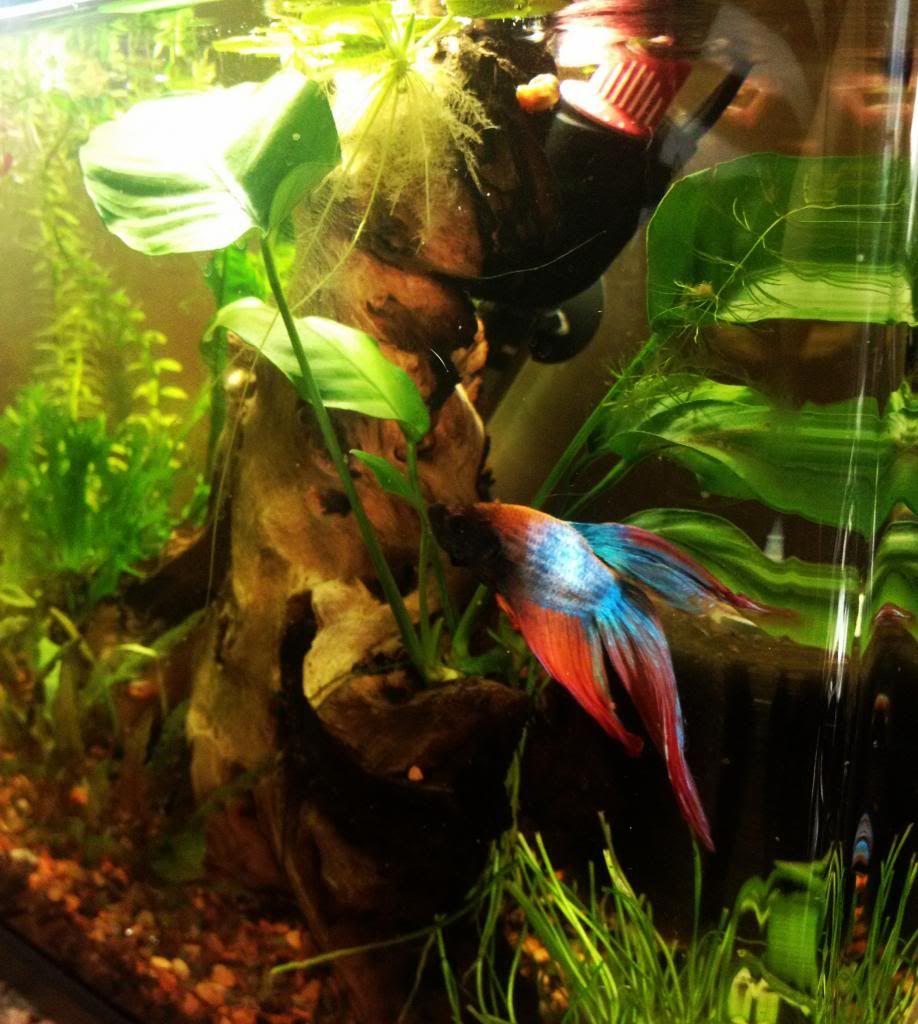 And lastly the 10 gal, which Bauer will get moved out of soon and it will be an invert only tank. He now however does live pretty peaceably with the shrimp, and I had seen A LOT of berried ladies, so hopefully the babies are surviving and hiding in the cholla, as I haven't seen many brand new babies, but I think I have noticed a lot more youngsters than I remember.
View from living room -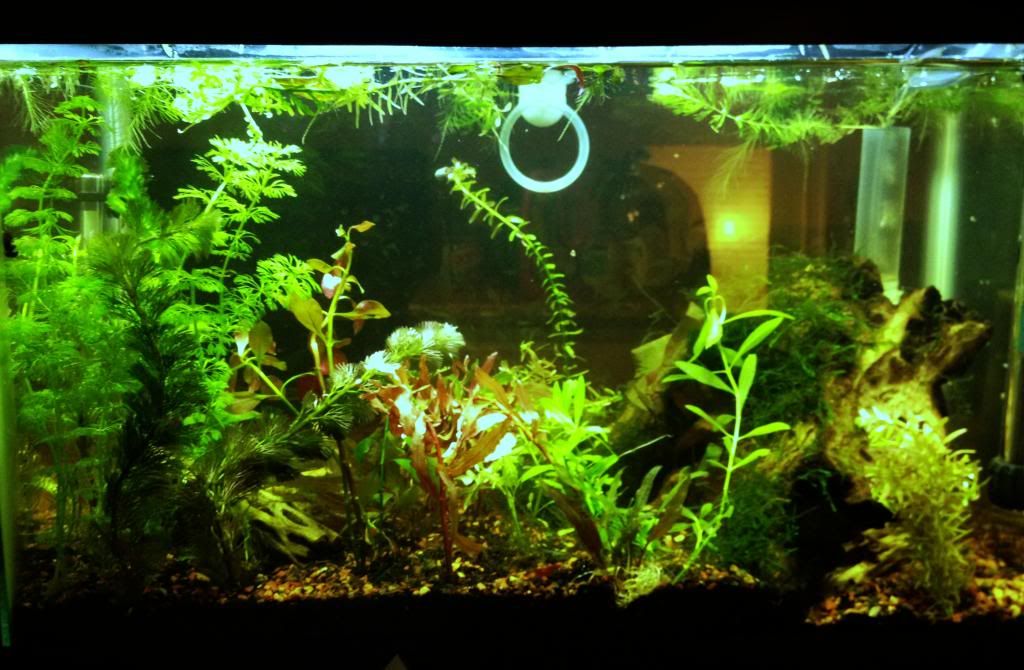 View from Kitchen -
Bauer, always looking for organisms to nom on the plants/wood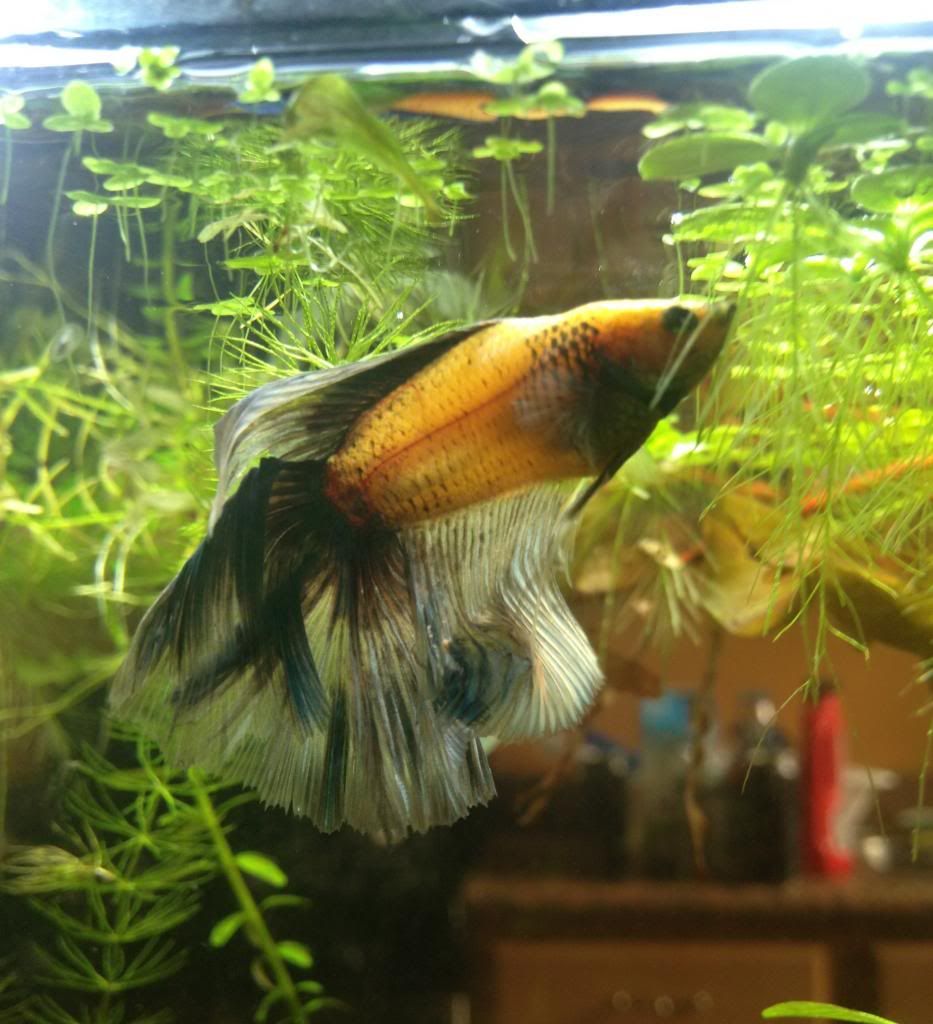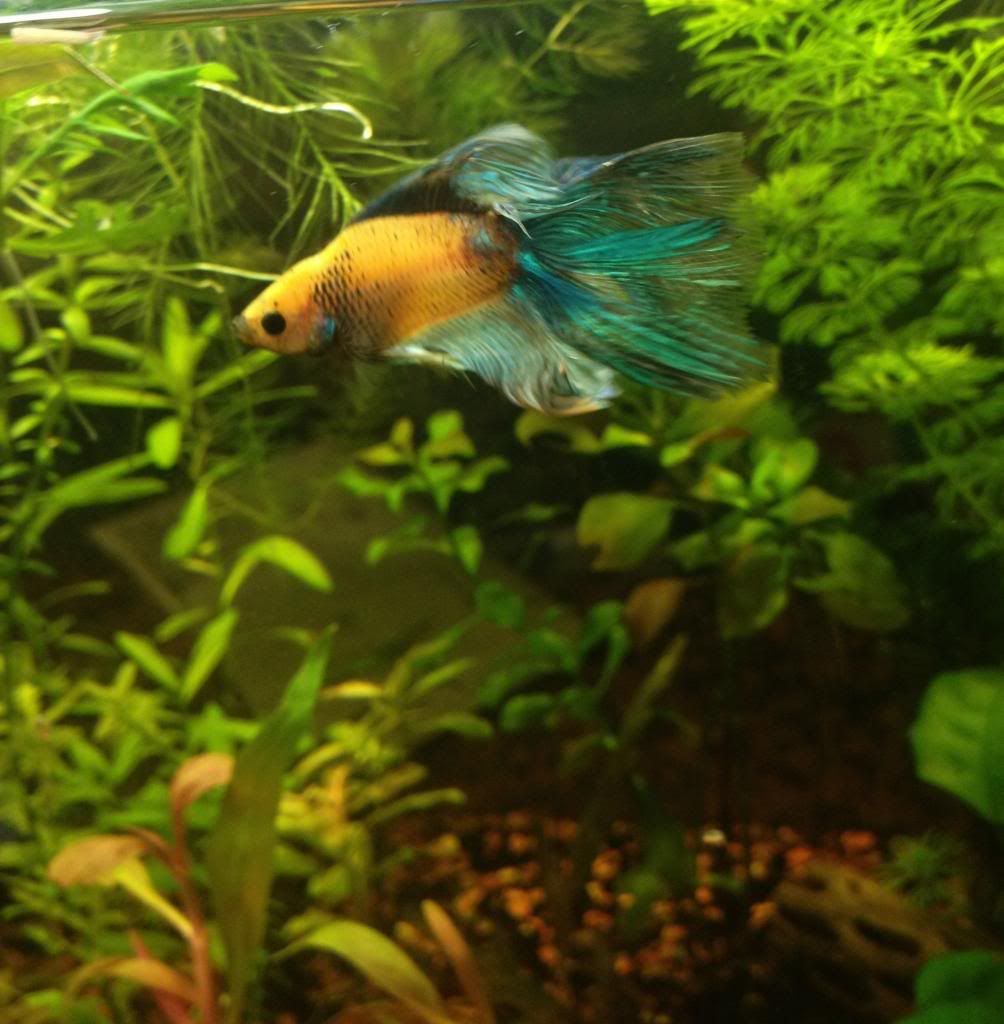 It seems so lonely without my Mystery bunch around :( Want to get replacements soon, but worry about shipping in the cold season.
I'm very sorry to read about your snails :( Your photos were a big inspiration to me getting my own little snail army over here. So, just know that although yours have passed on, their presence led to other snails finding a caring forever home here. :)

The first tank looks like a magical little forest, I love it! Bauer is lucky he gets to move in there! Both your boys are looking very handsome :D
---
Dates they swam into my life: Damon 04/17/14

SIP: Zen 07/06/13, Skully 07/31/13 - 10/07/13, Mysti 07/04/13 - 01/31/14, Ramses 08/07/13 - 05/17/14, Harley 07/16/13 - 06/23/14,
Koji 07/21/13 - 02/21/15, Damon 04/17/14 - 01/28/16