Quinn's (a)Quatic Quest
---
So I decided why not chronicle this journey I am on into the aquarium hobby? It'll probably mostly be me throwing tons of poor quality camera phone pictures up. My laptop broke and I can't upload my pictures to my boyfriends laptop so I'm stuck with my phone, but I enjoy taking the pics a lot. And I'm starting to become really in love with my tanks and their inhabitants.
I first joined this forum YEARS ago when I found my family with a Betta in horrible conditions. I wanted to give them the info to provide him with proper care, and they did do a little better (got him in a larger home, and kept him in warm areas but no heater...) Well this summer the SAME THING happened. I came on here to research and decided I would take the fish. I ordered a tank and a ton of supplies online, spent a ridiculous amount of money. And he died before it even got here.
Yeah I could have returned it all (and I SHOULD HAVE) but I thought, why not, let's get a fish! And one quickly turned into 3. But sadly my first boy, my gorgeous marble crowntail boy Silas, died very suddenly. I was surprised how quickly I got attached, and I've just found myself becoming totally addicted. I've spent way too much money already
Anyway, right now I have two tanks.
My 6.6gal Petco Bookshelf Aquarium which currently only houses Pinkman, my VT male, I'm not sure what color to call him. It has Caribsea Tahitian Moon Sand and FloraMax substrates and is planted with Anubias, Java Fern, Crypt Wendtii Red, Amazon Sword, Water Wisteria, Green Hygro, and I think a tiny Rotala Rotundifolia clipping, and some floaters. Also some Marimo that I tied to a hunk of wood. I've got two gooseneck desk lamps with a 13 watt 6500k daylight CFL in one, and a 10 watt 5000k (I think) Marineland CFL in the other. The tank has a sponge filter and a 25watt Hydor heater.
Then there is the 10 gallon. This also has the Floramax and Moon Sand, Wisteria, Amazon Sword, Anubias, Crypt Wendtii Red, various floaters, Green Hygro, Bacopa Carolina, a small clipping of I think Water Sprite, Java Moss, and some driftwood with mosses on it - Peacock and Java I think, and some Marimo blocking up a potentially dangerous hole. It has two 13 watt 6500k daylight CFLs in the hood, a sponge filter, and 50watt Aqueon heater. It houses my baby DT boy who still hasn't told me his name yet. It's something fun, maybe ends in a y/ie, could be a human name maybe not. Nothing has felt just right yet. He came home with me the evening of August 18th, and he has definitely grown and changed a ton! I thought I read that Petco babies are usually like 6 weeks or something? If that is true he would be almost 12 weeks old now. He also shares his home with Agent Dunham the Purple Mystery Snail and Teega the Nerite. More snails will certainly be joining the family. I LOVE my Mystery. So much fun.
I would also like to get Red Cherry Shrimp and maybe Amano.
Anyway enough yammering. Here are some pics. Again, sorry for the quality, the phones all I got right now
Pinkman's 6.6gal (there ends up being like 4.5-5gals of water with everything else)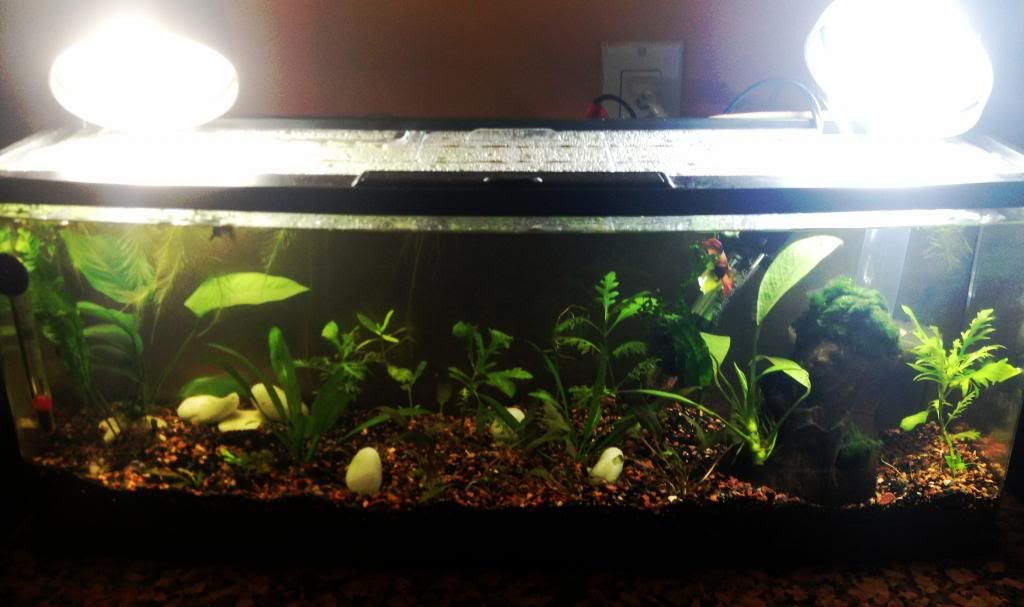 Pinkman - I took him in from a neglectful situation. He seems like maybe he's an older guy to me for some reason, but I know he was recently purchased from Petsmart, so who knows. He's a little shy, but at the same time wants to interact and is always begging for food. He is very feisty towards other fish, I'm hoping he can happily cohabit with some type of critter.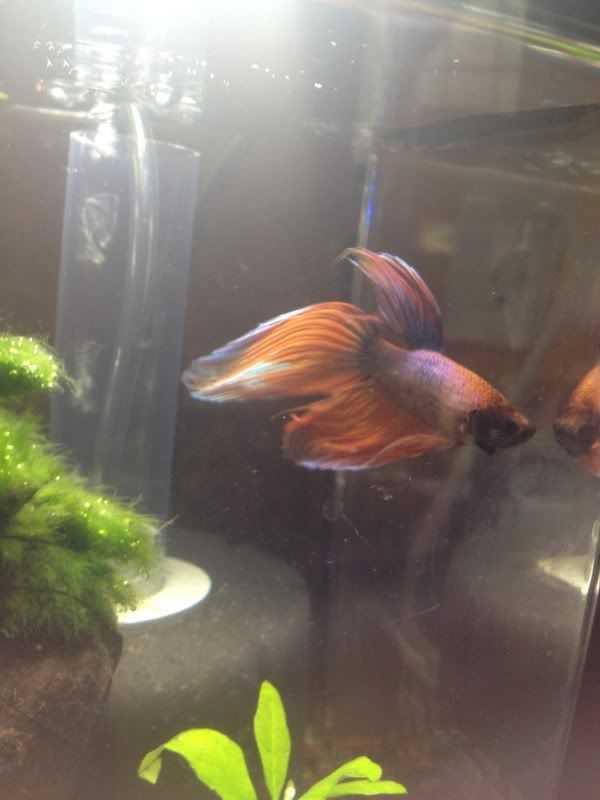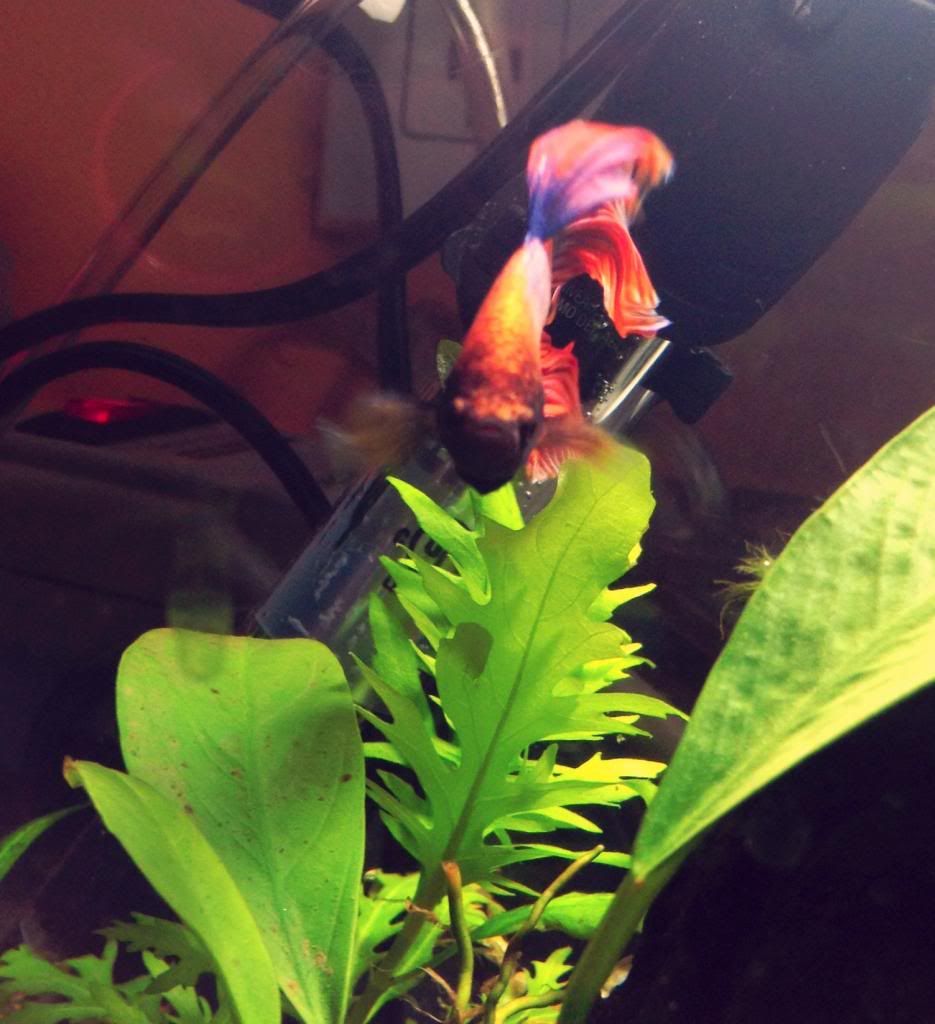 Shows his grizzle kinda area
10 Gallon - It's on our kitchen island, so one part looks into living room, other side into kitchen.
This is my usual view from my spot on the couch, but its the "back" of the tank.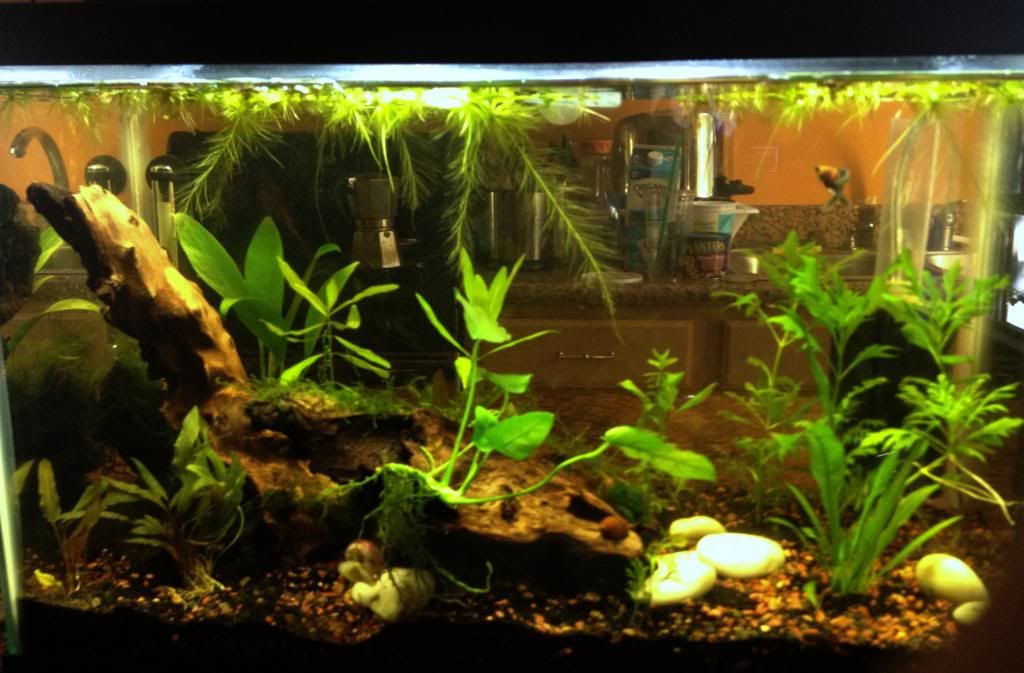 Aaaaand I forgot to upload the new front view. Oops
Baby DT Boy
Peekaboo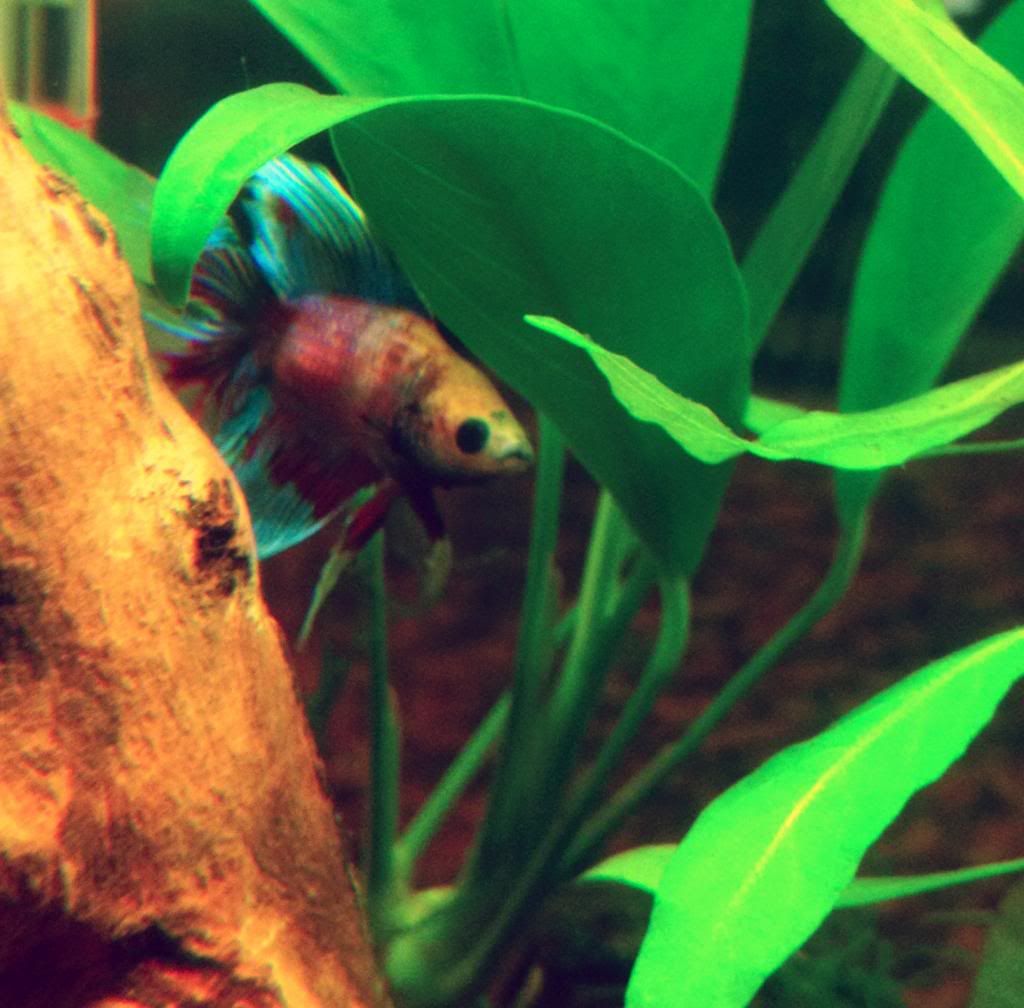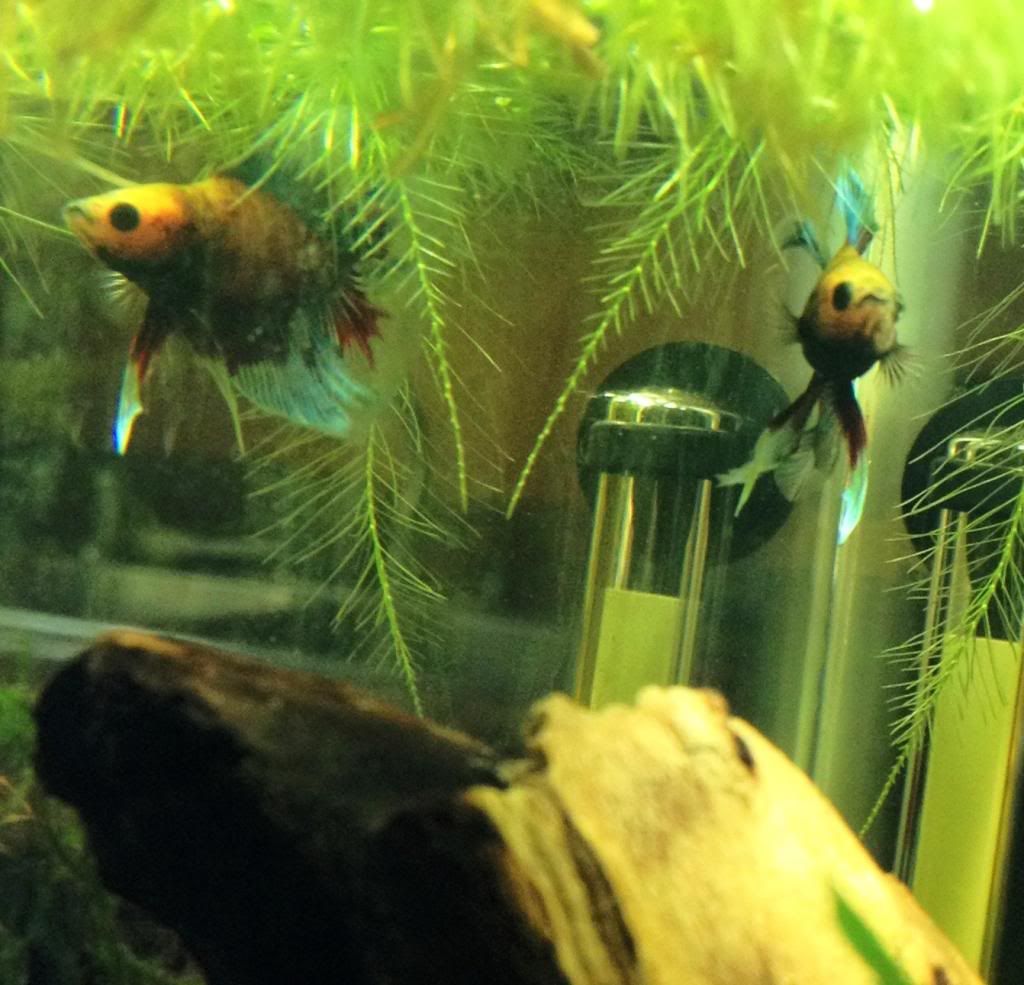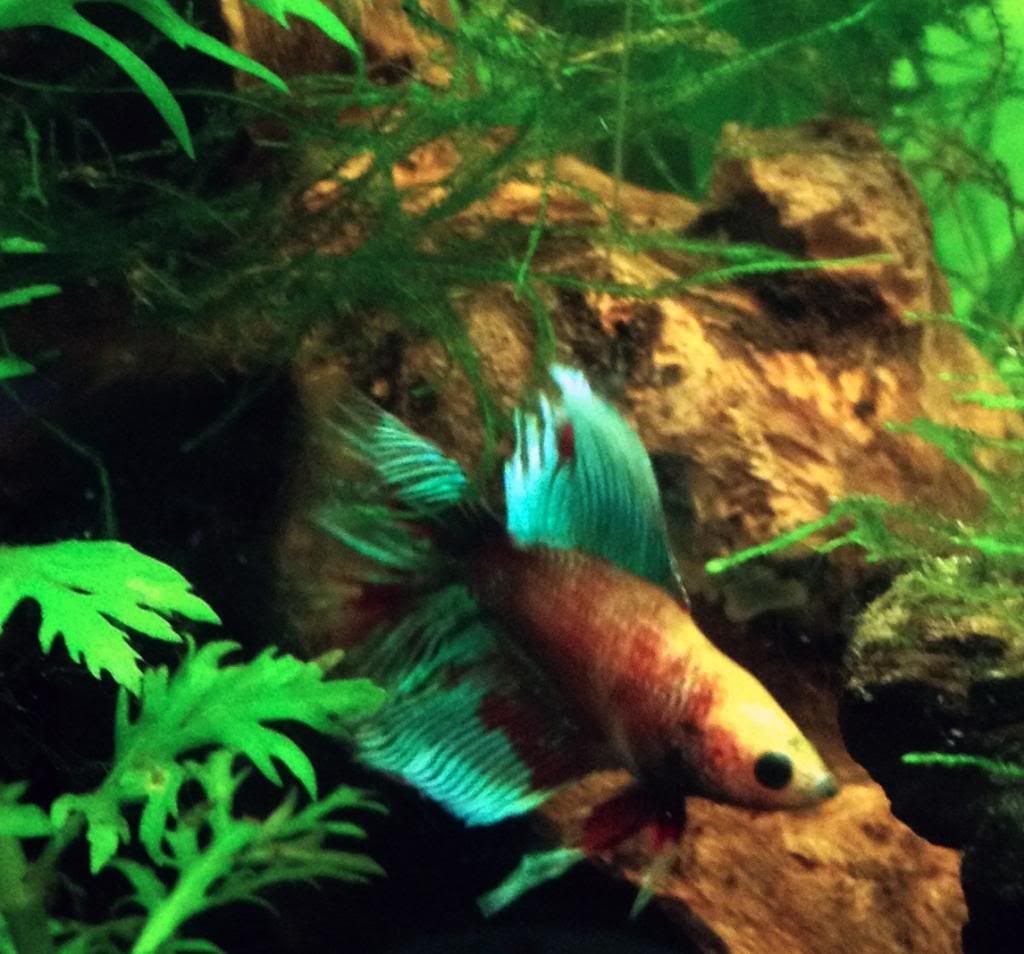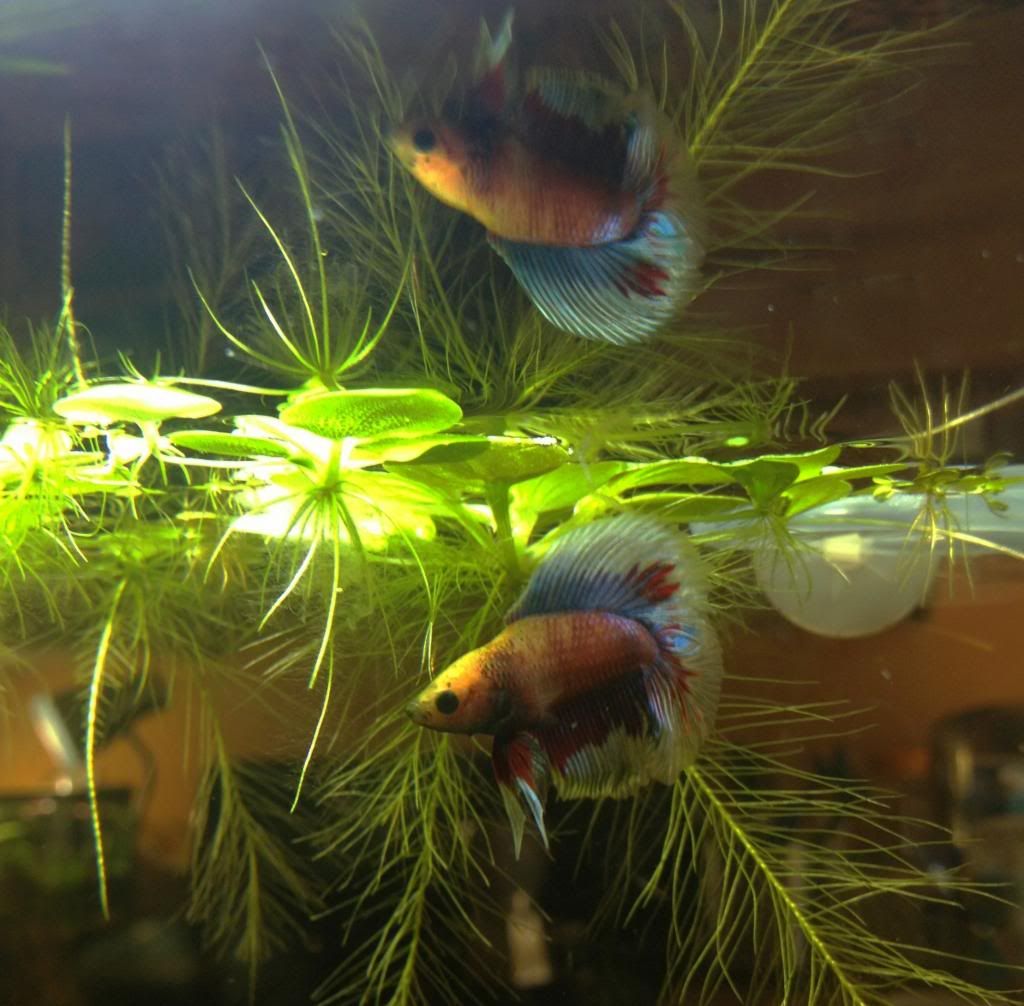 Agent Dunham and Teega
Frands!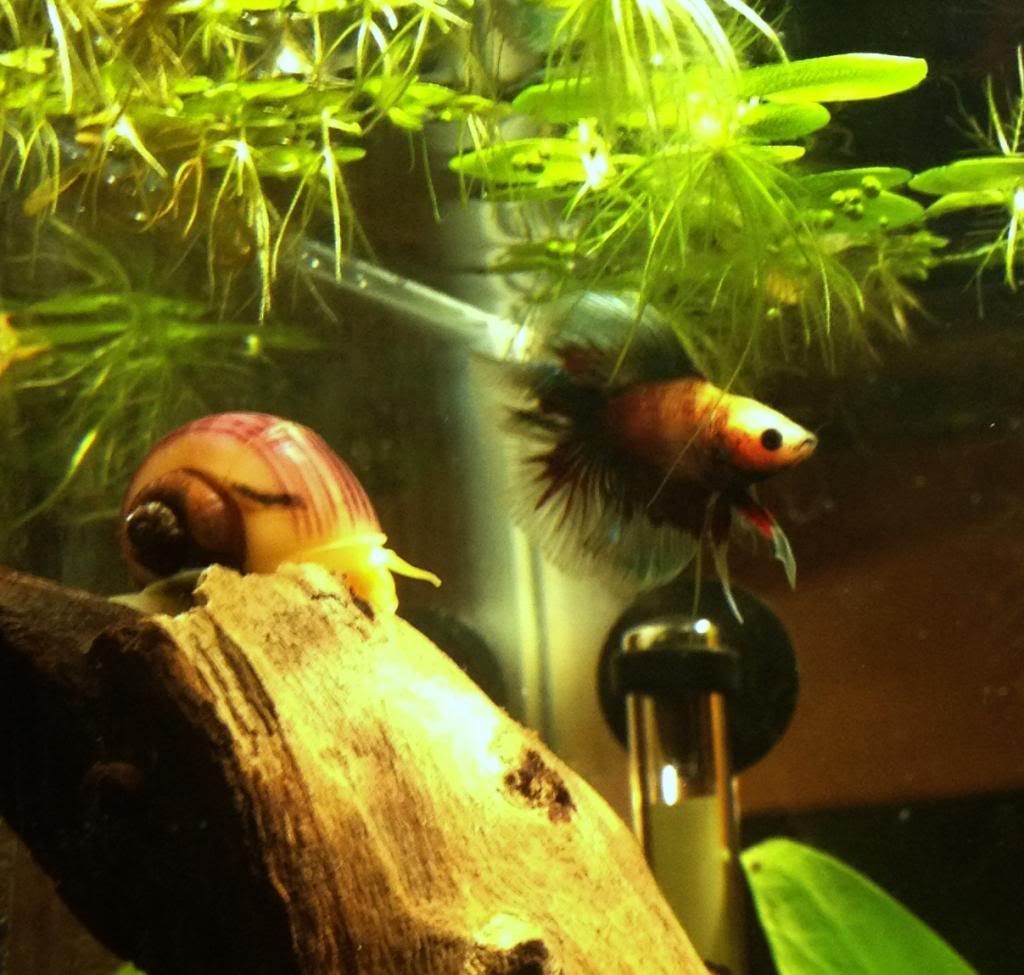 Actually 1-2x a day DTboy seems to become "enraged" with A.D. snailling around near the water line or top of the driftwood. He will flare, and zoom around very wiggly in short very fast bursts around her. Then he usually frantically works on his bubble nest for a few seconds and repeats a few times and then all is well. The whole thing is 1 maybe 2 mins tops. But other times he hangs around her with no issue, and only one time did he want to sample her antenna, and it was curious not aggressive. Is this behavior just him playing around, strutting his stuff, and A-OK, or is this a problem and is very stressful to him? It really seems to me like he's just messing around and being a show-off, feeling all big and tough around a snail.
Preetty tails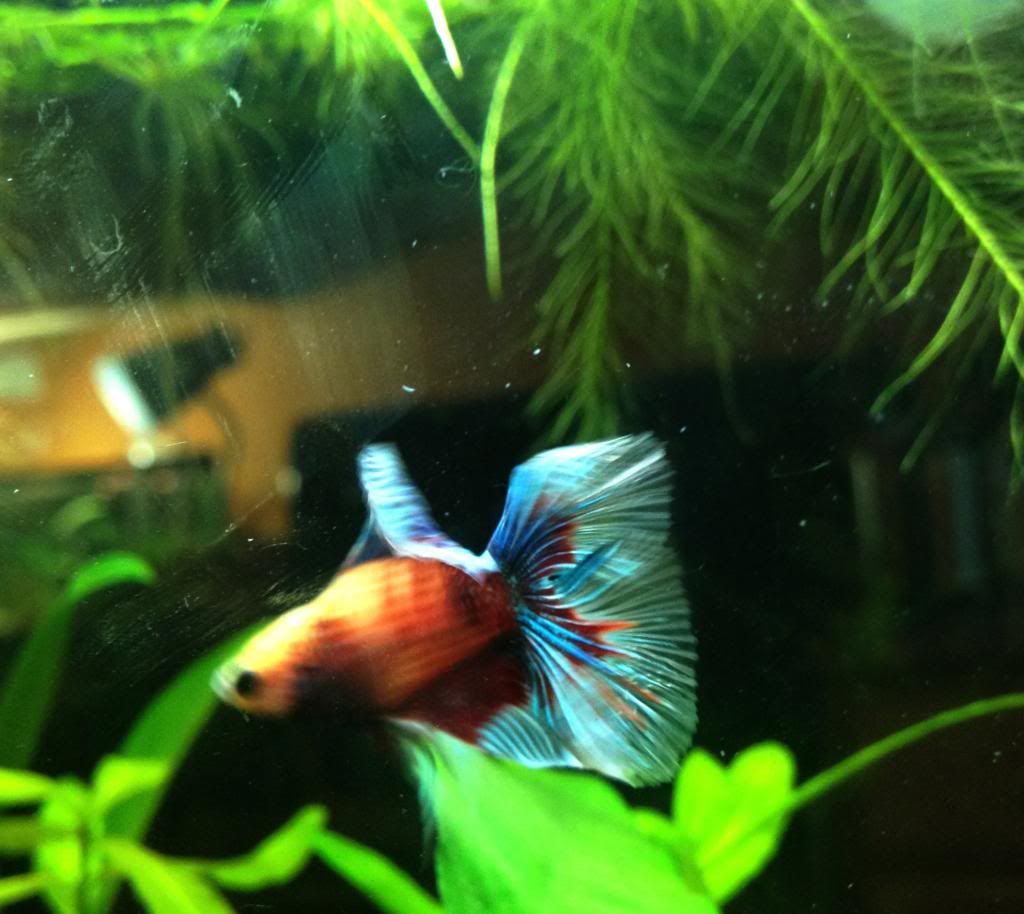 Hunting for yummies on the driftwood
Agent Dunham on a classified mission
And when he first came home, such a wee thing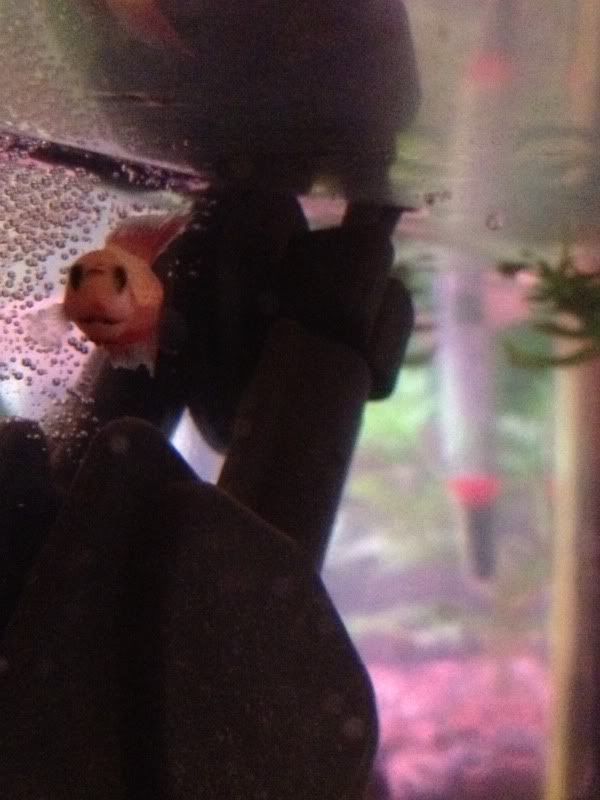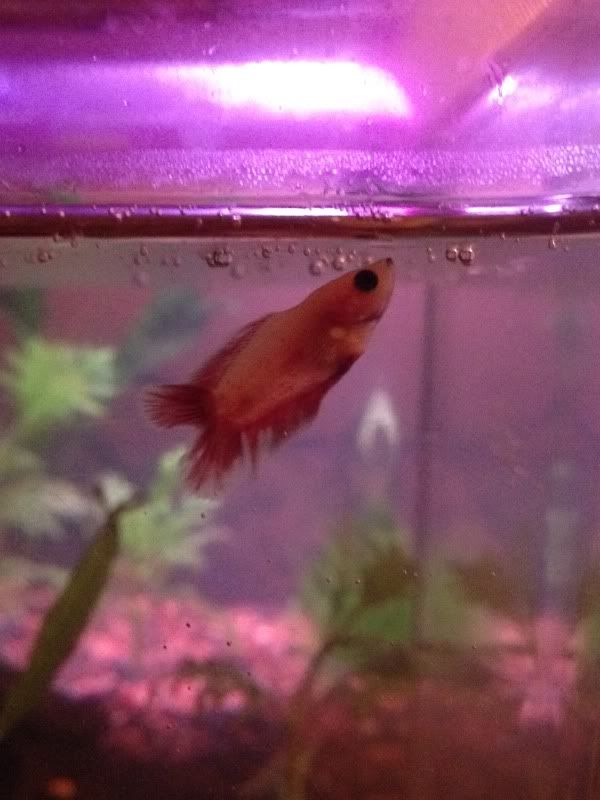 And those are the aquatic members of our family! Till next time.
Member
Join Date: Sep 2013
Location: Western NY
Posts: 733
your set ups look great, how long did it take you?
Quote:
Originally Posted by
beautiful Betta
View Post
your set ups look great, how long did it take you?
Thanks, these are my first real tanks (besides being a child and having fish in the house that nobody knew a damn thing about!), and I'm finding them so addicting. I LOVE the live plants, it is so calming to have around, my little slices of nature in this cramped city (that I'm desperate to get out of but can't). All things considered I think it has all gone pretty well. I've only had to take out and discard one Amazon Sword that wasn't doing well, and most of my plants are from Petsmart, so they weren't in tip top shape to begin with. I have root tabs in both tanks as well I forgot to mention.
I had the 6.6 set up with another fish back in early August, that was my first. The CT in my avatar. Then he passed suddenly and I was super worried about disease so I tore down everything and cleaned it, let it dry out and set it back up, that's also why the substrates are totally mixed together in that tank. They were supposed to be layered, just for aesthetics, but oh well!
So both tanks were set up on September 1st for real, and I have rescaped and added things as it went along. I still want to get some other plants and add to it, but I'm pretty happy so far! They aren't cycled yet, but I haven't gotten any readings in the 10 gallon since right after I set it up, which is frustrating but I'm also wondering if the plants are doing the work instead, some of them have really been growing. Maybe I almost have it planted heavily enough. It looks denser in person than the pics.
New Member
Join Date: Aug 2013
Location: Simi Valley, California
Posts: 40
Great pics, Quinn. Your tanks are absolutely gorgeous! I'd love to put more live plants in my tank but so far I seem to have a very brown thumb. I'm sure it's my lighting so I'm going to get a new plant light & keep trying. Love your tanks, thanks for the pics!
Thanks gm! I have certainly had luck with my 6500k CFL bulbs.
they were only set up in august and they already look amazing.
Your tanks look awesome! I love them :)
And don't feel bad that your baby doesn't have a name. It took me about 2.5 months before I figured out my baby's name :)
Banned
Join Date: Jul 2008
Location: Central Texas
Posts: 27,607