So, I've been trying to find different ways to do water changes that doesn't require me lugging my 2.5 gallon tank from my room down to the "animal" sink in our laundry room. Here was my brilliant idea of the night:

I'm a coffee drinker, and I use the Coffee-mate liquid creamers. One of those bottles is one quart. So to do a 50% water change, that would equal four of those. Unfortunately the bottle doesn't actually fit in my tank, so what do I do? Use a cup to scoop out the water, pour it in the very well washed out creamer container until I filled four of them. At this point Sparky was probably all WTF?

Anywho, so I then measured out my water conditioner and filled the container four times, adding a bit of the conditioner at once and then carefully dumping it back into the tank. IS THAT NOT GENIUS? I think it is.

OH. And I was so angry. For some dumb reason, my filter is spitting a crap ton of water out of the excess flow thing and creating one heck of a water fall. I felt Sparky's pain as his fins were just battered about. Tried rinsing the cartridge, that didn't help. So I was messing with it and when I pulled the cartridge up the water finally mostly went out the out flow. Just. What the hell? And I noticed there's a big tear in his fin now. JUST WHEN HIS FINS WERE ALL PRETTY AND GROWING BACK. I'm so angry. *grumbles and stomps off*
Sparky was really active today, just swimming all over and flaring at his reflection. Yesterday when I cleaned out his tank he had a ring of bubbles all around the tank against the sides and much to his annoyance I kinda destroyed his bubble ring. Today he has already replaced those bubbles. I'll take that as a good sign that he's a happy fish and everything is grand. I'll probably try to get some good pics of his fin regrowth tomorrow if I have the time. It's crunch time for a bio exam on Wednesday. *sigh*
I woke up this morning to find this lovely little thing in the corner of the tank. Sparky was really busy over night, lol.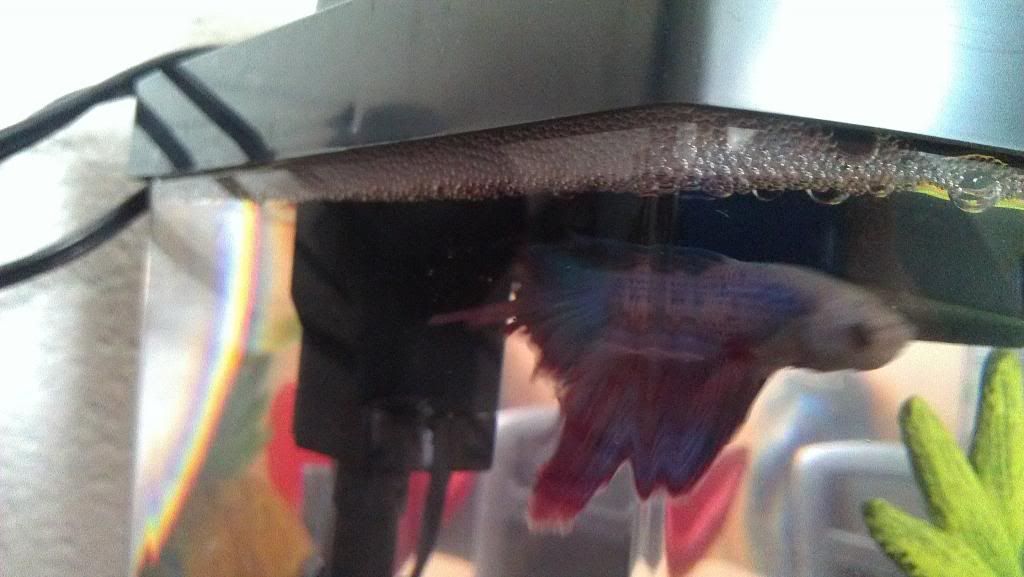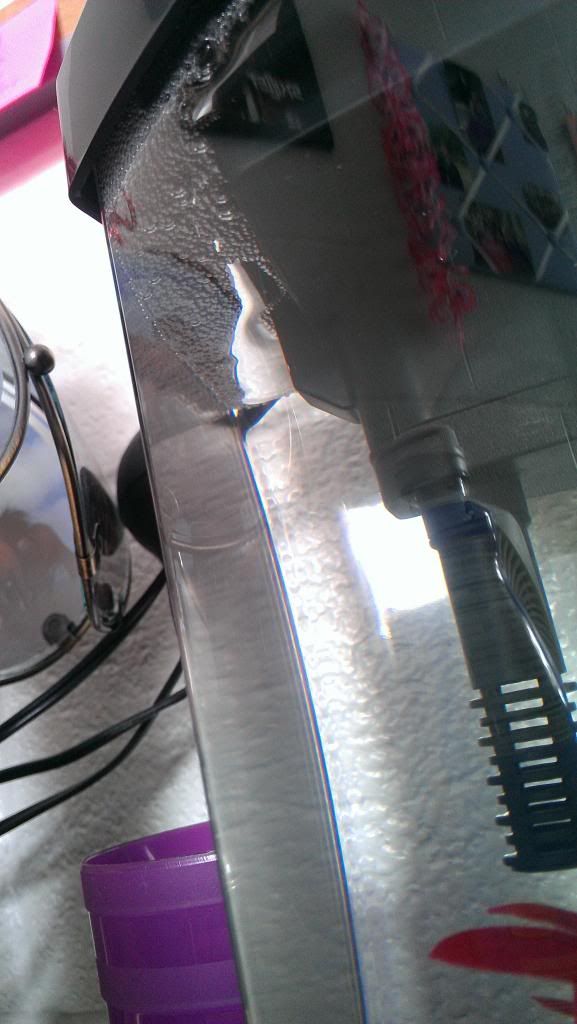 It's the first actual bubble nest he's built for months. This really proves the whole "Bettas prefer more than 1 gallon of water."
I did manage to get some pics of his tail/fin growth. Although, it's more of his bottom fin growing than his tail which is really what I want to grow out again.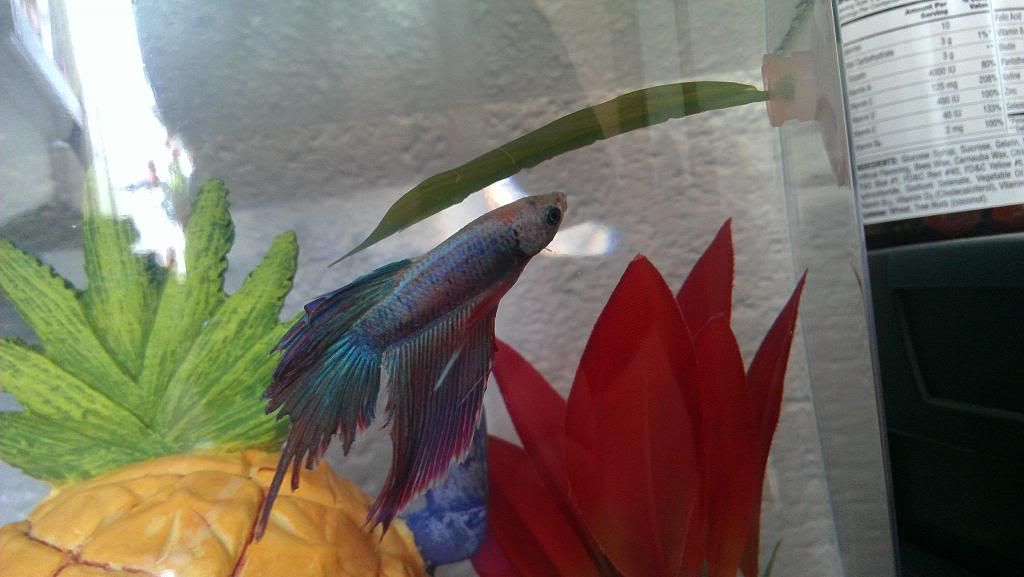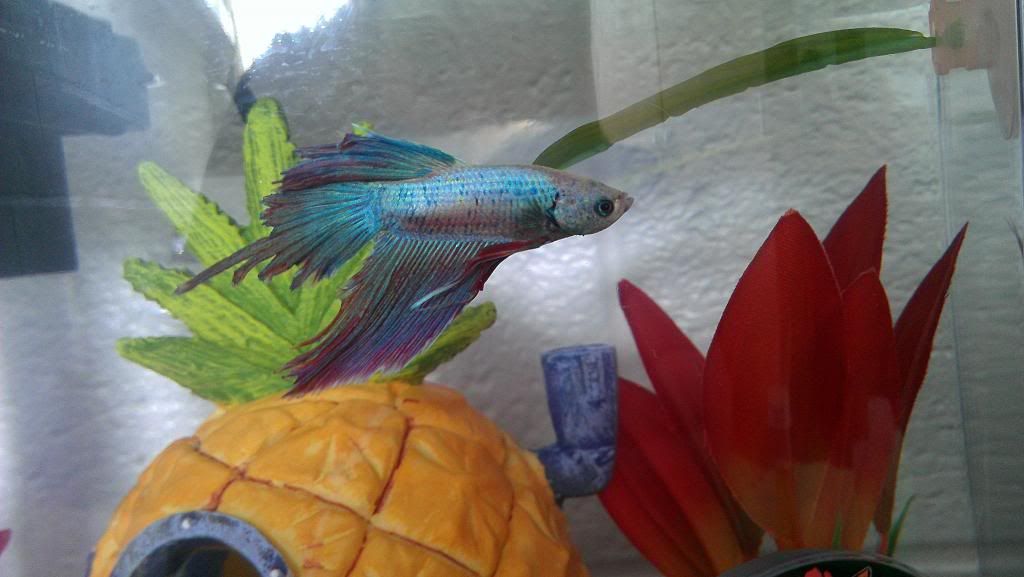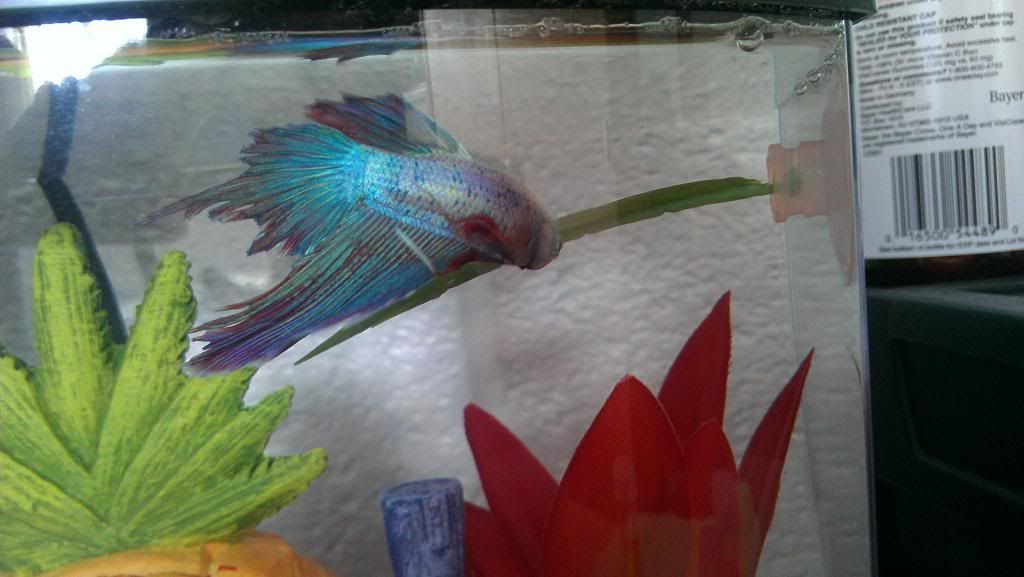 In the last pic you can kinda see some growth on the bottom of his tail. Still, it is some progress. Baby steps, lol.
Today I did a 50% water change plus sucked out all the crap on the bottom and washed off his plants and pineapple. I think sometime this weekend I'm going to do a full 100% change and clean his gravel. The sides of the tank are starting to become a bit slimy as well... I'm not sure why, but Sparky doesn't really seem affected by it so I suppose it's fine for now. I think I will start doing this every two weeks from now on, especially since my tank isn't cycled.

If any of you saw my other thread about my filter, I had to buy new cartridges and replace mine already because it was clogged. Eeek. I'm thinking perhaps our school's tap water is hard on the filter. Either way it's replaced and running smoothly again.

It's been so warm and springy here in Pennsylvania the past few days, and this weekend is supposed to be even nicer! However, next week it's supposed to drop back to the 20s again and I've heard talk of another big snow storm heading our way. Ugh.
Yesterday we took my friend to the mall so she could get her cartilage pierced. Personally, I didn't have anything pierced at all. But some how I ended up in the chair and now I have my ears pierced finally. My friends are bad influences.... But at least it was just an ear piercing, right?
I also decided to do a 100% water change and clean everything up good. For anyone reading this, I have a stupid beginner question: There's always a slimey covering on everything after 3 or 4 days. Is that normal? Like it's on the filter, his decorations, the thermometer. It doesn't seem to get on the heater but I'm thinking that's cause of it being warm... Help? lol
I also snapped a few pics during my endeavor: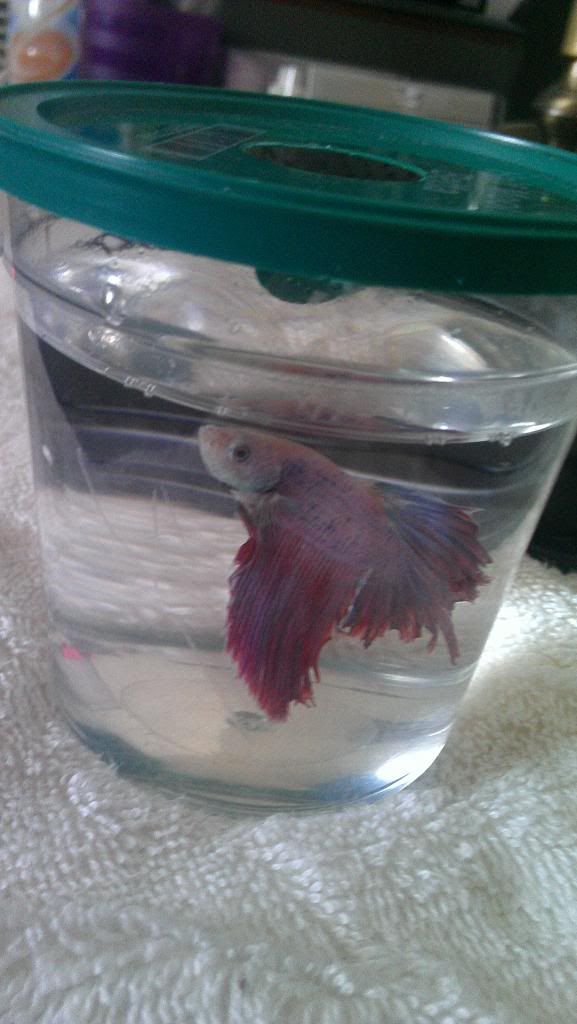 Let me out of this cup woman!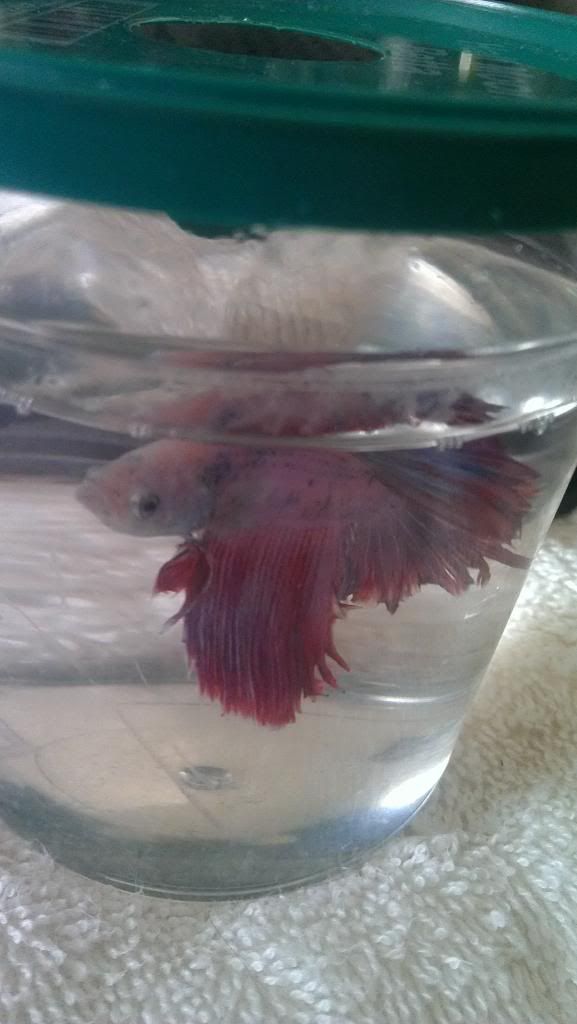 I MEAN IT! (Look at that grumpy face!)
FREEDOMMMM!
And then this morning I came back and looked in the tank to find this already. Crazy little fish.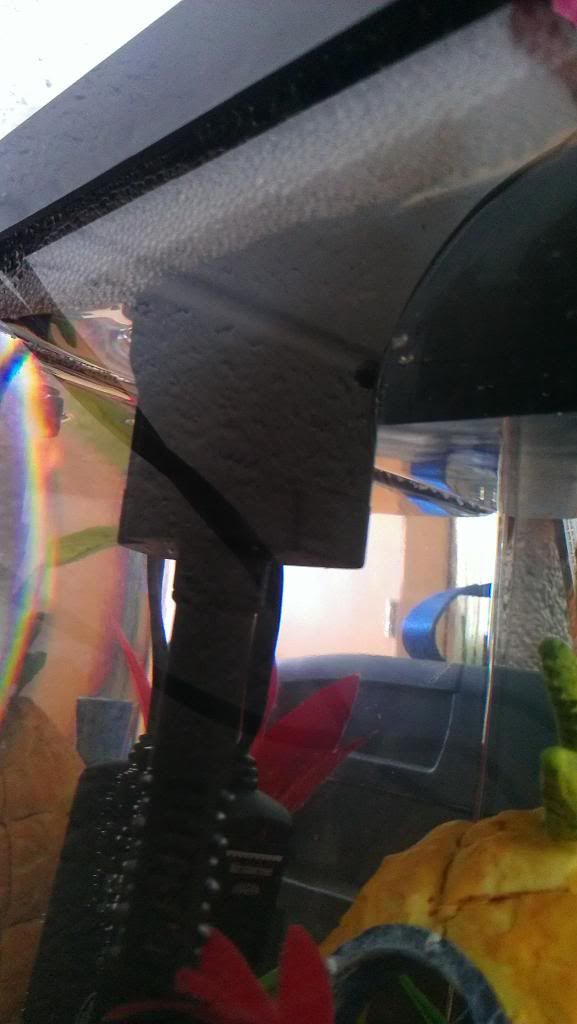 I've been trying to figure out exactly what Sparky is. His cup was marked as Half Moon but I'm thinking he's actually a Delta... I've also been trying to decide on his color but I really have no idea on that, lol. Any ideas?
This week has been CRAZY. It was just one of those weeks where you're just going and going almost every hour of the day. I was up till midnight or later every night and had to be up at 7 every day except for Tuesday and still have the brain power to function in class. Monday night I might have gotten some sleep if someone hadn't burnt cookies at 11 PM and set off the fire alarms. -______- Tuesday night was the earliest out of all of them, Wednesday night I had RA training till 11 PM and Thursday night I helped out Campus Activities Board with their roller skating night till about 12. I'm about to fall the heck over.

All of this craziness this week made me have to keep putting off Sparky's water change cause I just did not have time. Today, finally, when I had the time to do it I was gonna do a 100% change since I had to put it off all week, just to find that our big scrub sink is out of order cause it's leaking. *sigh* So I had to settle for a 50% change cause that's all that is really possible with our small sinks in our bathrooms.

Also in the craziness, I had his light on the one day and forgot to plug his heater back in after I turned his light off. So his water dropped from 80 to 77 before I caught it. Did it again today. *headdesk*

Speaking of Sparky, he's had this fascination with the right wall of his tank lately. I think he sees his reflection in it. Sometimes he just kinda watches it. Other times he kinda attacks it. Right now hes just kinda swimming back and forth against it. Is this "glass surfing"? He's still eating fine and swims to the front of the tank if I walk over to it. I tried putting Albert the duck and another of my random things in my room by his tank, but he took one look and is now back at the right wall of the tank.

One last thing, PetSmart made me angry tonight. I'm working on switching the current filter out for a sponge filter and they had the air pump and the hose, but not the actual sponge for the filter. So now I have to go to amazon. *sigh* I think that's it for the night. I'm gonna lay here and watch my poor betta now.
So I noticed yesterday that Sparky has been biting his tail again. *sigh* I don't know what caused it this time. He's been acting strange lately, I have a thread in the disease forum about it cause I thought he might have external parasites but I'm not completely sure. And I didn't really get any responses, so I'm just gonna assume I'm being a crazy new owner. Either way, I put some new things around his tank to try to draw his attention from his tail. I told him he wasn't allowed to have a mental breakdown now, cause if he does, I may as well because people have really sucked lately.
Here's a before and after of his tail now. *sigh*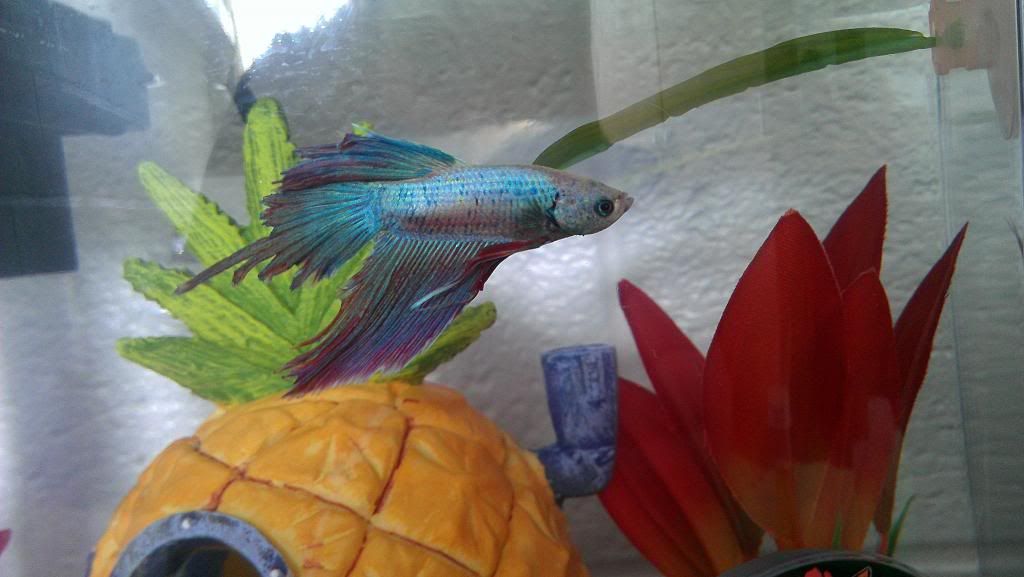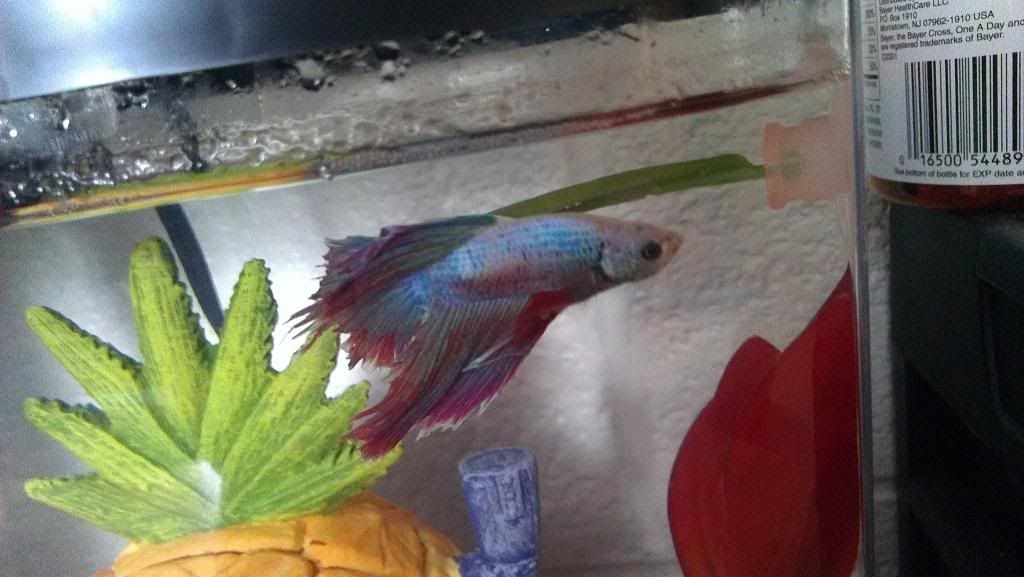 Today I moved everything around in his tank to see if I can get him to quit biting his tail again. I'm definitely thinking I over reacted with the whole thing about him rubbing against things. At this point I'm pretty sure it was just because he's so transfixed on the right wall of his tank and the plant was getting in his way. His appetite also hasn't changed and he's just as active, so I'm writing it off as paranoia and "new-betta-owner syndrome", lol. I feel kind of stupid, but oh well! He is also building his bubble nest I destroyed during the water change on Friday. (:

The sponge I need for his sponge filter is also on its way. I was playing with the idea of making my own but I figured it would just be easier to buy one already made. I'm also looking into some new plants so I can change them out in his tank to stop any further bouts of tail biting.
I think we all go through the "new betta owner syndrome" at one point or another! I can relate with tail problems, my VT having an unhealthy obsession with tiny holes (-.-'). I think I've given up hope for ever seeing his tail look nice without ragged edges, but I am pleased that his tail, dorsal, and anal fins grew back nicely after his last ordeal with a tiny hole over the summer. Hopefully you can get Sparky to stop his tail biting.
---
"Animals are reliable, many full of love, true in their affections, predictable in their actions, grateful and loyal." ~Alfred A. Montapert
My Bettas:
Dude-Male Salamander HMPK & Molly-Female Marble HM
My Goldfish:
Rory
S.I.P. Beta-Blue & Black CT//Dragoon-Dark Copper DSPK//
Merlin-Red VT//Raku-Multi-Colored CT
My Journal