BettaLover - Thanks, I hope I can get him to stop too... Although, to be quite honest, it almost looks better now cause he took care of that one really long strip of tail. xD His fins are growing really nicely, it's just his tail he has issues with. -.-

So I planned to do a water change yesterday, however that didn't happen. My day consisted of going to class and donating any free time I had to work on stuff for my clinical practices lab and my biology lab. I was up till 1 AM finishing everything. Blah. I would've had it done sooner, however we actually had to do things at my work study job. I work in the library, and normally we can just sit and do homework, but our library is going under construction so we had to sort our reference books in with our regular books... Fun Fun. Not.

So his water change was pushed back, but I will do it today between my last lab and my night class... We're also going on a trip to an aquarium this weekend and my roommates going home, meaning Sparky is going on his fasting day one day early, lol.
I had a ton of fun this weekend at the Baltimore Aquarium. Things never fail to get interesting anytime we go on a trip with our VMT club. Also, cities terrify because I've never lived anywhere but teeny, tiny towns so it was an interesting experience for me. The harbor is BEAUTIFUL though. I have now decided that when I have my own house every available flat surface will have some sort of tank on it...

Now this week is going to be absolutely crazy. I have an exam in every class this week and then finally it's time for spring break. I'm not particularly looking forward to tearing down Sparky's tank and dragging it home, but oh well, I can't leave him here because we have to unplug everything so I would have to unplug his heater. His sponge filter will be waiting for us at my house. I can't decide if I want to wait to set it up back here at college or if I want to get it up and running at home yet. Hmm...

Also, last week we were doing an experiment in biology that involved using different citric acids to see if they would stop that reaction that turns fruit brown. Out of curiosity, we tested the different substances for their pHs and got 4 on everything... Including the water. Now, we thought maybe it was just the test strips failing, but our professor pulled out some buffer and we tested it and the strip read 7. So now we're slightly concerned about the fact that the water coming from the taps in our science center has a pH of 4. Eek. I tested the water from our dorms with my API kit and it came back as 7 so I don't have to be concerned about Sparky, however the thought of drinking from the water fountains in there scares me a tad...
So I was looking at Sparky's tank and I was confused to see that his water looked cloudy. I just did a change on Friday, so that couldn't be right. I walked over to do a closer inspection and found that it's actually the slime that I talked about before in my journal. So I did some research and I'm thinking it may be a form of algae... I read that it's pretty easy to take care of with a wipe down once a week, but I was throwing around the idea of getting a snail to help take care of it, but I'm afraid that there won't be enough for it to eat if it's not actually algae.... Decisions, decisions.
Almost done with this week... I can't wait for spring break. I just want to shut my brain off for awhile, lol. Sparky already has new growth on his tail where he was biting. I don't know what his problem was... but I'm glad it's fixed. I just want his tail to grow out nicely again.

I went to PetSmart tonight with some friends and as always I had to go through their betta collection. Generally, they're usually pretty healthy but there was this one guy at the front that was extremely bloated and had started to pine cone. I was so sad for him and I wish I could've brought him home with me even though I know pine coning is pretty much a death sentence for them... There were a bunch that had wilted fins too, I'm assuming from ammonia. *sigh* I'm thinking perhaps a project for me over the summer is getting a 10 gallon and dividing it so I can have two bettas. I'll be an RA next year so I'll have a suite, meaning more room for a bigger tank, lol.
Yesterday was an interesting day. I spent it going to class and packing. Sparky was not amused with being put back in his little cup. And then, my friend and I packed our cars and planned to drive over to our math class and then leave right after because it was our last class of the day. However, it was a little chilly yesterday so she didn't want to leave her mice in her car and I didn't want to leave Sparky, so we brought them with us into math class much to the amusement of our professor, lol. And now we're home and Sparky is settled back in his tank with his new sponge filter! Yay! I had some issues with it last night because it just wanted to float to the top, so I taped the tube to the tank and forced it to the bottom of the tank and now this morning it'll stay down without the tape. I'm going to PetSmart today so I may pick up a small thing of gravel to put on the sponge to keep it in place better.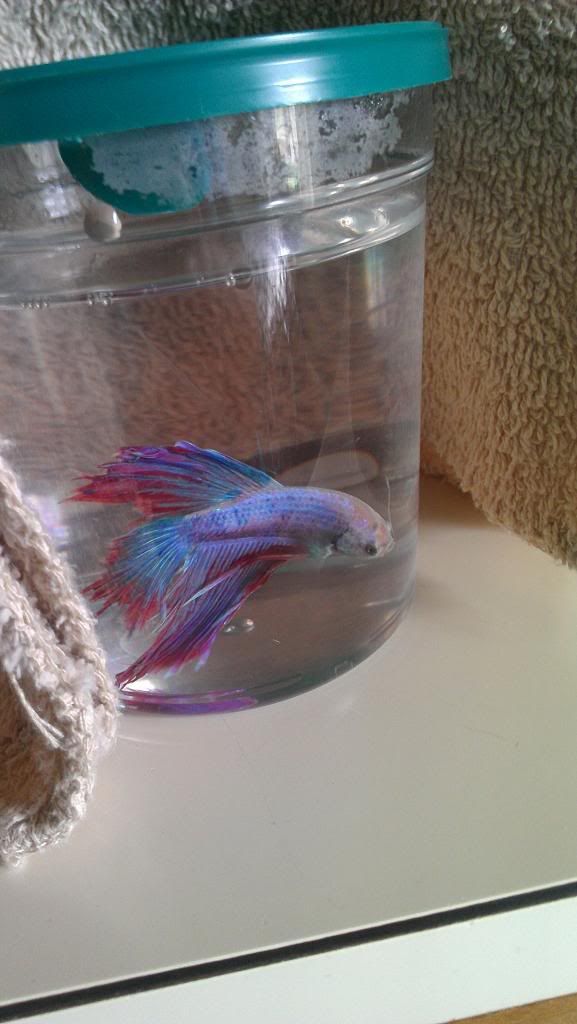 "Again? Really?"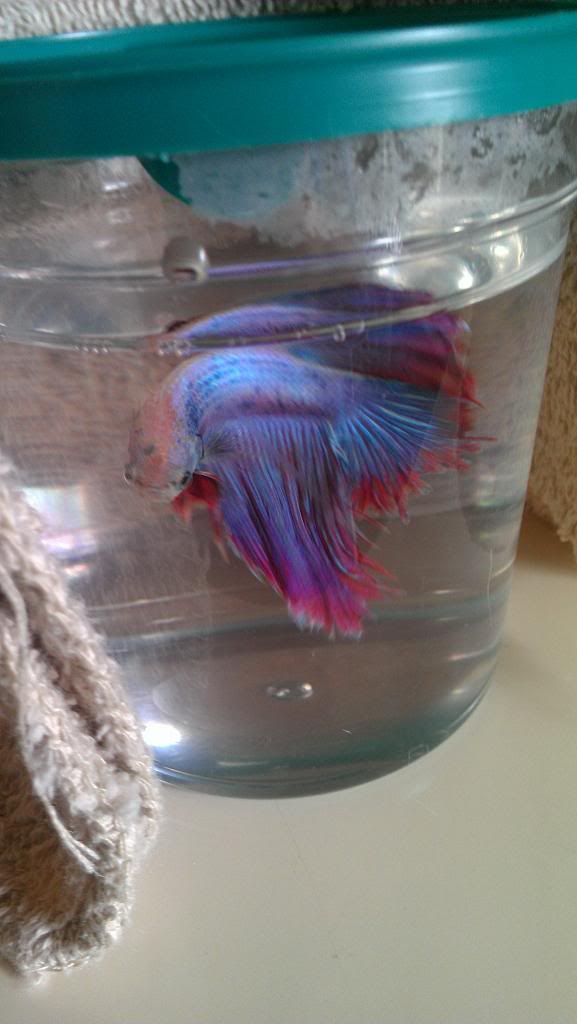 "Seriously. You know how much I hate this thing."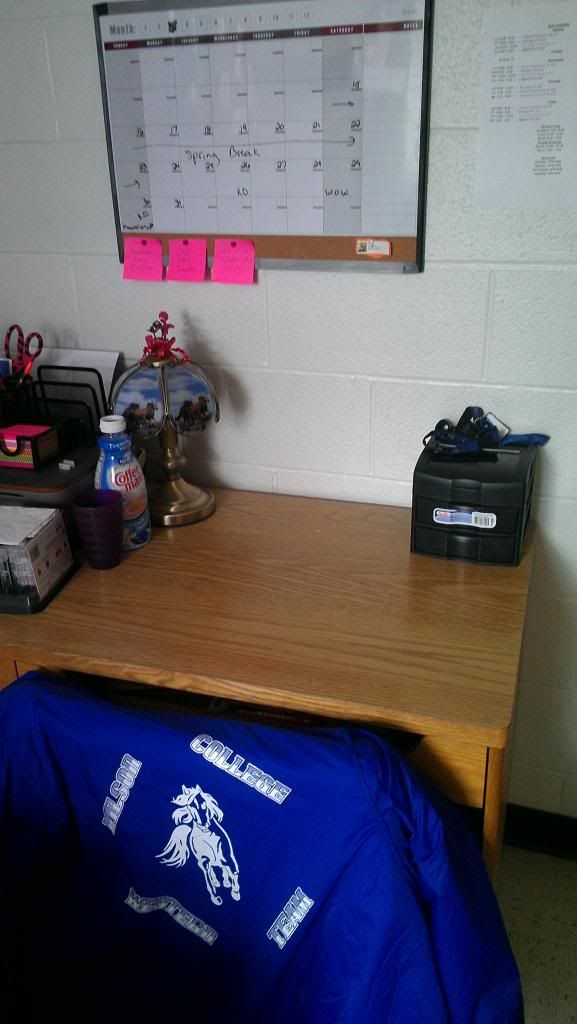 My desk looks so empty without his tank on it, lol.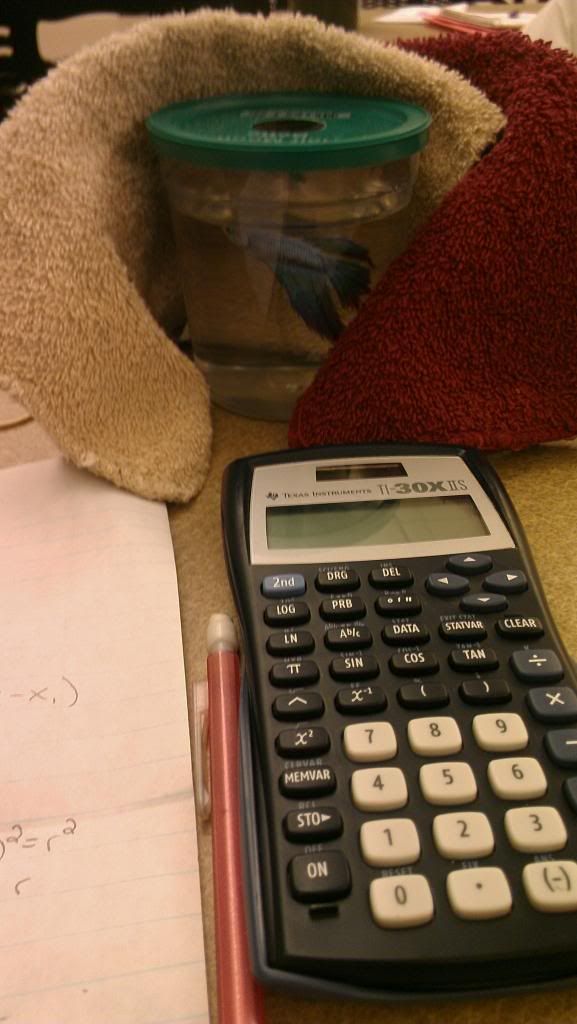 Sparky brushing up on his math skills. d:
Here he is all bundled up and sitting all comfy in my cup holder for the trip home. (I took this while sitting at the bank in the drive through, that's why my car is in drive, just fyi. lol)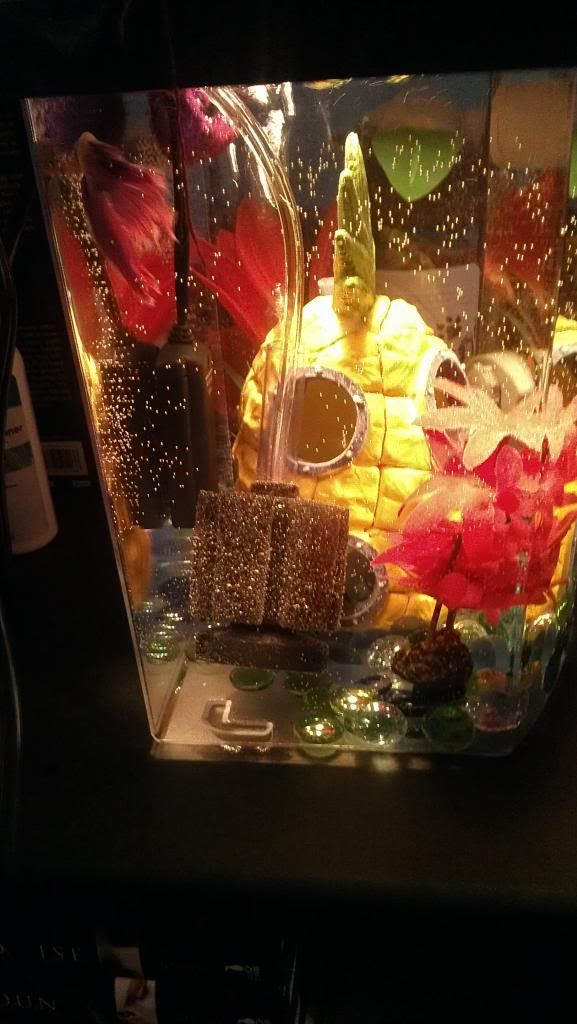 Andd here's his tank with the new filter! Yay! (You can see it wouldn't sit on the bottom. Grr.)
I almost brought my two boys to my accounting class with me lol. I have that same calculator too!
---
"Animals are reliable, many full of love, true in their affections, predictable in their actions, grateful and loyal." ~Alfred A. Montapert
My Bettas:
Dude-Male Salamander HMPK & Molly-Female Marble HM
My Goldfish:
Rory
S.I.P. Beta-Blue & Black CT//Dragoon-Dark Copper DSPK//
Merlin-Red VT//Raku-Multi-Colored CT
My Journal
Lol, my professor didn't really bat an eye at Sparky, however he was a bit concerned about the mice. It was interesting. But they were our moral support for our midterm. xD
It's been a pretty uneventful past few days as far as betta news. I'm pretty sure Sparky likes his sponge filter better than he did his other filter. I did learn today why the sponge wouldn't sit on the bottom, because I didn't know you had to squeeze it under water till all of the bubbles stopped coming out. I mentioned something to my boyfriend about it and he promptly made me feel like an idiot. "....you mean you didn't know that? It's common sense! If I would've known you didn't do that from the beginning I could've told you that!" ....thanks there bud. (Btw, him and his dad are really big into fish. They're how I started getting into fish, they've done freshwater and saltwater and had almost every fish possible in those two categories probably. So he actually knows what he's talking about.) So now that I feel like a dunce, I'm gonna go curl up and go to sleep. Good night internet world!
So, today when I woke up Sparky was immediately doing his little "feed me" dance at the front of his tank. So I threw in some pellets and turned his light on like every morning and went about my morning routine. I came back into my room to grab my laptop and looked over to see Sparky just flaring all over the tank at his reflection. I've never actually seen him flare at his reflection before, so I took a picture opportunity. :D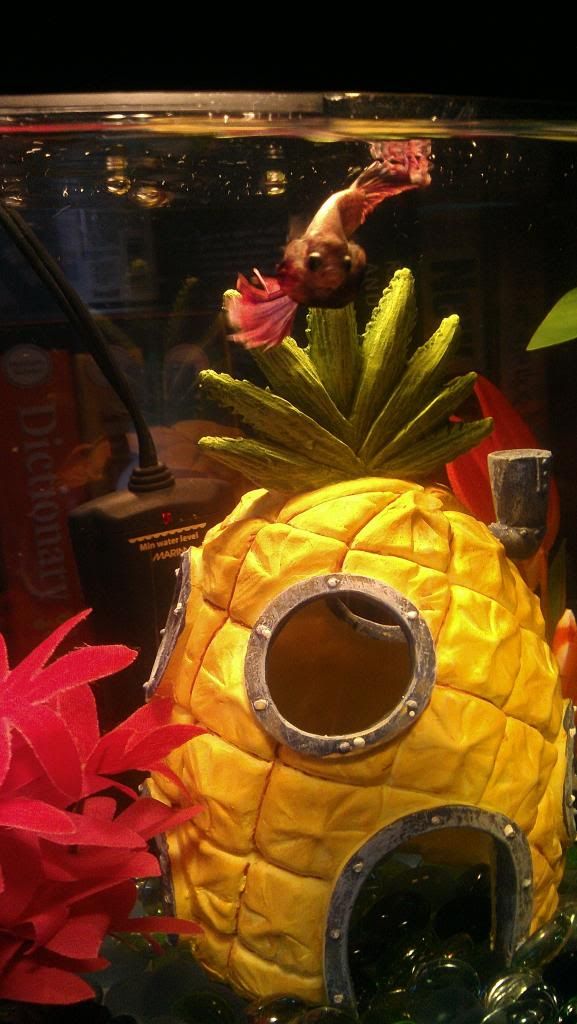 And then I turned off his light because I didn't want him to blow out a fin or anything. At this point my cat had jumped up on my bed to watch the show with me.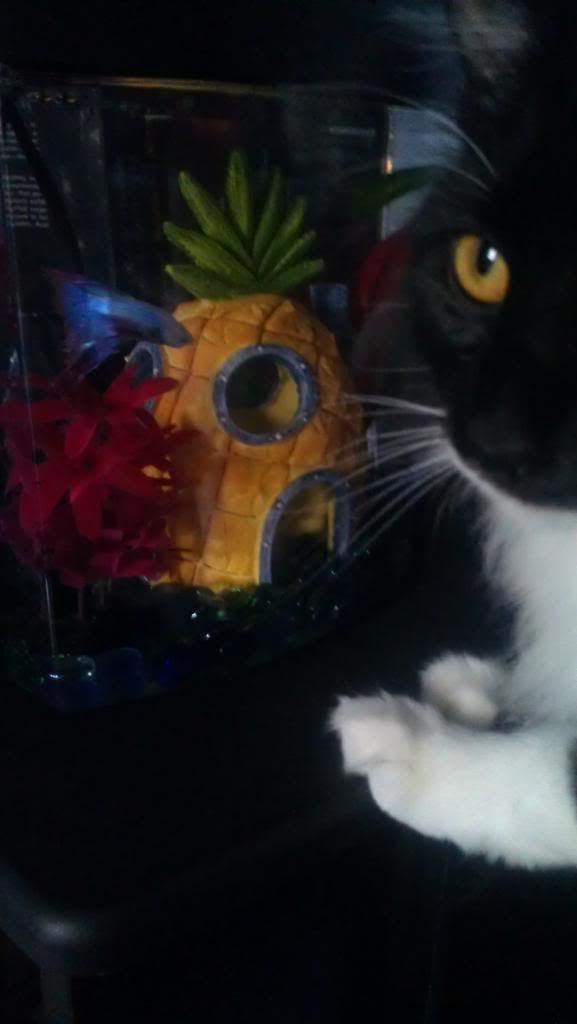 So yeah. I'm not sure what's going on with Sparky but he is just Mr. Grumpy Gills today.
Not too much to update on. Sparky is still flaring at his reflection like a nut. It's been pretty sunny the past few days so I've just left his light off. Hopefully when we're settled back at college he'll be fine. I have to tear his tank down again on Sunday and head back down, so that should be fun. I'm trying to come up with ideas on how to keep my sponge filter wet...

Some other fun news, my boyfriend's dad came home from the pet store today with some piranhas. He had some before and they were the coolest fish and fun to watch when eating, lol. He's putting them in his big 210 gallon tank he has built into the wall that's been sitting empty for awhile. I've been trying to convince my boyfriend that we should start our saltwater tank back up, but to no avail. However, I did infect him with the betta bug at PetSmart today and now he's in the process of digging out one of their old tanks to clean up to get one of his own. MWUAHAHAHAHA.