Quote:
I've used the ammonia alerts as well and fount them to work perfectly. However, if I recall correctly it only measures free ammonia so you may get a different reading than your test kit.

Also, the scale of the product is much much smaller. What's it go up to again? 0.25 ppm? Point is that it's NOT for cycling tanks. It's strictly for cycled tanks.
The highest it reads (toxic) is 0.5ppm.
You are correct, it does read only free ammonia. The product info also says if you use Prime and the Prime is bound to ammonia, it will not detect it.
I completely agree that you can not use it alone in lieu of testing to cycle a tank.
I dosed with Flourish today.

Things seem to be going well. The tank is pretty interesting with the little schools of fish, our trio of frogs and Sammy the betta. I just drop the frog food in underwater so it sinks right away. I do put it in the same general area every day. Sammy only seems to eat off the surface of the water. I figure the frogs will find it eventually.

The new black neons in quarantine are doing well.
I'm very excited. I was watching the frogs this evening and I could see the underarm bump that I read about on two of them. So now we know that we have two males and one female. I went to get a camera to take a picture, and he disappeared into the castle.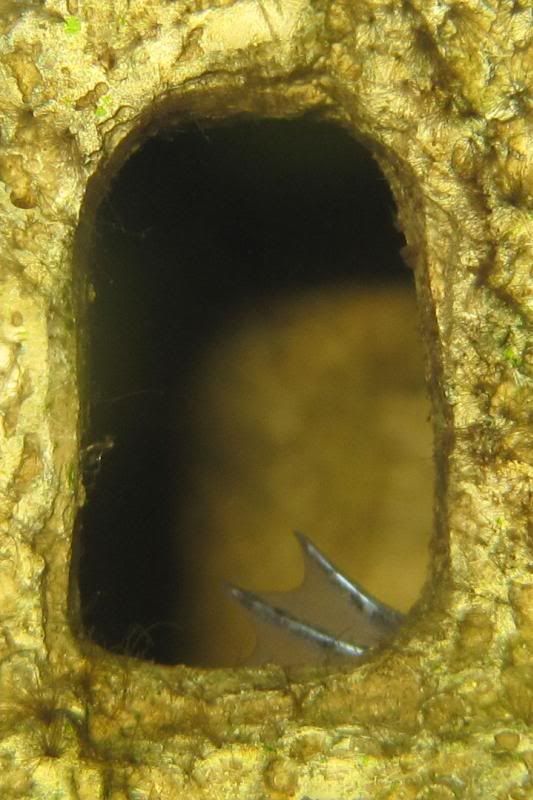 Evidently, the little bumps under their arms are called nuptial pads. In some types of frogs they secrete pheromones during mating season. Some people also think the pads are useful in helping the male hold onto the female during mating.
Here's another pic of Prince Charming in his castle: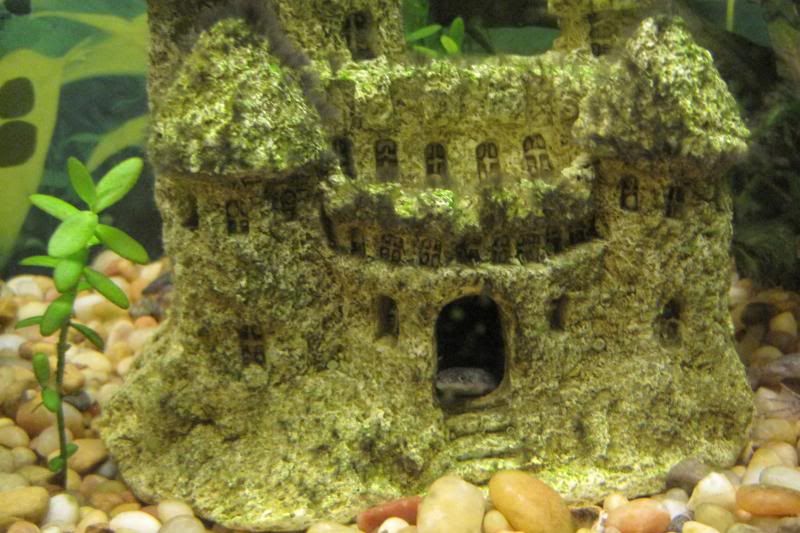 Today we scraped algae, rinsed the filter foam and did a water change on the 29 gallon.

I pulled out a significant amount of moldy frog food from the gravel. Maybe we'll feed a little lighter this week.
Over the past two days the quarantine tank has experienced a brown diatom algae bloom.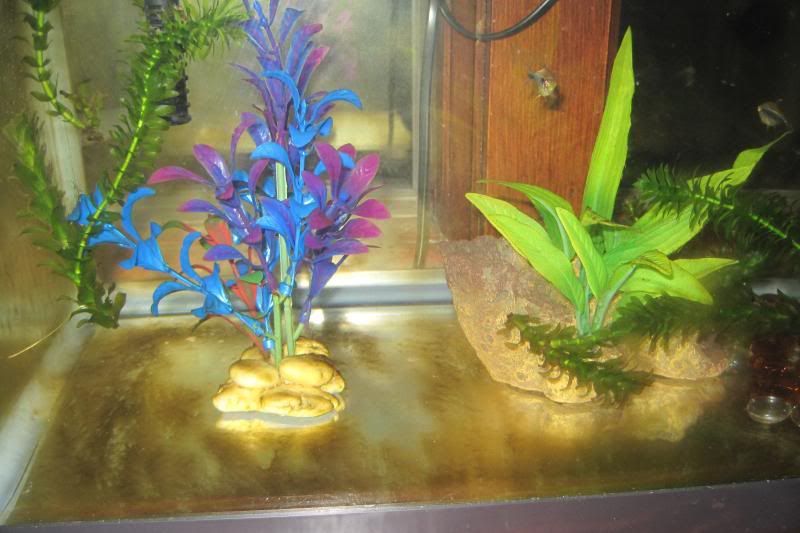 I don't think it was really doing any harm, but it looked pretty gross! I did a water change to lower the level and wiped it out with paper towels. It looks much better now.
The 29 is doing well, but there is quite a bit of algae growing on the stems of the anubias and the decorations. I keep the light on about 12 hours a day and it does get some sunlight. I'm going to gradually reduce the amount of time the light is on and see if that helps.
The plants are growing. The water wisteria has some newer leaves that are the pretty, jagged shape I like. The bigger Java fern has some new leaves coming on too.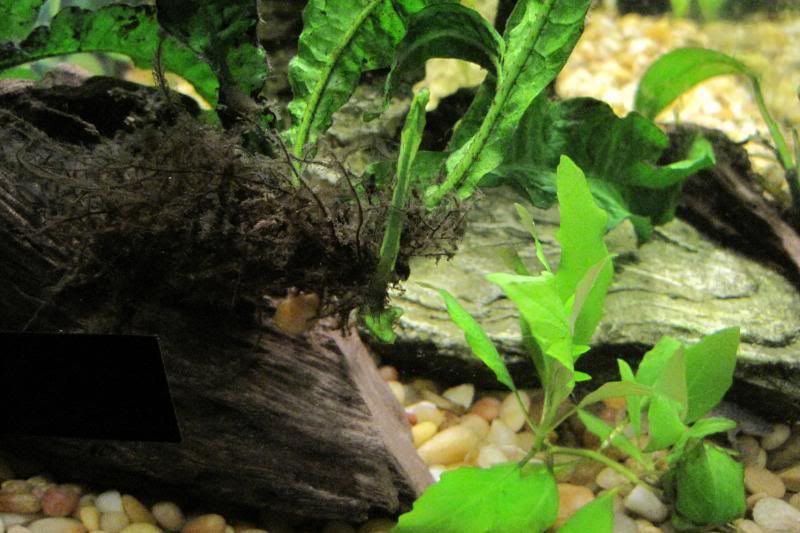 I'm actually not sure where I'm going to plant the Anacharis I currently have in the quarantine. I think it will go in the back between the Java fern and the Bacopa.
I reduced the light by 45 minutes today and dosed with Flourish today. The water wisteria seems to have grown even from yesterday. The Anubias, although algae covered (stems and leaf edges) are no longer yellowing.
Yesterday I did a water change in the 29gallon. I scrubbed algae off the castle and tried to clean off the Anubias a bit. They are looking pretty pathetic.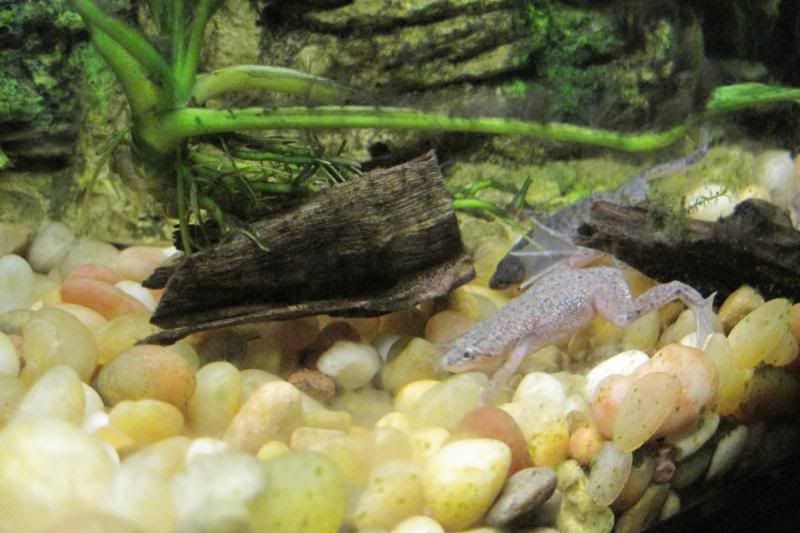 The cuteness of the frogs is a good distraction, though.
Today I moved the new Black Neon Tetras out of quarantine into the 29. They seemed to be happy to see the others and schooled up right away. You can also see some of the Anacharis (Elodea) that I planted in the lower right of the photo.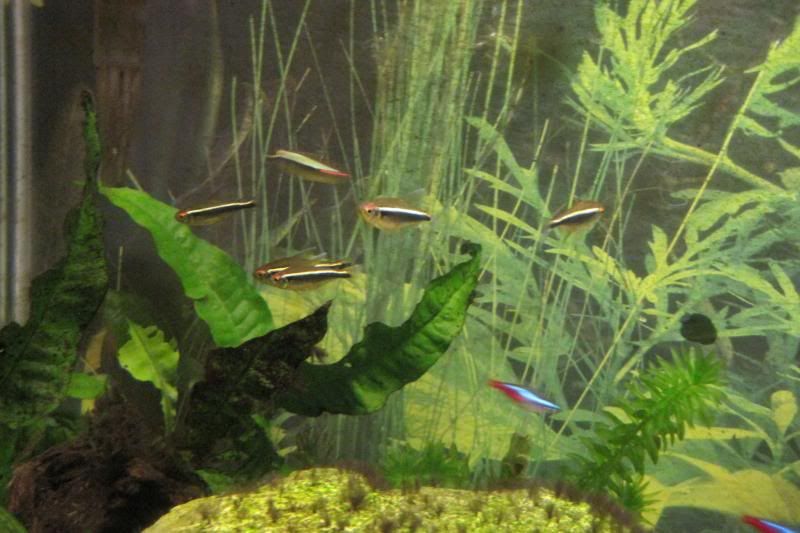 Sammy seems to be ok. He's eating well and looks ok. He is always hanging out on the heater when I have the camera out.
Here's another pic of the Water Wisteria. I just love the leaf shape. the other interesting thing is that it produces roots along the stem and pulls itself downward, so now it looks like there are two plants side by side.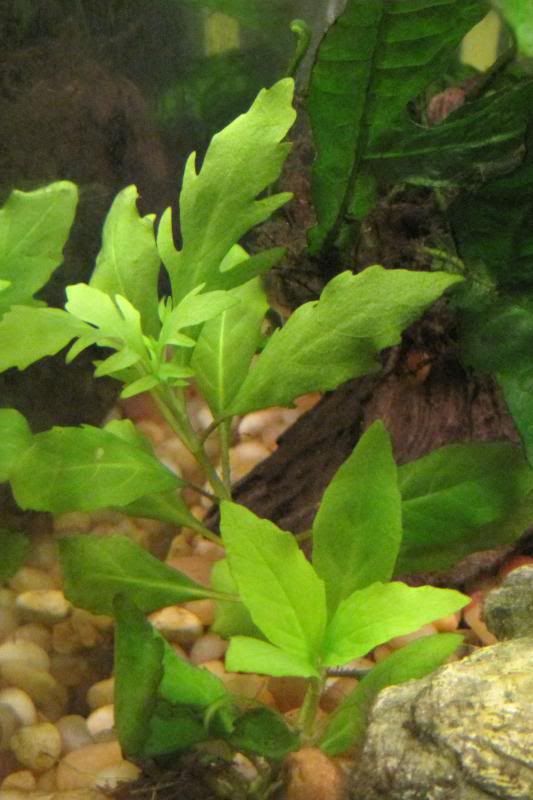 I went out to Petsmart this afternoon and picked up 5 little Nerite Snails. I tossed them in the quarantine. I plan to move a couple over to the 29 gallon in a few days and leave a couple in the quarantine to keep it cycled while I'm traveling next week.
I've decided to look for a 20 gallon long to set up a FireBelly Toad terrarium. I've been finding great set ups on Youtube and trolling Craig's List for used tanks. I hate to pay full price for aquariums. I was lucky to get my 29, stand and hood for free. Hopefully I can get a good deal on something for the frogs. I'm going to set it up in my living room, so I need a nice looking stand. I think it will be beautiful and so unique. I'm really looking forward to the project.
Quote:
This morning I finished off the last of the Ick Attack. Everyone looks good. My plan is to do a water change tomorrow and then gradually lower the temperature.

I did a water change in the quarantine tank tonight. Ammonia and nitrite are 0, but it's been a few days so I figured it would be a good idea. I was worried about one of the frogs because he spent most of the day near the top on the betta leaf. But, he came down this afternoon and ate. He's been palling around with the other two this evening. So, hopefully he's fine. The frogs seem to be growing a little and plumping up. Right now it's easy for them to find the food since the bottom of the tank is bare and it's a small space. I'm thinking about putting a little glass dish in for them to eat out of when I move them to the big tank. I'm not sure how to get the food to stay or land in the bowl when I put it in the 29gallon since it's about 16inches from the water level to the gravel.

Sammy is doing fine and really likes to eat. We feed him 3 Omega Betta Buffet pellets twice a day. He eats some of the frog food if it doesn't sink right away, too.
I just finished reading your forum journal; great read! I'm sorry about the fish you lost, and happy that things are coming together well after the ich problem. The Falconry stuff was fascinating; I hope your son keeps going with his love of birds; it's good to have a passion and talent to work with.
Your probablly wondering why I quoted this part of your blog; It's because you mentioned using a glass dish. I actually have a palm-sized, deep clam shell half I use as a food dish for my albino bristlenosed pleco... Pleco. Yup, her name is Pleco. It stuck ;P
As for getting the food in; Most the time, i just drop it in and hope it lands in the sea shell. Shark (My bettafish) and Pleco live in a ten gallon currently, so it's not a very far drop from the water's surface. Alternatively, I use a turkey baster I got from the dollar store. I stick the piece of Pleco's tablet in the tip, bring it underwater to the seashell, then nudge it off into it.
Will you post a picture of the vivarium when you get it set up? I love frogs; I used to raise toads, actually, for several years when I was a little kid. Now I just have my two fishies (more planned for the future, though!), and a leopard gecko named Bingo that I adopted from my middleschool when it closed years ago.
Your (son's? ;P) fish tank looks beautiful! I love the live plants you have. I want to do a planted tank, but I'm so nervous on what kinds to get, and how and if I can take care of them. It seems a very daunting prospect to me, but I suppose it's probablly easier and simpler than I'm making it out to be.
Thanks for your kind words! I will definitely detail the setting up of the paludarium/terrarium when I start. Right now I'm looking for a tank and stand on Craig's List. Good idea on the shell. Maybe I will look for one while I'm at the beach this week!

This update is way overdue!

3/26 We're getting ready to go on vacation for a week. I changed the water in the 29 and added 3 of the nerites from quarantine. The other two I left in the 10 gallon to keep it cycled. Hopefully everything does well while we're gone. I debated getting a fish food block, but I think it is better to just let them be hungry a few days.

My husband will be back tonight (4/1) and will feed them.

I wanted to report something really cool that I heard last week. About two hours after the light timer went off I was checking the tank before bed, when I heard a funny sound. Kind of "mmmmm-meep, mmmmm-meep" I am positive it was the frogs! It was the cutest little noise. Quiet, but definitely coming from the aquarium and not the filter. I listened for about ten minutes and heard it a number of times.
---
Last edited by DaytonBetta; 04-01-2014 at

04:34 PM

.
Yay! My husband got home and said everyone is accounted for and looking good.
Similar Threads
Thread
Thread Starter
Forum
Replies
Last Post
Testing

Mike

Betta Fish Marketplace

34

11-08-2012

04:33 AM