Aquarium:
Today I did a water change and divided and replanted one of the Cryptocorynes. I also removed the Purigen to renew it. In a few days I'll write more about using Purigen. I dosed with Flourish and Excel.

The quarantine is open again. I'm thinking about getting a few ghost shrimp to add to the terrarium. By the time they've been through quarantine, the terrarium should be stable cycle-wise. I'm also thinking about a few more otocinclus for the 29. Petsmart hasn't had any in more than a month though.

Terrarium:
I also did a water change in the terrarium. I'm continuing to feed crickets and fruit flies. Two crickets jumped out today as I was dusting them with vitamins. They are the same color as my carpet, so I couldn't catch them again. Fortunately, my husband was not around to witness this.
Aquarium:
Things are going well. I renewed the Purigen and replaced it in the filter. In my next post I'll do a review of Purigen. I need to look back and see when I started using it. The tank is looking good and I'm very happy with it.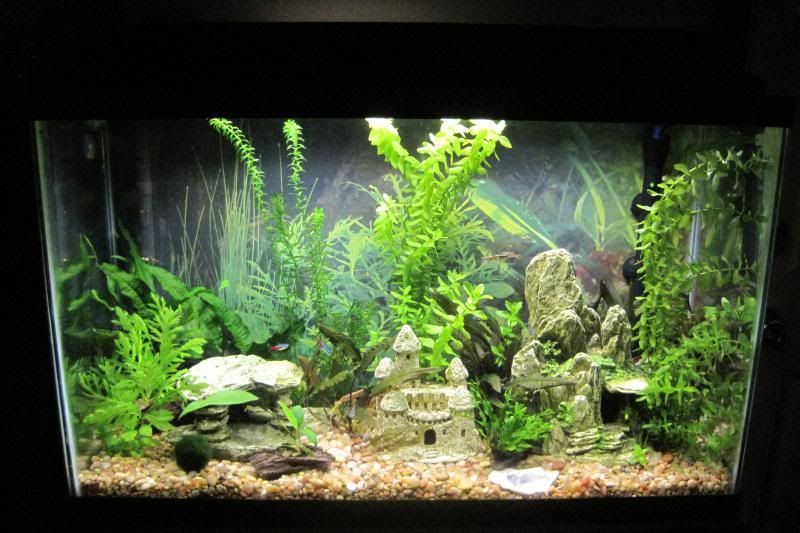 Here are comparisons:
5/6
4/22
3/8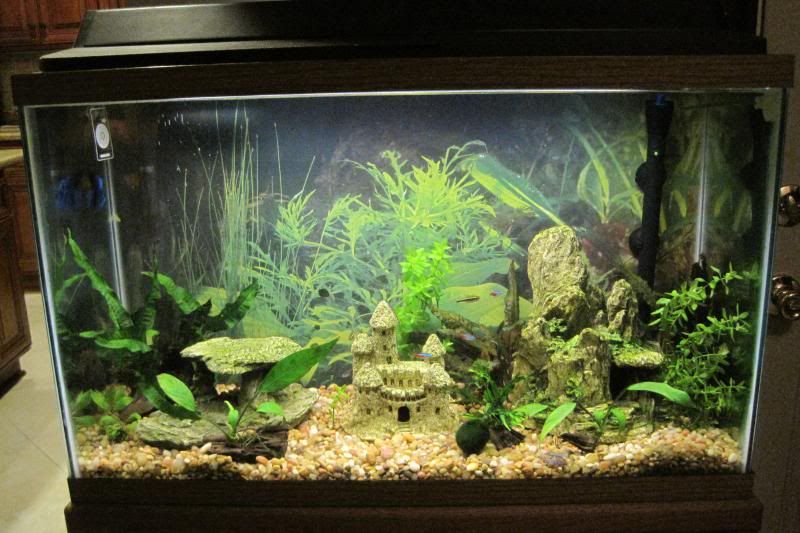 I think the plants have grown quite a bit with the Excel over the last month. The fish and frogs are doing well and the algae is not a problem!
Terrarium:
Today I tested the water. Ammonia 0, Nitrite 0, Nitrate 5. So that is great! The frogs seem to be growing a little. I mist the plants every other day.
This is one of the bigger frogs, I'd say he's about 3/4"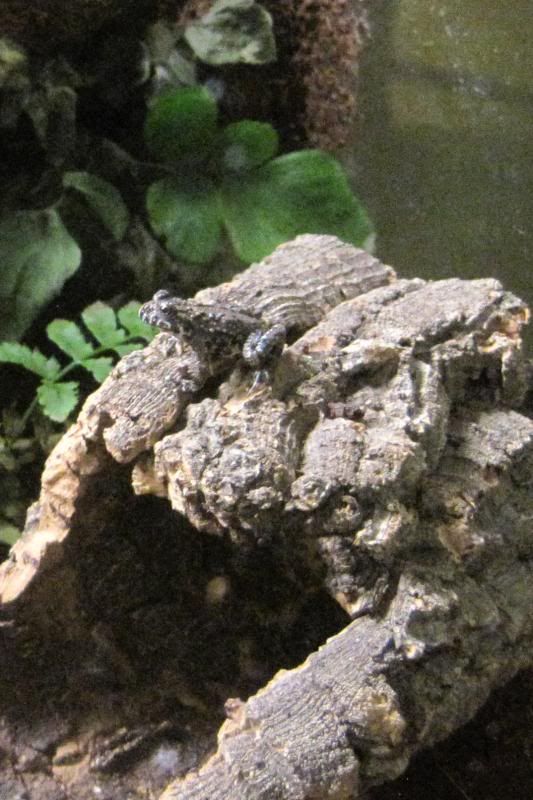 Today I'm going to talk about Purigen, a synthetic filter medium made by Seachem. I bought mine on Amazon. The 100ml size comes in a sealed filter bag and treats 100 gallons. I have Amazon Prime so it was $8.15 with free shipping.
I started using Purigen 4/11/14 after my bout with ich. After treating for ich I ran a carbon filter for a few weeks. Then replaced it with Purigen. If you have a HOB filter you put the Purigen in the same area you would put carbon or charcoal. You can also use it in canister filters. I have a HOB that holds a foam block, a carbon bag and a bag of ceramic cylinders. You simply rinse the bag and put it in your filter. You should not use it with slime coat additives because they will damage it. Prime is ok to use.
The instructions say Purigen can last up to six months. It starts as tiny white spheres and progressively darkens to a brown/orange color. Mine was very dark within 6 weeks. I'm not sure if this will be typical or if it is due to leftover ich medication?
When the Purigen changes to orange/brown you can recharge it. It is a bit of a process and not really as simple as they make it out to be. You remove the packet and soak it in a 1:1 solution of bleach and water for 24 hours. It will turn back to white. Then you rinse it and soak it in a concentrated solution of Prime and water (2 tablespoons Prime per cup of water) for 8 hours. Then you have to buffer it with Discus Buffer or Neutral Regulator for 4 hours. Then you should check for any residual chlorine before adding it to your filter.
So, to recharge you need: Prime, Neutral Regulator (took me 2 pet stores to find and cost $12) and chlorine test strips.
When I completed the process I noticed that that Purigen smelled terrible. It reeked like dead fish! I googled this and learned that the smell is common. It is even discussed by Seachem in their forum. They said the level of stench varies from recharge to recharge. They said that it is caused by the production of amines and is normal. Just so there is no chlorine, not to worry.
I was worried. I soaked it in Prime again and the smell was a little better. I tested for chlorine and it was 0.
I replaced the newly recharged Purigen in my filter and stressed for 3 days, worrying that the tank would crash.
Everything has been fine. The fish, frogs and plants are all behaving normally, and the Ammonia alert is not showing any ammonia.
I love how clean and clear the water is with Purigen. It really is amazingly, crystal clear. I feel like it is very healthy for the tank.
The recharging process is a hassle and worrying about chlorine left from the bleach stresses me out. Plus, the smell was just awful. I'm not sure I will do it again. I'm inclined to just buy a new bag when since it is less than $10.
I also have a bag in my terrarium filter.
Overall, I think it's a great product and have been really happy with how clear the water is. I will keep updating on this journal, when I have to recharge it again and whether I decide to do that or just pitch it.
Here is a picture of our cockatiel on a Lego car, for some comic relief after all the filter talk!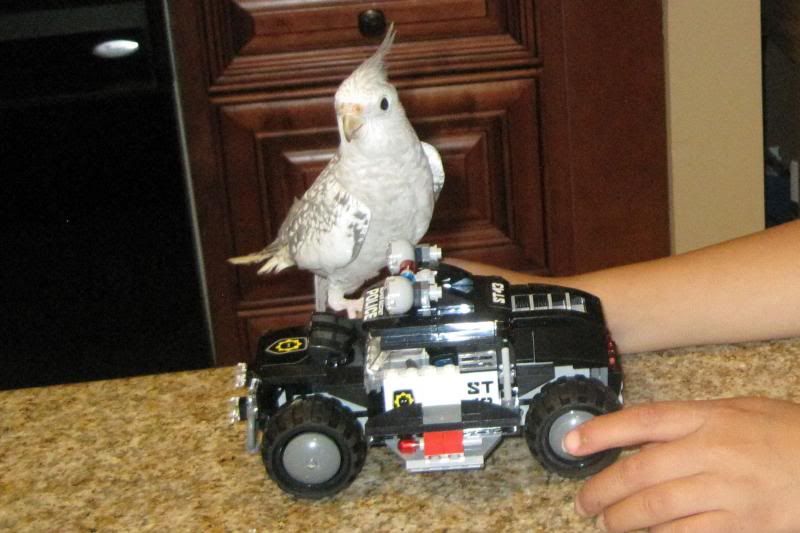 What a beautiful holiday weekend! This is a very large toad we found in our landscaping, he was about 4". My husband picked him up and he peed all over him. I didn't try to pick him up, just enjoyed watching him.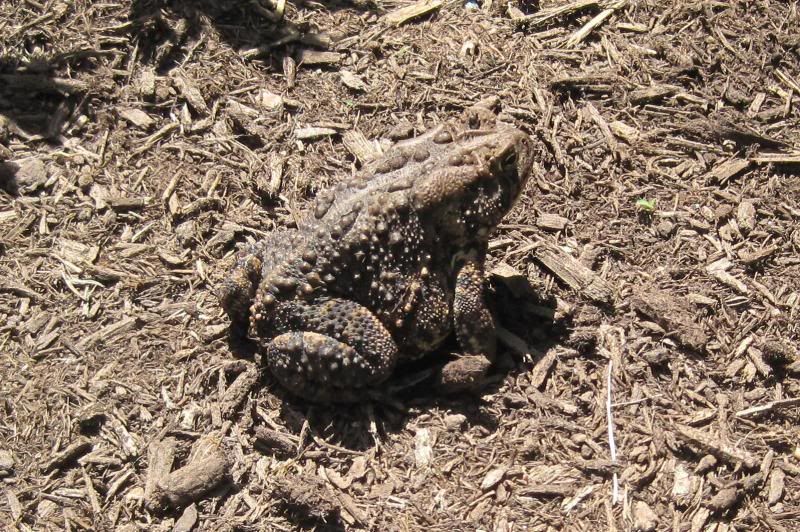 My son, E also found a very nice snake skin in the yard.
I did a water change in the terrarium. The frogs are doing well and growing. I'm continuing to feed them small crickets and fruit flies. Two of them are a pretty good size. One is medium and two are really quite small. They all seem to enjoy swimming and hopping around.
The aquarium is doing well. I'll do a water change next weekend. I dosed with Flourish on Sat and Excel on Sun.
I have two tiny ghost shrimp in the quarantine. I plan to add them to the terrarium soon. The frogs produce a toxin on their skin which is poisonous to fish and other frogs, but according to other frog keepers, shrimp do fine with them. The ghost shrimp were only $0.39 each so I figured I'd give them a try.
Happy Memorial Day!
Aquarium:
I tested today before the water change:
Ammonia 0.25
Nitrites 0
Nitrates 20
I am a little concerned and puzzled about the presence of ammonia. I'm not sure what is going on there, if it's the renewed purigen with the relatively new filter sponge (less than one month) or the addition of the endler guppies or all the snails? I'm also wondering if maybe the filter baffle makes it less effective?
Anyhow, no one seems to be in distress.
I did a water change and added Prime to cover the full tank volume.
Terrarium:
Ammonia 0
Nitrites 0
Nitrates 5
I did a water change. Since the volume of water in the terrarium is small, I would say about 4 gallons. I change as much as I can remove with the gravel siphon. (about 3 gallons).
We transferred the two ghost shrimp over to the terrarium. E, caught them in the net quicker than the girls at Petsmart!
The frogs are all still alive and seem content. They hang out in the water a lot and sit together looking cute. One is still very small, one small and the other four are a pretty good size. I continue to feed both fruit flies and crickets daily. They are growing. Here is a picture where you can see the size difference between the big ones and the small one.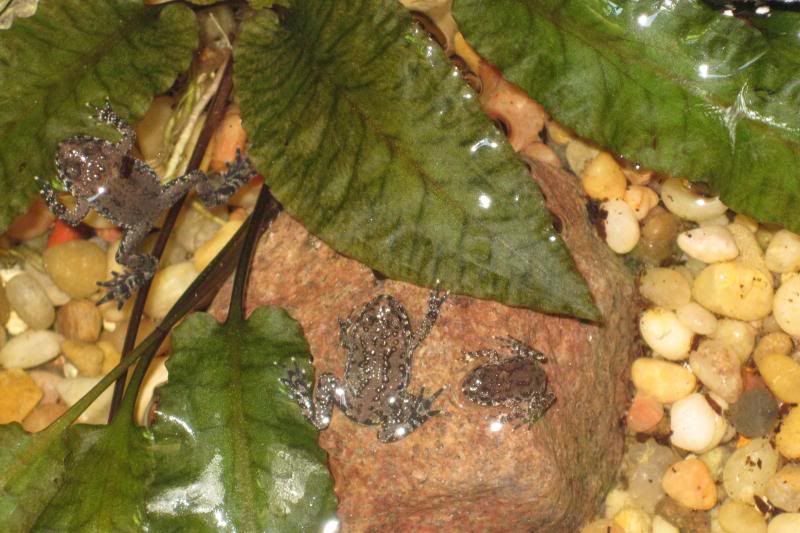 Aquarium:
I tested the water on 6/6. Ammonia and Nitrites were both 0. I didn't bother to test Nitrates.
Now that the filter is baffled Sammy spends more time in the plants at the top of the tank. I think maybe he's had a couple small bubble nests?
Of course he was not willing to pose next to his creation...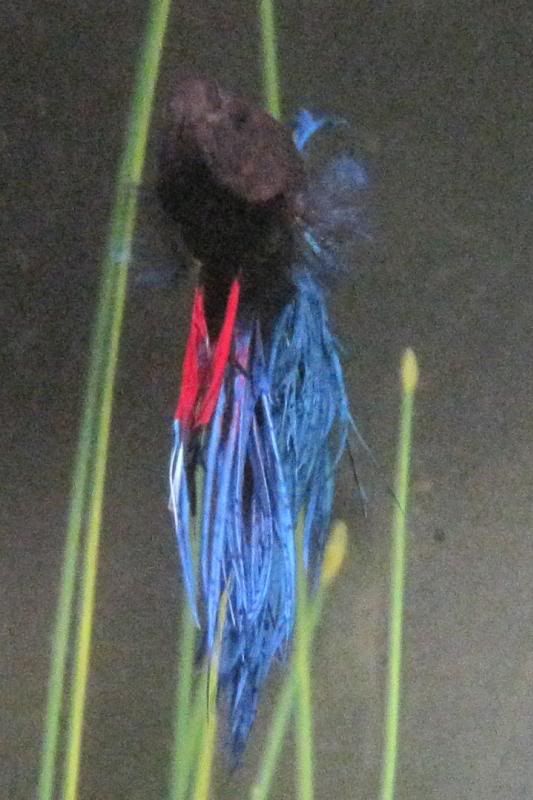 I just got Flourish Trace. I plan to use it twice a week and continue Flourish once a week and Excel every other day.
Last weekend I was showing my friend the aquarium and talking about the Purigen. I got it out to show him, and it was brown already! It is supposed to last for up to six months and it's only been about 2 weeks since I renewed it. I ordered a replacement to use while I recharge it again.
I don't know if it's a Seachem racket? Ie. add these fertilizers, remove them with our media, buy more media, buy more fertilizer... But, the water is so clear and the plants and fish look so good, I'm going to keep on.
Terrarium:
The larger frogs are growing. The littlest one is still very small. I see it eating fruit flies, but it is so small I think maybe there is something wrong with it. I try to keep up with as many fruit flies as possible, but the big ones eat them too. I will be really surprised if the tiny one survives. The big ones are eating crickets well. I've also tried feeding them small earthworms, but I can't tell if they are eating them or not.
I tested the water Friday, 6/6. 0 Ammonia, 0 Nitrites. I did a water change today. Now I can only change two gallons of water because I have the shrimp.
The shrimp has been in the terrarium for one week. They are hard to see, but I saw both of them alive this afternoon. I don't feed them anything. I figure they will eat decaying plant matter and the bugs and worms that fall in that the frogs miss. They are neat little creatures. My son, E, likes to try to find them, like a little "I spy" game
Member
Join Date: Jan 2014
Location: Texas
Posts: 165
Your tanks are looking awesome!!
Hopped over here from my journal and I must say, you must have some very well behaved and happy children!
Sammy 1 looks so much like my Ares.
Tetras and mollies for whatever reason always seem to have ich, especially from the big box pet stores.
Sammy 2 looks exactly like a betta I sold to my friend (except for the crowntail; friend's betta is a round tail.) My friend's betta is also living with an African dwarf frog. She has trouble feeding the frog because her betta is such a bully when it comes to food.
Aquarium:
Water testing: Ammonia 0, Nitrites 0, Nitrates 40
It's been two weeks since a water change. Today I trimmed the Bacopa and Anacharis. I replanted the Anacharis trimmings and the Bacopa I just threw in the quarantine tank. I changed about 6 gallons (one gallon to water the kitchen floor, as usual).
I rinsed the filter sponge. The Purigen is brown, but I'm going to wait a week and see if it gets browner before replacing it.
I also scraped the algae.
There really seemed to be a lot of debris after cleaning this time, so I will wait a day or two for it to clear before taking a new picture of the tank.
A couple days ago E and I bought 3 new Otocinclus and put them in quarantine. They were very small. Two of them have already died. If the last one lives we'll put him in the 29, but I'm not going to buy anymore. Right now we have one nice, healthy one in the 29. I feel bad because I know they prefer to be in a group, but they are so small and fragile from Petsmart.
Terrarium:
Water testing: Ammonia 0, Nitrites 0, Nitrates 5.
I did a 2 gallon water change today.
Everyone is doing fine. The two shrimp are still alive. The ferns died back quite a bit and I finally trimmed them up. Two of them have some new growth, one is a goner, I think. The frogs are growing. The littlest is still very little, about a half inch I would say. The big and medium ones look terrific, still brown with cream colored bellies.
She is sitting on the Anubias. It is doing well with the rhizome in the water and the leaves growing out.
Last week I noticed a little plant stuck on the filter intake of the 29. I tied it to a scrap of driftwood. and put it in the terrarium. I'm not sure if it's Anubias or Java Fern. (The driftwood it's tied to is 2" x 1" so you can appreciate that it's really small). It seems to be doing fine.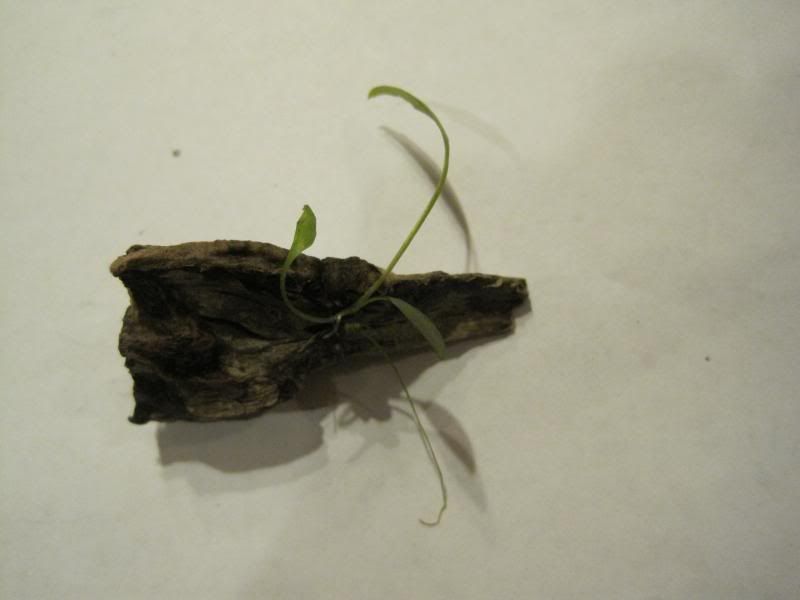 Similar Threads
Thread
Thread Starter
Forum
Replies
Last Post
Testing

Mike

Betta Fish Marketplace

34

11-08-2012

04:33 AM