Betta Testing
---
Welcome to my aquarium journal. I thought this might be a good way to keep track of the trials and tribulations and of course, the joys of my latest fish-keeping endeavor.

My aquarium is really not mine, it is a pet that my 6 year old son earned for consistent good behavior. My 8 year old is working on earning a pet cockatiel, so I may share some thoughts on that too from time to time.

We have a 29 gallon set up that I got free from a friend. We officially started the process on January 13, 2014.

Here are the specs:
gravel and laterite
Aquaclear 50 hang on back filter
Aqueon Pro 150 heater
20W GE plant and aquarium bulb



After much encouraging research here and on other forums I decided to add live plants. This is what we started with:

Java Fern and bronze wendtii cryptocoryne - given to me by my friend
The others we bought at PetSmart

Anubias congensis
Microsorium pteropus – Windelov Java fern
Marimo
What a great way to get your kids to "earn" pets!
The tank doesn't look half bad for a 6 year olds, either, hah!
I guess you haven't got any fish yet? Plans for what you'll get?
---
My Boys: Remy Lebeau, Igavon, Wilbur, Ben, and Smeagol

The Sorority: Darla, Dezba, Fae, Lulu, Quilla, Star, and Tink
We ran the tank for 10days with just the plants (my son had to earn ten more good behavior stickers to get the fish)
On 1/23/14 we added
10 Neon Tetra
Hygrophila difformis – Water wisteria
Bacopa caroliniana - Bacopa
I also added Tetra Safe Start bacteria solution.
While at the store I saw Black Neon Tetras. I was so taken by how vibrant they were. My son wanted the regular neons so we started with them and decided to add the black neons down the line.
My plan had been to wait a week before adding anything else, but my son really wanted to get the betta asap.
the neons were doing well. Our water parameters were great, ammonia and nitrites 0. Trace nitrates. So we headed out the next evening to pick out our betta.
My son wanted a red betta, so I showed him 4 of the best looking ones of the pathetic lot available. There were 2 that were quite unique, a dragon and a crowntail, but he really liked the solid red veil tail.
He named him Sammy right away. I said, "That's a nice name."
When we got home my husband asked him, why the name Sammy? My son replied, "It's a nice name"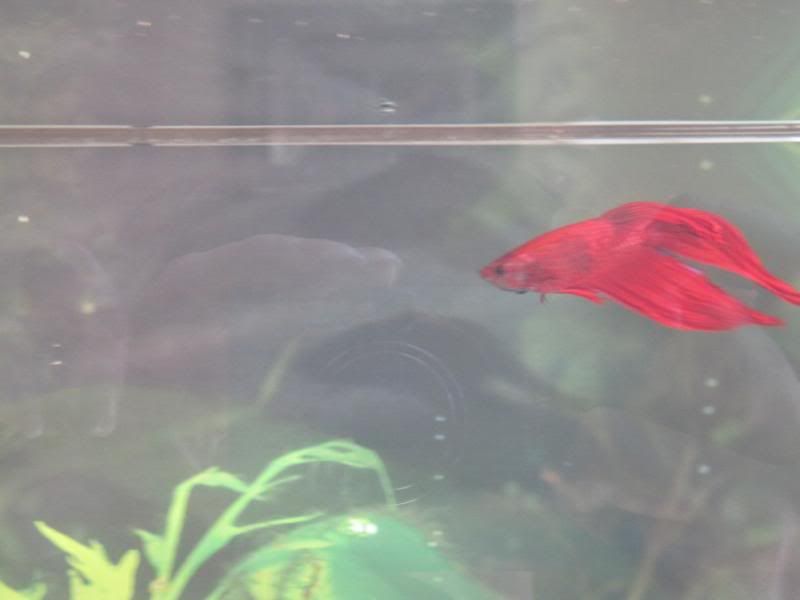 Hahaha I love your son's logic there! Sammy is a lovely fish! I look forward to reading more about him an your exploits!
The neon tetras are really a lot of fun. They school together and chase each other. I love how small and colorful they are. They seem to enjoy swimming in and out of the plants and caves. I'm feeding them Omega super color flakes.

Sammy the Betta is very timid. He spends almost all his time in the cave or the cryptocoryne. When he does swim around he seems to be doing fine with the filter flow. He didn't eat much at all the first week. I started feeding him Nutrimax Betta (that's all the pet store had) and then switched him to the Omega Betta food.

The neons chase and nip each other, but completely ignore Sammy and he seems to not even notice them.
Loving your tank and reading about how you and your family are enjoying it!
---
"Animals are reliable, many full of love, true in their affections, predictable in their actions, grateful and loyal." ~Alfred A. Montapert
My Bettas:
Dude-Male Salamander HMPK & Molly-Female Marble HM
My Goldfish:
Rory
S.I.P. Beta-Blue & Black CT//Dragoon-Dark Copper DSPK//
Merlin-Red VT//Raku-Multi-Colored CT
My Journal
2/1/14 First water change. Our chemistry was good, no ammonia, no nitrites, 10 nitrates, but I felt like it was probably a good idea to do a water change since the tank had been running for a little over 2 weeks. I siphoned out 5 gallons since that's the size container I have and can lift to my kitchen sink.

Previously I used a python clean and fill system. Now I have a fancy kitchen faucet, so I can't hook one up. I loved that method and would recommend it to anyone with a large tank (I used it for a 70 gallon).

So anyhow, now I just start the siphon by mouth, lug the dirty water over to the sink and have my husband re-fill the tank, since it's too high for me to reach. I'm using Prime as a conditioner.

Since I couldn't get the python, I got the EHEIM quick vac pro. It's a battery powered gravel cleaner, that can be used without removing water from the tank. I didn't like this product at all. It is expensive ($50) and really doesn't do well at all. There is a mesh screen for collecting debris, which is fine for big fish poop, but everything else goes though and then is floating in the water. The tank looked terrible after using it and was cloudy for 2 full days. Since we have quite a few plants there is only a small area I can vacuum.

I also added API root tabs to the gravel for the Cryptocoryne, Wisteria and Bacopa.

I got the wisteria for 30% off because it looked so pathetic (it was the only one they had). It started getting new leaves within 2 days so I think it will do well.

I rinsed and squeezed the Marimo in tap water and rolled it in my hands. It looked much nicer and greener after rinsing.

I think I will probably do water changes every 2 weeks, since the filter and plants seem to be doing a nice job. I'll watch my ammonia and nitrites and see.
Similar Threads
Thread
Thread Starter
Forum
Replies
Last Post
Testing

Mike

Betta Fish Marketplace

34

11-08-2012

04:33 AM