Haha, the roach names are so funny!

I look forward to hearing about the quail. I would like to have fancy chickens some day.
I'm really excited about the quail eggs too, and will definitely keep you all updated on them.
Ok, so I've been pretty busy. I start my work tomorrow, 20$ a day for 7-10 days. My sister has been thinking of getting a bird, but I don't think she understands the responsibility a parrot would take. They live a long time after all, and can be difficult. They belong in the wild, really. They're certainly beautiful though.
My pretty baby Spike died a couple nights ago. He was rather old, and he wasn't acting sick, but he died one night. My mom texted me and told me, since I'm out of town. She takes really good care of my fish, and never messes up, but I thought'd I'd share.
He had a good life, better than if he was living in a bowl.
Here's some pictures.
He's the blue CT on the right in this pic.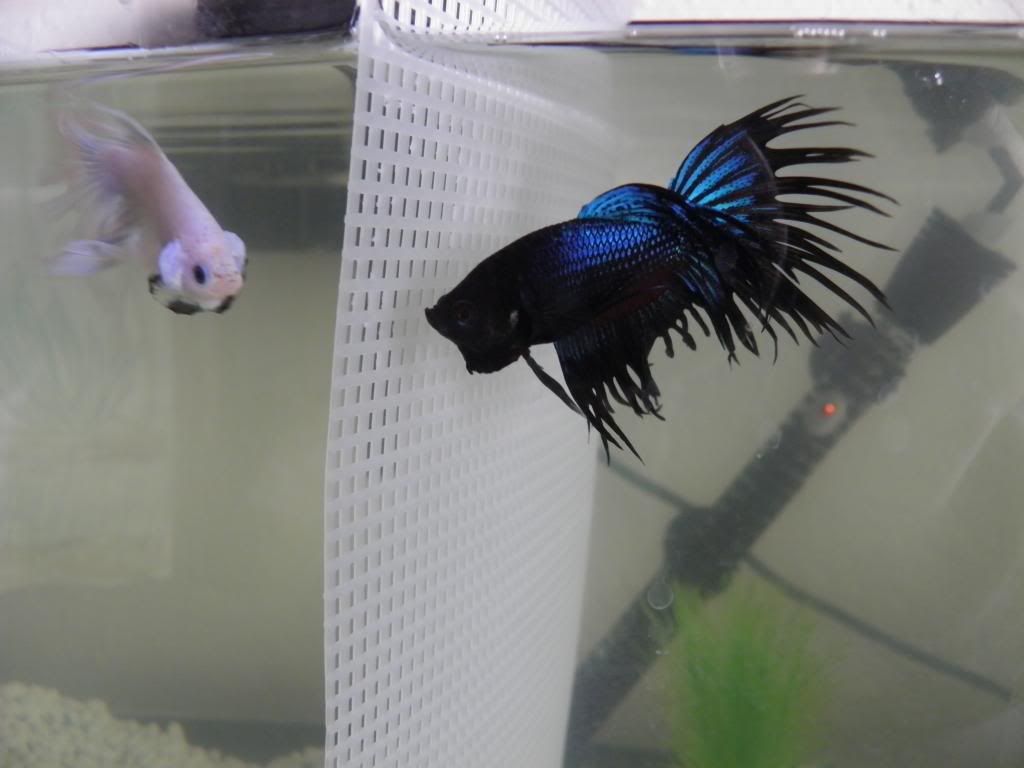 You can really see his colors in this one.
I've had Spike for six months, and I'm confident that he lived a rather luxurious life.
He's been in the 2.5 minibow for a couple months now, because I can't trust him with gravel. In the above pictures, he still had his eye, but later he lost it because he poked it out with gravel while I was cleaning his coffee cup. The boys all had swollen eyes the next day, but Spike is the only one who lost his. His got an infection which I had treated with Triple Sufla, and he healed right up, despite looking like he would die any minute.
He's lived since then with only one eye.
Anyway, my mom sent me this pic after she took him out of the minibow.
Anybody know why he's bent like that?
I accidentally siphoned my girl Halloween out the window, fortunately I found her, but she has a ton of scales missing. Good thing is, she ate a couple hours later and during the night she started swimming normally again.

My poor baby double tail, the only other girl in the hospital tank still (from the filter incident. The others recovered and are back in the tank) got beat up by her during the night too. So Halloween is in solitary in a cup with holes.

Hopefully my petco baby will be okay. She's lost a lot of color, but I think she's been getting beat up the whole time she was in there. By the other girls too. I don't think she had much tearing in her fins at first, but now she definitely does.
Halloween is doing fine, though she did look bald for a while. Fish-fingers passed away, probably due to internal damage from the filter incident. Also, one of my blue girls (or boy we had thought for a while), turned grey and died. I don't know if it was graphite disease or what, but it hasn't affected anyone else. I really hope it's not columnaris again.
Most of my bladder snails died out, but I salvaged a few egg clutchesand three of four young snails. After a water change, they're back in their kritter keeper and doing good. I picked opfour new roaches from petco, as they were about to die (no one gives them water), and I also have four mice now. Companion mice- not snake food.
I found a ton of micro (macro) fauna in my gravel, and that my baby bettas have been eating it. Mostly it seemed to be nematodes, and some planaria. My fish rather keep them in check though, so I'm not worried.
Today I bought guppiesagain. Poor choice, but they were donations to PetCo and were already in very tannic water. Hopefully they'll be able to adapt to my softwater tanks.

Most exciting though, is the button quail eggs! They arrived about a week ago, and will hatch around the 20th-22nd. I'll post some pics soon, hopefully. So excited to see them.
In happier news, though, the button quail eggs!
I did candle them, and found one completely clear. I cracked it open and it wasn't fertile. I gave it to the cats- way too small for a person to eat.
Unfortunately, the humidity dropped at some point last night (to around 35% compared to the 50% I had been keeping them) and the temp rose several degrees above 100. I am not too worried about this, really, but I hope the chicks are alright. Lock down begins in two days, and three days after that they'll start to hatch, give or take a couple days.
During lockdown I'll increase the humidity to around 60% and try to keep from opening the bator until the chick I need to remove is mostly dry.
The new guppies are doing great (considering my track record with livebearers x.x), and all are still alive in my soft water. They came with tannic water, and I assume they had been born in it. All my petstore guppies died within (usually) two days, or started shimmying a lot. These ones were donated by someone and still in a ziplock bag that was floating in a tank. I love livebearers, and hopefully someday I can get a softwater livebearer, like a halfbeak. For now, my guppies (2 adult females and 4 large fry) are in quarantine, and I hope they survive. I will separate any males and females due to the fact that some of them have bent spines, and I don't want to breed them. My male bettas don't bother guppies at all, so I'll put any males I get in with them. I'll keep an eye on them though.
The cornsnake (still unnamed), is doing good on his diet of frozen pinky mice, and his eyes have just gone milky, meaning he's going to shed in the next few days. I may feed early quitter button quail, or chicks that don't make it, to him, but I don't really know yet.
I think I will breed my mice (NOT for snake food x.x), as companion mice. I don't think I could raise something and then feed it to the snake. He'll be getting frozen food- probably forever. Anyway, baby mice are adorable, and I felt a little guilty feeding my snake the frozen ones, so I wanted to raise a few.
As I stated before, most of my snails died, and it was the morning after I fed them some alfalfa pellets (from the mouse food). I think I added too much and polluted the water. I'm sticking to flakes and fresh vegetables for the snails from now on.
The roaches, though, LOVE the mouse food. It's the only thing they eat now.
---
Last edited by ThetaSigma; 06-14-2014 at

10:22 PM

.