UPDATE: June 3, 2014
Not much to report on really, only tested for Nitrites tonight:
Nitrites: 0ppm
another day, another test...
Just on my way home from Menagerie with a clutch of aqua plants. Will be planting the right when I get home.
Tank is planted!!
Flora:
Hydrophilia Corybosa Siamensis 53B
Vallisneria Spirialis
Rotala 'Bonsai'
When I left Menagerie I was worried that the 5 gallon would still look bare having only purchased a potted stem plant, some tall grass looking thingy and teeny cup of clover-looking things, but now that I have them in the tank I can see that any more would have been a real headache to have fit in. The Rotala was easiest to plant of all three, all I really needed to do was divide them, and stick'em in the dirt. The Hydro and the Vallis were somewhat more difficult.. I had to plant the Hydrophilia twice as I quickly realized it's roots required some trimming before putting them in the dirt. The Vallis has thus far been the most aggrivating as the larger specimen keeps trying to escape from it's earthy bonds. In the end, I had so much Hydrophilia in the tank that I decided to move some next door to Finn's aquarium. I have NO idea if it will survive in the Rainbow colored gravel I've planted the little guy in but I do know that Finn is very happy and keeping his new leafy friend company in his home.
Now for some Pictures!!!!
Side View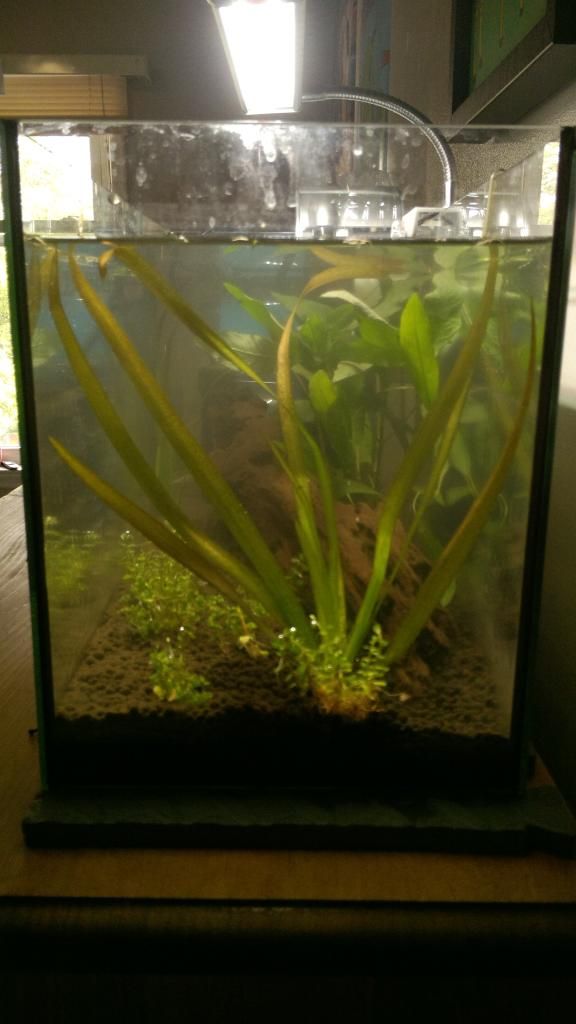 A look at the Rotala 'Bonsai' which will hopefully end up carpeting the tank's floor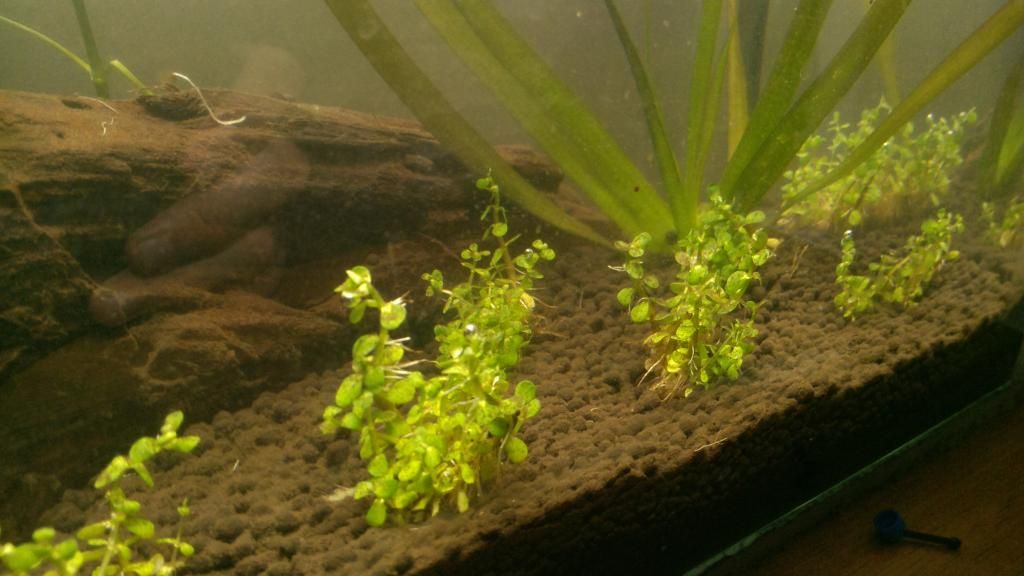 Closer look at the Rotala. This one wasn't planted very well. I hope it survives!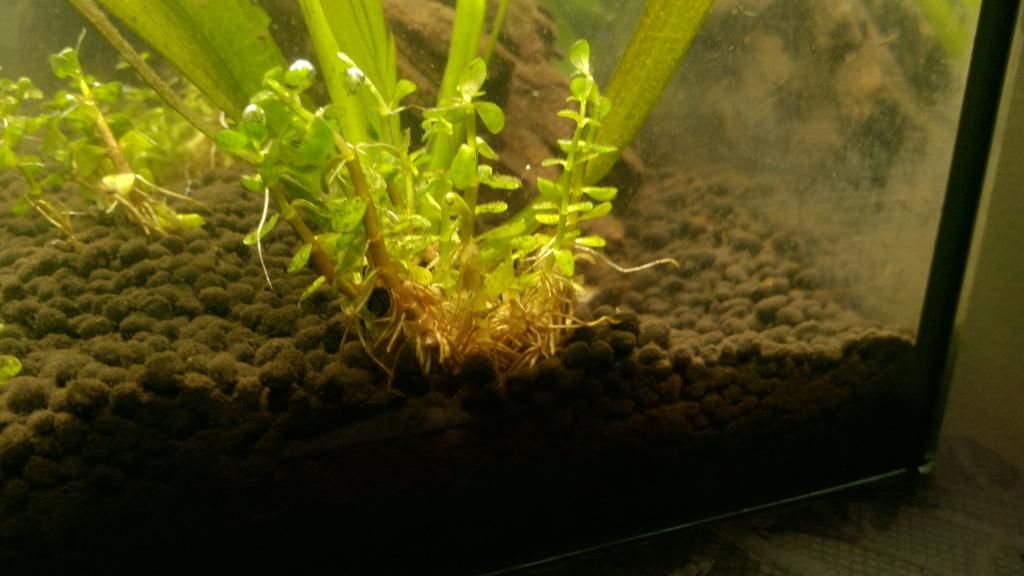 Here's Finn's tank with his share of greenery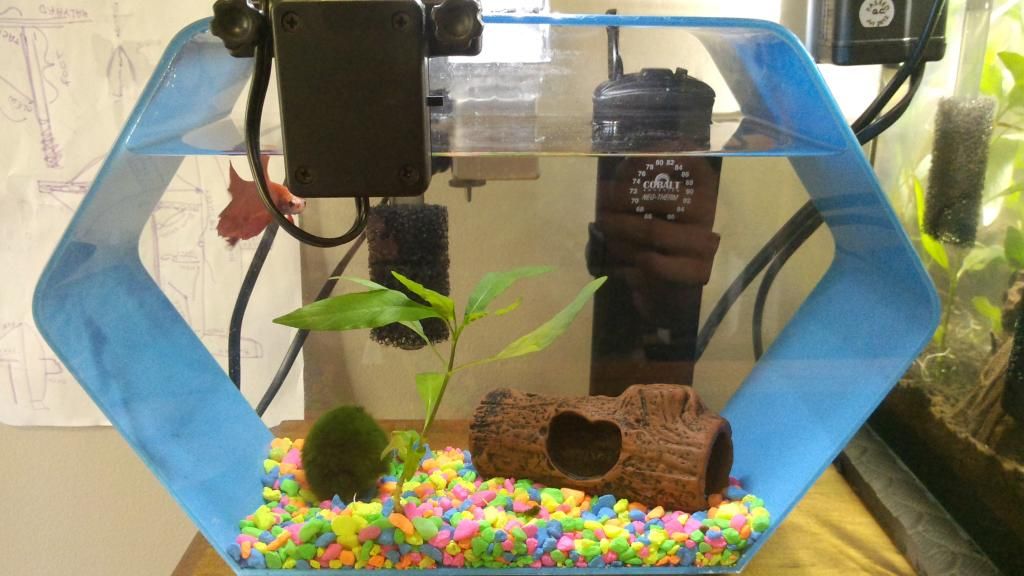 And finally, a photo of the two tanks together: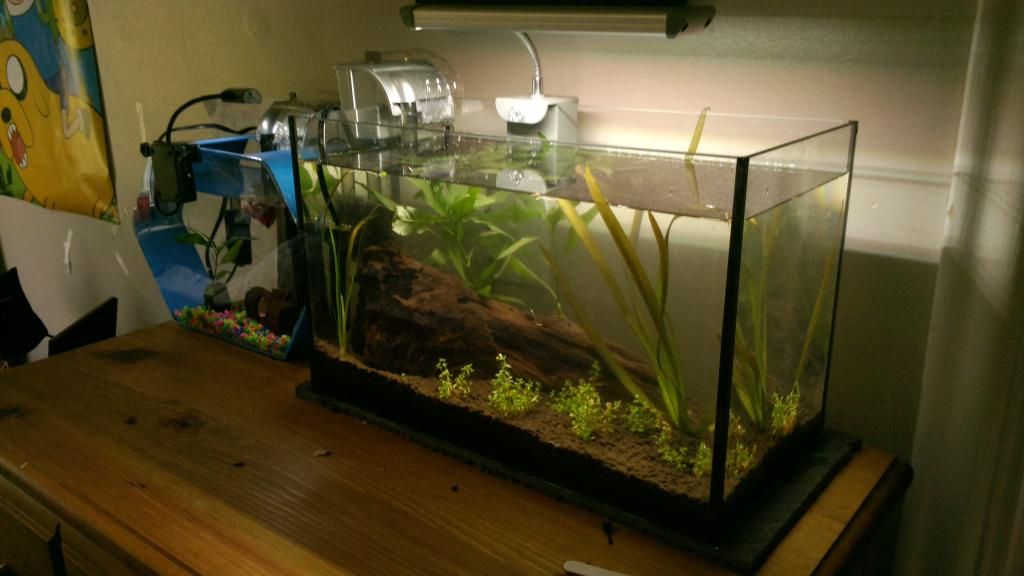 You can put a root tab fetilizer in the gravel and it should do fine.

Both tanks look great!
Quote:
You can put a root tab fetilizer in the gravel and it should do fine.

Both tanks look great!
Thanks! I'm quite proud of how well both tanks have turned out. I really wish that I had another way of mounting the light onto Finn's tank as the only place to hang it right now is on the front of the tank. Apart from that however I am really glad they are working out so well.
Good idea with the root tabs, I think I will try and get my hands on some soon to ensure that Finn's plant doesnt succomb from lack of nutrition.
Member
Join Date: Apr 2014
Location: Virginia, USA
Posts: 107
Wow, your plants are looking awesome. I'm having such a hell of a time with mine.. I'm not sure what I am doing wrong. I got some substrant and mixed it with a little bit of gravel to add color, but my plants keep dying. I'm just so confused on why.
Similar Threads
Thread
Thread Starter
Forum
Replies
Last Post
Bubbles The Duke of Neptune.

SemioticSleep

Betta Fish Contests

2

03-31-2010

09:03 AM